Abstract
Butterflies were studied, at the species level, in 47 mountain meadows in a 1.5 × 1.6 km study area in the Picos de Europa National Park, Spain. Butterfly transects were carried out on nine occasions in June and July 2004 and the summed data used in binary logistic and stepwise multiple regression analyses using 28 biotic and abiotic parameters. Models were created for 37 species in total: 24 using logistic regression and 24 with multiple regression; models from both approaches were obtained for 11 species. Abiotic factors dominated many analyses with factors such as proximity to water, aspect and altitude being prominent. Abiotic factors may reflect acceptable minimum conditions for presence of a species and interact with biotic factors to determine habitat quality. Classification of the meadows as either under hay or summer grazing management, or 'winter grazing or abandoned' was not particularly revealing probably due to inherent variability in management intensity within meadows and degree of abandonment. Features that reflected management influences, lack of management, disturbance, and sward condition featured in many analyses. Whilst many meadows are still actively managed, features that can be related to abandonment are evident for many species. The early stages of relaxation of management intensity can be positive for butterflies, but if management is not restored losses are likely as succession proceeds. The implications of this are briefly discussed.
Access options
Buy single article
Instant access to the full article PDF.
US$ 39.95
Tax calculation will be finalised during checkout.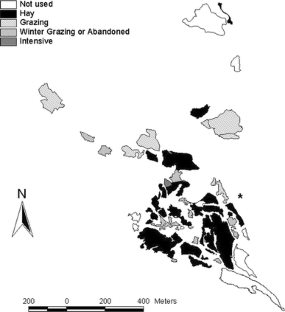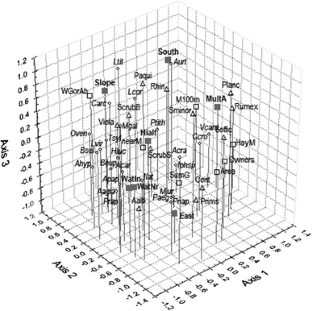 References
Augustine DJ, McNaughton SJ (1998) Ungulate effects on the functional species composition of plant communities: herbivore selectivity and plant tolerance. J Wildlife Manage 62:1165–1183

Balmer O, Erhardt A (2000) Consequences of succession on extensively grazed grasslands for central European butterfly communities: rethinking conservation practices. Conserv Biol 14:746–757

Brook BW, Bowman DMJS (2006) Postcards from the past: charting the landscape-scale conversion of tropical Australian savanna to closed forest during the 20th century. Landsc Ecol 21:1253–1266

Concepcion ED, Diaz M, Baquero RA (2008) Effects of landscape complexity on the ecological effectiveness of agri-environment schemes. Landsc Ecol 23:135–148

Cooper T, Arblaster K, Baldock D, Farmer M, Beaufoy G, Jones G, Poux X, McCracken D, Bignal E, Elbersen B, Wascher D, Angelstam P, Roberge J-M, Pointereau P, Seffer J, Galvanek D (2007) Final report for the study on HNV indicators for evaluation. Institute for European Environment Policy (Report to DG Agriculture 2006-G4-04), London, p 187

Cremene C, Groza G, Rákosy L, Schileyko AA, Baur A, Erhardt A, Baur B (2005) Alterations of steppe-like grasslands in Eastern Europe: a threat to regional biodiversity hotspots. Conserv Biol 19:1606–1618

Dennis RLH (2004) Butterfly habitats, broad scale biotope affiliations and structural exploitation of vegetation at finer scales: the matrix revisited. Ecol Entomol 29:744–752

Dover J, Settele J (2009) The influences of landscape structure on butterfly distribution and movement: a review. J Insect Conserv 13:3–27

Dover J, Sparks T (2000) A review of the ecology of butterflies in British hedgerows. J Environ Manage 60:51–63

Dover JW, Spencer S, Collins S, Hadjigeorgiou I, Rescia A (2010a) Grassland butterflies and low intensity farming in Europe. J Insect Conserv. doi:10.1007/s10841-010-9332-0

Dover JW, Rescia A, Fungariño S, Fairburn J, Carey P, Lunt P, Arnot C, Dennis RLH, Dover CJ (2010b) Land-use, environment, and their impact on butterfly populations in a mountainous pastoral landscape: species richness and Family-level abundance. J Insect Conserv. doi:10.1007/s10841-010-9331-1

Dover JW, Rescia A, Fungariño S. Fairburn J, Carey P, Lunt P, Dennis RLH, Dover CJ (2010c) Can hay harvesting detrimentally affect adult butterfly abundance? J Insect Conserv. doi:10.1007/s10841-010-9267-5

Dunning J, Danielson B, Pulliam H (1992) Ecological processes that affect populations in complex habitats. Oikos 65:169–175

Erhardt A (1985) Diurnal Lepidoptera: sensitive indicators of cultivated and abandoned grassland. J Appl Ecol 22:849–861

Farino T (1999) Flora and Fauna of the Picos de Europa. Teresa Farino, Potes

Field A (2009) Discovering statistics using SPSS. Sage Publications, London

Gorton M, Hubbard C, Hubbard L (2009) The folly of European Union policy transfer: why the common agricultural policy (CAP) does not fit central and Eastern Europe. Reg Stud 43:1305–1317

Grime JP, Hodgson JG, Hunt R (2007) Comparative Plant Ecology: a functional approach to common British species, 2nd edn. Castlepoint Press, Dalbeattie

Hodge I, Reader M (2010) The introduction of entry level stewardship in England: extension or dilution in agri-environment policy? Land Use Pol 27:270–282

Jones AT, Hayes MJ (1999) Increasing floristic diversity in grassland: the effects of management regime and provenance on species introduction. Biol Conserv 87:381–390

Jongman RHG (2002) Homogenisation and fragmentation of the European landscape: ecological consequences and solutions. Landsc Urban Plann 58:211–221

Krausmann F, Haberl H, Schulz NB, Erb KH, Darge E, Gaube V (2003) Land-use change and socio-economic metabolism in Austria—part I: driving forces of land-use change: 1950–1995. Land Use Pol 20:1–20

Kruess A, Tscharntke T (2002) Grazing intensity and the diversity of grasshoppers, butterflies, and trap-nesting bees and wasps. Conserv Biol 16:1570–1580

Kuiper PJC, Bos M (1992) Plantago: a multidisciplinary study. Springer, Berlin

MacDonald D, Crabtree JR, Wiesinger G, Dax T, Stamou N, Fleury P, Lazpita JG, Gibon A (2000) Agricultural abandonment in mountain areas of Europe: environmental consequences and policy response. J Environ Manage 59:47–69

Marini L, Fontana P, Battisti A, Gaston KJ (2009) Agricultural management, vegetation traits and landscape drive orthopteran and butterfly diversity in a grassland-forest mosaic: a multi-scale approach. Insect Conserv Divers 2:213–220

McCune B, Grace JB (2002) Analysis of ecological communities. MjM Software Design, Oregon

Mottet A, Ladet S, Coque N, Gibon A (2006) Agricultural land-use change and its drivers in mountain landscapes: a case study in the Pyrenees. Agric Ecosyst Environ 114:296–310

Ouin A, Aviron S, Dover J, Burel F (2004) Complementation/supplementation of resources for butterflies in agricultural landscapes. Agric Ecosyst Environ 103:473–479

Plieninger T, Höchtl F, Spek T (2006) Traditional land-use and nature conservation in European rural landscapes. Environ Sci Policy 9:317–321

Pollard E, Elias DO, Skelton MJ, Thomas JA (1975) A method of assessing the abundance of butterflies in monks wood national nature reserve in 1973. Entomol Gaz 26:79–88

Pywell RF, Warman EA, Sparks TH, Greatorex-Davies JN, Walker KJ, Meek WR, Carvell C, Petit S, Firbank LG (2004) Assessing habitat quality for butterflies on intensively managed arable farmland. Biol Conserv 118:313–325

Renetzeder C, Schindler S, Peterseil J, Prinz MA, Mucher S, Wrbka T (2010) Can we measure ecological sustainability? Landscape pattern as an indicator for naturalness and land use intensity at regional, national and European level. Ecol Indic 10:39–48

Rescia AJ, Pons A, Lomba I, Esteban C, Dover JW (2008) Reformulating the social-ecological system in a cultural rural mountain landscape in Picos de Europa region (northern Spain). Landsc Urban Plan 88:23–33

Rundlof M, Smith HG (2006) The effect of organic farming on butterfly diversity depends on landscape context. J Appl Ecol 43:1121–1127

Rundlof M, Bengtsson J, Smith HG (2008) Local and landscape effects of organic farming on butterfly species richness and abundance. J Appl Ecol 45:813–820

Schneider C, Fry GLA (2001) The influence of landscape grain size on butterfly diversity in grasslands. J Insect Conserv 5:163–171

Schneider C, Fry G (2005) Estimating the consequences of land-use changes on butterfly diversity in a marginal landscape in Sweden. J Nat Conserv 13:247–256

Schwarzwälder B, Lörtscher M, Erhardt A, Zettel J (1997) Habitat utilization by the heath fritillary butterfly, Mellicta athalia ssp. celadussa (Rott) (Lepidoptera: Nymphalidae) in montane grasslands of different management. Biol Conserv 82:157–165

Thomas JA (1986) RSNC Guide to butterflies of the British Isles country life, Twickenham

van Swaay CAM, Warren MS (2003) Prime butterfly areas of Europe: priority sites for conservation. National reference centre for agriculture, nature and fisheries. Ministry of Agriculture, Nature Management and Fisheries, The Netherlands

Warren MS (1992) Butterfly populations. In: Dennis RLH (ed) The ecology of butterflies in Britain. Oxford University Press, Oxford, pp 73–92

Warren M, Brereton T, Wigglesworth T (2005) Do agri-environment schemes help butterflies? experience from the UK. In: Kühn E, Feldmann R, Thomas JA, Settele J (eds) Studies on the ecology and conservation of butterflies in Europe, vol 1, General Concepts and Case Studies, pp 121–123

Weibull A-C, Bengtsson J, Nohlgren E (2000) Diversity of butterflies in the agricultural landscape: the role of farming system and landscape heterogeneity. Ecography 23:743–750
Acknowledgments
We are grateful to the Earthwatch Institute for funding; and to the large number of Earthwatch volunteers, and MSc students from Staffordshire University who helped us with fieldwork; to our employers for allowing us to participate in the research; to Profs Bob Bunce and Francisco Pineda for helping us frame the project; to Graham Smith for GIS processing; and to the Picos de Europa National Park and the Government of Cantabria for giving us permission to work in the Park. We thank Dr Tim Sparks for statistical advice. We are indebted to National Park staff for their help and support.
About this article
Cite this article
Dover, J.W., Rescia, A., Fungariño, S. et al. Land-use, environment, and their impact on butterfly populations in a mountainous pastoral landscape: individual species distribution and abundance. J Insect Conserv 15, 207–220 (2011). https://doi.org/10.1007/s10841-010-9338-7
Received:

Accepted:

Published:

Issue Date:
Keywords
Hay

Grazing

Management

Abandoned

Grassland

Prime butterfly area

High nature value farmland

Land-use