Abstract
Butterfly transects were carried out in the meadows and tracks of a 1.5 × 1.6 km study area in the Cantabrian section of the Picos de Europa, Spain to examine the impact of hay harvesting on adult butterfly numbers. Overall butterfly numbers significantly decreased between transect counts taken before and after harvesting in cut fields; no such decline was evident in fields without active management (harvesting/grazing) over the same period. Family-level analysis showed hay harvesting to significantly impact on the Satyridae but not other groups. In fields not undergoing active management no Family-level declines were evident, but the Lycaenidae significantly increased in abundance over the same period. Butterfly abundance on tracks surrounding the meadows significantly decreased during the hay harvest period, but this was not reflected in significant decreases in any particular Family group. The results are discussed in relation to the time of harvesting during the day, and socioeconomic changes in extensive pastoral landscapes.
Access options
Buy single article
Instant access to the full article PDF.
US$ 39.95
Tax calculation will be finalised during checkout.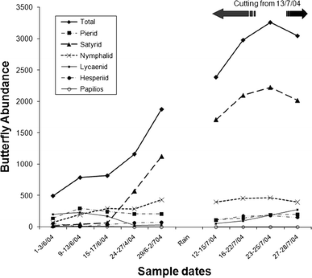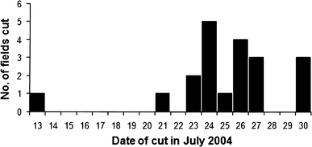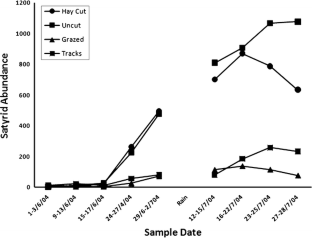 References
Bignal EM, McCracken DI (1992) Prospects for nature conservation in European pastoral farming systems: a discussion document. JNCC, Peterborough

Bullock JM, Pywell RF, Walker KJ (2007) Long-term enhancement of agricultural production by restoration of biodiversity. J Appl Ecol 44:6–12

Dennis RLH, Shreeve TG, Van Dyck H (2003) Towards a resource-based concept for habitat: a butterfly biology viewpoint. Oikos 102:417–426

Dunning JB, Danielson BJ, Pulliam HR (1992) Ecological processes that affect populations in complex habitats. Oikos 65:169–175

Edwards AR, Mortimer SR, Lawson CS, Westbury DB, Harris SJ, Woodcock BA, Brown VK (2007) Hay strewing, brush harvesting of seed and soil disturbance as tools for the enhancement of botanical diversity in grasslands. Biol Conserv 134:372–382

Erhardt A (1985) Diurnal Lepidoptera: sensitive indicators of cultivated and abandoned grassland. J Appl Ecol 22:849–861

Erhardt A, Thomas JM (1991) Lepidoptera as indicators of change in the semi-natural grasslands of lowland and upland Europe. In: Collins NM, Thomas JA (eds) The conservation of insects and their habitats, vol no 15. Academic Press, New York, pp 213–236

Fred MS, Brommer JE (2009) Resources influence dispersal and population structure in an endangered butterfly. Insect Conserv Divers 2:176–182

García A (1992) Conserving the species-rich meadows of Europe. Agric Ecosys Environ 40:219–232

Hall ML (1981) Butterfly monitoring scheme: instructions for independent recorders. Institute of Terrestrial Ecology, Abbots Ripton

Humbert J-Y, Ghazoul J, Walter T (2009) Meadow harvesting techniques and their impacts on field fauna. Agric Ecosyst Environ 130:1–8

Jefferson RG (2005) The conservation management of upland hay meadows in Britain: a review. Grass Forage Sci 60:322–331

Johst K, Drechsler M, Thomas J, Settele J (2006) Influence of mowing on the persistence of two endangered large blue butterfly species. J Appl Ecol 43:333–342

Jongepierová I, Mitchley J, Tzanopoulos J (2007) A field experiment to recreate species rich hay meadows using regional seed mixtures. Biol Conserv 139:297–305

Knop E, Kleijn D, Herzog F, Bernhard S (2006) Effectiveness of the swiss agri-environment scheme in promoting biodiversity. J Appl Ecol 43:120–127

Konvicka M, Benes J, Cizek O, Kopecek F, Konvicka O, Vitaz L (2008) How too much care kills species: grassland reserves, agri-environmental schemes and extinction of Colias myrmidone (Lepidoptera: Pieridae) from its former stronghold. J Insect Cons 12:519–525

MacDonald D, Crabtree JR, Wiesinger G, Dax T, Stamou N, Fleury P, Lazpita JG, Gibon A (2000) Agricultural abandonment in mountain areas of Europe: environmental consequences and policy response. J Env Man 59:47–69

Marini L, Fontana P, Scotton M, Klimek S (2008) Vascular plant and Orthoptera diversity in relation to grassland management and landscape composition in the European Alps. J Appl Ecol 45:361–370

Marini L, Fontana P, Battisti A, Gaston KJ (2009) Response to orthopteran diversity to abandonment of semi-natural meadows. Agric Ecosyst Environ 132:232–236

Morris MG (2000) The effects of structure and its dynamics on the ecology and conservation of arthropods in British grasslands. Biol Conserv 95:129–142

O'Brien DM, Boggs CL, Fogel ML (2004) Making eggs from nectar: the role of life history and dietary carbon turnover in butterfly reproductive resource allocation. Oikos 105:279–291

Ouin A, Aviron S, Dover J, Burel F (2004) Complementation/supplementation of resources for butterflies in agricultural landscapes. Agric Ecosyst Environ 103:473–479

Pollard E, Elias DO, Skelton MJ, Thomas JA (1975) A method of assessing the abundance of butterflies in Monks Wood national nature reserve in 1973. Entomol Gaz 26:79–88

Pulliam HR (1988) Sources, sinks and population regulation. Am Nat 132:652–661

Rescia AJ, Pons A, Lomba I, Esteban C, Dover JW (2008) Reformulating the social-ecological system in a cultural rural mountain landscape in Picos de Europa region (northern Spain). Landsc Urban Plan 88:23–33

Saarinen K, Jantunen J (2005) Grassland butterfly fauna under traditional animal husbandry: contrasts in diversity in mown meadows and grazed pastures. Biodivers Conserv 14:3201–3213

Schneider C (2003) The influence of spatial scale on quantifying insect dispersal: an analysis of butterfly data. Ecol Entomol 28:252–256

Schultz CB, Dlugosch KM (1999) Nectar and hostplant scarcity limit populations of an endangered Oregon butterfly. Oecologia 119:231–238

Settele J, Henle K (2003) Grazing and cutting regimes for old grassland in temperate zones. In: Gherardi F, Corti C, Gualtieri M (eds) Biodiversity conservation and habitat management, encyclopedia of life support systems. EOLSS Publishers, Oxford, chapter E1-67-03-02 [http://www.eolss.net; Internet-version 11 pp.]

Siegel S, Castellan NJ (1988) Non-parametric statistics for the behavioural sciences. McGraw-Hill, New York

Stefanescu C, Penuelas J, Filella I (2005) Butterflies highlight the conservation value of hay meadows highly threatened by land-use changes in a protected mediterranean area. Biol Conserv 126:234–246

Thomas JA (1986) RSNC guide to butterflies of the British Isles. Country Life Books, Twickenham

Van Swaay CAM (2002) The importance of calcareous grasslands for butterflies in Europe. Biol Conserv 104:315–318

Walter T, Schneider K, Gonseth Y (2007) Schnittzeitpunkt in Ökowiesen: Einfluss auf die Fauna. Agrarforschung 14:114–119
Acknowledgments
We are grateful to the Earthwatch Institute for funding; to the large number of Earthwatch volunteers who helped us with fieldwork, to our employers for allowing us to participate in the research; to Profs Bob Bunce and Francisco Pineda for helping us frame the project; and to the Picos de Europa National Park and the Government of Cantabria for giving us permission to work in the Park. We are indebted to National Park staff for their help and support.
About this article
Cite this article
Dover, J.W., Rescia, A., Fungariño, S. et al. Can hay harvesting detrimentally affect adult butterfly abundance?. J Insect Conserv 14, 413–418 (2010). https://doi.org/10.1007/s10841-010-9267-5
Received:

Accepted:

Published:

Issue Date:
Keywords
Butterfly

Hay

Harvesting

Spain

Abundance

Grassland

Mowing

Cutting