Abstract
The Duke of Burgundy butterfly (Hamearis lucina) has declined severely since the 1970s and is a UK Biodiversity Action Plan Priority species. Its populations are mostly confined to scrubby calcareous grassland, where management for short-turf species can be detrimental to the butterfly. We briefly review the literature on the Duke of Burgundy and investigate their habitat preferences, survival and dispersal at a chalk grassland reserve in Bedfordshire, UK. We found that adults generally preferred more sheltered locations but that their habitat preferences were less restrictive than choice of food-plants. Females chose larger plants with longer leaves in denser patches on which to lay eggs. Adults showed reasonable dispersal ability with turnover recorded between areas isolated by scrub. Our results indicate that the species is able to use isolated areas of favourable habitat at a reserve scale and that conservation could therefore involve cyclic management to provide suitable habitat year-to-year.
This is a preview of subscription content,
to check access.
Access this article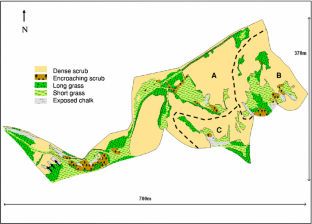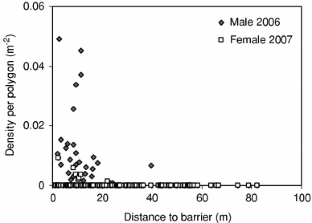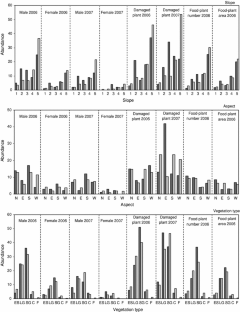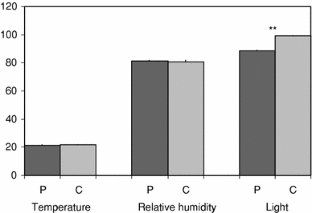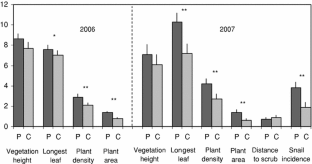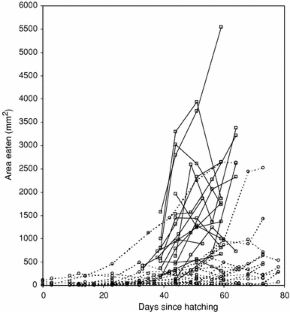 References
Anthes N, Fartmann T, Hermann G (2008) The Duke of Burgundy butterfly and its dukedom: larval niche variation in Hamearis lucina across Central Europe. J Insect Conserv 12:3–14. doi:10.1007/s10841-007-9084-7

Asher J, Warren M, Fox R et al (2001) The millennium atlas of butterflies in Britain and Ireland. Oxford University Press, Oxford

Bedslife, The Chilterns Conservation Board (2007) Bedfordshire calcareous grassland habitat opportunities survey report

Bourn NAD, Thomas JA (2002) The challenge of conserving grassland insects at the margins of their range in Europe. Biol Conserv 104:285–292. doi:10.1016/S0006-3207(01)00193-8

Bourn NAD, Warren MS (1998) Species Action Plan: Duke of Burgundy Hamearis lucina. Butterfly Conservation, Wareham

Brereton T, Roy D, Greatorex-Davies N (2006) Thirty years and counting. The contribution to conservation and ecology of butterfly-monitoring in the UK. Br Wildl 17:162–170

Brys R, Jacquemyn H, Endels P et al (2004) The effects of grassland management on plant performance and demography in the perennial herb Primula veris. J Appl Ecol 41:1080–1091. doi:10.1111/j.0021-8901.2004.00981.x

Bulman CR, Wilson RJ, Holt AR et al (2007) Minimum viable metapopulation size, extinction debt, and the conservation of a declining species. Ecol Appl 17:1460–1473. doi:10.1890/06-1032.1

Davies BNK (1979) Chalk and limestone quarries as wildlife habitats. Environ Geochem Health 1:48–56

Davies H, Brereton TM, Roy DB, Fox R (2007) Government targets for protected area management: will threatened butterflies benefit? Biodivers Conserv 16:3719–3736. doi:10.1007/s10531-007-9176-4

Dennis RLH, Shreeve TG (1991) Climate change and the British butterfly fauna: opportunities and constraints. Biol Conserv 55:1–16. doi:10.1016/0006-3207(91)90002-Q

Endels P, Jacquemyn H, Brys R, Hermy M (2005) Rapid response to habitat restoration by the perennial Primula veris as revealed by demographic monitoring. Plant Ecol 176:143–156. doi:10.1007/s11258-004-0026-0

Fartmann T (2006) Oviposition preferences, adjacency of old woodland and isolation explain the distribution of the Duke of Burgundy butterfly (Hamearis lucina) in calcareous grasslands in central Germany. Ann Zool Fenn 43:335–347

Fox R, Asher J, Brereton T et al (2006) The state of butterflies in Britain and Ireland. Information Press, Oxford

Goldenberg SE (2004) Influence of food plant selection on the successful development of caterpillars of the Duke of Burgundy butterfly. MSc Thesis, Cranfield University, Silsoe, UK

Greatorex-Davies JN, Sparks TH, Hall ML, Marrs RH (1993) The influence of shade on butterflies in rides of coniferised lowland woods in southern England and implications for conservation management. Biol Conserv 63:31–41. doi:10.1016/0006-3207(93)90070-H

King D (2005) Climate change: the science and the policy. J Appl Ecol 42:779–783. doi:10.1111/j.1365-2664.2005.01089.x

Kirtley S (1995) The current status and ecology of the Duke of Burgundy butterfly (Hamearis lucina) in South Cumbria and North Lancashire. Report to English Nature

Kirtley S (1997) The current status and ecology of the Duke of Burgundy butterfly (Hamearis lucina) in South Cumbria and North Lancashire. Report to English Nature

Léon-Cortés JL, Lennon JJ, Thomas CD (2003) Ecological dynamics of extinct species in empty habitat networks. 1. The role of habitat pattern and quality, stochasticity and dispersal. Oikos 102:449–464

Newman E (1869) The illustrated natural history of British butterflies and moths. Tweedie W, London

Oates M (2000) The Duke of Burgundy—conserving the intractable. Br Wildl 2:250–257

Parmesan C, Ryrholm N, Stefanescu C et al (1999) Poleward shifts in the geographical ranges of butterfly species associated with regional warming. Nature 399:579–583. doi:10.1038/21181

UK Biodiversity Action Plan (2007) http://www.ukbap.org.uk. Accessed 11 Mar 2008

Proud A (2000) Totternhoe Chalk Quarry, Bedfordshire. Post graduate advanced diploma, Otley college, UK

Roy DB, Sparks TH (2000) Phenology of British butterflies and climate change. Glob Chang Biol 6:407–416. doi:10.1046/j.1365-2486.2000.00322.x

Roy DB, Rothery P, Moss D et al (2001) Butterfly numbers and weather: predicting historical trends in abundance and the future effects of climate change. J Anim Ecol 70:201–217. doi:10.1046/j.1365-2656.2001.00480.x

Sparks TH, Porter K, Greatorex-Davies JN et al (1994) The Choice of oviposition sites in woodland by the Duke of Burgundy butterfly Hamearis lucina in England. Biol Conserv 70:257–264. doi:10.1016/0006-3207(94)90171-6

Stewart KEJ, Bourn NAD, Thomas JA (2001) An evaluation of three quick methods commonly used to assess sward height in ecology. J Appl Ecol 38:1148–1154. doi:10.1046/j.1365-2664.2001.00658.x

Thomas JA (2005) Monitoring change in the abundance and distribution of insects using butterflies and other indicator groups. Philos Trans R Soc B 360:339–357. doi:10.1098/rstb.2004.1585

Thomas J, Lewington R (1991) The butterflies of Britain and Ireland. Dorling Kindersley, London

Thomas JA, Telfer MG, Roy DB et al (2004) Comparative losses of British butterflies, birds, and plants and the global extinction crisis. Science 303:1879–1881. doi:10.1126/science.1095046

Warren MS (1993a) A review of butterfly conservation in central southern Britain: I. Protection, evaluation and extinction on prime sites. Biol Conserv 64:25–35. doi:10.1016/0006-3207(93)90380-J

Warren MS (1993b) A review of butterfly conservation in central southern Britain: II. Site management and habitat selection of key species. Biol Conserv 64:37–49. doi:10.1016/0006-3207(93)90381-A
Acknowledgments
We would like to thank all the Wildlife Trust Staff and Wildlife Trust Ecology Group volunteers who gave their time so willingly to the project, including: Phil Ames, Keith Balmer, Katharine Banham, Graham Bellamy, Linda Birkin, Nick Bowles, Margaret Browne, Diana Cheng, Brian Eversham, Tom Fayle, Andy Fleckney, Piers Harrington, Perry Hastings, Kathryn Ingall, Lisa King, Anna Lacey, Rachel Lovatt, Julie MacDonald, Linda Marshall, Nick Millar, Esther Milne, Kalsum Mohd Yusah, Martin O'Connor, Sarah Rodger, Paul and Anne Sinclair, Paula Smith, Jake Snaddon, Henry Stanier, Russell Stebbings, Laura Sutcliffe, Claire White, and Fay Williams. We would also like to thank the Department of Zoology, Cambridge for use of their facilities, and Stephen Coleman and the Heritage and Environment Section of the Bedfordshire County Council for allowing us access to the historical aerial photographs from Totternhoe Quarry, and Sam Ellis, Matthew Oates and Jane Hill for their valuable advice on the project. We would also like to thank William Foster, Neil Hulme, Jake Snaddon, Nils Anthes and an anonymous reviewer for their helpful comments on the script. Finally we would like to thank SITA Trust Landfill Community Fund together with Bedfordshire and Northamptonshire Butterfly Conservation, Natural England, and the Balfour-Browne Fund, Cambridge for funding the project.
About this article
Cite this article
Turner, E.C., Granroth, H.M.V., Johnson, H.R. et al. Habitat preference and dispersal of the Duke of Burgundy butterfly (Hamearis lucina) on an abandoned chalk quarry in Bedfordshire, UK. J Insect Conserv 13, 475–486 (2009). https://doi.org/10.1007/s10841-008-9194-x
Received:

Accepted:

Published:

Issue Date:

DOI: https://doi.org/10.1007/s10841-008-9194-x
Keywords