Abstract
Andrena hattorfiana is a rare solitary bee which has declined during the last decades throughout western Europe. It is specialised to forage pollen from plants of the family Dipsacaceae. Knowledge of distribution, dispersal propensity, and local population sizes is essential for successful conservation of A. hattorfiana. The investigated local bee populations (n = 78) were dominated by small local populations and 60% were smaller than 10 female individuals and 80% were smaller than 50 female individuals. The area of the median occupied habitat patch was 1.25 hectare and harboured 7 female bees. Mark-release-recapture studies of female A. hattorfiana revealed a sedentary behaviour. Among pollen-foraging female bees the average registered distance moved was 46 m. The patch emigration rate was about 2%, with an observed maximum colonization distance of 900 m. Only 10% of the individuals crossed areas without the pollen plant within grassland patches, such as unpaved roads, stone walls and small tree-stands, even if these areas were less than 10 m wide. This study shows that solitary bees can occur in local populations of extremely small size and they have a sedentary behaviour. These are features that usually increase the risk of local population extinction.
Access options
Buy single article
Instant access to the full article PDF.
USD 39.95
Price excludes VAT (USA)
Tax calculation will be finalised during checkout.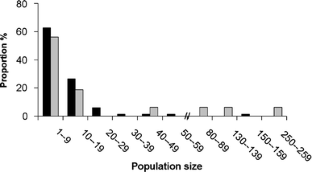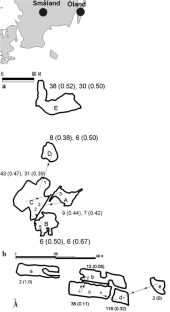 References
Abrams PA (2002) Will small population sizes warn us of impending extinctions? Am Nat 160:293–305

Bischoff I (2003) Population dynamics of the solitary digger bee Andrena vaga Panzer (Hymenoptera, Andrenidae) studied using mark-recapture and nest counts. Popul Ecol 45:197–204

Carlson A, Edenhamn P (2000) Extinction dynamics and the regional persistence of a tree frog metapopulation. Proc R Soc Biol Sci Ser B 267:1311–1313

Eickwort GC, Ginsberg HS (1980) Foraging and mating behaviour in Apoidea. Annu Rev Entomol 25:421–446

Falk S (1991) A review of the scarce and threatened bees, wasps and ants of Great Britain. Nature Conservancy Council, Peterborough

Frankham R, Lees K, Montgomery ME, England PR, Lowe EH, Briscoe DA (1999) Do population size bottlenecks reduce evolutionary potential? Anim Conserv 2:255–260

Franzén M (2007) Insect diversity in changing landscapes. Ecology Building, Department of animal ecology, Lund University, Lund

Franzén M, Nilsson SG (2007) What is the required minimum landscape size for dispersal studies? J Anim Ecol 76:1224–1230

Gärdenfors U (2005) The 2005 redlist of Swedish species. Swedish Species Information Centre, Uppsala

Gathmann A, Tscharntke T (2002) Foraging ranges of solitary bees. J Anim Ecol 71:757–764

Giovanetti M, Lasso E (2005) Body size, loading capacity and rate of reproduction in the communal bee Andrena agilissima (Hymenoptera; Andrenidae). Apidologie 36:439–447

Goulson D, Stout JC (2001) Homing ability of the bumblebee Bombus terrestris (Hymenoptera : Apidae). Apidologie 32:105–111

Greenleaf SS, Williams NM, Winfree R, Kremen C (2007) Bee foraging ranges and their relationship to body size. Oecologia 153:589–596

Hanski I (1994) A practical model of metapopulation dynamics. J Anim Ecol 63:151–162

Hanski I, Gaggiotti O (2004) Ecology, genetics and evolution of metapopulations. Elsevier Academic Press, Amsterdam

Hanski I, Singer MC (2001) Extinction-colonization dynamics and host-plant choice in butterfly metapopulations. Am Nat 158:341–353

Hanski I, Alho J, Moilanen A (2000) Estimating the parameters of survival and migration of individuals in metapopulations. Ecology 81:239–251

Hanski I, Kuussaari M, Nieminen M (1994) Metapopulation structure and migration in the butterfly Melitaea cinxia. Ecology 75:747–762

Hanski I, Moilanen A, Gyllenberg M (1996) Minimum viable metapopulation size. Am Nat 147:527–541

Hanski I, Pakkala T, Kuussaari M, Lei G (1995) Metapopulation persistence of an endangered butterfly in a fragmented landscape. Oikos 72:21–28

Harrison S (1991) Local extinction in a metapopulation context––An empirical evaluation. Biol J Linn Soc 42:73–88

Harrison S, Murphy DD, Ehrlich PR (1988) Distribution of the bay checkerspot butterfly, Euphydryas editha bayensis––evidence for a metapopulation model. Am Nat 132:360–382

Kapyla M (1978) Foraging distance of small solitary bee, Chelostoma maxillosum (Hym., Megachilidae). Annales Entomologici Fennici 44:63–64

Knuth P (1899) Handbuch der Blütenbiologie. Engelmann, Leipzig

Koenig WD, van Vuren D, Hooge PN (1996) Detectability, philopatry, and the distribution of dispersal distances in vertebrates. Trends Ecol Evol 11:514–517

Kremen C, Williams NM, Aizen MA, Gemmill-Herren B, LeBuhn G, Minckley R, Packer L, Potts SG, Roulston T, Steffan-Dewenter I, Vázquez DP, Winfree R, Adams L, Crone EE, Greenleaf SS, Keitt TH, Klein A, Regetz J, Ricketts TH (2007) Pollination and other ecosystem services produced by mobile organisms: a conceptual framework for the effects of land-use change. Ecol Lett 10:299–314

Kuussaari M, Nieminen M, Hanski I (1996) An experimental study of migration in the Glanville fritillary butterfly Melitaea cinxia. J Anim Ecol 65:791–801

Lamont BB, Klinkhamer PGL (1993) Population size and viability. Nature 362:211

Larsson M (2005) Higher pollinator effectiveness by specialist than generalist flower-visitors of unspecialized Knautia arvensis (Dipsacaceae). Oecologia 146:394–403

Larsson M, Franzén M (2007) Critical resource levels of pollen for the declining bee Andrena hattorfiana (Hymenoptera, Andrenidae). Biol Conserv 134:405–414

Larsson M, Franzén M Estimating the population size of specialized solitary bees. Ecol Ent (in press)

Levin DA, Kerster HW (1969) Dependence of bee-mediated pollen and gene dispersal upon plant density. Evolution 23:560–571

Linsley EG, MacSwain JW (1955) Observations on the nesting habitats and flower relationships of some species of Melandrena (Hymenoptera). Pan-Pac Entomol 31:178–185

MacArthur RH, Wilson EO (1967) The theory of island biogeography. Princeton University Press, Princeton, New Jersey, USA

Michener CD, Rettenmeyer CW (1956) The ethology of Andrena erythronii with comparative data on other species (Hymenoptera, Andrenidae). Univ Kans Sci Bull 16:645–684

Müller A, Krebs A, Amiet F (1997) Bienen. Naturbuch Verlag, München

Müller A, Diener S, Schnyder S, Stutz K, Sedivy C, Dorn S (2006) Quantitative pollen requirements of solitary bees: implications for bee conservation and the evolution of bee-flower relationships. Biol Conserv 130:604–615

Nilsson SG, Nilsson IN (2004) Biodiversity at Linnaeus´s birthplace in Stenbrohult, southern Sweden 4. The vascular plant flora and its changes. Sv Bot Tidskr 98:65–160

Oertli S, Müller A, Dorn S (2005) Ecological and seasonal patterns in the diversity of a species-rich bee assemblage (Hymenoptera: Apoidea: Apiformes). Eur J Entomol 102:53–63

Paradis E, Baillie SR, Sutherland WJ, Gregory RD (1998) Patterns of natal and breeding dispersal in birds. J Anim Ecol 67:518–536

Pekkarinen A (1998) Oligolectic bee species in Northern Europe (Hymenoptera, Apoidea). Entomologica Fennica 8:205–214

Pimm SL, Lee HJ, Diamond J (1988) On the risk of extinction. Am Nat 132:757–785

Saccheri I, Kuussaari M, Kankare M, Vikman P, Fortelius W, Hanski I (1998) Inbreeding and extinction in a butterfly metapopulation. Nature 392:491–494

Schoener TW, Spiller DA (1992) Is extinction rate related to temporal variability in population size? An empirical answer for orb spiders. Am Nat 139:1176–1207

Stephens DW, Krebs JR (1986) Foraging theory. Princeton University Press, Princeton, New Jersey, USA

Stith BM, Fitzpatrick JW, Woolfenden GE, Pranty B (1996) Classification and conservation of metapopulations: a case study of the Florida Scrub Jay. In: McCullough DR, Covelo CA (eds) Metapopulations and wildlife conservation. Island Press, Washington, pp 187–215

Thomas CD (2000) Dispersal and extinction in fragmented landscapes. Proc R Soc Biol Sci Ser B 267:139–145

Thomas CD, Harrison S (1992) Spatial dynamics of a patchily distributed butterfly species. J Anim Ecol 61:437–446

Thomas CD, Kunin WE (1999) The spatial structure of populations. J Anim Ecol 68:647–657

Thomas JA, Telfer MG, Roy DB, Preston CD, Greenwood JJD, Asher J, Fox R, Clarke RT, Lawton JH (2004) Comparative losses of British butterflies, birds, and plants and the global extinction crisis. Science 303:1879–1881

Tyler T, Olsson KA (1997) Förändringar i Skånes flora under perioden 1938–1996––statistisk analys av resultat från två inventeringar: rapport från Projekt Skånes flora. Sv Bot Tidskr 3:143–185

Walls SS, Kenward RE, Holloway GJ (2005) Weather to disperse? Evidence that climate conditions influence vertebrate dispersal. J Anim Ecol 74:190–197

Westrich P (1990) Die wildbienen Baden-Württembergs. Eugen Ulmer, Hohenheim

With KA (2004) Metapopulation dynamics: perspective from landscape ecology. In: Hanski I, Gaggiotti O (eds) Ecology, genetics, and evolution in metapopulations. Academic Press, London, pp 23–44

Zayed A, Roubik DW, Packer L (2004) Use of diploid male frequency data as an indicator of pollinator decline. Proc R Soc Biol Sci Ser B 271:9–12
Acknowledgements
Sandra Rihm, Charlotte Jonsson, Anneli Öhrström, Erik Cronvall and Sofia Larsson assisted in the field. Erik Öckinger, Anna Persson, Hanna Franzén and two anonymous referees gave valuable comments on an earlier version of the manuscript. This study was financed by the Nature Conservation Chain to L.A. Nilsson (initiated by Swedish Environmental Protection Agency) and by FORMAS to S.G. Nilsson.
About this article
Cite this article
Franzén, M., Larsson, M. & Nilsson, S.G. Small local population sizes and high habitat patch fidelity in a specialised solitary bee. J Insect Conserv 13, 89–95 (2009). https://doi.org/10.1007/s10841-007-9123-4
Received:

Accepted:

Published:

Issue Date:

DOI: https://doi.org/10.1007/s10841-007-9123-4
Keywords
Andrena hattorfiana
Knautia arvensis

Apoidea

Oligolecty

Wild-bee

Metapopulation

Sedentary

Dispersal

Mark-recapture