Abstract
The introduced Bombus terrestris has recently been naturalized in Japan and become dominant in some local communities. We investigated potential niche overlaps between introduced and native bumblebees in terms of morphological characteristics, seasonal flight activity, foraging and nesting habitat use, and plant species visited. There were considerable niche overlaps in flower resource use between B. terrestris and B. hypocrita sapporoensis/B. pseudobaicalensis. Bombus terrestris also potentially competes for nest sites with B. hypocrita sapporoensis. During 3-year monitoring, B. pseudobaicalensis showed no noticeable change, but B. hypocrita sapporoensis decreased while B. terrestris increased. Abundant flower resources provided by exotic plants may buffer native bumblebees from competition for food with introduced species. By contrast, the number of nest usurpers found in B. terrestris nests increased between 2003 and 2005, indicating that availability of nest sites was limiting and queens strongly competed for nest sites. Our findings suggest that competition for nest sites rather than flower resources is the major ecological mechanism for displacement of native bees. The large reduction of B. hypocrita sapporoensis queen indicates that B. terrestris may cause local extinction of native bumblebees. Control of established B. terrestris populations and prevention of further range expansion are urgently needed.
Access options
Buy single article
Instant access to the full article PDF.
US$ 39.95
Tax calculation will be finalised during checkout.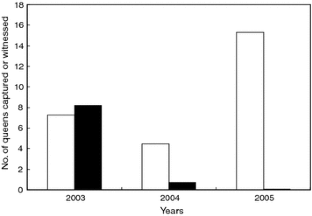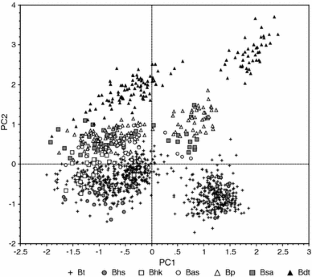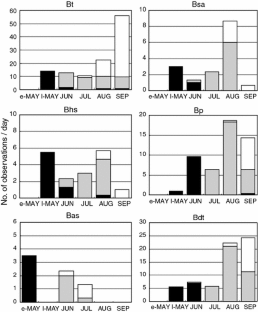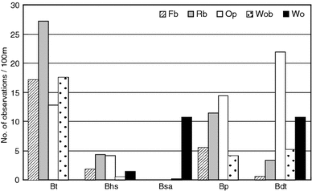 References
Alford DV (1975) Bumblebees. Davis-Poynter Ltd., London

Banaszak J (1980) Studies on methods of censusing the numbers of bees (Hymenoptera, Apoidea). Polish Ecol Stud 6:355–366

Chittka L, Ings TC, Raine NE (2004) Chance and adaptation in the evolution of island bumblebee behaviour. Popul Ecol 46:243–251

Dafni A (1998) The threat of Bombus terrestris spread. Bee World 79:113–114

Dafni A, Shmida A (1996) The possible ecological implications of the invasion of Bombus terrestris (L.) (Apidae) at Mt. Carmel, Israel. In: Matheson A (ed) The conservation of bees. The Linnean Society of London and The International Bee Research Association, London

Donovan BJ (1980) Interactions between native and introduced bees in New Zealand. NZ J Ecol 3:104–116

Donovan BJ, Wier SS (1978) Development of hives for field population increase, and studies on the life cycles of the four species of introduced bumble bees in New Zealand. NZ J Agric Res 21:733–756

Estoup A, Solignac M, Cornuet JM, Goudet J, Scholl A (1996) Genetic differentiation of continental and island populations of Bombus terrestris (Hymenoptera:Apidae) in Europe. Mol Ecol 5:19–31

Ginsberg HS (1983) Foraging ecology of bees in an old field. Ecology 64:165–175

Goka K, Okabe K, Yoneda M, Niwa S (2001) Bumblebee commercialization will cause worldwide migration of parasitic mites. Mol Ecol 10:2095–2099

Goulson D (2003) Bumblebees: their behaviour and ecology. Oxford University Press, New York

Goulson D, Hanley ME (2004) Distribution and forage use of exotic bumblebees in South Island, New Zealand. NZ J Ecol 28:225–232

Hingston AB (2005) Does the introduced bumblebee, Bombus terrestris (Apidae), prefer flowers of introduced or native plants in Australia? Aust J Zool 53:29–34

Hingston AB (2006) Is the exotic bumblebee Bombus terrestris really invading Tasmanian native vegetation? J Insect Conserv 10:289–293

Hingston AB, McQuillan PB (1998) Does the recently introduced bumblebee Bombus terrestris (Apidae) threaten Australian ecosystems? Aust J Ecol 23:539–549

Hingston AB, Marsden-Smedley J, Driscoll DA, Corbett S, Fenton J, Anderson R, Plowman C, Mowling F, Jenkin M, Matsui K, Bonham KJ, Ilowski M, McQuillin PB, Yaxley B, Reid T, Storey D, Poole L, Mallick SA, Fitzgerald N, Kirkpatrick LB, Febey J, Harwood AG, Michaels KF, Russell MJ, Black PG, Emmerson L, Visoiu M, Morgan J, Breen S, Gates S, Bantich MN, Desmarchelier JM (2002) Extent of invasion of Tasmanian native vegetation by the exotic bumblebee Bombus terrestris (Apoidea: Apidae). Aust Ecol 27:162–172

Hingston AB, Herrmann W, Jordan GJ (2006) Reproductive success of a colony of the introduced bumblebee Bombus terrestris (L) (Hymenoptera: Apidae) in a Tasmanian national park. Aust J Entomol 45:137–141

Horn HS (1966) Measurement of overlap in comparative ecological studies. Am Nat 100:419–424

Inari N, Nagamitsu T, Kenta T, Goka K, Hiura T (2005) Spatial and temporal pattern of introduced Bombus terrestris abundance in Hokkaido, Japan, and its potential impact on native bumblebees. Popul Ecol 47:77–82

Inoue MN, Yokoyama J (2006) Morphological variation in relation to flower use in bumblebees. Entomol Sci 9:147–159

Ito M (1991) Identification, ecology, and distribution of Japanese bumblebees. In: Inoue T (ed) A Japanese translation version of bumblebee economics. Bun-ichi Sogo Shuppan, Tokyo (in Japanese)

Kato M (1993) Impacts of the introduction of Bombus terrestris colonies upon pollination mutualism in Japan. Honeybee Sci 14:110–114 (in Japanese)

Kawahara S (2004) Note on Bombus terrestris L. new found in Koshimizu-cho, North-east Hokkaido. Res Rep Bihoro Mus 12:69–74, (in Japanese)

Kojima N (2006) Collaborating with volunteer citizens to the exclusion of an invasive alien bumblebee Bombus terrestris. Jpn J Conserv Ecol 11:61–69

Kunitake Y, Goka K (2006) Environmental risk assessment and management decisions for introduced insects—legal controls on Bombus terrestris by Invasive Alien Species Act—. Jpn J Plant Protect 60:196–197 (in Japanese)

MacFarlane RP, Gurr L (1995) Distribution of bumble bees in New Zealand. NZ Entomol 18:29–36

Mack RN, Simberloff D, Lonsdale WM, Evans H, Clout M, Bazzaz FA (2000) Biotic invasions: causes, epidemiology, global consequences, and control. Ecol Appl 10:689–710

Matsumura C, Yokoyama J, Washitani I (2004) Invasion status and potential impacts of an invasive alien bumblebee, Bombus terrestris L. (Hymenoptera: Apidae) naturalized in southern Hokkaido, Japan. Global Environ Res 8:51–66

Matsuura M (1995) Social wasps of Japan in color. Hokkaido University Press, Sapporo (in Japanese)

Minckley RL, Cane JH, Kervin L, Yanega D (2003) Biological impediments to measures of competition among introduced honey bees and desert bees (Hymenotera: Apoformes). J Kansas Entomol Soc 62:306–319

Nagamitsu T, Kenta T, Inari N, Kato E, Hiura T (2006) Abundance, body size, and morphology of bumblebees in an area where an exotic species, Bombus terrestris, has colonized in Japan. Ecol Res (in press) DOI 10.1007/s11284-006-0029-5

Nakajima M, Matsumura C, Yokoyama J, Washitani I (2004) Nesting in Bombus terrestris (Linnaeus) and foraging by B terrestris workers from a B hypocrita sapporoensis (Cockerell) nest in Mukawa-cho, Yufutsu-gun, Hokkaido, Japan. Conserv Ecol 9:57–63 (in Japanese)

Neu CW, Byers CR, Peek JM (1974) The technique for analysis of utilization-availability data. J Wildlife Manage 38:541–545

Ono M (1997) Ecological implications of introduced Bombus terrestris, and significance of domestication of Japanese native bumblebees (Bombus spp.). In: Proc. Int. Workshop on Biological Invasions of Ecosystem by Pests and Beneficial Organisms. Tsukuba, Japan, pp 244–252

Ono M (1998) Why is now the bumblebees? Nat Insects 33:2–3 (in Japanese)

Paton DC (1993) Honeybees in the Australian environment: Does Apis mellifera disrupt or benefit the native biota? BioScience 43:95–103

Prŷs-Jones OE, Corbet SA (1991) Bumblebees. The Richmond Publishing Co. Ltd., Slough

Richards KW (1978) Nest site selection by bumble bees (Hymenoptera: Apidae) in southern Alberta. Can Ent 110:301–318

Ruz L, Herrera R (2001) Preliminary observations on foraging activities of Bombus dahlbomii and Bombus terrestris (Hym: Apidae) on native and non-native vegetation in Chile. Acta Hortic 561:165–169

Sakagami SF, Katayama E (1977) Nests of some Japanese bumblebees (Hymenoptera, Apidae). J Fac Sci, Hokkaido Univ, Ser. 6. Zool 21:92–153

Saville NM, Dramstad WE, Fry GLA, Corbet SA (1997) Bumblebee movement in a fragmented agricultural landscape. Agric Ecosyst Environ 61:145–154

Schoener TW (1974) Resource partitioning in ecological communities. Science 185:27–39

Semmens TD (1996) Flower visitation by the bumble bee Bombus terrestris (L) (Hymenoptera: Apidae) in Tasmania. Aust Entomol 23:33–35

Semmens TD, Turner E, Buttermore R (1993) Bombus terrestris (L.) (Hymenoptera: Apidae) now established in Tasmania. J Aust Entomol Soc 32:346

Sladen FWL (1912) The humble-bee. Macmillan and Co. Ltd., London

Stout JC, Goulson D (2000) Bumble bees in Tasmania: their distribution and potential impact on Australian flora and fauna. Bee World 81:80–86

Stout JC, Kells AR, Goulson D (2002) Pollination of the invasive exotic shrub Lupinus arboreus (Fabaceae) by introduced bees in Tasmania? Biol Conserv 106: 425–434

Svensson B, Lagerlof J, Svensson BG (2000) Habitat preferences of nest-seeking bumble bees (Hymenoptera: Apidae) in an agricultural landscape. Agric Ecosyst Environ 77:247–255

Takamizawa K (2005) The Japanese social wasps and bees. Shinano Mainichi Shimbun, Nagano (in Japanese)

Teräs I (1983) Estimation of bumblebee densities (Bombus: Hymenoptera, Apidae). Acta Entomol Fenn 42:103–113

Velthuis HHW, van Doorn A (2006) A century of advances in bumblebee domestication and the economic and environmental aspects of its commercialization for pollination. Apidologie 37:421–451

Washitani I (1998) Conservation-ecological issues of the recent invasion of Bombus terrestris into Japan. Jpn J Ecol 48:73–78 (in Japanese)

Washitani I, Morimoto N (1993) Alien plants and animals naturalized in Japan. Hoikusya, Tokyo (in Japanese)

Washitani I, Suzuki K, Kato M, Ono M (1997) A field guide to bumblebees. Bun-ichi-sogo-shuppan, Tokyo (in Japanese)

Wilms W, Imperatriz-Fenseca VL, Engels W (1996) Resource partitioning between highly eusocial bees and possible impact of the introduced Africanized honey bee on native stingless bees in the Brazilian Atlantic rainforest. Stud Neotrop Environ 31:137–151

Yokoyama J, Matsumura C, Nakajima M, Sugiura N, Matsumoto M, Kato M, Suzuki K, Washitani I (2004) Evaluation of present status on naturalization of introduced bumblebee, Bombus terrestris, and development of extermination procedure against the species for conservation of native bumblebee species (2). Ann Rep Pro Natura Fund 13:47–54 (in Japanese)
Acknowledgements
We are grateful to Dr. M. Ajima, Dr. I. Dozono, Mr. A. Goto, Mr. T. Inoue, Mr. T. Kadoya, Dr. C. Matsumura, Dr. C. Nakano, Dr. J. Nishihiro, Ms. Y. Nukatsuka, Mr. M. Ohtani, Dr. A. Shimono, Dr. S. Takagawa, and Mr. M. Tamura for assistance with the investigations. We also thank Mr. T. Inoue for making helpful suggestions. This work was partly supported by the Pro Natura Foundation, the Japan Fund for Global Environment, and the Global Environment Research Fund from the Ministry of Environment, Japan.
About this article
Cite this article
Inoue, M.N., Yokoyama, J. & Washitani, I. Displacement of Japanese native bumblebees by the recently introduced Bombus terrestris (L.) (Hymenoptera: Apidae). J Insect Conserv 12, 135–146 (2008). https://doi.org/10.1007/s10841-007-9071-z
Received:

Accepted:

Published:

Issue Date:
Keywords
Biological invasion

Competitive displacement

Interspecific competition

Nest site

Niche overlap