Abstract
Predation of insects by feral cats (Felis silvestris catus) on a heterogeneous oceanic island (La Palma, Canary Islands) was studied. A total of 127 invertebrates were identified in the analysis of 500 scats (100 from each habitat of the Island). Invertebrates appear in 18.00% of the scats, representing an insignificant percentage of the total consumed biomass by feral cats on La Palma Island (0.05%). Insects were the most common invertebrate prey both in percentage of occurrence (90.6%) and invertebrate biomass (93.53%), with a total of 115 prey items. Orthoptera, Lepidoptera and Coleoptera were the main prey groups. Among the five main habitats present in La Palma Island, the temperate forest shows the lowest consumption of invertebrates, although insect consumption did not show statistical differences. However Orthoptera and Lepidoptera were more frequently preyed on in the pine forest and in the xerophytic shrub, respectively. Moreover, applying the Simplified Morisita index, a different insect composition of the diet was observed among habitats. Although, none of insects predated by feral cats are threatened, the identification of invertebrate component of the feral cats' diet is an important tool for the correct understanding of predation significance and to prevent damage to endangered insect species.
Access options
Buy single article
Instant access to the full article PDF.
USD 39.95
Price includes VAT (USA)
Tax calculation will be finalised during checkout.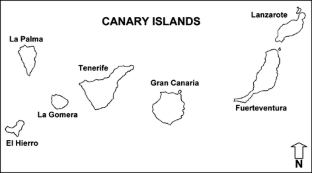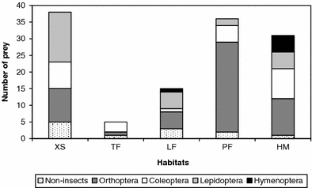 References
Bradshaw JWS (1992) The behaviour of the domestic cat. CABI Publishing, Wallingford

Courchamp F, Chapuis JL, Pascal M (2003) Mammal invaders on islands: impact, control and control impact. Biol Rev 78:347–383

Fitzgerald BM (1988) Diet of domestic cats and their impact on prey populations. In: Turner DC, Bateson P (eds) The domestic cat: the biology of its behaviour. Cambridge University Press, Cambridge, pp 123–147

Fitzgerald BM, Karl BJ (1979) Food of feral house cats (Felis catus L.) in forest of the Orongorongo Valley, Wellington, New Zealand. J Zool (Lond) 6:107–126

Fitzgerald BM, Turner BM (2000) Hunting behaviour of domestic cats and their impact on prey populations. In: Turner DC, Bateson P (eds) The domestic cat: the biology of its behaviour, 2nd edn. Cambridge University Press, Cambridge, pp 151–175

García R, Ortega G, Pérez-Sánchez JM (1992) Insectos de Canarias. Ediciones del Cabildo Insular de Gran Canaria, Las Palmas de Gran Canaria, Canary Islands

Izquierdo I, Martín JL, Zurita N, Arechavaleta M (eds) (2001) Lista de especies silvestres de Canarias (hongos, plantas y animales terrestres) 2001. (Consejería de Política Territorial y Medio Ambiente del Gobierno de Canarias, Santa Cruz de Tenerife, Canary Islands

Karl BJ, Best HA (1982) Feral cats on Stewart Island; their foods, and their effects on Kakapo. N Z J Zool 9:287–294

Kirkpatrick RD, Rauzon MJ (1986) Foods of feral cats Felis catus on Jarvis and Howland Islands, Central Pacific Ocean. Biotropica 18:72–75

Kitchener A (1991) The natural history of the wild cats. Cornell University Press, New York

Konecny MJ (1987) Food habits and energetics of feral house cats in the Galápagos Islands. Oikos 50:24–32

Krebs CJ (1989) Ecological methodology. Harper Collins, New York

Laurie A (1983) Marine iguanas in Galapagos. Oryx 17:18–25

Liberg O (1980) Spacing patterns in a population of rural free roaming domestic cats. Oikos 35:336–349

Medina FM, García R, Nogales M (2006) Feeding ecology of feral cats on a heterogeneous subtropical oceanic island (La Palma, Canarian Archipelago). Acta Theriol 51:75–83

Nogales M, Medina FM (1996) A review of the diet of feral domestic cats (Felis silvestris f. catus) on the Canary Islands, with new data from the laurel forest of La Gomera. Zeitschrift für Säugetierkund 61:1–6

Nogales M, Rando JC, Valido A, Martín A (2001) Discovery of a living giant lizard, genus Gallotia (Reptilia: Lacertidae), from La Gomera, Canary Islands. Herpetologica 57:169–179

Nogales M, Martín A, Tershie BR, Donlan CJ, Veitch D, Puerta N, Wood B, Alonso J (2004) A review of feral cat eradication on islands. Conserv Biol 18:1–10

Oromí P (1982) Los tenebriónidos de las Islas Canarias. Instituto de Estudios Canarios 1:265–299

Pearre S Jr, Maass R (1998) Trends in the prey size-based trophic niches of feral and house cats Felis catus L. Mammal Rev 28:125–139

Pontier D, Say L, Debias F, Bried J, Thioulouse J, Micol T, Natoli E (2002) The diet of feral cats (Felis catus L.) at five sites on the Terra Grande, Kerguelen archipelago. Polar Biol 25:833–837

Rice WR (1989) Analyzing tables of statistical tests. Evolution 43:223–225

Tidemann CR, Yorkston HD, Russack AJ (1994) The diet of cats, Felis catus, on Christmas Island, Indian Ocean. Wildl Res 21:279–286

Tranchant Y, Vidal E, Kayser Y (2003) Premières données sur le régime alimentaire du chat haret Felis catus en situation micro-insulaire Méditerranéenne. Revue Ecologique (Terre et Vie) 58:411–418
Acknowledgements
We are very grateful to Manuel Nogales, Pedro Oromí and two anonymous referees for their revision and comments made on an early draft of the manuscript. Jorge L. Pais Simón provided some data on invertebrate weights.
About this article
Cite this article
Medina, F., García, R. Predation of insects by feral cats (Felis silvestris catus L., 1758) on an oceanic island (La Palma, Canary Island). J Insect Conserv 11, 203–207 (2007). https://doi.org/10.1007/s10841-006-9036-7
Received:

Accepted:

Published:

Issue Date:
Keywords
Arthropods

Felis silvestris catus

Invertebrates

Native species

Predation