Abstract
Background
Pulmonary vein isolation by cryoablation (PVI-C) is a standard therapy for the treatment of atrial fibrillation (AF). The CHA2DS2-VASc score is a well-established predictor of AF-related stroke. Whether the CHA2DS2-VASc score can also be useful in predicting the long-term clinical outcomes following PVI-C is still unsettled. The aim of this analysis was to evaluate the role of the CHA2DS2-VASc score in predicting AF recurrence after PVI-C.
Methods
Patients with symptomatic AF underwent an index PVI-C. Data were collected prospectively in the framework of the 1STOP ClinicalService project. Patients were categorized into two groups: low risk (LR) and high risk (HR) based on CHA2DS2-VASc score (0–1 and ≥ 2, respectively).
Results
Out of 3313 patients, 1910 (57.6%) had a CHA2DS2-VASc score between 0 and 1, while 1403 (42.3%) had CHA2DS2-VASc > = 2. Patient characteristics were significantly different between the two cohorts, including age, sex, BMI, paroxysmal AF, history of stroke, diabetes, and ischemic cardiomyopathy. On the contrary, procedural times and acute complications were comparable. The 36-month freedom from AF after a single procedure was 72.5% (95% CI: 69.8–75.0) in the LR group and 65.9% (95% CI: 62.3–69.2) in the HR score group (HR: 1.26, 95% CI: 1.08–1.47, p = 0.001). After multivariate analysis, higher CHA2DS2-VASc score was still a significant predictor of the risk of AF recurrence (HR: 1.33; 1.10–1.60, p = 0.003).
Conclusions
PVI-C is highly effective in the treatment of AF over the long term. A CHA2DS2-VASc score ≥ 2 is an independent predictor of AF recurrence during the follow-up and should be considered during the clinical management after the index procedure.
Access options
Buy single article
Instant access to the full article PDF.
USD 39.95
Price excludes VAT (USA)
Tax calculation will be finalised during checkout.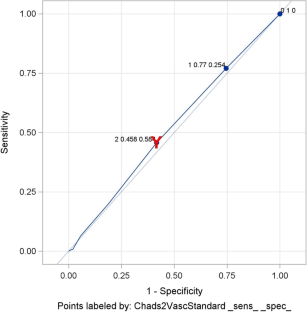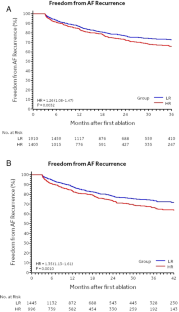 Data availability
The data that support the findings of this study are available from the corresponding author upon reasonable request.
Code availability
SAS software, version 9.4 (SAS Institute Inc., Cary, NC, USA), was used to perform statistical analyses.
References
Calkins H, Hindricks G, Cappato R, et al. 2017 HRS/EHRA/ECAS/APHRS/SOLAECE expert consensus statement on catheter and surgical ablation of atrial fibrillation. Heart Rhythm. 2017;14(10):e275–444. https://doi.org/10.1016/j.hrthm.2017.05.012.

Hindricks G, Potpara T, Dagres N, ESC Scientific Document Group, et al. 2020 ESC Guidelines for the diagnosis and management of atrial fibrillation developed in collaboration with the European Association for Cardio-Thoracic Surgery (EACTS): The Task Force for the diagnosis and management of atrial fibrillation of the European Society of Cardiology (ESC) Developed with the special contribution of the European Heart Rhythm Association (EHRA) of the ESC. Eur Heart J. 2021;42(5):373–498. https://doi.org/10.1093/eurheartj/ehaa612.

Kuck KH, Brugada J, Fürnkranz A, FIRE AND ICE Investigators, et al. Cryoballoon or Radiofrequency Ablation for Paroxysmal Atrial Fibrillation. N Engl J Med. 2016;374(23):2235–45. https://doi.org/10.1056/NEJMoa1602014.

Kuck KH, Albenque JP, Chun KJ, FIRE AND ICE Investigators, et al. Repeat ablation for atrial fibrillation recurrence post cryoballoon or radiofrequency ablation in the FIRE AND ICE trial. Circ Arrhythm Electrophysiol. 2019;12(6):e007247.

Njoku A, Kannabhiran M, Arora R, et al. Left atrial volume predicts atrial fibrillation recurrence after radiofrequency ablation: a meta-analysis. Europace. 2018;20(1):33–42.

Mohanty S, Della Rocca DG, Gianni C, et al. Predictors of recurrent atrial fibrillation following catheter ablation. Expert Rev Cardiovasc Ther. 2021;19(3):237–46. https://doi.org/10.1080/14779072.2021.1892490.

Osorio J, Hunter TD, Rajendra A, Zei P, Silverstein J, Morales G. Predictors of clinical success after paroxysmal atrial fibrillation catheter ablation. J Cardiovasc Electrophysiol. 2021;32(7):1814–21. https://doi.org/10.1111/jce.15028.

Lip GY, Nieuwlaat R, Pisters R, Lane DA, Crijns HJ. Refining clinical risk stratification for predicting stroke and thromboembolism in atrial fibrillation using a novel risk factor-based approach: the euro heart survey on atrial fibrillation. Chest. 2010;137(2):263–72.

Padeletti L, Curnis A, Tondo C, et al. Pulmonary vein isolation with the cryoballoon technique: feasibility, procedural outcomes, and adoption in the real world: data from One Shot Technologies TO Pulmonary vein isolation (1STOP) Project. Pacing Clin Electrophysiol. 2017;40(1):46–56.

Tondo C, Iacopino S, Pieragnoli P, ClinicalService 1STOP Project Investigators, et al. Pulmonary vein isolation cryoablation for patients with persistent and long-standing persistent atrial fibrillation: clinical outcomes from the real-world multicenter observational project. Heart Rhythm. 2018;15(3):363–8.

Letsas KP, Efremidis M, Giannopoulos G, et al. CHADS2 and CHA2DS2-VASc scores as predictors of left atrial ablation outcomes for paroxysmal atrial fibrillation. Europace. 2014;16(2):202–7. https://doi.org/10.1093/europace/eut210.

Zhao J, Zhou D, Chen M, et al. CHA2DS2-VASc and SAMe-TT2R2 scores as predictors of recurrence for nonvalvular atrial fibrillation patients on vitamin K antagonists after radiofrequency catheter ablation. J Cardiovasc Med (Hagerstown). 2020;21(3):200–8. https://doi.org/10.2459/JCM.0000000000000930.

Jacobs V, May HT, Bair TL, et al. The impact of risk score (CHADS2 versus CHA2DS2-VASc) on long-term outcomes after atrial fibrillation ablation. Heart Rhythm. 2015;12(4):681–6. https://doi.org/10.1016/j.hrthm.2014.12.034.

Tu HT, Campbell BC, Meretoja A, et al. Pre-stroke CHADS2 and CHA2DS2-VASc scores are useful in stratifying three-month outcomes in patients with and without atrial fibrillation. Cerebrovasc Dis. 2013;36(4):273–80. https://doi.org/10.1159/000353670.

Kornej J, Hindricks G, Kosiuk J, et al. Comparison of CHADS2, R2CHADS2, and CHA2DS2-VASc scores for the prediction of rhythm outcomes after catheter ablation of atrial fibrillation: the Leipzig Heart Center AF Ablation Registry. Circ Arrhythm Electrophysiol. 2014;7(2):281–7. https://doi.org/10.1161/CIRCEP.113.001182.

Tsai CF, Huang PS, Chen JJ, et al. Correlation between CHA2DS2-VASc score and left atrial size in patients with atrial fibrillation: a more than 15-year prospective follow-up study. Front Cardiovasc Med. 2021;28(8): 653405. https://doi.org/10.3389/fcvm.2021.653405.

Daccarett M, Badger TJ, Akoum N, et al. Association of left atrial fibrosis detected by delayed-enhancement magnetic resonance imaging and the risk of stroke in patients with atrial fibrillation. J Am Coll Cardiol. 2011;57(7):831–8.

Lohrmann G, Liu A, Ziegler P, Monteiro J, Varberg N, Passman R. CHA2DS2VASc score as a predictor of ablation success defined by continuous long-term monitoring. J Interv Card Electrophysiol. 2022;. https://doi.org/10.1007/s10840-022-01326-6. Online ahead of print.

Marrouche NF, Wilber D, Hindricks G, et al. Association of atrial tissue fibrosis identified by delayed enhancement MRI and atrial fibrillation catheter ablation: the DECAAF study. JAMA. 2014;311(5):498–506.

Demarchi A, Neumann L, Rordorf R, et al. Long-term outcome of catheter ablation for atrial fibrillation in patients with severe left atrial enlargement and reduced left ventricular ejection fraction. Europace. 2021;23(11):1751–2175.

Fortuni F, Casula M, Sanzo A, et al. Meta-analysis comparing cryoballoon versus radiofrequency as first ablation procedure for atrial fibrillation. Am J Cardiol. 2020;125(8):1170–9.

Rordorf R, Scazzuso F, Chun KRJ, Cryo AF global registry investigators, et al. Cryoballoon ablation for the treatment of atrial fibrillation in patients with concomitant heart failure and either reduced or preserved left ventricular ejection fraction: results from the Cryo AF Global Registry. J Am Heart Assoc. 2021;10(24):e021323.
Acknowledgements
We would like to thank Hae Lim, an employee of Medtronic Inc, for his help in the preparation of the manuscript.
Ethics declarations
Ethics approval
The project was approved by each site's medical ethics committee or medical director, and it conforms to the principles outlined in the Declaration of Helsinki.
Consent to participate
Each patient provided informed consent for data collection and analyses.
Consent for publication
NA
Conflict of interest
Roberto Rordorf received modest speaking fees from Abbott and Boston Scientific. Roberto Verlato received modest consultancy and speaker's fees from Medtronic. Giulio Molon received modest consultancy fees from Medtronic and Boston Scientific and speaker's fees from Medtronic, Boston Scientific, St. Jude, and Boehringer Ingelheim. Claudio Tondo serves as a member of the Medtronic European Advisory Board and Boston Scientific International Advisory Board. He received lecture and proctor fees from Medtronic, Abbott Medical, Biosense Webster, and Boston Scientific. All other authors have reported that they have no relationships relevant to the contents of this manuscript to disclose.
Additional information
Publisher's note
Springer Nature remains neutral with regard to jurisdictional claims in published maps and institutional affiliations.
Supplementary Information
Below is the link to the electronic supplementary material.
Rights and permissions
Springer Nature or its licensor (e.g. a society or other partner) holds exclusive rights to this article under a publishing agreement with the author(s) or other rightsholder(s); author self-archiving of the accepted manuscript version of this article is solely governed by the terms of such publishing agreement and applicable law.
About this article
Cite this article
Rordorf, R., Iacopino, S., Verlato, R. et al. Role of CHA2DS2-VASc score in predicting atrial fibrillation recurrence in patients undergoing pulmonary vein isolation with cryoballoon ablation. J Interv Card Electrophysiol 66, 1193–1200 (2023). https://doi.org/10.1007/s10840-022-01430-7
Received:

Accepted:

Published:

Issue Date:

DOI: https://doi.org/10.1007/s10840-022-01430-7
Keywords