Abstract
Background
Electronic products, including the iPhone 12, Apple Watch Series 6, and 2nd Generation AirPods, contain magnets to facilitate wireless charging. Permanent magnets may affect CIED magnet mode features by causing pacemakers to pace asynchronously and defibrillators to suspend arrhythmia detection. This study determined if CIEDs are affected by static magnetic fields from commonly used portable electronics (PE) at any distance and intends to reinforce FDA recommendations concerning consumer PE which contain permanent magnets.
Methods
The maximum magnet field measurement was evaluated by a Gauss meter. The interaction between PE and CIEDs from Boston Scientific and Medtronic were tested ex vivo using a body torso model. The CIED was placed in physiologic saline, and the PE was placed at the surface and at increasing distances of 0.5, 1.0, and 1.5 cm. Interactions were recorded by assessment of magnet mode status.
Results
The iPhone 12 had almost three times the static magnetic field measured at the surface as the iPhone XR, but magnetic field strength decreased dramatically with increasing distance. At the surface of the model, PE triggered magnet mode in all CIEDs. The maximum interaction distance for all combinations of CIEDs and Apple products was 1.5 cm.
Conclusions
The iPhone 12 produces a stronger static magnetic field than previous iPhone models. Magnets in PE tested will not interact with CIEDs when they are 15 cm from the implanted device. Since no interaction was observed beyond 1.5 cm, it is unlikely that magnet mode activation will occur during most daily activities.
Access options
Buy single article
Instant access to the full article PDF.
USD 39.95
Price excludes VAT (USA)
Tax calculation will be finalised during checkout.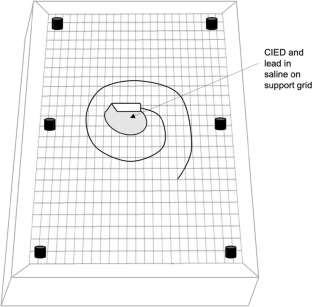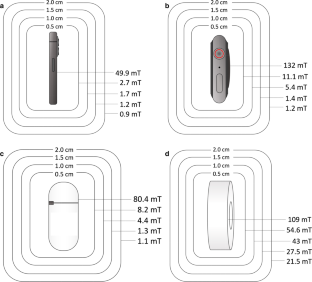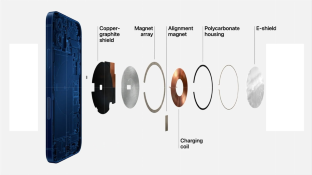 References
Jacob S, Panaich SS, Maheshwari R, et al. Clinical applications of magnets on cardiac rhythm management devices. Europace. 2011;13:1222–30.

Held EP, Shehata M, Swerdlow CD, et al. To the editor-Interference of smartphones containing magnets and cardiac implantable electronic devices–-is this common. Hear Rhythm. 2021;18:P1042-1043.

Patterson Z, Straw S, Drozd M, et al. To the editor–-New phones, old problem? Interference with cardiovascular implantable electronic devices by phones containing magnets. Heart Rhythm. 2021;18:P1041.

Greenberg JC, Attawil MR, Singh G. Letter to the editor–-lifesaving therapy inhibition by phones containing magnets. Heart Rhythm. 2021;18:P1040-1041.

U.S. Food and Drug Administration 2021. Magnets in cell phones and smart watches may affect pacemakers and other implanted medical devices. https://www.fda.gov/radiation-emitting-products/cell-phones/magnets-cell-phones-and-smart-watches-may-affect-pacemakers-and-other-implanted-medical-devices. Accessed 5 January 2022.

Apple, Inc., 2021. About potential magnetic interference with medical devices. https://support.apple.com/en-al/HT211900. Accessed 9 Nov 2021.

International Organization for Standardization 14117. Active implantable medical devices – electromagnetic compatibility – EMC test protocols for implantable cardiac pacemakers, implantable cardioverter defibrillators and cardiac resynchronization devices. https://www.iso.org/standard/73915.html. Accessed 9 Nov 2021.

Fery C, Desombre A, Quirin T, et al. Magnetic field measurements of portable electronic devices: the risk inside pockets for patients with cardiovascular implantable devices. Circ Arrhythm Electrophysiol. 2022. https://doi.org/10.1161/CIRCEP.121.010646.

Nadeem F, Garcia AM, Tran CT, Wu M. Magnetic interference on cardiac implantable electronic devices from Apple iPhone MagSafe technology. J Am Heart Assoc. 2021. https://doi.org/10.1161/JAHA.121.020818.

Asher EB, Panda N, Tran CT, Wu M. Smart wearable device accessories may interfere with implantable cardiac devices. Heart Rhythm. 2020;7:167–9.
Funding
This study was funded by the Minneapolis Heart Institute Foundation, Medtronic, Inc., and Boston Scientific, Inc.
Ethics declarations
Ethics approval
Not applicable.
Conflict of interest
The authors declare no competing interests.
Additional information
Publisher's Note
Springer Nature remains neutral with regard to jurisdictional claims in published maps and institutional affiliations.
About this article
Cite this article
Xu, K., Sengupta, J., Casey, S. et al. Magnetic field interactions between current consumer electronics and cardiac implantable electronic devices. J Interv Card Electrophysiol 65, 133–139 (2022). https://doi.org/10.1007/s10840-022-01241-w
Received:

Accepted:

Published:

Issue Date:

DOI: https://doi.org/10.1007/s10840-022-01241-w
Keywords