Abstract
Background
Despite maturing experience, transseptal puncture (TSP) remains a challenging part of percutaneous left atrial appendage closure (LAAC) and has inherent risks and safety concerns in accessing the left atrium (LA). The VersaCross radiofrequency (RF) system (Baylis Medical), a new RF-tipped pigtail wire-based TSP system, may facilitate LA access by serving as an exchange support wire once access is achieved.
Methods
We retrospectively compared TSP safety and procedural efficiency in 10 consecutive LAAC cases using the VersaCross RF system to 10 cases using the conventional BRK1-XS mechanical needle (Abbott Vascular). The safety and time from femoral access to delivery of the device sheath were compared to the conventional workflow using BRK1-XS/SL1.
Results
We included consecutive 20 cases between July 2019 and November 2019 (12 with WATCHMAN (Boston Scientific, Natick, MA) and 8 with Amulet (St. Jude Medical, St Paul, MN)). Baseline patient characteristics and procedural details were similar in both groups (VersaCross RF system vs. conventional BRK1-XS mechanical needle). All cases were completed successfully with no procedural or in-hospital complications. VersaCross reduced time from femoral access to TSP [4.1 ± 2.5 min vs. 8.4 ± 4.0 min (p = 0.009)] and time from femoral access to delivery sheath access into LA [6.7 ± 2.4 min vs. 13.4 ± 5.4 min (p = 0.002)] compared to BRK1-XS.
Conclusions
Combining a starter wire, transseptal needle and exchange guidewire in the VersaCross RF system enabled faster LA access, which potentially leads to efficient workflow. Further investigation with larger sample size is warranted to corroborate our findings.
Access options
Buy single article
Instant access to the full article PDF.
US$ 39.95
Tax calculation will be finalised during checkout.
Subscribe to journal
Immediate online access to all issues from 2019. Subscription will auto renew annually.
US$ 79
Tax calculation will be finalised during checkout.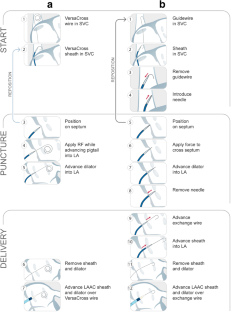 References
1.

January CT, Wann LS, Calkins H, Chen LY, Cigarroa JE, Cleveland JC Jr, et al. 2019 AHA/ACC/HRS Focused Update of the 2014 AHA/ACC/HRS Guideline for the Management of Patients With Atrial Fibrillation: A Report of the American College of Cardiology/American Heart Association Task Force on Clinical Practice Guidelines and the Heart Rhythm Society in Collaboration With the Society of Thoracic Surgeons. Circulation. 2019;140(2):e125–e51.

2.

Asmarats L, Rodes-Cabau J. Percutaneous left atrial appendage closure: current devices and clinical outcomes. Circ Cardiovasc Interv. 2017;10(11).

3.

Holmes DR Jr, Nishimura R, Fountain R, Turi ZG. Iatrogenic pericardial effusion and tamponade in the percutaneous intracardiac intervention era. JACC Cardiovasc Interv. 2009;2(8):705–17.

4.

Piccini JP, Fauchier L. Rhythm control in atrial fibrillation. Lancet. 2016;388(10046):829–40.

5.

Sanchez JM, Shah R, Kouassi Y, Chronowic M, Wilson L, Marcus GM. A cost-effectiveness analysis comparing a conventional mechanical needle to a radiofrequency device for transseptal punctures. J Cardiovasc Electrophysiol. 2020;31(7):1672–7.
Ethics declarations
Disclosures
Dr. Saw has received unrestricted research grant supports (from the Canadian Institutes of Health Research, Heart & Stroke Foundation of Canada, National Institutes of Health, AstraZeneca, Abbott Vascular, St Jude Medical, Boston Scientific, and Servier), salary support (Michael Smith Foundation for Health Research), speaker honoraria (AstraZeneca, Abbott Vascular, Boston Scientific, Bayer), consultancy and advisory board honoraria (AstraZeneca, Boston Scientific, Abbott Vascular, Gore, Baylis and Abiomed), and proctorship honoraria (Abbott Vascular and Boston Scientific).
Additional information
Publisher's note
Springer Nature remains neutral with regard to jurisdictional claims in published maps and institutional affiliations.
About this article
Cite this article
Inohara, T., Gilhofer, T., Luong, C. et al. VersaCross radiofrequency system reduces time to left atrial access versus conventional mechanical needle. J Interv Card Electrophysiol (2021). https://doi.org/10.1007/s10840-020-00931-7
Received:

Accepted:

Published:
Keywords
VersaCross

Transseptal puncture

Atrial fibrillation

Left atrial appendage closure