Abstract
Purpose
The relation between dyslipidemia and atrial fibrillation (AF) development remains controversial. We conducted a prospective study to investigate the association of lipids with the risk of recurrence of AF after radiofrequency catheter ablation (RFCA).
Methods
This study enrolled 287 consecutive patients who underwent initial circumferential pulmonary vein ablation (CPVA). Fasting levels of total cholesterol (TC), low-density lipoprotein cholesterol (LDL-C), high-density lipoprotein cholesterol (HDL-C), and triglycerides (TG) were measured at baseline before ablation. Patients were classified according to lipid quartiles. AF recurrence was confirmed by 48-h electrocardiograms at follow-up visits.
Results
A total of 71 patients (24.7%) experienced AF recurrence during 3 to 12 months after ablation. By univariate Cox regression survival analysis, TC (HR, 0.63; 95%CI, 0.48–0.82), LDL-C (HR, 0.61; 95%CI, 0.44–0.84), non-paroxysmal AF type (HR, 2.56; 95%CI, 1.52–4.21), and left atrial diameter (HR, 2.18; 95%CI, 1.46–3.24) were significantly associated with AF recurrence. By multivariate Cox regression survival analysis, lower quartiles of TC (HR, 3.66; 95%CI, 1.56–8.56) and LDL-C (HR, 2.28; 95%CI 1.09–4.77) were associated with higher risk of AF recurrence compared with the highest quartiles. After adjustment by sex, lower TC (HR, 11.70; 95%CI, 2.79–49.13) and LDL-C (HR, 11.00; 95%CI, 2.77–43.72) levels were associated with the recurrence of AF in women, but not in men. HDL-C and TG levels showed no association with AF recurrence in both genders.
Conclusions
TC and LDL-C levels were negatively correlated with AF recurrence after RFCA in women. HDL-C and TG were not independently associated with AF recurrence in both genders.
This is a preview of subscription content, log in to check access.
Access options
Buy single article
Instant access to the full article PDF.
US$ 39.95
Price includes VAT for USA
Subscribe to journal
Immediate online access to all issues from 2019. Subscription will auto renew annually.
US$ 99
This is the net price. Taxes to be calculated in checkout.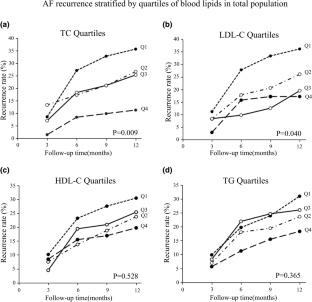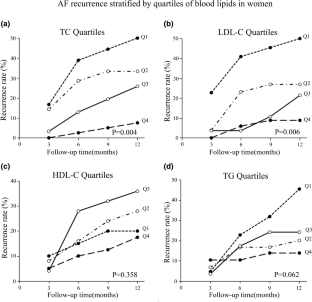 References
1.

Allan V, Honarbakhsh S, Casas J, Wallace J, Hunter R, Schilling R, et al. Are cardiovascular risk factors also associated with the incidence of atrial fibrillation? A systematic review and field synopsis of 23 factors in 32 population-based cohorts of 20 million participants. Thromb Haemost. 2017;117(5):837–50.

2.

Annoura M, Ogawa M, Kumagai K, Zhang B, Saku K, Arakawa K. Cholesterol paradox in patients with paroxysmal atrial fibrillation. Cardiology. 1999;92(1):21–7.

3.

Mora S, Akinkuolie A, Sandhu R, Conen D, Albert C. Paradoxical association of lipoprotein measures with incident atrial fibrillation. Circ Arrhythm Electrophysiol. 2014;7(4):612–9.

4.

Psaty B, Manolio T, Kuller L, Kronmal R, Cushman M, Fried L, et al. Incidence of and risk factors for atrial fibrillation in older adults. Circulation. 1997;96(7):2455–61.

5.

Mourtzinis G, Kahan T, Bengtsson Boström K, Schiöler L, Cedstrand Wallin L, Hjerpe P, et al. Relation between lipid profile and new-onset atrial fibrillation in patients with systemic hypertension (from the Swedish primary care cardiovascular database [SPCCD]). Am J Cardiol. 2018;122(1):102–7.

6.

Li X, Gao L, Wang Z, Guan B, Guan X, Wang B, et al. Lipid profile and incidence of atrial fibrillation: a prospective cohort study in China. Clin Cardiol. 2018;41(3):314–20.

7.

Haïssaguerre M, Gencel L, Fischer B, Le Métayer P, Poquet F, Marcus F, et al. Successful catheter ablation of atrial fibrillation. J Cardiovasc Electrophysiol. 1994;5(12):1045–52.

8.

Cheema A, Vasamreddy CR, Dalal D, Marine JE, Dong J, Henrikson CA, et al. Long-term single procedure efficacy of catheter ablation of atrial fibrillation. J Interv Card Electrophysiol : an international journal of arrhythmias and pacing. 2006;15(3):145–55.

9.

Chang S, Tuan T, Tai C, Lin Y, Lo L, Hu Y, et al. Comparison of outcome in catheter ablation of atrial fibrillation in patients with versus without the metabolic syndrome. Am J Cardiol. 2009;103(1):67–72.

10.

Mohanty S, Mohanty P, Di Biase L, Bai R, Pump A, Santangeli P, et al. Impact of metabolic syndrome on procedural outcomes in patients with atrial fibrillation undergoing catheter ablation. J Am Coll Cardiol. 2012;59(14):1295–301.

11.

Calkins H, Hindricks G, Cappato R, Kim Y, Saad E, Aguinaga L, et al. 2017 HRS/EHRA/ECAS/APHRS/SOLAECE expert consensus statement on catheter and surgical ablation of atrial fibrillation. Heart Rhythm. 2017;14(10):e275–444.

12.

Lopez F, Agarwal S, Maclehose R, Soliman E, Sharrett A, Huxley R, et al. Blood lipid levels, lipid-lowering medications, and the incidence of atrial fibrillation: the atherosclerosis risk in communities study. Circ Arrhythm Electrophysiol. 2012;5(1):155–62.

13.

Alonso A, Yin X, Roetker N, Magnani J, Kronmal R, Ellinor P, et al. Blood lipids and the incidence of atrial fibrillation: the multi-ethnic study of atherosclerosis and the Framingham heart study. J Am Heart Assoc. 2014;3(5):e001211.

14.

Jiang H, Wang W, Wang C, Xie X, Hou Y. Association of pre-ablation level of potential blood markers with atrial fibrillation recurrence after catheter ablation: a meta-analysis. Europace. 2017;19(3):392–400.

15.

Quist-Paulsen P. Statins and inflammation: an update. Curr Opin Cardiol. 2010;25(4):399–405.

16.

Suleiman M, Koestler C, Lerman A, Lopez-Jimenez F, Herges R, Hodge D, et al. Atorvastatin for prevention of atrial fibrillation recurrence following pulmonary vein isolation: a double-blind, placebo-controlled, randomized trial. Heart Rhythm. 2012;9(2):172–8.

17.

Yang Q, Qi X, Dang Y, Song X, Hao X. Impact of statin therapy on recurrence of persistent atrial fibrillation after electrical cardioversion: a meta-analysis. Zhonghua Xin Xue Guan Bing Za Zhi. 2015;43(11):994–8.

18.

Sousa P, Providência R, Albenque J, Khoueiry Z, Combes N, Combes S, et al. Impact of free thyroxine on the outcomes of left atrial ablation procedures. Am J Cardiol. 2015;116(12):1863–8.

19.

Tang R, Liu D, Dong J, Liu X, Long D, Yu R, et al. High-normal thyroid function and risk of recurrence of atrial fibrillation after catheter ablation. Circ J. 2010;74(7):1316–21.

20.

Dart C. Lipid microdomains and the regulation of ion channel function. J Physiol. 2010;588(Pt 17):3169–78.

21.

Kim S, Kim J, Shin D, Kim J, Cho K. Relation of atrial fibrillation (AF) and change of lipoproteins: male patients with AF exhibited severe pro-inflammatory and pro-atherogenic properties in lipoproteins. Clin Biochem. 2014;47(10–11):869–75.

22.

Kimura T, Takatsuki S, Inagawa K, Katsumata Y, Nishiyama T, Nishiyama N, et al. Serum inflammation markers predicting successful initial catheter ablation for atrial fibrillation. Heart Lung Circ. 2014;23(7):636–43.

23.

Lew J, Sanghavi M, Ayers C, McGuire D, Omland T, Atzler D, et al. Sex-based differences in cardiometabolic biomarkers. Circulation. 2017;135(6):544–55.

24.

Tse H, Oral H, Pelosi F, Knight B, Strickberger S, Morady F. Effect of gender on atrial electrophysiologic changes induced by rapid atrial pacing and elevation of atrial pressure. J Cardiovasc Electrophysiol. 2001;12(9):986–9.

25.

Watanabe H, Tanabe N, Yagihara N, Watanabe T, Aizawa Y, Kodama M. Association between lipid profile and risk of atrial fibrillation. Circ J. 2011;75(12):2767–74.

26.

Folsom AR, Pankow JS, Tracy RP, Arnett DK, Peacock JM, Hong Y, et al. Association of C-reactive protein with markers of prevalent atherosclerotic disease. Am J Cardiol. 2001;88(2):112–7.
Funding
This study was supported by the National Science Foundation for Young Scholars of China (Grant nos. 30900612 and 81800231), the Clinical Research Fund of Zhejiang Provincial Medical Association (2015ZYC-A16 and 2018ZYC-A11), the Grant of Medical Science Research Foundation of Zhejiang Province (Grant no. 2018ZD017), grants from the Zhejiang Provincial Natural Science Foundation (Grant no. LY15H020002 and Y17H020020), and a grant from the Department of Science and Technology, Zhejiang Province (Grant no. LGF19H020011), People's Republic of China.
Ethics declarations
Conflict of interest
The authors declare that they have no conflict of interest.
Ethics approval and consent to participate
This study was approved by the Research Ethics Committee of the First Affiliated Hospital of Zhejiang University.
Informed consent
Informed consent was obtained from all individual participants included in the study.
Additional information
Publisher's note
Springer Nature remains neutral with regard to jurisdictional claims in published maps and institutional affiliations.
All authors take responsibility for all aspects of the reliability and freedom from bias of the data presented and their discussed interpretation.
About this article
Cite this article
Shang, Y., Chen, N., Wang, Q. et al. Blood lipid levels and recurrence of atrial fibrillation after radiofrequency catheter ablation: a prospective study. J Interv Card Electrophysiol 57, 221–231 (2020). https://doi.org/10.1007/s10840-019-00543-w
Received:

Accepted:

Published:

Issue Date:
Keywords
Atrial fibrillation recurrence

Radiofrequency catheter ablation

Cholesterol