Abstract
Purpose
The role of the autonomic nervous system in the genesis of atrial fibrillation (AF) has been well studied; however, the converse remains poorly understood. Pulmonary veins (PV) contain receptors important in cardiac reflexes. Here, we evaluated reflex responses in patients with paroxysmal AF (PAF) to lower body negative pressure (LBNP).
Methods
Thirty-four PAF patients (including 14 PAF patients post successful PV Isolation; PVI) were compared to 14 age and sex-matched controls. Mean arterial pressure (MAP), heart rate (HR), systemic vascular resistance index (SVRI), cardiac index (CI), and stroke volume index (SVI) were measured continuously during − 0, − 20, and − 40 mmHg LBNP. LBNP reduces venous return, deactivating atrial receptors, thereby eliciting a reflex increase in SVRI to maintain MAP.
Results
AF patients have higher BMI than the controls (p = 0.02). In control subjects, LBNP did not alter MAP as SVRI increased. In PAF patients, LBNP resulted in a reduction in MAP (− 4.8%) with attenuated SVRI response (+ 4.2%) compared to controls (p < 0.05). However, in the post-PVI group, SVRI increase was similar to controls (p = 0.12) although that was insufficient to maintain MAP. In all patients, both reduction in SVI and CI and increase in HR were similar in response to LBNP.
Conclusions
This study provides novel clinical evidence of autonomic dysfunction in PAF patients. Successful PVI results in partial recovery of the cardiac reflex. Therefore, not only does autonomic disturbance predispose to AF but it is also a consequence of AF; potentially contributing to disease progression. This could help explain the dictum "AF begets AF."
Access options
Buy single article
Instant access to the full article PDF.
USD 39.95
Price excludes VAT (USA)
Tax calculation will be finalised during checkout.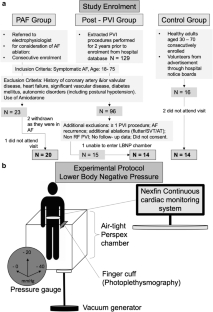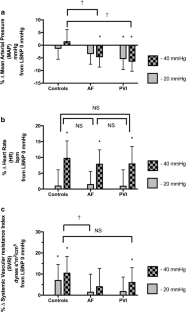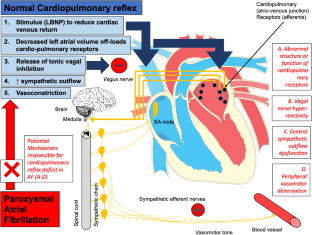 Abbreviations
AF:

Atrial fibrillation

CI:

Cardiac index

HR:

Heart rate

MAP:

Mean arterial pressure

PVI:

Pulmonary vein isolation

SV:

Stroke volume

SVRI:

Systemic vascular resistance index
References
Liu L, Nattel S. Differing sympathetic and vagal effects on atrial fibrillation in dogs: role of refractoriness heterogeneity. Am J Physiol Heart Circ Physiol. 1997;273(2 Pt 2):H805–16.

Lemola K, Chartier D, Yeh YH, Dubuc M, Cartier R, Armour A, et al. Pulmonary vein region ablation in experimental vagal atrial fibrillation: role of pulmonary veins versus autonomic ganglia. Circulation. 2008;117(4):470–7. https://doi.org/10.1161/CIRCULATIONAHA.107.737023.

Po SS, Scherlag BJ, Yamanashi WS, Edwards J, Zhou J, Wu R, et al. Experimental model for paroxysmal atrial fibrillation arising at the pulmonary vein-atrial junctions. Heart Rhythm. 2006;3(2):201–8. https://doi.org/10.1016/j.hrthm.2005.11.008.

Patterson E, Po SS, Scherlag BJ, Lazzara R. Triggered firing in pulmonary veins initiated by in vitro autonomic nerve stimulation. Heart Rhythm. 2005;2(6):624–31. https://doi.org/10.1016/j.hrthm.2005.02.012.

Bettoni M, Zimmermann M. Autonomic tone variations before the onset of paroxysmal atrial fibrillation. Circulation. 2002;105(23):2753–9. https://doi.org/10.1161/01.CIR.0000018443.44005.D8.

Katritsis DG, Pokushalov E, Romanov A, Giazitzoglou E, Siontis GCM, Po SS, et al. Autonomic denervation added to pulmonary vein isolation for paroxysmal atrial fibrillation: a randomized clinical trial. J Am Coll Cardiol. 2013;62(24):2318–25. https://doi.org/10.1016/j.jacc.2013.06.053.

Po SS, Nakagawa H, Jackman WM. Localization of left atrial ganglionated plexi in patients with atrial fibrillation: techniques and technology. J Cardiovasc Electrophysiol. 2009;20(10):1186–9. https://doi.org/10.1111/j.1540-8167.2009.01515.x.

Jayachandran JV, Sih HJ, Winkle W, Zipes DP, Hutchins GD, Olgin JE. Atrial fibrillation produced by prolonged rapid atrial pacing is associated with heterogeneous changes in atrial sympathetic innervation. Circulation. 2000;101(10):1185–91. https://doi.org/10.1161/01.CIR.101.10.1185.

Chang CM, Wu TJ, Zhou S, Doshi RN, Lee MH, Ohara T, et al. Nerve sprouting and sympathetic hyperinnervation in a canine model of Atrial Fibrillation produced by prolonged right Atrial pacing. Circulation. 2001;103(1):22–5. https://doi.org/10.1161/01.CIR.103.1.22.

Yu Y, Wei C, Liu L, Lian AL, Qu XF, Yu G. Atrial fibrillation increases sympathetic and parasympathetic neurons in the intrinsic cardiac nervous system. PACE Pacing Clin Electrophysiol. 2014;37(11):1462–9. https://doi.org/10.1111/pace.12450.

Brignole M, Gianfranchi L, Menozzi C, Raviele A, Oddone D, Lolli G, et al. Role of autonomic reflexes in syncope associated with paroxysmal atrial fibrillation. J Am Coll Cardiol. 1993;22(4):1123–9. https://doi.org/10.1016/0735-1097(93)90426-2.

Reato S, Baratella MC, D'Este D. Persistent atrial fibrillation associated with syncope due to orthostatic hypotension: a case report. J Cardiovasc Med. 2009;10(11):866–8. https://doi.org/10.2459/JCM.0b013e32832e1944.

Oren RM, Schobel HP, Weiss RM, Stanford W, Ferguson DW. Importance of left atrial baroreceptors in the cardiopulmonary baroreflex of normal humans. J Appl Physiol (Bethesda, Md : 1985). 1993;74(6):2672–80.

Weisbrod CJ, Arnolda LF, McKitrick DJ, O'Driscoll G, Potter K, Green DJ. Vasomotor responses to decreased venous return: effects of cardiac deafferentation in humans. J Physiol. 2004;560(Pt 3):919–27. https://doi.org/10.1113/jphysiol.2004.069732.

Kirchhof P, Benussi S, Kotecha D, Ahlsson A, Atar D, Casadei B, et al. 2016 ESC guidelines for the management of atrial fibrillation developed in collaboration with EACTS. Europace. 2016;18(11):1609–78. https://doi.org/10.1093/europace/euw295.

Nicia SB, Veelen TA, Stens J, Koopman MMW, Boer C. Detection of volume loss using the Nexfin device in blood donors. Anaesthesia. 2016;71(2):163–70. https://doi.org/10.1111/anae.13283.

Cooke WH, Ryan KL, Convertino VA. Lower body negative pressure as a model to study progression to acute hemorrhagic shock in humans. J Appl Physiol. 2004;96(4):1249–61. https://doi.org/10.1152/japplphysiol.01155.2003.

Nixon JV, Murray RG, Leonard PD, Mitchell JH, Blomqvist CG. Effect of large variations in preload on left ventricular performance characteristics in normal subjects. Circulation. 1982;65(4):698–703. https://doi.org/10.1161/01.CIR.65.4.698.

Modesti PA, Polidori G, Bertolozzi I, Vanni S, Cecioni I. Impairment of cardiopulmonary receptor sensitivity in the early phase of heart failure. Heart. 2004;90(1):30–6.

Lok NS, Lau CP. Abnormal vasovagal reaction, autonomic function, and heart rate variability in patients with paroxysmal atrial fibrillation. Pacing Clin Electrophysiol : PACE. 1998;21(2):386–95. https://doi.org/10.1111/j.1540-8159.1998.tb00062.x.

Heusser K, Schobel HP, Adamidis A, Fischer T, Frank H. Cardiovascular effects of beta-blockers with and without intrinsic sympathomimetic activity. Kidney Blood Press Res. 2002;25(1):34–41. https://doi.org/10.1159/000049433.

Mancia G, Grassi G, Giannattasio C. Cardiopulmonary receptor reflex in hypertension. Am J Hypertens. 1988;1(3 Pt 1):249–55.
Funding
Dr. Malik is supported by a Postgraduate Scholarship from The University of Adelaide. Dr. Lau is supported by a Robert J Craig Lectureship from the University of Adelaide. Dr. Sanders is supported by a Practitioner Fellowship from National Health and Medical Research Council of Australia. This work was supported by the Cardiovascular Lipid Grant (Pfizer Inc) and by Edwards Life Sciences who provided the Nexfin continuous monitoring device. Neither party had any role in study design, data collection, interpretation, or preparation of the manuscript.
Ethics declarations
Disclosure of potential conflicts of interest
The University of Adelaide reports receiving on behalf of Dr. Lau lecture and/or consulting fees from Boehlringer Ingelheim, Pfizer, and St Jude Medical. The University of Adelaide reports receiving, on behalf of Dr. Lau, research funding from St Jude Medical. Dr. Sanders reports having served on the advisory board of Biosense-Webster, Medtronic, Abbott, Boston Scientific and CathRx. The University of Adelaide reports receiving on behalf of Dr. Sanders lecture and/or consulting fees from Biosense-Webster, Medtronic, Abbott, and Boston Scientific. The University of Adelaide reports receiving on behalf of Dr. Sanders research funding from Medtronic, Abbott, Boston Scientific, Biotronik and Liva Nova.
Research involving human participants
This study was approved by the institutional human research ethics committees where the work was carried out.
Informed consent
All participants provided written informed consent.
Additional information
Publisher's Note
Springer Nature remains neutral with regard to jurisdictional claims in published maps and institutional affiliations.
About this article
Cite this article
Malik, V., McKitrick, D.J., Lau, D.H. et al. Clinical evidence of autonomic dysfunction due to atrial fibrillation: implications for rhythm control strategy. J Interv Card Electrophysiol 54, 299–307 (2019). https://doi.org/10.1007/s10840-019-00508-z
Received:

Accepted:

Published:

Issue Date:

DOI: https://doi.org/10.1007/s10840-019-00508-z
Keywords