Abstract
Russia is the largest country in the world based on the landmass, covering more than one-eighth of the earth's inhabited area. Russia faces challenges in electrophysiology (EP) care including insufficient and uneven financing, complicated system for identifying optimal treatment for individual patients, relative paucity of reasonable educational and certification scope for electrophysiologists, suboptimal national statistical data gathering regarding heart rhythm disorders and EP devices in use, and weak networking of medical information. In comparison with the average level of EP utilization in ESC countries, Russia utilizes around 50% in pacemaker; 10% in ICD; 8% in cardiac resynchronization therapy; 55% in ablations; and 45% in AF ablations. As projected, Russia has the biggest unmet demand in EP procedures, so-called developmental potential in the European region. Nearly 37% of implanted single-chamber and 63% dual-chamber devices are manufactured outside of Russia. The price of the Russian devices is slightly (by 10–20%) lower than the one imported and they are readily provided for patients by the Russian Ministry of Health. Based on the analysis of the data available, we suggest some strategies for the improvement of the EP care in Russia. Solutions include the institution of formal EP education and standardization of it, development of international educational, and scientific collaboration; implementation quality-assessment tools for professional knowledge and skills; wide application of national medical databases and collection of heart rhythm disorders' statistics; growth of financial support of electrophysiology and transparent distribution of financing between state/municipal and private medical centers; enhancement of medical care accessibility countrywide; development of technologies for local EP devices production; and collection of data regarding usage and effectiveness of it.
This is a preview of subscription content, log in to check access.
Access options
Buy single article
Instant access to the full article PDF.
US$ 39.95
Price includes VAT for USA
Subscribe to journal
Immediate online access to all issues from 2019. Subscription will auto renew annually.
US$ 99
This is the net price. Taxes to be calculated in checkout.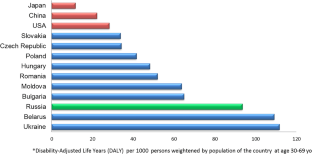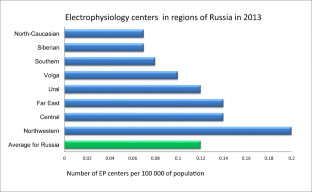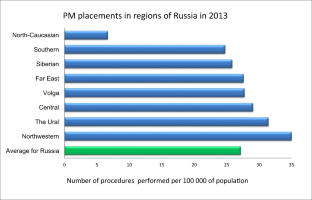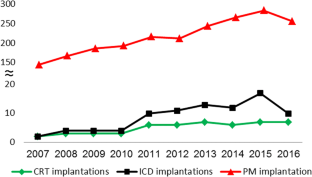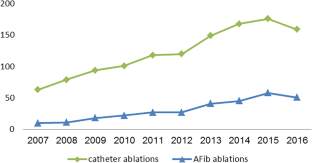 References
1.

Baranov E., Bezborodova T., Bugakova N. et al. Russian statistical yearbook 2017: Stat.book/Rosstat - М., 2017–686 p.

2.

World Health Organization Disease burden and mortality estimates. http://www.who.int/healthinfo/global_burden_disease/estimates/en/index1.html. Accessed 27 Mar 2018.

3.

Global Health Estimates 2016 Summary tables http://www.who.int/healthinfo/ global_burden_disease/estimates/en/index2.html Accessed 29 Mar 2018.

4.

Sotsial'no-ekonomicheskiye pokazateli Rossiyskoy Federatsii (n.d.) in Russian Federation Federal State Statistics Service [Socio-economic indicators of the Russian Federation]. http://www.gks.ru. Accessed 27 Mar 2018.

5.

Townsend N, Wilson L, Bhatnagar P, Wickramasinghe K, Rayner M, Nichols M. Cardiovascular disease in Europe: epidemiological update 2016. Eur Heart J. 2016;37(42):3232–45.

6.

Rasporyazheniye Pravitel'stva RF ot 5 marta 2015 g. N 367-r "Plan osnovnih meropriyatiy po provedeniyu v 2015 godu v Rossiyskoy Federatsii goda bor'bi s serdechno-sosudistimi zabolevaniyami" [Plan of main activities for the implementation in 2015 in the Russian Federation Year of struggle against cardiovascular diseases] http://government.ru/docs/17121/ Accessed 29 Mar 2018.

7.

Goncharova O., Shubina D., Lopayeva S. Kardiosimulyatory. [Goncharova O., Shubina D., Lopaeva S. Cardiac simulators] Vademecum #8, 2016. https://vademec.ru/ article/kardiosimulyatory/. Accessed 27 Mar 2018.

8.

Rossiyskaya Federatsiya voshla v desyatku liderov v bor'be s neinfektsionnymi zabolevaniyami (n.d.) in the Ministry of Health of Russia [The Russian Federation has entered the top ten in the fight against non-communicable diseases]. https://www.rosminzdrav.ru/news/2015/09/28/2551-rossiyskaya-federatsiya-voshla-v-desyatku-liderov-v-borbe-s-neinfektsionnymi-zabolevaniyami. Accessed 27 Mar 2018.

9.

Popovich L, Potapchik E, Shishkin S, Richardson E, Vacroux A, Mathivet B. Russian Federation: health system review. Health Systems in Transition. 2011;13(7):1–190.

10.

Hindricks G, Camm J, Merkely B, Raatikainen P, Arnar DO, The EHRA White Book. The current status of cardiac electrophysiology in ESC member countries. ESC. 2017;2017 590 p.

11.

Nesterova A.V., Krasnopolskaya I.I. Providing free high-tech medical care in Russia - analysis of the practice. Medicine, 2014; 2: 19–43, from http://www.fsmj.ru/015153.html. Accessed 27 Mar 2018.

12.

Bogachevskaia SA., Bogachevsky AN, Bondar VY. Three-year contribution of the federal centers for cardiovascular surgery to the development of high-tech medical care for patients with cardiovascular diseases in Russia. Social aspects of population health 2016; 1 (47) http://vestnik.mednet.ru/content/view/729/30/lang,en/ Accessed 29 Mar 2018.

13.

European Heart Rhythm Association White Book Project http://www.ehra-whitebook-analysis.com/. Accessed 27 Mar 2018.

14.

Revishvili A.Sh., et al. Klinicheskiye Rekomendatsii po Provedeniyu Elektrofiziologicheskih Issledovaniy, Kateternoy Ablyatsii i Primeneniyu Implantiruyemykh Antiaritmicheskikh Ustroystv [Clinical guidelines for EP investigations, catheter ablation, and implantable device application]. 2017.

15.

Bokeria L.A., Revishvili A.Sh., Dubrovsky I.A. Sostoyaniye elektrokardiostimulyatsii v Rossii v 2011 godu [The state of pacing in Russia in 2011] Journal of arrhythmology 73 (2013): 75–78.

16.

Hindricks G, Camm J, Merkely B, Raatikainen P, Arnar DO, The EHRA White Book. The current status of cardiac electrophysiology in ESC member countries. ESC. 2016;2016 555 p.

17.

Bogachevskaia S.A., Bogachevskiy A.N. A ten year overview of surgical and interventional arrhythmology in Russia. Service peculiar features in the Far East. Social Aspects of Population Health, March, 06, 2017.

18.

Austin C, Kusumoto F. The application of Big Data in medicine: current implications and future directions. J Int Cardiac Electrophysiol. 2016;47(1):51–9.
Acknowledgements
We acknowledge the contribution to copy editing by Fred Kusumoto.
Additional information
Publisher's Note
Springer Nature remains neutral with regard to jurisdictional claims in published maps and institutional affiliations.
About this article
Cite this article
Revishvili, A., Babak, A. & Didenko, M. Overview of the current electrophysiology (EP) state of affairs in Russia. J Interv Card Electrophysiol 56, 165–170 (2019). https://doi.org/10.1007/s10840-018-0504-2
Received:

Accepted:

Published:

Issue Date:
Keywords
Health care

Russia

Arrhythmia care

High-tech medical care

ICD

CRT

Electrophysiology

Devices