Abstract
Background
The postural tachycardia syndrome (POTS) is a heterogeneous group of disorders that results in symptoms of orthostatic intolerance. Excess blood pooling has been observed to cause low effective circulating volume in the central vasculature. Consequently, acute volume loading with IV saline has emerged as a potential strategy for clinical intervention. We evaluated the impact of acute volume loading on both the signs and symptoms of patients suffering from POTS.
Methods
Fifty-seven subjects screened from our population of POTS patients and assenting to participation were administered the two surveys by telephone. Subjects completed each survey twice, before, and after initiating IV hydration therapy. The Orthostatic Hypotension Questionnaire (OHQ) was used to assess change in clinical symptomatology, while the short form 36 health survey (SF-36) was employed to assess the impact of IV saline infusion on quality of life.
Results
Fifty-seven patients were included in the analysis. The average number of medications trialed before referral for IV hydration was 3.6 ± 1.7 medications. Saline infusions occurred with mean frequency of 11.3 ± 8.5 days and at a mean volume of 1.5 ± 0.6 l per infusion. The mean change of the OHQ was 3.1 ± 0.3 (95% CI 2.6–3.7; P < 0.001), with significant improvement in all the composite scores. The mean change in the SF-36 form was 19.1 ± 2.7 (95% CI −24.6 to −13.6; P < 0.001).
Conclusions
Intermittent IV infusions of saline dramatically reduce symptoms and improve quality of life in patients suffering from POTS. Further work should explore its efficacy as a bridge study for patients of high symptomatic severity.
This is a preview of subscription content, log in to check access.
Access options
Buy single article
Instant access to the full article PDF.
US$ 39.95
Price includes VAT for USA
Subscribe to journal
Immediate online access to all issues from 2019. Subscription will auto renew annually.
US$ 99
This is the net price. Taxes to be calculated in checkout.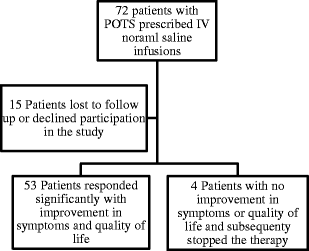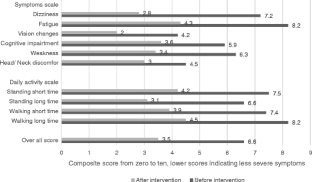 References
1.

Grubb BP. Postural tachycardia syndrome. Circulation. 2008;117(21):2814–7.

2.

Raj SR. Postural tachycardia syndrome (POTS). Circulation. 2013;127(23):2336–42.

3.

Sheldon RS, Grubb II BP, Olshansky B, Shen W-K, Calkins H, Brignole M, et al. 2015 Heart Rhythm Society Expert Consensus Statement on the diagnosis and treatment of postural tachycardia syndrome, inappropriate sinus tachycardia, and vasovagal syncope. Heart Rhythm. 2015;12(6):e41–63.

4.

Figueroa RA, Arnold AC, Nwazue VC, Okamoto LE, Paranjape SY, Black BK, et al. Acute volume loading and exercise capacity in postural tachycardia syndrome. J Appl Physiol. 2014;117(6):663–8.

5.

Jacob G, Shannon JR, Black B, Biaggioni I, Mosqueda-Garcia R, Robertson RM, et al. Effects of volume loading and pressor agents in idiopathic orthostatic tachycardia. Circulation. 1997;96(2):575–80.

6.

Gordon VM, Opfer-Gehrking TL, Novak V, Low PA. Hemodynamic and symptomatic effects of acute interventions on tilt in patients with postural tachycardia syndrome. Clin Auton Res. 2000;10(1):29–33.

7.

Kimpinski K, Figueroa JJ, Singer W, Sletten DM, Iodice V, Sandroni P, et al. A prospective, 1-year follow-up study of postural tachycardia syndrome. Mayo Clin Proc. 2012;87(8):746–52.

8.

Moak JP, Leong D, Fabian R, Freedenberg V, Jarosz E, Toney C, et al. Intravenous hydration for management of medication-resistant orthostatic intolerance in the adolescent and young adult. Pediatr Cardiol. 2015;37(2):278–82.

9.

Fukusaki C, Kawakubo K, Yamamoto Y. Assessment of the primary effect of aging on heart rate variability in humans. Clin Auton Res. 2000;10(3):123–30.

10.

Frith J, Newton JL. Validation of a questionnaire for orthostatic hypotension for routine clinical use. Geriatr Gerontol Int. 2015;16:785–90.

11.

Ware JEKM, Keller SD. SF-36 physical and mental health summary scales: a user's manual. Boston: The Health Institute; 1994.

12.

Benrud-Larson LMDM, Sandroni P, Rummans TA, Haythornthwaite JA, Low PA. Quality of life in patients with postural tachycardia syndrome. Mayo Clin Proc. 2002;77(6):531–7.

13.

O'Donoghue G, Perchoux C, Mensah K, Lakerveld J, van der Ploeg H, Bernaards C, et al. A systematic review of correlates of sedentary behaviour in adults aged 18–65 years: a socio-ecological approach. BMC Public Health. 2016;16(1):1–25.

14.

Perhonen MA, Franco F, Lane LD, Buckey JC, Blomqvist CG, Zerwekh JE, et al. Cardiac atrophy after bed rest and spaceflight. J Appl Physiol. 2001;91(2):645–53.

15.

Shibata S, Fu Q, Bivens TB, Hastings JL, Wang W, Levine BD. Short-term exercise training improves the cardiovascular response to exercise in the postural orthostatic tachycardia syndrome. J Physiol. 2012;590(15):3495–505.

16.

Grathwohl KW, Bruns BJ, LeBrun CJ, Ohno AK, Dillard TA, Cushner HM. Does hemodilution exist? Effects of saline infusion on hematologic parameters in euvolemic subjects. South Med J. 1996;89(1):51–5.

17.

Gondos T, Marjanek Z, Ulakcsai Z, Szabó Z, Bogár L, Károlyi M, et al. Short-term effectiveness of different volume replacement therapies in postoperative hypovolaemic patients. Eur J Anaesthesiol. 2010;27(9):794–800.

18.

Charkoudian N, Rabbitts JA. Sympathetic neural mechanisms in human cardiovascular health and disease. Mayo Clin Proc. 2009;84(9):822–30.

19.

Charkoudian N, Martin EA, Dinenno FA, Eisenach JH, Dietz NM, Joyner MJ. Influence of increased central venous pressure on baroreflex control of sympathetic activity in humans. Am J Physiol Heart Circ Physiol. 2004;287(4):H1658–H62.

20.

Kimmerly DS, Shoemaker JK. Hypovolemia and neurovascular control during orthostatic stress. Am J Physiol Heart Circ Physiol. 2002;282(2):H645–H55.

21.

Bonyhay I, Freeman R. Sympathetic nerve activity in response to hypotensive stress in the postural tachycardia syndrome. Circulation. 2004;110(20):3193–8.

22.

Furlan R, Jacob G, Snell M, Robertson D, Porta A, Harris P, et al. Chronic orthostatic intolerance. A disorder with discordant cardiac and vascular sympathetic control. Circulation. 1998;98(20):2154–9.

23.

Stickford ASL, VanGundy TB, Levine BD, Fu Q. Menstrual cycle phase does not affect sympathetic neural activity in women with postural orthostatic tachycardia syndrome. J Physiol. 2015;593(9):2131–43.

24.

George SA, Bivens TB, Howden EJ, Saleem Y, Galbreath MM, Hendrickson D, et al. The international POTS registry: evaluating the efficacy of an exercise training intervention in a community setting. Heart Rhythm. 2016;13(4):943–50.
Ethics declarations
Conflict of interest
The authors declare that they have no conflict of interest.
Disclosures
None.
Source of funding
None.
About this article
Cite this article
Ruzieh, M., Baugh, A., Dasa, O. et al. Effects of intermittent intravenous saline infusions in patients with medication—refractory postural tachycardia syndrome. J Interv Card Electrophysiol 48, 255–260 (2017). https://doi.org/10.1007/s10840-017-0225-y
Received:

Accepted:

Published:

Issue Date:
Keywords
POTS

Refractory POTS

IV hydration