Abstract
Purpose
To evaluate the safety of uninterrupted rivaroxaban, a novel oral anticoagulant that directly inhibits factor Xa, and a vitamin K antagonist (VKA) in eligible adult patients with nonvalvular AF (NVAF) who are scheduled for a catheter ablation.
Methods/design
This is a prospective, randomized, open-label, active-controlled, global multicenter safety study of up to 250 randomized patients. Eligible patients with paroxysmal or persistent NVAF, a left ventricular ejection fraction >40 %, and a creatinine clearance >50 mL/min will be randomized 1:1 to rivaroxaban 20 mg orally once daily or to dose-adjusted oral VKA (recommended international normalized ratio (INR) 2.0–3.0) and stabilized on anticoagulation therapy for 1–7 days (if no intracardiac thrombus on transesophageal echocardiogram (TEE) immediately prerandomization/post-randomization or if 3 weeks of sufficient anticoagulation is documented) or for 4–5 weeks (if no TEE, no documented 3 weeks of sufficient anticoagulation, or by patient choice). During catheter ablation, heparin will be administered (ACT-targeted range = 300–400 s) after catheter ablation, and VKA will be managed per usual care. The next dose of rivaroxaban will be provided at least 6 h after establishment of hemostasis. The primary endpoint will be the incidence of post-procedure major bleeding events observed during the first 30 ± 5 days post-ablation. Secondary endpoints will include post-procedure thromboembolic events, additional bleeding, time-to-event, and medication adherence.
Relevance
This study is intended to provide information about the safety characteristics of rivaroxaban in patients with NVAF undergoing catheter ablation.
This is a preview of subscription content, log in to check access.
Access options
Buy single article
Instant access to the full article PDF.
US$ 39.95
Price includes VAT for USA
Subscribe to journal
Immediate online access to all issues from 2019. Subscription will auto renew annually.
US$ 99
This is the net price. Taxes to be calculated in checkout.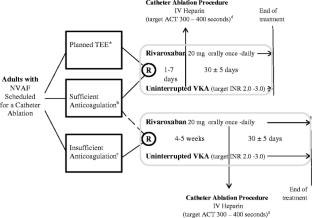 Abbreviations
AF:

Atrial fibrillation

CEC:

Clinical Endpoint Committee

CNS:

Central nervous system

CrCl:

Creatinine clearance

DVT:

Deep vein thrombosis

FDA:

Food and Drug Administration

FXa:

Factor Xa

GUSTO:

Global Use of Strategies to Open Occluded Coronary Arteries

INR:

International normalized ratio

ISTH:

International Society on Thrombosis and Haemostasis

ITT:

Intention-to-treat

LMWH:

Low molecular weight heparin

NVAF:

Nonvalvular atrial fibrillation

PE:

Pulmonary embolism

PT:

Prothrombin time

PTT:

Partial thromboplastin time

TEE:

Transesophageal echocardiogram

TIA:

Transient ischemic attack

TIMI:

Thrombolysis in Myocardial Infarction

US:

United States

VKA:

Vitamin K antagonist

VTE:

Venous thromboembolism
References
1.

Dewire, J., & Calkins, H. (2013). Update on atrial fibrillation catheter ablation technologies and techniques. Nature Reviews Cardiology, 10(10), 599–612.

2.

Wolf, P. A., Abbott, R. D., & Kannel, W. B. (1991). Atrial fibrillation as an independent risk factor for stroke: the Framingham study. Stroke, 22(8), 983–988.

3.

Chinitz, J. S., Castellano, J. M., Kovacic, J. C., & Fuster, V. (2012). Atrial fibrillation, stroke, and quality of life. Annals of the New York Academy of Sciences, 1254, 140–150.

4.

Ball, J., Carrington, M. J., McMurray, J. J., & Stewart, S. (2013). Atrial fibrillation: profile and burden of an evolving epidemic in the 21st century. International Journal of Cardiology, 167(5), 1807–1824.

5.

Nguyen, T. N., Hilmer, S. N., & Cumming, R. G. (2013). Review of epidemiology and management of atrial fibrillation in developing countries. International Journal of Cardiology, 167(6), 2412–2420.

6.

Callahan, T., & Baranowski, B. (2011). Managing newly diagnosed atrial fibrillation: rate, rhythm, and risk. Cleveland Clinic Journal of Medicine, 78(4), 258–264.

7.

Zhang, Y. Y., Qiu, C., Davis, P. J., Jhaveri, M., Prystowsky, E. N., Kowey, P., et al. (2013). Predictors of progression of recently diagnosed atrial fibrillation in Registry on Cardiac Rhythm Disorders Assessing the Control of Atrial Fibrillation (RecordAF)-United States cohort. American Journal of Cardiology, 112(1), 79–84.

8.

Camm, A. J., Lip, G. Y., De Caterina, R., Savelieva, I., Atar, D., Hohnloser, S. H., et al. (2010). 2012 focused update of the ESC. Developed with the special contribution of the European Heart Rhythm Association. Guidelines for the management of atrial fibrillation: an update of the 2010 ESC Guidelines for the management of atrial fibrillation. European Heart Journal, 33(21), 2719–2747. Erratum in (2013) European Heart Journal, 34(10), 790.

9.

Diener, H. C., Weber, R., Lip, G. Y., & Hohnloser, S. H. (2012). Stroke prevention in atrial fibrillation: do we still need warfarin? Current Opinion in Neurology, 25(1), 27–35.

10.

Kimmel, S. E., French, B., Anderson, J. L., Gage, B. F., Johnson, J. A., Rosenberg, Y. D., et al. (2013). Rationale and design of the clarification of optimal anticoagulation through genetics trial. American Heart Journal, 166(3), 435–441.

11.

Patel, M. R., Mahaffey, K. W., Garg, J., Pan, G., Singer, D. E., Hacke, W., et al. (2011). Rivaroxaban versus warfarin in nonvalvular atrial fibrillation. New England Journal of Medicine, 365(10), 883–895.

12.

Perzborn, E., Strassburger, J., Wilmen, A., Pohlmann, J., Roehrig, S., Schlemmer, K. H., et al. (2005). In vitro and in vivo studies of the novel antithrombotic agent BAY 59-7939—an oral, direct factor Xa inhibitor. Journal of Thrombosis and Haemostasis, 3(3), 514–521.

13.

Ringwala, S. M., Dibattiste, P. M., & Schneider, D. J. (2012). Effects on platelet function of a direct acting antagonist of coagulation factor Xa. Journal of Thrombosis and Thrombolysis, 34(3), 291–296.

14.

Deshmukh, A., Patel, N. J., Pant, S., et al. (2013). In-hospital complications associated with catheter ablation of atrial fibrillation in the United States between 2000 and 2010: analysis of 93 801 procedures. Circulation, 128(19), 2104–2112.

15.

Cappato, R., Calkins, H., Chen, S. A., et al. (2010). Updated worldwide survey on the methods, efficacy, and safety of catheter ablation for human atrial fibrillation. Circulation Arrhythmia Electrophysiology, 3(1), 32–38.
Acknowledgments
Members of the Steering Committee thank participating patients, VENTURE-AF Investigators, and their teams for patient identification, enrollment, care and reporting, past and present members of the VENTURE-AF Core Integrated Team at Johnson & Johnson and Bayer, and Johnson & Johnson and Bayer for sponsorship of this study. Thanks also to C. V. Damaraju, PhD for initial expert statistical support.
Conflict of interest
All authors received research grant support from the sponsors of the trial (Johnson & Johnson and Bayer). Gerald V. Naccarelli, MD, FACC, FHRS is a consultant for Glaxo-Smith-Kline, Pfizer, Xention, Sanofi, Bristol Myers Squibb, Merck, Biosense-Webster, Janssen, Otsuka, Daiichi-Sankyo, and Boehringer Ingelheim. Riccardo Cappato, MD, FESC: Biosense Webster, St Jude Medical, and Bard. StefanH. Hohnloser, MD, FACC, FESC, FHRS: consulting and lecture fees from Boehringer Ingelheim, BMS, Bayer, Pfizer, and Sanofi-aventis. Francis E. Marchlinski, MD, FACC: no further disclosures. David J. Wilber, MD, FAHA, FACC, FHRS: lectures and consulting fees from Biosense Webster, Medtronic, St Jude, Cardioinsight and research support from Biosense Webster, Medtronic. Changsheng Ma, MD, FHRS: no further disclosures. David Wyn Davies MD, FRCP, FHRS: consultant for Boston Scientific, Janssen, Medtronic and Rhythmia. Andrea Natale MD, FACC, FHRS, FESC: Biosense Webster, Boston Scientific, Janssen, St. Jude Medical, Medtronic and Biotronik. Larry E. Fields, MD, FAHA, FACC: is an employee of Johnson & Johnson at Janssen Scientific Affairs, LLC. Jim Xiang, PhD: is an employee of Johnson & Johnson at Janssen Research & Development, LLC. Susanne Hess, MD: is an employee of Bayer.
About this article
Cite this article
Naccarelli, G.V., Cappato, R., Hohnloser, S.H. et al. Rationale and design of VENTURE-AF: a randomized, open-label, active-controlled multicenter study to evaluate the safety of rivaroxaban and vitamin K antagonists in subjects undergoing catheter ablation for atrial fibrillation. J Interv Card Electrophysiol 41, 107–116 (2014). https://doi.org/10.1007/s10840-014-9924-9
Received:

Accepted:

Published:

Issue Date:
Keywords
Atrial fibrillation

Catheter ablation

Rivaroxaban

Vitamin K antagonist