Abstract
Purpose
Defective Ca2+ handling in failing cardiomyocites predisposes patients with heart failure (HF) to ventricular arrhythmia. We investigated whether gene variants of Ca2+ handling proteins are associated with the occurrence of ventricular tachycardia/fibrillation (VT/VF) in HF patients implanted with a primary prevention implantable cardioverter-defibrillator (ICD).
Methods
One hundred thirty-six patients with HF were followed from ICD implantation to the time of first appropriate ICD intervention for VT > 170 bpm. The following polymorphisms were genotyped: ATP2A2 rs1860561 and rs56243033; RYR2 rs4142933; CASQ2 rs4074536; SLC8A1 g.-23449C > A; PLN rs12198461; FKBP1B rs7568163. Hazard ratios (HR) were derived from Cox proportional-hazards regression analysis.
Results
After a mean follow-up of 879 days (IQ range, 327 to 1,459), 34 patients (25 %) had appropriate ICD intervention. Non-sustained VT (HR, 2.12; 95 %CI, 0.87–5.19; p = 0.09) and atrial fibrillation (AF) at ICD implantation (HR, 2.33; 95 %CI, 0.89–6.10; p = 0.08) predicted appropriate ICD interventions with borderline statistical significance. Prevalence of ATP2A2 rs1860561 variant was 17 % in patients without VT/VF and 4 % in those with ventricular arrhythmia (p = 0.009). After adjustment for AF and NSVT, the rs1860561 A mutant allele independently predicted lower incidence of VT/VF (HR, 0.29; 95 %CI, 0.09–0.98; p = 0.04).
Conclusions
The observation that ATP2A2 rs1860561 gene variant associated with lower risk of life-threatening arrhythmia in HF patients suggests that selected calcium gene variants may modify the risk of SD even within the complex and polygenic pathological condition of HF. Combining traditional risk factors and genetic profiling could reveal helpful to identify HF patients who will benefit most from ICD implantation.
This is a preview of subscription content, log in to check access.
Access options
Buy single article
Instant access to the full article PDF.
US$ 39.95
Price includes VAT for USA
Subscribe to journal
Immediate online access to all issues from 2019. Subscription will auto renew annually.
US$ 99
This is the net price. Taxes to be calculated in checkout.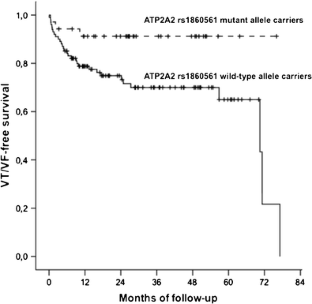 References
1.

Mosterd, A., Hoes, A. W., de Bruyne, M. C., et al. (1999). Prevalence of heart failure and left ventricular dysfunction in the general population; The Rotterdam Study. European Heart Journal, 20, 447–455.

2.

McMurray, J., McDonagh, T., Morrison, C. E., & Dargie, H. J. (1993). Trends in hospitalization for heart failure in Scotland 1980–1990. European Heart Journal, 14, 1158–1162.

3.

Cleland, J. G., Gemmell, I., Khand, A., & Boddy, A. (1999). Is the prognosis of heart failure improving? European Journal of Heart Failure, 1, 229–241.

4.

Lloyd-Jones, D. M., Larson, M. G., Leip, E. P., et al. (2002). Lifetime risk for developing congestive heart failure: the Framingham Heart Study. Circulation, 106, 3068–3072.

5.

Cowie, M. R., Wood, D. A., Coats, A. J., et al. (2000). Survival of patients with a new diagnosis of heart failure: a population based study. Heart, 83, 505–510.

6.

Moss, A. J., Hall, W. J., Cannom, D. S., et al. (1996). Improved survival with an implanted defibrillator in patients with coronary disease at high risk for ventricular arrhythmia. Multicenter automatic defibrillator implantation trial investigators. The New England Journal of Medicine, 335, 1933–1940.

7.

Moss, A. J., Zareba, W., Hall, W. J., et al. (2002). Prophylactic implantation of a defibrillator in patients with myocardial infarction and reduced ejection fraction. The New England Journal of Medicine, 346, 877–883.

8.

Bardy, G. H., Lee, K. L., Mark, D. B., et al. (2005). Amiodarone or an implantable cardioverter-defibrillator for congestive heart failure. The New England Journal of Medicine, 352, 225–237.

9.

McMurray, J. J., Adamopoulos, S., Anker, S. D., et al. (2012). ESC Guidelines for the diagnosis and treatment of acute and chronic heart failure 2012: The Task Force for the diagnosis and treatment of acute and chronic heart failure 2012 of the European Society of Cardiology. Developed in collaboration with the Heart Failure Association (HFA) of the ESC. European Heart Journal, 33, 1787–1847.

10.

Yap, Y. G., & Duong, T. (2005). Temporal trends on the risk of arrhythmic vs. non-arrhythmic deaths in high-risk patients after myocardial infarction: a combined analysis from multicentre trials. European Heart Journal, 26, 1385–1393.

11.

Scoote, M., & Williams, A. J. (2004). Myocardial calcium signalling and arrhythmia pathogenesis. Biochemical and Biophysical Research Communications, 322, 1286–1309.

12.

Francia, P., Balla, C., Uccellini, A., & Cappato, R. (2009). Arrhythmia detection in single- and dual-chamber implantable cardioverter defibrillators: the more leads, the better? Journal of Cardiovascular Electrophysiology, 20, 1077–1082.

13.

Kovlen, D. V., Tishakov, A. Y., Glotov, O. S., et al. (2007). Genetic determinants of the efficiency of climatotherapy in patients with chronic heart failure. Bulletin of Experimental Biology and Medicine, 143, 26–31.

14.

Kiec-Wilk, B., Olszanecka, A., Mikolajczyk, M., & Kawecka-Jaszcz, K. (2010). Role of the M235T (c.704c > T) polymorphism of angiotensynogen gene as well as A724A (c.2171G > A) polymorphism of SERCA2a gene in ethiopathogenesis of left ventricular hypertrophy in essential hypertension. Przegla̧d Lekarski, 67, 151–156.

15.

Kokubo, Y., Inamoto, N., Tomoike, H., et al. (2004). Association of genetic polymorphisms of sodium-calcium exchanger 1 gene, NCX1, with hypertension in a Japanese general population. Hypertension Research, 27, 697–702.

16.

Sinner, M. F., Lubitz, S. A., Pfeufer, A., et al. (2011). Lack of replication in polymorphisms reported to be associated with atrial fibrillation. Heart Rhythm : The official journal of the Heart Rhythm Society, 8, 403–409.

17.

Gollob, M. H. (2011). The evolution of gene discovery and the revelation of truth. Heart Rhythm : The Official Journal of the Heart Rhythm Society, 8, 410–411.

18.

Darbar D. Genomics, heart failure and sudden cardiac death. Heart Fail Rev 2008.

19.

Gollob, M. H. (2006). Genetic profiling as a marker for risk of sudden cardiac death. Current Opinion in Cardiology, 21, 42–46.

20.

Sotoodehnia, N., Siscovick, D. S., Vatta, M., et al. (2006). Beta2-adrenergic receptor genetic variants and risk of sudden cardiac death. Circulation, 113, 1842–1848.

21.

Chemello, D., Rohde, L. E., Santos, K. G., et al. (2010). Genetic polymorphisms of the adrenergic system and implantable cardioverter-defibrillator therapies in patients with heart failure. Europace, 12, 686–691.

22.

Bedi, M. S., Postava, L. A., Murali, S., et al. (2004). Interaction of implantable defibrillator therapy with angiotensin-converting enzyme deletion/insertion polymorphism. Journal of Cardiovascular Electrophysiology, 15, 1162–1166.

23.

Sun, A. Y., Koontz, J. I., Shah, S. H., et al. (2011). The S1103Y cardiac sodium channel variant is associated with implantable cardioverter-defibrillator events in blacks with heart failure and reduced ejection fraction. Circulation Cardiovascular Genetics, 4, 163–168.

24.

Periasamy, M., Bhupathy, P., & Babu, G. J. (2008). Regulation of sarcoplasmic reticulum Ca2+ ATPase pump expression and its relevance to cardiac muscle physiology and pathology. Cardiovascular Research, 77, 265–273.

25.

Ran, Y., Chen, J., Li, N., et al. (2010). Common RyR2 variants associate with ventricular arrhythmias and sudden cardiac death in chronic heart failure. Clinical Science, 119, 215–223.

26.

Arvanitis, D. A., Sanoudou, D., Kolokathis, F., et al. (2008). The Ser96Ala variant in histidine-rich calcium-binding protein is associated with life-threatening ventricular arrhythmias in idiopathic dilated cardiomyopathy. European Heart Journal, 29, 2514–2525.

27.

Nolte, I. M., Wallace, C., Newhouse, S. J., et al. (2009). Common genetic variation near the phospholamban gene is associated with cardiac repolarisation: meta-analysis of three genome-wide association studies. PLoS One, 4, e6138.

28.

Genome-wide association study of 14,000 cases of seven common diseases and 3,000 shared controls. Nature 2007;447:661–78.

29.

The Diabetes Control and Complications Trial (DCCT). (1986). Design and methodologic considerations for the feasibility phase. The DCCT Research Group. Diabetes, 35, 530–545.

30.

Epidemiology of Diabetes Interventions and Complications. (1999). Design, implementation, and preliminary results of a long-term follow-up of the Diabetes Control and Complications Trial cohort. Diabetes Care, 22, 99–111.

31.

Sakuntabhai, A., Burge, S., Monk, S., & Hovnanian, A. (1999). Spectrum of novel ATP2A2 mutations in patients with Darier's disease. Human Molecular Genetics, 8, 1611–1619.

32.

Ejima, Y., Yang, L., & Sasaki, M. S. (2000). Aberrant splicing of the ATM gene associated with shortening of the intronic mononucleotide tract in human colon tumor cell lines: a novel mutation target of microsatellite instability. International Journal of Cancer, 86, 262–268.

33.

Korosec, B., Glavac, D., Rott, T., & Ravnik-Glavac, M. (2006). Alterations in the ATP2A2 gene in correlation with colon and lung cancer. Cancer Genetics and Cytogenetics, 171, 105–111.

34.

Zhang, G. L., Li, M., Du, X. F., et al. (2011). A novel point mutation at donor splice-site in intron 18 of ATP2A2 gene resulting in the insertion of 27 nucleotides into the mature mRNA in a Chinese patient with severe Darier's disease. Journal of Dermatological Science, 64, 72–75.
Sources of funding
This work was supported by a grant (Ricerca Corrente) from the Italian Ministry of Health to MV and SR; by the 5 ‰ grant to MV and SR; by PRIN 2009 to SR; by Ingenious HyperCare European Project to MV; by a grant from University Sapienza to PF.
Conflicts of interest
None declared
About this article
Cite this article
Francia, P., Adduci, C., Ricotta, A. et al. Common genetic variants in selected Ca2+ signaling genes and the risk of appropriate ICD interventions in patients with heart failure. J Interv Card Electrophysiol 38, 169–177 (2013). https://doi.org/10.1007/s10840-013-9827-1
Received:

Accepted:

Published:

Issue Date:
Keywords
Sudden death

Heart failure

Gene variants

Calcium handling proteins

ICD