Abstract
Accessory pathways with slow and anterograde decremental conduction (Mahaim fibres) are responsible for a minority of atrioventricular reentrant tachycardias. While usually located along the tricuspid annulus, left-sided Mahaim fibres have been occasionally reported. We here report on a unique case of radiofrequency catheter ablation of a Mahaim pathway located at the supero-septal aspect of the mitral annulus, in a region known as mitral annulus–aorta junction, between the right and left fibrous trigons. Electrophysiological properties and embryological implications of this unusual accessory pathway are discussed.
This is a preview of subscription content, log in to check access.
Access options
Buy single article
Instant access to the full article PDF.
US$ 39.95
Price includes VAT for USA
Subscribe to journal
Immediate online access to all issues from 2019. Subscription will auto renew annually.
US$ 99
This is the net price. Taxes to be calculated in checkout.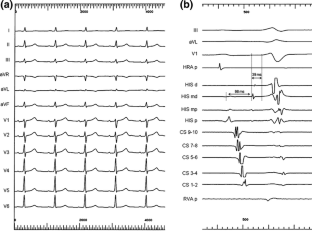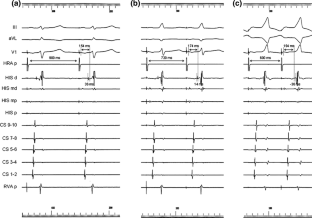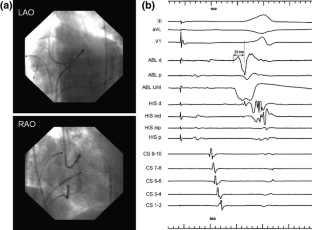 References
1.

Mahaim, I., & Winston, M. R. (1941). Recherches d'anatomie comparee et de pathologie experimentale sur les connexions haute du faisceau de His-Tawara. Cardiologica, 5, 189–260.

2.

Tchou, P. T., Lehmann, M. H., Jazayeri, M., & Akhtar, M. (1988). Atriofasciucular connection or a nodoventricular Mahaim fiber? Electrophysiologic elucidation of the pathway and associated reentrant circuit. Circulation, 77, 837–848.

3.

Golberger, J. J., Pederson, D. N., Damle, R. S., Kim, Y. H., & Kadish, A. H. (1994). Antidromic tachycardia utilizing decremental, latent accessory atrioventricular fibers: differentiation from adenosine-sensitive ventricular tachycardia. Journal of the American College of Cardiology, 24, 732–738.

4.

Tada, H., Nogami, A., Naito, S., Oshima, S., Tanigichi, H., & Kutsumi, Y. (1999). Left posteroseptal Mahaim fiber associated with marked longitudinal dissociation. PACE, 22, 1696–1699.

5.

Murdock, C. J., Leitch, J. W., Teo, W. S., Sharma, A. D., Yee, R., & Klein, G. J. (1991). Characteristics of accessory pathways exhibiting decremental conduction. American Journal of Cardiology, 67, 506–510.

6.

Johnson, C. T., Brooks, C., Jaramillo, J., Mickelsen, S., & Kusumoto, F. M. (1997). A left free-wall, decrementally conducting, atrioventricular (Mahaim) fiber: diagnosis at electrophysiological study and radiofrequency catheter ablation guided by direct recording of a Mahaim potential. PACE, 20, 2486–2488.

7.

Okishige, K., & Friedman, P. (1995). New observations on decremental atriofascicular and nodofascicular fibers: implications for catheter ablation. PACE, 18, 986–998.

8.

Abbott, J. A., Scheinman, M. M., Morady, F., Shen, E. N., Miller, R., Ruder, M. A., et al. (1987). Coexistent Mahaim and Kent accessory connections: diagnostic and therapeutic implications. Journal of the American College of Cardiology, 10, 364–372.

9.

Yamabe, H., Okumura, K., Minora, K., & Yasue, H. (1991). Nodoventricular Mahaim fiber connecting to the left ventricle. American Heart Journal, 1, 232–234.

10.

Dean, J. W., Ho, S. Y., Rowland, E., Mann, J., & Anderson, R. H. (1994). Clinical anatomy of the atrioventricular junction. Journal of the American College of Cardiology, 24, 1725–1731.

11.

Miyauchim, Y., Kobayashi, Y., Morita, N., Iwasaki, Y. K., Hayashi, M., Ohmura, K., et al. (2004). Successful radiofrequency catheter ablation of an anteroseptal (superoparaseptal) atrioventricular accessory pathway from the left ventricular outflow tract. PACE, 27(5), 668–670.

12.

Wit, A. L., Fenoglio Jr, J. J., Wagner, B. M., & Bassett, A. L. (1973). Electrophysiological properties of cardiac muscle in the anterior mitral valve leaflet and the adjacent atrium in the dog. Possible implications for the genesis of atrial dysrhythmias. Circulation Research, 32, 731–745.

13.

Wit, A. L., & Cranefield, P. F. (1976). Triggered activity in cardiac muscle fibers of the simian mitral valve. Circulation Research, 38(2), 85–98.

14.

Wit, A. L., Fenoglio Jr, J. J., Hordof, A. J., & Reemtsma, K. (1979). Ultrastructure and transmembrane potentials of cardiac muscle in the human anterior mitral valve leaflet. Circulation, 59(6), 1284–1292.

15.

Gonzalez, M. D., Contreras, L. J., Jongbloed, M. R., Rivera, J., Donahue, T. P., Curtis, A. B., et al. (2004). Left atrial tachycardia originating from the mitral annulus-aorta junction. Circulation, 110, 3187–3192.
About this article
Cite this article
Francia, P., Pittalis, M.C., Ali, H. et al. Electrophysiological study and catheter ablation of a Mahaim fibre located at the mitral annulus–aorta junction. J Interv Card Electrophysiol 23, 153–157 (2008). https://doi.org/10.1007/s10840-008-9279-1
Received:

Accepted:

Published:

Issue Date:
Keywords
Mahaim

Accessory pathway

Decremental conduction

Catheter ablation

Mitral annulus–aorta junction