Abstract
This paper examines various ways in which philosophy of science can be interdisciplinary. It aims to provide a map of relations between philosophy and sciences, some of which are interdisciplinary. Such a map should also inform discussions concerning the question "How much philosophy is there in the philosophy of science?" In Sect. 1, we distinguish between synoptic and collaborative interdisciplinarity. With respect to the latter, we furthermore distinguish between two kinds of reflective forms of collaborative interdisciplinarity. We also briefly explicate how complexity triggers interdisciplinarity. In Sect. 2, we apply the distinctions of Sect. 1 to philosophy of science and analyze in which sense different styles of philosophy of science are interdisciplinary. The styles that we discuss are a synoptic-general, a reflective-general, a reflective-particular, a particular-embedded and a descriptive or normative style.
Access options
Buy single article
Instant access to the full article PDF.
US$ 39.95
Tax calculation will be finalised during checkout.
Subscribe to journal
Immediate online access to all issues from 2019. Subscription will auto renew annually.
US$ 79
Tax calculation will be finalised during checkout.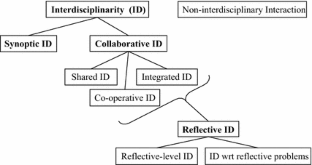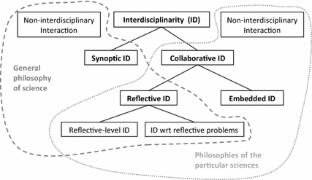 Notes
1.

Boden uses "generalizing interdisciplinarity," but because of distinctions regarding "general philosophy" made in Sect. 2, we opt for an alternative terminology here.

2.

Note that the way we understand this notion differs from the various ways that other authors have used the term "reflexive interdisciplinarity." Weingart (1996) seems to use the term to refer to processes of monitoring interdisciplinary work from within, while Blanchard (2012) takes it to refer to the way in which scientists working in interdisciplinary fields such as research on climate change and biodiversity reflect on their role in society at large.

3.

4.

Talk at the first conference of the German Society for Philosophy of Science (Gesellschaft für Wissenschaftsphilosophie) in Hanover, 2013, Germany.

5.

The Institute for Interdisciplinary Studies of Science (I2SOS) at Bielefeld University is one such example.
References
Bechtel, W. (2008). Mental mechanisms. Philosophical perspectives on cognitive neuroscience. New York/London: Taylor and Francis Group.

Blanchard, A. (2012). Climate change and biodiversity: A need for 'reflexive Interdisciplinary'. In T. Potthast & S. Meisch (Eds.), Climate change and sustainable development (pp. 381–386). Wageningen: Wageningen Academic Publishers.

Boden, M. A. (1999). What is interdisciplinarity? In R. Cunningham (Ed.), Interdisciplinarity and the organization of knowledge in Europe (pp. 13–24). Luxembourg: Office for Official Publications of the European Communities.

Brandon, R. N. (1996). Concepts and methods in evolutionary biology. Cambridge: Cambridge University Press.

Committee on Facilitating Interdisciplinary Research, National Academy of Sciences, National Academy of Engineering, and Institute of Medicine. (2004). Facilitating interdisciplinary research. Washington: National Academies Press.

Ghiselin, M. T. (1974). A radical solution to the species problem. Systematic Zoology, 23(4), 536–544.

Godfrey-Smith, P. (2003). Theory and reality: An introduction to the philosophy of science. Chicago: University of Chicago Press.

Graur, D., Zheng, Y., Nicholas, P., Azevedo, R. B. R., Zufall, R. A., & Elhaik, E. (2013). On the immortality of television sets: "Function" in the human genome according to the evolution-free gospel of ENCODE. Genome Biology and Evolution, 5(3), 578–590.

Hill, A. B. (1965). The environment and disease: Association or causation? Proceedings of the Royal Society of Medicine, 58(5), 295–300.

Hull, D. (1976). Are species really individuals? Systematic Zoology, 25(2), 174–191.

Huneman, P. (2010). Topological explanations and robustness in biological sciences. Synthese, 177, 213–245.

Kaiser, M. I., Kronfeldner, M., & Meunier, R. (forthcoming). Problems and prospects of interdisciplinary philosophy of science: A report from the workbench. Briefe zur Interdisziplinarität.

Klein, J. T. (2010). A taxonomy of interdisciplinarity. In R. Frodeman (Ed.), The Oxford Handbook of Interdisciplinarity (pp. 15–30). Oxford: Oxford University Press.

Klein, J. T., & Newell, W. (1997). Advancing interdisciplinary Studies. In J. Gaff & J. Ratcliff (Eds.), Handbook of the undergraduate curriculum: A comprehensive guide to purposes, structures, practices, and changes (pp. 393–415). San Francisco: Jossey-Bass.

Kronfeldner, M. (2010). Won't you please unite? Darwinism, cultural evolution and kinds of synthesis. In E. S.-D. A. Barahona & H.-J. Rheinberger (Eds.) The hereditary hourglass: Genetics and epigenetics, 1868-2000, (Preprint 392, pp. 111–125). Berlin: Max Planck Institute for the History of Science.

Mitchell, S. D. (2009). Unsimple truths. Science complexity and policy. Chicago/London: University of Chicago Press.

OED Online. (2013). Interdisciplinary, adj. Oxford University Press. http://www.oed.com/view/Entry/97720. Accessed 09 Aug 2013.

Pigliucci, M. (2003). Species as family resemblance concepts: The (dis-)solution of the species problem? BioEssays: News and Reviews in Molecular, Cellular and Developmental Biology, 25(6), 596–602.

Schaffner, K. F. (1974). The peripherality of reductionism in the development of molecular biology. Journal of the History of Biology, 7(1), 111–139.

Schaffner, K. F. (1993). Discovery and explanation in biology and medicine. Chicago/London: University of Chicago Press.

Sober, E., & Lewontin, R. C. (1982). Artifact, cause and genic selection. Philosophy of Science, 49(2), 157–180.

Voßkamp, W. (1987). Interdisziplinarität in den Geisteswissenschaften. In J. Kocka (Ed.), Interdisziplinarität. Praxis, Herausforderung, Ideologie (pp. 92–105). Frankfurt am Main: Suhrkamp Verlag.

Weingart, P. (1996). Interdisciplinarity. Institutional responses to changes in the world of science. In H. Barta & E. Grabner-Niel (Eds.), Wissenschaft und Verantwortlichkeit 1996: Die Wissenschaft - eine Gefahr für die Welt? Eine Veröffentlichung des Senatsarbeitskreises "Wissenschaft und Verantwortlichkeit" an der Universität Innsbruck (pp. 131–143). Wien: WUV Universitätsverlag.
Acknowledgments
In March 2013, the interdisciplinarity of philosophy of science was the subject of a workshop and a panel discussion at the first conference of the German Society for Philosophy of Science (Gesellschaft für Wissenschaftsphilosophie) in Hanover, Germany (conference theme: "How much philosophy is there in the philosophy of science?"). The focus was on the situation of early-career researchers. The workshop and panel discussion was funded by the Andrea von Braun Foundation (see http://www.wissphil.de/index.php?site=gwp2013&subsite=panel, last access August 6, 2013). We would like to thank the Andrea von Braun Foundation for its great support, as well as the workshop participants and the panelists, who are listed on the above-mentioned page, for the stimulating discussions. We would also like to thank the colleagues and students who organized the conference in Hanover and made it possible that the event could take place in such a fruitful atmosphere. This paper is the theoretical counterpart of a paper that addresses the practical implications for early-career researchers and research-related institutions with respect to funding and job profiles in interdisciplinary contexts in philosophy of science (Kaiser, Kronfeldner, Meunier (forthc.), "Problems and Prospects of Interdisciplinary Philosophy of Science: A Report from the Workbench," Briefe zur Interdisziplinarität).
Additional information
Authors appear in alphabetic order.
About this article
Cite this article
Kaiser, M.I., Kronfeldner, M. & Meunier, R. Interdisciplinarity in Philosophy of Science. J Gen Philos Sci 45, 59–70 (2014). https://doi.org/10.1007/s10838-014-9269-1
Keywords
Interdisciplinarity

Reflective disciplines

Collaboration

Philosophical styles

Complexity

Normativity