Abstract
Advancing semiconductor technology in combination with new assembly and packaging technologies are unfolding a new level of challenges for production testing. Reliability of semiconductors should be ensured by applying dedicated techniques within production testing addressing various aging aspects such as: device wear-out related degradation or reduced operational voltage headroom. Thus, test program quality is emerging as a major concern, as it is directly translating into microelectronics reliability and devices quality. With the heightened sensitivity of semiconductor technology to smallest deviations in test methods from the allowed operational range, the risk of accidentally degrading the integrated circuits reliability increases significant. In this paper we propose an approach that addresses the demand for improving semiconductor technology reliability production tests quality. The presented industry usage based case studies, in combination with described techniques, provide a set of valuable practical guidelines.
Access options
Buy single article
Instant access to the full article PDF.
US$ 39.95
Tax calculation will be finalised during checkout.
Subscribe to journal
Immediate online access to all issues from 2019. Subscription will auto renew annually.
US$ 79
Tax calculation will be finalised during checkout.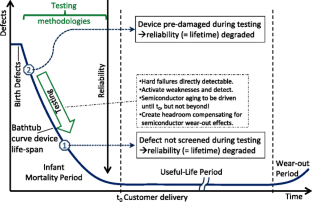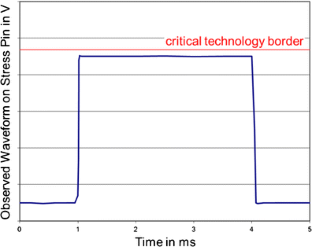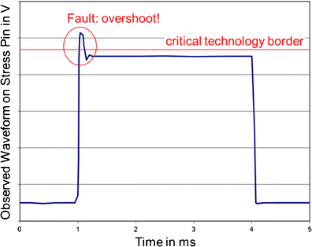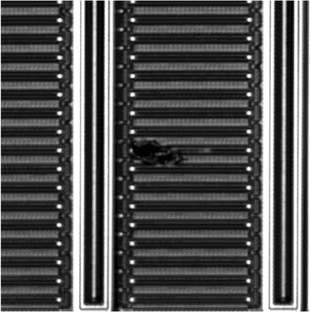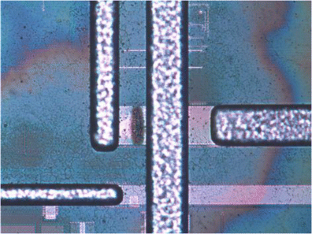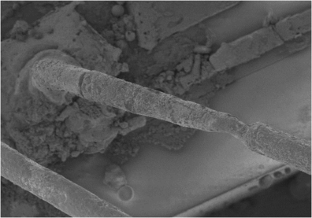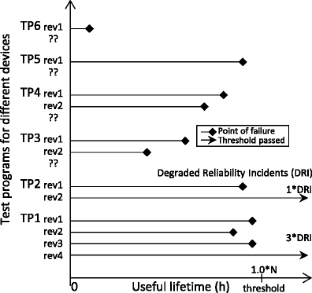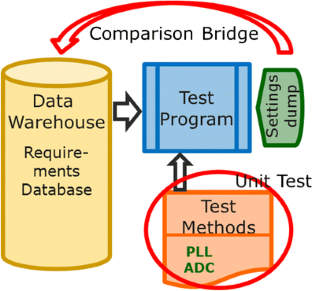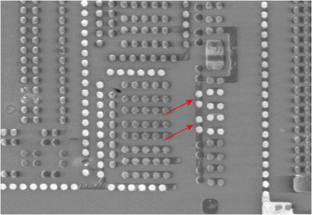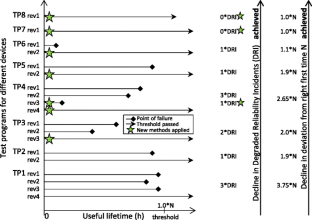 References
1.

Chen X, Wang Y, Cao Y, Ma Y, Yang H (2012) Variation-aware supply voltage assignment for simultaneous power and aging optimization. IEEE Trans Very Large Scale Integration (VLSI) Syst 20(11):2143–2147

2.

Han S, Kim B-S, Kim J (2013) Variation-aware aging analysis in digital ICs. IEEE Trans Very Large Scale Integration (VLSI) Syst 21(12):2214–2225

3.

Infineon Technologies AG (2014) Company home webpage, viewed June 2014, <http://www.infineon.com/cms/en/product/index.html>

4.

ITRS (2013) International Technology Roadmap for Semiconductors 2013 Edition, viewed June 2014, <http://public.itrs.net/>

5.

Jeng S-L, Huang B-Y, Meeker WQ (2011) Accelerated destructive degradation tests robust to distribution misspecification. IEEE Trans Reliab 60(4):701–711

6.

Journal of Electronic Testing (2012) Special Issue on Testing of Three-Dimensional Stacked Integrated Circuits, 28(1)

7.

Meeker WQ (2010) Trends in the Statistical Assessment of Reliability, in Advances in Degradation Modeling, Statistics for Industry and Technology. In: Nikulin MS et al (ed) Springer

8.

Nahar A, Butler KM, Carulli JM, Weinberger, C (2009) Quality improvement and cost reduction using statistical outlier methods, Proc. IEEE International Conference on Computer Design, pp. 64–69

9.

Nourivand A, Al-Khalili AJ, Savaria Y (2012) Postsilicon tuning of standby supply voltage in SRAMs to reduce yield losses Due to parametric data-retention failures. IEEE Trans Very Large Scale Integration (VLSI) Syst 20(1):29–41

10.

Suhir E (2013) Could electronics reliability be predicted, quantified and assured? Microelectron Reliab 53(7):925–936, ISSN 0026–2714

11.

Vock S, Escalona O, Turner C, Owens F (2012) Challenges for semiconductor test engineering: a review paper. J Electron Test Theory Appl 28(3):365–374

12.

Vock S, Escalona O, Turner C, Owens F (2014) The Use of software engineering methods for efficacious test program creation: a supportive evidence based case study. J Electron Test Theory Appl. doi:10.1007/s10836-014-5462-8

13.

Vock S, Escalona OJ, Owens FJ (2010) Commercial Challenges and Quality Robustness Issue in Semiconductor Manufacture Test and Measurement, Proc. 27th International Manufacturing Conference, Galway Institute of Technology, < http://eprints.ulster.ac.uk>
Additional information
Responsible Editor: K. Chakrabarty.
About this article
Cite this article
Vock, S., Escalona, O. & Turner, C. Improving Semiconductor Reliability with Advanced Engineering Methods in Test Program Development. J Electron Test 31, 107–117 (2015). https://doi.org/10.1007/s10836-014-5495-z
Received:

Accepted:

Published:

Issue Date:
Keywords
Accelerated life testing

Reliability

Semiconductor aging

Test equipment

Testing

Time to market