Abstract
Testing of Radio Frequency (RF) circuits for nonlinearity specifications generally requires the use of multiple test measurements thereby contributing to increased test cost. Prior RF test methods have suffered from significant test calibration effort (training for supervised learners) when using compact tests or from increased test time due to direct specification measurement. On the other hand, due to aggressive technology scaling, there are plenty of digital transistors available that can be used to simplify testing of Analog/Mixed-Signal (AMS) and RF devices. In this paper, an RF test methodology is developed that: (a) allows RF devices to be tested for several distortion specifications using distortion model fitting algorithms in test time comparable to what can be achieved using supervised learning techniques while retaining the accuracy of direct specification measurement, (b) allows multiple RF specifications to be determined concurrently from a single data acquisition and (c) allows digital-compatible testing/BIST to be performed using digital testers or on-chip built in self-test (BIST) circuitry. With regard to (a), a key benefit is that no training of supervised learning algorithm is necessary. The proposed method based on distortion model fitting is shown to give excellent results across common RF performance metrics while providing ~10× improvements in test time compared to previous methods.
Access options
Buy single article
Instant access to the full article PDF.
USD 39.95
Price excludes VAT (USA)
Tax calculation will be finalised during checkout.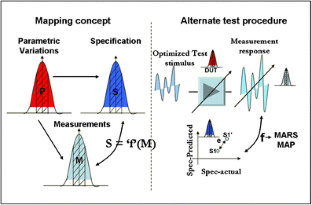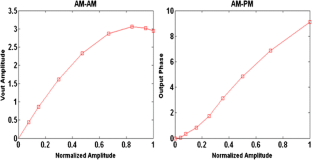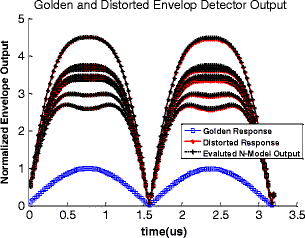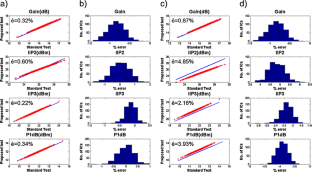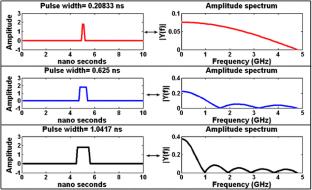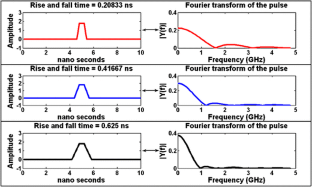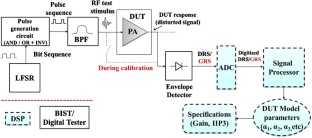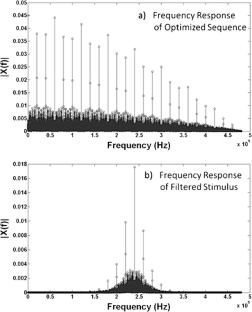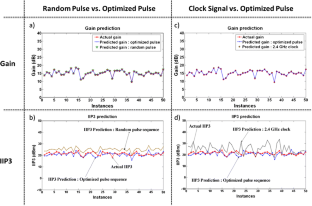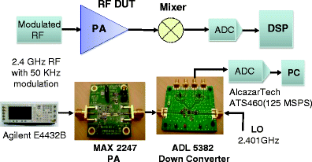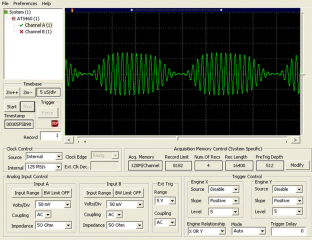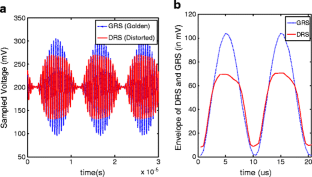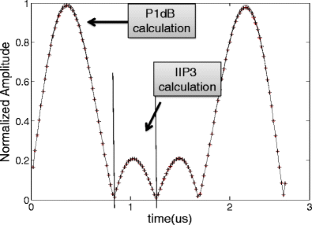 References
Abramovici M, Breuer M, Friedman A (1994) Digital systems testing and testable design. IEEE Press

Akbay SS, Chatterjee A (2007) Fault-based alternate test of RF components. ICCD 2007, Oct 2007

Banerjee A, Kumar Devarakond S, Natarajan V, Sen S, Chatterjee A (2010) Optimized digital compatible pulse sequences for testing of RF front end modules. Mixed-Signals, Sensors and Systems Test Workshop (IMS3TW), 2010 IEEE 16th International pp 1–6, 7–9 June 2010

Barragan M, Fiorelli R, Vazquez D, Rueda A, Huertas JL (2009) A BIST solution for the functional characterization of RF systems, Based on envelope response analysis. Proceedings, Asian Test Symposium, Nov 2009, pp 255–261

Bhattacharya S, Halder A, Srinivasan G, Chatterjee A (2005) Alternate testing of RF transceivers using optimized test stimulus for accurate prediction of systems specifications. J Electron Test: Theory and Applications 21(3):323–339

Erdogan ES, Ozev S (2010) Detailed characterization of transceiver parameters through loop-back-based BiST. IEEE Trans VLSI Syst 18(6):901–911

Falconer D, Kolze T, Leiba Y, Liebetreu J (2000) Proposed System Impairment Models. IEEE 802.16.1pc-00/15, February 2000

Friedman JH (1991) Multivariate adaptive regression splines. Ann Stat 19:1–141

Han D, Bhattacharya S, Chatterjee A (2007) Low-cost parametric test and diagnosis of RF systems using multi-tone response envelope detection. IEE Proc Comput Digit Tech 1(3):170–179

Hung S-F, Hong H-C, Liang S-C (2009) A low cost output response analyzer for BIST of sigma-delta modulator using the controlled sine wave fitting method. Proceedings, Asian Test Symposium, Nov 2009, pp. 385–391

Lathi BP (1998) Modern digital and analog communication systems. Oxford University Press

Mattes H, Sattler S, Dworski C (2004) Controlled sine wave fitting for ADC test. Proceedings, International Test Conference, pp 963–971

MAX 2247 Power Amplifier. Available: http://datasheets.maxim-ic.com/en/ds/MAX2247.pdf

Park J, Chung J, Abraham JA (2009) LFSR based performance characterization of nonlinear analog and mixed-signal circuits. Proceedings, Asian Test Symposium, Nov 2009, pp 373–379

Razavi B (1998) RF microelectronics. Prentice-Hall

Stratigopoulos H, Mir S, Acar E, Ozev S (2009) Defect filter for alternate RF test. IEEE Eur Test Symp, May 2009, pp 101–106

Variyam PN, Cherubal S, Chatterjee A (Mar. 2002) Prediction of analog performance parameters using fast transient testing. IEEE Trans Comput Aided Des Integrated Circ Syst 21:349–361

Voorakaranam R, Akbay SS, Bhattacharya S, Cherubal S, Chatterjee A (2007) Signature testing of analog and rf circuits: algorithms and methodology. IEEE Trans Circ Syst 54(5):1018–1031

Zeidan MA, Banerjee G, Gharpurey R, Abraham JA (2010) Multitone digital signal based test for RF receivers. VLSI Test Symposium (VTS), 2010 28th, pp 343–348, 19–22 April 2010
Acknowledgment
This work was funded in part by NSF CCR 0916270 and GSRC-2009-DT-2049.
Additional information
Responsible Editor: M. Sachdev
About this article
Cite this article
Sen, S., Banerjee, A., Natarajan, V. et al. BIST/Digital-Compatible Testing of RF Devices Using Distortion Model Fitting. J Electron Test 28, 405–419 (2012). https://doi.org/10.1007/s10836-012-5304-5
Received:

Accepted:

Published:

Issue Date:

DOI: https://doi.org/10.1007/s10836-012-5304-5
Keywords
RF test

Low-cost test

RF testing on digital tester

Nonlinearity model

Model fitting

Alternate test

Built in Self Test (BIST)