Abstract
This study examined the association between romantic partner's financial integration and financial conflict. Using the data from 2016 to 2017 wave of German Panel Analysis of Family Dynamics and Intimate Relationships (Pairfam), this study found that partners who were less financially integrated reported more financial conflicts. This study further explored how non-traditional aspects of couple relationship moderate the association between couple's financial integration and financial conflicts. Dual-earner partnership and reciprocity orientation moderated the association between having a separate bank account and the frequency of financial conflicts. However, younger birth cohort and cohabitation failed to moderate this association. These findings provide insights to researchers and practitioners that the meaning of pooling resources can be different across partners when they show non-traditional aspects toward relationships.
Access options
Buy single article
Instant access to the full article PDF.
USD 39.95
Price excludes VAT (USA)
Tax calculation will be finalised during checkout.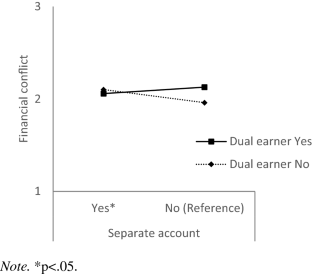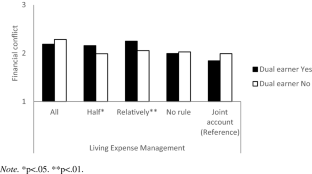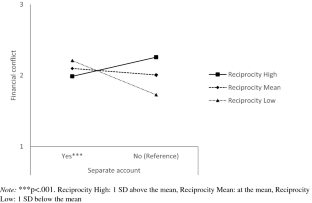 References
Addo, F. (2017). Financial integration and relationship transitions of young adult cohabiters. Journal of Family Economic Issues, 38(1), 84–99. https://doi.org/10.1007/s10834-016-9490-7.

Addo, F., & Sassler, S. (2010). Financial arrangements and relationship quality in low-income couples. Family Relations, 59(4), 408–423. https://doi.org/10.1111/j.1741-3729.2010.00612.x.

Ashby, K. J., & Burgoyne, C. B. (2008). Separate financial entities?: Beyond categories of money management. The Journal of Socio-Economics, 37(2), 458–480. https://doi.org/10.1016/j.socec.2006.12.035.

Barton, A. W., Futris, T. G., & Nielsen, R. B. (2015). Linking financial distress to marital quality: The intermediary roles of demand/withdraw and spousal gratitude expressions. Personal Relationships, 22(3), 536–549. https://doi.org/10.1111/pere.12094.

Bolzendahl, C. I., & Myers, D. J. (2004). Feminist attitudes and support for gender equality: Opinion change in women and men, 1974–1998. Social Forces, 83(2), 759–789. https://doi.org/10.1353/sof.2005.0005.

Bonke, J. (2015). Pooling of income and sharing of consumption within households. Review of Economics of the Household, 13(1), 73–93. https://doi.org/10.1007/s11150-013-9184-y.

Brüderl, J., Hajek, K., Herzig, M., Lenke, R., Müller, B., Schütze, P., & Schumann, N. (2018). Data manual of the german family panel. Retrieved from https://www.pairfam.de/fileadmin/user_upload/redakteur/publis/Dokumentation/Manuals/Data_Manual_pairfam_9.1.pdf

Cumbie, J. A., MacDonald, S. T., & Britt, S. L. (2013). Spousal money arguments insights from non-cooperative game theory and the NLSY. Southwest Business and Economics Journal, 21, 57–71.

Dew, J. P., & Stewart, R. (2012). A financial issue, a relationship issue, or both? Examining the predictors of marital financial conflict. Journal of Financial Therapy, 3(1), 43–61. https://doi.org/10.4148/jft.v3i1.1605.

Eickmeyer, K. J., Guzzo, K. B., Manning, W. D., & Brown, S. L. (2019). A research note on income pooling in partnerships: Incorporating nonresident children. Journal of Family Issues, 40(18), 2922–2943. https://doi.org/10.1177/0192513X19868270.

Hamplova, D., & Bourdais, C. L. (2009). One pot or two pot strategies? Income pooling in married and unmarried households in comparative perspective. Journal of Comparative Family Studies, 40(3), 355. https://doi.org/10.3138/jcfs.40.3.355.

Hiekel, N., Liefbroer, A. C., & Poortman, A. R. (2014). Income pooling strategies among cohabiting and married couples: A comparative perspective. Demographic Research, 30, 1527–1560. https://doi.org/10.4054/DemRes.2014.30.55.

Lauer, S. R., & Yodanis, C. (2011). Individualized marriage and the integration of resources. Journal of Marriage and Family, 73(3), 669–683. https://doi.org/10.1111/j.1741-3737.2011.00836.x.

Lyngstad, T. H., Noack, T., & Tufte, P. A. (2011). Pooling of economic resources: A comparison of Norwegian married and cohabiting couples. European Sociological Review, 27(5), 624–635. https://doi.org/10.1093/esr/jcq028.

Mano-Negrin, R., & Katz, R. (2003). Money management patterns of dual-earner families in Israel. Journal of Family and Economic Issues, 24(1), 49–72. https://doi.org/10.1023/A:1022483020352.

Pahl, J. (2005). Individualisation in couple finances: Who pays for the children? Social Policy & Society, 4(4), 381–391. https://doi.org/10.1017/S1474746405002575.

Raijas, A. (2011). Money management in blended and nuclear families. Journal of Economic Psychology, 32(4), 556–563. https://doi.org/10.1016/j.joep.2011.02.006.

Steuber, K. R., & Paik, A. (2014). Of money and love: Joint banking, relationship quality, and cohabitation. Journal of Family Issues, 35(9), 1154–1176. https://doi.org/10.1177/0192513X13503324.

Thönnissen, C., Wilhelm, B., Alt, P., Greischel, H., & Walpe, S. (2018). Scales Manual of the German Family Panel. Retrieved from https://www.pairfam.de/fileadmin/user_upload/uploads/Neu_10/Scales%2520Manual%2C%2520pairfam%2520Release%252010.0.pdf

Treas, J. (1993). Money in the bank: Transaction costs and the economic organization of marriage. American Sociological Review, 58(5), 723–734. https://doi.org/10.2307/2096283.

Vogler, C., Brockmann, M., & Wiggins, R. D. (2006). Intimate relationships and changing patterns of money management at the beginning of the twenty-first century. The British Journal of Sociology, 57(3), 455–482. https://doi.org/10.1111/j.1468-4446.2006.00120.x.

Yodanis, C., & Lauer, S. (2014). Is marriage individualized? What couples actually do. Journal of Family Theory & Review, 6(2), 184–197. https://doi.org/10.1111/jftr.12038.
Ethics declarations
Conflict of interest
The authors declare that they have no conflict of interest.
Research Involving Human and Animal Rights
Statement of human rights and welfare of animals: This article does not contain any studies with human participants or animals performed by any of the authors.
Informed Consent
Furthermore, this data was de-identified and informed consent was previously collected by the developers (Huinik et al. 2011). This data is publically available and can be used at request of the developers at https://www.pairfam.de/en/data/data-access/.
Additional information
Publisher's Note
Springer Nature remains neutral with regard to jurisdictional claims in published maps and institutional affiliations.
This is one of several papers published together in Journal of Family and Economic Issues on the "Special Issue on Couples, Families, and Finances".
About this article
Cite this article
Lim, H., Morgan, P. Financial Integration and Financial Conflict: Does Less Financial Integration Relate to Increased Financial Conflict Between Romantic Partners?. J Fam Econ Iss 42, 273–281 (2021). https://doi.org/10.1007/s10834-020-09703-x
Published:

Issue Date:

DOI: https://doi.org/10.1007/s10834-020-09703-x
Keywords
Dual earner

Financial conflict

Financial integration

Individualized marriage

Money arguments

Reciprocity