Abstract
We analysed the effects of late entry on the human capital of immigrant children, and investigated the channels via which age-at-migration affects the native-immigrant education gap. Ordinary-least-squares estimates could have been biased if parents factored the age of children into their migration decision. Using a sample of siblings from the 2000 US Census, we employed a family fixed-effects estimation strategy and found a negative and convex relationship between human capital and age-of-arrival. Teenage entrants' outcomes were worst affected compared to younger entrants. Language was found to be an important mediating factor via which age-of-arrival influenced education. The critical age for English proficiency was 8–10. Age-of-arrival affected education not only through language but also via heterogeneous origin country conditions. The additional privileges of birth-right citizenship, if any, were disentangled from the benefits of zero age-of-arrival for natives. Citizenship by birth provided few advantages, except for college enrollment. Results were robust to sample selection changes.
This is a preview of subscription content, log in to check access.
Access options
Buy single article
Instant access to the full article PDF.
US$ 39.95
Price includes VAT for USA
Subscribe to journal
Immediate online access to all issues from 2019. Subscription will auto renew annually.
US$ 99
This is the net price. Taxes to be calculated in checkout.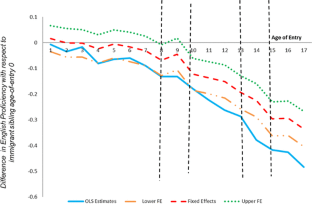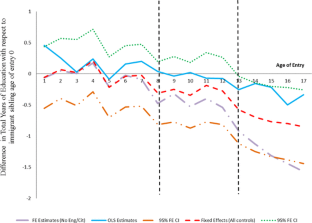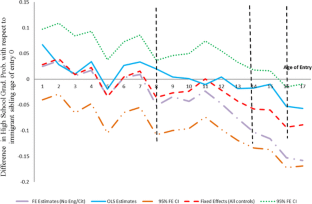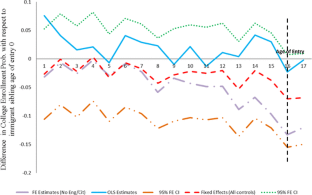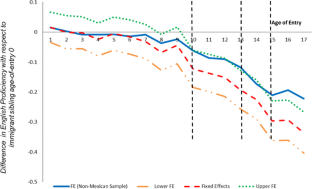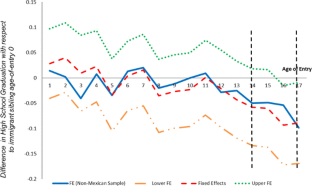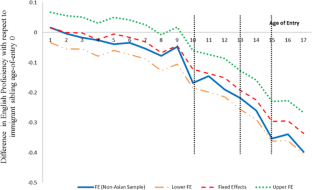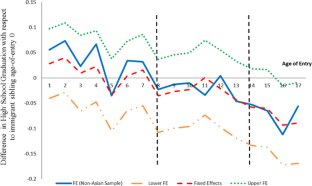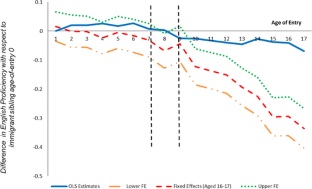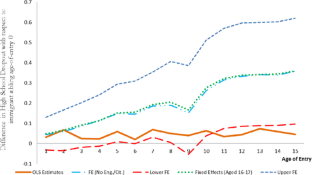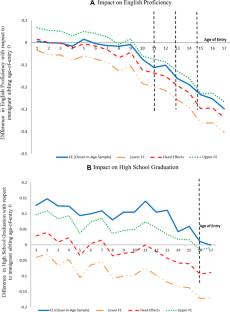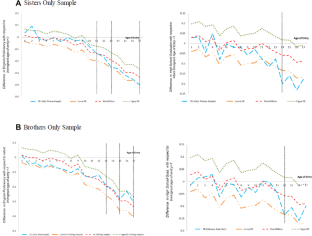 Notes
1.

An immigrant is an individual born outside the 50 US states and the district of Columbia, including those born in US territories. People born abroad to American parents are excluded. In this work, the terms immigrant and foreign-born were used interchangeably.

2.

Jus Soli or "citizenship by birth" is a right by which a child has the citizenship of the country in which they were born, and not necessarily the nationality of either parent which is the principle of Jus Sanguinis.

3.

4.

If parents can afford to bring only one child to US, they will probably be accompanied by the younger child. Conversely, if parents need assistance in the host country, they may bring the older child who enters the labor market soon, and the investment in education will be low.

5.

Detailed results available upon request.

6.

Censuses prior to 2000 and the Current Population Surveys provided multi-period intervals for the year of migration and years of stay. Precise age of arrival measures could not be constructed.

7.

Basu and Insler (2017) detailed the merits of using the 2000 Census over merged ACS years in terms of larger sample size and consistent sample weighting.

8.

These sample restrictions implied that members of the sample immigrated to the US between 1945 and 1990.

9.

1979 childhood immigrants only had a US-born sibling in the household, and no childhood immigrant sibling.

10.

The sibling sample also had lower average years of residence in the US of about 4 years. We may be concerned that immigrants who have trouble forming attachments to the host country are living together.

11.

The differences in OLS estimates between the all childhood immigrants and sibling samples was confirmed by a test-of-difference. Results available upon request.

12.

Clustering standard errors increased confidence intervals on the fixed effects estimates because we allowed for correlation between observations.

13.

Households with one immigrant sibling and only US-born siblings were excluded.

14.

OLS estimates included these controls. 95% CIs for FE estimates with controls were also shown.

15.

Recall that the sibling sample was characterized by positive selection, hence fixed effects estimates removed some of this bias. The OLS estimates from the "all childhood immigrants" sample were more significantly more negative than fixed estimates at teenage ages of entry. Results are available upon request.

16.

The US education system may adapt better to younger versus older entrants. Hence education itself can affect language.

17.

Anyone filing for naturalization for themselves and their family must meet certain eligibility criterion. He/she must be a legal permanent resident of the US for 5 years less 90 days before they apply. Rules are relaxed if they have been married to and living with a citizen for the past 3 years. The applicant must be "of good moral character," and pass a test on US history and government.

18.

A joint test of significance was unable to reject the null of no difference in age-of-arrival coefficients for high school graduation and total years of education. The null was rejected at 10% significance for college enrollment.

19.

The restriction that the child must live in the US for at least 10 years was not imposed. Such a restriction in the year 2000 would limit the sample to children to those who arrived at ages 0–7.

20.

If childhood immigrants aged 11–17 were compared to their US-born sibling, the critical age of English acquisition was 8, as seen for the adult sibling sample.

21.

Beck et al. (2012) found using an instrumental variables approach that the probability of being a high-school dropout increases significantly each year after the age of arrival of eight.
References
Akbulut-Yuksel, M., Bleakley, H., & Chin, A. (2011). The effect of English proficiency among childhood immigrants: Are Hispanics different? In D. Leal & S. Trejo (Eds.), Latinos and the Economy: Integration and Impact in Schools, Labour Markets, and Beyond (pp. 255–283). New York: Springer.

Åslund, O., Bohlmark, A., & Skans, O. (2015). Childhood and family experiences and the social integration of young migrants. Labour Economics, 35(C), 135–144. https://doi.org/10.1016/j.labeco.2015.05.004.

Basu, S., & Insler, M. (2017). Education outcomes of children of Asian intermarriages: Does gender of the immigrant parent matter?. The B.E. Journal of Economic Analysis and Policy, 17(1). https://doi.org/10.1515/bejeap-2016-0214.

Beck, A., Corak, M., & Tienda, M. (2012). Age at immigration and the adult attainments of child migrants to the United States. The Annals of the American Academy of Political and Social Science, 643(1), 134–159. https://doi.org/10.1177/0002716212442665.

Belmont, L., & Marolla, F. A. (1973). Birth order, family size, and intelligence: A study of a total population of 19-year-old men born in the Netherlands is presented. Science, 182(4117), 1096–1101.

Black, S., Devereux, P., & Salvanes, K. (2005). The more the merrier? The effect of family size and birth order on children's education. Quarterly Journal of Economics, 120(2), 669–700. https://doi.org/10.1093/qje/120.2.669.

Bleakley, H., & Chin, A. (2004). Language skills and earnings: Evidence from childhood immigrants. Review of Economics and Statistics, 86(2), 481–496. https://doi.org/10.1162/003465304323031067.

Bleakley, H., & Chin, A. (2010). Age at arrival, English proficiency and social assimilation among immigrants. American Economic Journal: Applied Economics, 2(1), 165–192. https://doi.org/10.1257/app.2.1.165.

Bohlmark, A. (2008). Age at immigration and school performance: A siblings analysis using Swedish register data. Labour Economics, 15(6), 1366–1387. https://doi.org/10.1016/j.labeco.2007.12.004.

Booth, A. H., & Kee, H. J. (2009). Birth order matters: The effect of family size and birth order on educational attainment. Journal of Population Economics, 22(2), 367–397. https://doi.org/10.1007/s00148-007-0181-4.

Borjas, G. (1985). Assimilation, changes in cohort quality, and the earnings of immigrants. Journal of Labour Economics, 3(4), 463–489.

Borjas, G. (1987). Self-selection and the earnings of immigrants. American Economic Review, 77(4), 531–53.

Bound, J., & Solon, G. (1999). Double trouble: On the value of twins-based estimation of the returns to schooling. Economics of Education Review, 18(2), 169–182. https://doi.org/10.1016/S0272-7757(98)00048-X.

Cameron, J., Heckman, J., Knudsen, E., & Shonkoff, J. (2006). Economic, neurobiological and behavioral perspectives on building America's future workforce. Proceedings of the National Academy of Sciences, 103(27), 10155–10162. https://doi.org/10.1073/pnas.0600888103.

Card, D. (2009). Immigration and inequality. American Economic Review, 99(2), 1–21. https://doi.org/10.1257/aer.99.2.1.

Cheng, S., & Starks, B. (2002). Racial differences in the effects of significant others on sudents' educational expectations. Sociological Education, 75(4), 306–327. https://doi.org/10.2307/3090281.

Chiswick, B., & Deb-Burman, N. (2004). Educational attainment: Analysis by immigrant generation. Economics of Education Review, 23(4), 361–379. https://doi.org/10.1016/j.econedurev.2003.09.002.

Chiswick, B., & Miller, P. (2008). Linguistic distance: A quantitative measure of the distance between English and other languages. Journal of Multilingual and Multicultural Development, 26(1), 1–11. https://doi.org/10.1080/14790710508668395.

Clarke, A. (2016). Age at immigration and the educational attainment of foreign-born children in the United States: The Confounding Effects of Parental Education. International Migration Review. https://doi.org/10.1111/imre.12294.

Cohner Goldner, S., & Epstein, G. (2014). Age at immigration and high school dropouts. IZA Journal of Migration, 3, 1–20. https://doi.org/10.1186/s40176-014-0019-2.

Cortes, K. (2006). The effects of age at arrival and enclave schools on the academic performance of immigrant children. Economics of Education Review, 25(2), 121–132. https://doi.org/10.1016/j.econedurev.2004.12.001.

Dahl, G., & Moretti, E. (2008). The demand for sons. The Review of Economic Studies, 75, 1085–1120. https://doi.org/10.1111/j.1467-937X.2008.00514.x.

Erikson, E. (1959). Identity and the life cycle: Selected papers. Psychological Issues (Vol 1, pp. 1–171), Madison: International Universities Press.

Falbo, T., & Polit, D. (1986). A quantitative review of the only child literature: Research evidence and theory development. Psychological Bulletin, 100, 176–189. https://doi.org/10.1037/0033-2909.100.2.176.

Falbo, T., & Poston, D. (1993). The academic, personality, and physical outcomes of only children in China. Child Development, 64(1), 18–35.

Glick, J., & White, M. (2003). The academic trajectories of immigrant youth: Analysis within and across cohorts. Demography, 40(4), 759–783. https://doi.org/10.1353/dem.2003.0034.

Goldberg, R., Tienda, M., & Adsera, A. (2017). Age at migration, family instability, and timing of sexual onset. Social Science Research, 63, 292–307. https://doi.org/10.1016/j.ssresearch.2016.09.021.

Hakuta, K., Bialystok, E., & Wiley, E. (2003). A test of the critical period hypothesis for second-language acquisition. Psychological Science, 14(1), 31–38.

Härkönen, J. (2014). Birth order effects on educational attainment and educational transitions in West Germany. European Sociological Review, 30(2), 166–179. https://doi.org/10.1093/esr/jct027.

Heath, A., & Kilpi-Jakonen, E. (2012). Immigrant children's age at arrival and assessment results. OECD Education Working Paper No. 75. Retrieved from: https://doi.org/10.1787/5k993zsz6g7h-en.

Hernendez, D. (2004). Demographic change and the life circumstances of immigrant families. The Future of Children, 14(2), 17–48.

Hoefer, M., Rytina, N., Baker, B. (2010). Estimates of the unauthorized immigrant population residing in the United States: January 2009. Washington, DC: US Department of Homeland Security, Office of Immigration Statistics. Retrieved from http://www.dhs.gov/xlibrary/assets/statistics/publications/ois_ill_pe_2009.pdf.

Lenneberg, E. H. (1967). The biological foundations of language. Hospital Practice, 2(12), 59–67. https://doi.org/10.1080/21548331.1967.11707799.

Leuck, K. (2017). Socioeconomic success of Asian immigrants in the United States. Journal of Ethnic and Migration Studies. https://doi.org/10.1080/1369183X.2017.1320940.

Liscow, Z., & Woolston, W. (2017). Does legal status affect educational attainment in immigrant families? Working Paper, Yale Law School, Yale University. Retrieved from https://ssrn.com/abstract=3083026.

Marcia, J. (1980). Identity in adolescence. In J. Adelson (Ed.), Handbook of adolescent psychology. New York: Wiley.

Mayer, S. (2010). Revisiting an old question: How much does parental income affect child outcomes? Focus, 27(2), 21–26.

Mincer, J. (1974). Schooling, experience, and earnings. New York: Columbia University Press.

Myers, D., Gao, X., & Emeka, A. (2009). The gradient of immigrant age-at-arrival effects on socioeconomic outcomes in the US. International Migration Review, 43(1), 205–229. https://doi.org/10.1111/j.1747-7379.2008.01153.x.

Ruggles, S., Alexander, T., Genadek, K., Goeken, R., Schroeder, M., & Sobek, M. (2010). Integrated Public Use Microdata Series: Version 5.0. Minneapolis: University of Minnesota.

Schoeni, R. F. (1998). Labour market assimilation of immigrant women. Industrial and Labour Relations Review, 51(3), 483–504.

Shonkoff, J. P., & Phillips, D. A. (2000). From neurons to neighborhoods: The science of early childhood development. Washington, DC: National Academy Press.

Van Ours, J., & Veenman, J. (2006). Age at immigration and educational attainment of young immigrants. Economics Letters, 90(3), 310–316. https://doi.org/10.1016/j.econlet.2005.08.013.
Acknowledgements
I am grateful to seminar participants at the University of Rochester and Vassar College. I would also like to thank conference participants at the Western Economic Association International Conference and participants at the CeMent workshop of the CSWEP program. I would also like to thank Sarah Pearlman and Ross Messing for valuable comments on an earlier draft of this paper, and Amanda McFarland for excellent research assistance on this project.
Ethics declarations
Conflict of interest
Sukanya Basu declares that she has no conflict of interest.
Ethical Approval
This article does not contain any studies with human participants or animals performed by any of the authors.
About this article
Cite this article
Basu, S. Age-of-Arrival Effects on the Education of Immigrant Children: A Sibling Study. J Fam Econ Iss 39, 474–493 (2018). https://doi.org/10.1007/s10834-018-9569-4
Keywords
Age-of-arrival

Education

Immigrant children

Siblings study

Family fixed-effects
JEL Classification