Abstract
Despite the paucity of empirical evidence indicating the impact of money arguments on spousal relationship outcomes, it is common belief that money plays a large role in the life of couples. This study used panel data from the 1979 National Longitudinal Study of Youth to examine how money-related arguments affect the marital relationship. Economic theory indicates that initial expectations about the marriage and variance in expectations are both important in predicting relationship satisfaction and divorce. Money arguments were modeled as a sign of the lack of investment in spousal-specific capital and were hypothesized to negatively impact relationship quality. Results suggest that money arguments are an important indicator of relationship satisfaction, but are not as influential in predicting divorce. Both the approach used to model money arguments and the empirical results can be used by marriage therapists and financial counselors to help couples understand and improve the benefits received through marriage.
This is a preview of subscription content,
to check access.
Access this article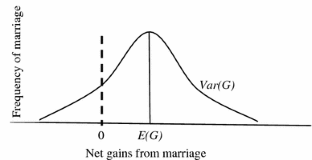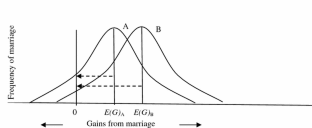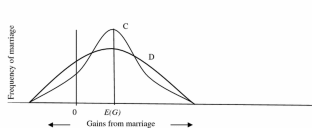 Similar content being viewed by others
Notes
Respondents were not asked to indicate their frequency of arguments about their own relatives in 1988, so the frequency couples argued about in-laws in 1988 was counted twice to maintain the same range of 10–40 for couples married at different points in time. This method was chosen because of the high correlation of the items in the 1992 survey (r = 0.61, p < 0.001).
References
Albrecht, S. L. (1979). Correlates of marital happiness among the remarried. Journal of Marriage and the Family, 41(4), 857–867.

Amato, P. R. (2000). The consequences of divorce for adults and children. Journal of Marriage and the Family, 62(4), 1269–1287.

Amato, P. R., & Previti, D. (2003). People's reasons for divorcing: Gender, social class, the life course, and adjustment. Journal of Family Issues, 24(5), 602–626.

Amato, P. R., & Rogers, S. J. (1997). A longitudinal study of marital problems and subsequent divorce. Journal of Marriage and the Family, 59(3), 612–624.

Anderson, J. D. (2005). Financial problems and divorce: Do demographic characteristics strengthen the relationship? Journal of Divorce & Remarriage, 43(1), 149–161.

Aniol, J. C., & Snyder, D. K. (1997). Differential assessment of financial and relationship distress: Implications for couples therapy. Journal of Marital and Family Therapy, 23(3), 347–353.

Becker, G. S. (1976). The economic approach to human behavior. Chicago: The University of Chicago Press.

Becker, G. S. (1981). A treatise on the family. Cambridge: Harvard University Press.

Bradbury, T. N., Fincham, F. D., & Beach, R. H. (2000). Research on the nature and determinants of marital satisfaction: A decade in review. Journal of Marriage and the Family, 62(4), 964–980.

Brown, S. L., Sanchez, L. A., Nock, S. L., & Wright, J. D. (2006). Links between premarital cohabitation and subsequent marital quality, stability, and divorce: A comparison of covenant versus standard marriages. Social Science Research, 35(2), 454–470.

Bryant, W. K., & Zick, C. D. (2006). The economic organization of the household (2nd ed.). Cambridge: Cambridge University Press.

de Graaf, P. M., & Kalmijn, M. (2006). Change and stability in the social determinants of divorce: A comparison of marriage cohorts in the Netherlands. European Sociological Review, 22(5), 561–572.

Deutsch, F. M., Roksa, J., & Meeske, C. (2003). How gender counts when couples count their money. Sex Roles, 48(7–8), 291–304.

Dew, J. P. (2009). Financial issues as predictors of divorce. Paper presented at the annual conference of the National Council on Family Relations, San Francisco.

Dolan, M. A., & Hoffman, C. D. (1998). Determinants of divorce among women: A reexamination of critical influences. Journal of Divorce and Remarriage, 28(3/4), 97–106.

Gorchoff, S. M., John, O. P., & Helson, R. (2008). Contextualizing change in marital satisfaction during middle age: An 18-year longitudinal study. Psychological Science, 19(11), 1194–1200.

Gottman, J. M., & Levenson, R. W. (2000). The timing of divorce: Predicting when a couple will divorce over a 14-year period. Journal of Marriage and the Family, 62(3), 737–745.

Jianakoplos, N. A., & Bernasek, A. (2008). Family financial risk taking when the wife earns more. Journal of Family and Economic Issues, 29(2), 289–306.

Liu, G., & Vikat, A. (2007). Does divorce risk in Sweden depend on spouses' relative income? A study of marriages from 1981 to 1998. Canadian Studies in Population, 34(2), 217–240.

Luo, S., & Klohnen, E. C. (2005). Assortative mating and marital quality in newlyweds: A coupled-centered approach. Journal of Personality and Social Psychology, 88(2), 304–326.

Markman, H. J., Stanley, S. M., & Blumberg, S. L. (2001). Fighting for your marriage: Positive steps for preventing divorce. San Francisco: Jossey-Bass.

Ressler, R. W., & Waters, M. S. (2000). Female earnings and the divorce rate: A simultaneous equations model. Applied Economics, 32(14), 1889–1898.

Rick, S. I., Small, D. A., & Finkel, E. J. (2009). Fatal (fiscal) attraction: Spendthrifts and tightwads in marriage. Retrieved from http://ssrn.com/abstract=1339240.

Risch, G. S., Riley, L. A., & Lawler, M. G. (2003). Problematic issues in the early years of marriage: Content for premarital education. Journal of Psychology and Theology, 31(3), 253–269.

Rogers, S. J. (2004). Dollars, dependency, and divorce: Four perspectives on the role of wives' income. Journal of Marriage and Family, 66(1), 59–74.

Stanley, S. M., Amato, P. R., Johnson, C. A., & Markman, H. J. (2006). Premarital education, marital quality, and marital stability: Findings from a large, random household survey. Journal of Family Psychology, 20(1), 117–126.

Stanley, S. M., Markman, H. J., & Whitton, S. W. (2002). Communication, conflict, and commitment: Insights on the foundations of relationship success from a national survey. Family Process, 41(4), 659–675.

Tzeng, J. M., & Mare, R. D. (1995). Labor market and socioeconomic effects on marital stability. Social Science Research, 24(3), 329–351.

Watson, D., Klohnen, E. C., Casillas, A., Simms, E. N., Haig, J., & Berry, D. S. (2004). Match makers and deal breakers: Analyses of assortative mating in newlywed couples. Journal of Personality, 72(5), 1029–1068.

White, L. K. (1990). Determinants of divorce: A review of research in the eighties. Journal of Marriage and the Family, 52(4), 904–912.

Zagorsky, J. L. (2003). Husbands' and wives' view of the family finances. Journal of Socio Economics, 32(2), 127–146.

Zagorsky, J. L. (2005). Marriage and divorce's impact on wealth. Journal of Sociology, 41(4), 406–424.
About this article
Cite this article
Britt, S.L., Huston, S.J. The Role of Money Arguments in Marriage. J Fam Econ Iss 33, 464–476 (2012). https://doi.org/10.1007/s10834-012-9304-5
Published:

Issue Date:

DOI: https://doi.org/10.1007/s10834-012-9304-5
Keywords