Abstract
This paper presents the experience of going to scale of Escuela Nueva, an educational innovation that started in Colombia and has influenced educational policy in several countries around the world during the last 30 years. The paper is based on the experience of the leaders of the innovation and its expansion over time. As an insider´s perpective, it relies on the knowledge of senior staff of Fundación Escuela Nueva and on the published evidence and experience accumulated during the decades following the creation of the innovation. The paper describes the context where Escuela Nueva was created and the practices of participating students, teachers, schools administrators and parents when undergoing learning and teaching. It presents the conceptual underpinnings of the innovation, and discusses existing evidence of impact of Escuela Nueva on students, teachers and parents. It then examines the experience of bringing Escuela Nueva to scale, using a three-stage framework: learning to be effective, learning to be efficient and learning to expand. The paper then discusses key factors for success, and the challenges of scale, impact and sustainability, and advances the argument that good design, adequate implementation and sustained support are essential to take an innovation to scale. To conclude, the following four key lessons of Escuela Nueva to the educational change field are discussed : (1) Teachers and students need to be the key actors of the change; (2) the proposed improvements have to be easily replicable within existing conditions; (3) the attitudinal change of teachers is positively affected as a result of demonstrating that the model was feasible, a good fit for its beneficiaries and that they could do it; and (4) a systemic approach is necessary to impact simultaneously on the critical factors of success.
Access options
Buy single article
Instant access to the full article PDF.
US$ 39.95
Tax calculation will be finalised during checkout.
Subscribe to journal
Immediate online access to all issues from 2019. Subscription will auto renew annually.
US$ 79
Tax calculation will be finalised during checkout.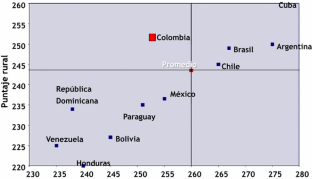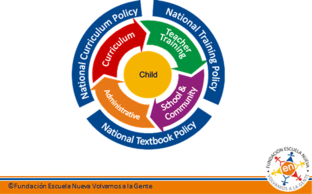 Notes
1.

Conferencia en Congreso de Escuelas Nuevas, 2006.

2.

Results of the application of UNESCO Tests 2004/2005 Pilot Project. Soacha, Colombia.

3.

The initiative is a joint effort between FEN and the Inter American Development Bank, which provides technical and financial support.
References
Bruns, B., & Luque, J. (2015). Great teachers, How to raise student learning in Latin-America and the Caribbean (p. 226). Washington, DC: The World Bank Group.

Chesterfield, R. (1994). Indicators of democratic behavior in Nueva Escuela Unitaria (NEU) schools. Research report. Guatemala: Academy for Educational Development, Juarez and Associates, Inc., and IDEAS Ltd USAID.

Colbert, V. (1987). "Universalización de la primaria en Colombia-El Programa Escuela Nueva", en La Educación Rural en Colombia, situación, experiencias y perspectivas. Bogotá: Fundación para la Educación superior, FES.

Colbert, V. (2000). "Mejorar la calidad de la educación para el sector rural pobre. El caso de Escuela Nueva en Colombia". In Coyuntura Social, número 22, Colciencias, Bogotá.

Colbert, V., & Arboleda, J. (1989). In Universalization of Primary Education in Colombia-The New School Program, paper presented at the World Conference on Education for All, Jomtien.

Colbert, V., Chiappe, C., & Arboleda, J. (1993). The new school program: More and better primary education for children in rural areas of Colombia. In H. Levin & M. Lockheed (Eds.), Effective schools in developing countries (pp. 57–60). Washington, D.C.: The Falmer Press.

Colbert, V., & Vasquez., L. (2009). Escuela Nueva-Escuela Activa, Manual para el Docente. Bogotá, D.C: Fundación Escuela Nueva.

De Moura Castro, C., & Verdisco, A. (Eds.). (2002). Making education work, Latin American Ideas and Asian results. Washington, DC: Inter-American Development Bank.

Departamento Nacional de Planeación. (1997). Misión Social, Planeación y Desarrollo No. 28 Bogotá.

Forero, C., Escobar, D., & Molina, D. (2006). Escuela Nueva´s impact on the peaceful social interaction of children in Colombia. In Angela Little (Ed.), Education for all and multigrade teaching-challenges and opportunities. Berlin: Springer.

Hargreaves, M., & Fullan, M. (2012). Professional capital, transforming teaching in every school. New York: Teachers College, Columbia University.

Hincapié, D. (2014). Ph. D. Dissertation, University of Washington, Washington, DC.

Johnson, D., & Johnson, R. (1989). Cooperation and Competition: Theory and Research" Edina. Boston, MN: Interaction Book Co.

Korten, D. (1980). Community organization and rural development: A learning process approach. Public Administration Review, 40(5), 480–511.

Little, A. (Ed.). (2006). Education for all and multigrade teaching-challenges and opportunities. Beriln: Springer.

Madhavan, R. (2014). "Cooperative Learning in Escuela Nueva", working paper prepared for Fundación Escuela Nueva, Bogota.

McEwan, P. (1998). The Effectiveness of multigrade schools in Colombia. Stanford: Elsevier Science Ltd.

Ministry of Education (Planning Office). (1998). Análisis del sector educativo con énfasis en aspectos administrativos y financieros, Bogotá.

Mogollón, O., Colbert, V., & Levinger, B. (1974). Hacia la Escuela Nueva Unidades de Formación para el Maestro rural. Bogotá, DC: Editorial Ministerio de Educación.

Psacharopulos, G., Rojas, C., & Velez, E. (1993). Achievement evaluation of Colombia´ss Escuela Nueva: Is multigrade the answer? Comparative Evaluation Review, 37, 3.

Resnick, L. (1987). Introduction in L. Resnick (Ed.), Knowing, Learning and Instruction. Hillsdale, N.J: Laurence Erlbaum Associates. Newman, D., Griffin, P. and Cole, M. 1989. The Construction Zone. Cambridge University Press: Cambridge.

Schiefelbein, E. (1991). In search of the school of the XXI century: Is the Colombian Escuela Nueva the right pathfinder? Santiago de Chile: UNESCO-UNICEF.

UNESCO. (1998). The First International Comparative Study of Education in Latin America and the Caribbean.

UNICEF. (2015). El Aprendizaje bajo la lupa: Nuevas perspectivas para américa Latina y el Caribe, Oficina Regional para América Latina y el Caribe, Panamá, pp. 20–21.
About this article
Cite this article
Colbert, V., Arboleda, J. Bringing a student-centered participatory pedagogy to scale in Colombia. J Educ Change 17, 385–410 (2016). https://doi.org/10.1007/s10833-016-9283-7
Keywords
Instructional innovation

Pedagogical change

Rural education

Multigrade schools

Large scale education reform