Abstract
Symptoms of depression are often self-sustaining through maladaptive social and cognitive processes. For mothers, parent–child relationships may be a central interpersonal context in which such processes occur. The current study evaluated whether mothers with elevated depressive symptoms differ in cognitive-emotional experiences of parent–child interactions (i.e., more intense maternal guilt, greater self-blame for difficult interactions, observations of more negative child affect), and whether these tendencies contribute to symptom severity one month later. Amazon MTurk was used to recruit mothers (N = 212 at baseline; N = 180 (85%) at one-month follow-up) of children in one of three developmental periods (early childhood, school age, adolescence). Mothers completed online measures of maternal and child symptoms, observations of children's emotions, and open-ended prompts about emotional parent–child interactions. Narrative responses were analyzed using Linguistic Inquiry and Word Count software. Indirect effects (depression T1 → maternal guilt and self-blame → depression T2) and moderated mediational paths were tested. Mothers with elevated depression used more negative words and showed greater self-focus when recollecting guilt incidents, and attributed more responsibility to themselves for their children's difficult emotions. Negative guilt intensity and self-blame functioned as parallel indirect effects contributing to depressive symptoms one month later, but the magnitude of effects depended on mothers' observations of happiness and frustration in her child. While a tendency towards maternal guilt and self-blame may sustain maternal depression symptoms, experiencing one's child as happier or less frustrated could have protective effects for depressed mothers.
Highlights
Cognitive-emotional and linguistic risk factors for sustained depression at one-month follow-up were studied in 212 mothers.

Mothers with elevated depression used more negative and self-focused language when recalling experiences of parenting guilt.

These mothers also placed more responsibility on themselves for their children's challenging emotions.

Maternal guilt and self-blame for children's emotions contributed to higher levels of depressive symptoms one month later.

However, mothers' perceptions of children's emotions shaped the impact of cognitive-emotional risk factors.
Access options
Buy single article
Instant access to the full article PDF.
USD 39.95
Price includes VAT (USA)
Tax calculation will be finalised during checkout.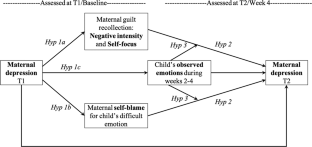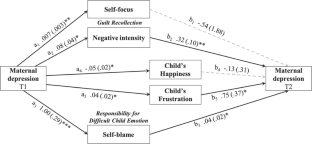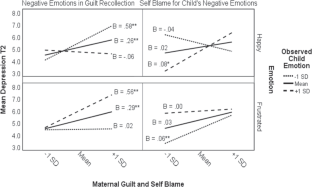 References
Abramson, L. Y., & Sackheim, H. A. (1977). A paradox in depression: uncontrollability and self-blame. Psychological Bulletin, 84(5), 838–851.

American Psychiatric Association (2013). Diagnostic and statistical manual of mental disorders (5th ed.). Washington, D.C.: American Psychiatric Association.

Borelli, J. L., West, J. L., Decoste, C., & Suchman, N. E. (2012). Emotionally avoidant language in the parenting interviews of substance‐dependent mothers: associations with reflective functioning, recent substance use, and parenting behavior. Infant Mental Health Journal, 33(5), 506–519.

Briscoe, C., Stack, D. M., Dickson, D. J., & Serbin, L. A. (2019). Maternal emotion socialization mediates the relationship between maternal and adolescent negative emotionality. Journal of Youth and Adolescence, 48(3), 495–509.

Brockmeyer, T., Zimmermann, J., Kulessa, D., Hautzinger, M., Bents, H., Friederich, H.-C., & Backenstrass, M. (2015). Me, myself, & I: self-referent word use as an indicator of self-focused attention in relation to depression and anxiety. Frontiers in Psychology, 6, 1–10.

Buhrmester, M., Kwang, T. & Gosling, S. D. (2016). Amazon's Mechanical Turk: a new source of inexpensive, yet high-quality data?. In A.E. Kazdin (Ed.), Methodological issues and strategies in clinical research (pp. 133–139). Washington, D.C.: American Psychological Association.

Connell, A. M., McKillop, H., Patton, E., Klostermann, S., & Hughes-Scalise, A. (2015). Actor-partner model of physiology negative affect and depressive symptoms in mother-child dyadic interactions. Journal of Social and Personal Relationships, 32(8), 1012–1033. https://doi.org/10.1177/0265407514555274.

Coyne, L. W., & Thompson, A. D. (2011). Maternal depression, locus of control, and emotion regulatory strategy as predictors of preschoolers' internalizing problems. Journal of Child and Family Studies, 20, 873–883.

Davidov, M., Knafo-Noam, A., Serbin, L. A., & Moss, E. (2015). The influential child: how children affect their environment and influence their own risk and resilience. Development and Psychopathology, 27, 947–951.

Dix, T., & Meunier, L. N. (2009). Depressive symptoms and parenting competence: an analysis of 13 regulatory processes. Developmental Review, 29(1), 45–68.

Dix, T., Meunier, L. N., Lusk, K., & Perfect, M. M. (2012). Mothers' depressive symptoms and children's facial emotions: examining the depression–inhibition hypothesis. Development and Psychopathology, 24(1), 195–210.

Dufner, M., Gebauer, J. E., Sedikides, C., & Denissen, J. J. A. (2019). Self-enhancement and psychological adjustment: a meta-analytic review. Personality and Social Psychology Review, 23(1), 48–72.

Edwards, T., & Holtzman, N. S. (2017). A meta-analysis of correlations between depression and first person singular pronoun use. Journal of Research in Personality, 68, 63–68.

Gilboa-Schechtman, E., Erhard-Weiss, D., & Jeczemien, P. (2002). Interpersonal deficits meet cognitive biases: memory for facial expressions in depressed and anxious men and women. Psychiatry Research, 113(3), 279–93.

Hammen, C. (2006). Stress generation in depression: reflections on origins, research, and future directions. Journal of Clinical Psychology, 62(9), 1065–82.

Hayes, A. (2013). Introduction to mediation, moderation, and conditional process analysis: a regression‐based approach. New York, NY: The Guilford Press.

Hitchcock, C., Rees, C., & Dalgleish, T. (2017). The devil's in the detail: accessibility of specific personal memories supports rose-tinted self-generalizations in mental health and toxic self-generalizations in clinical depression. Journal of Experimental Psychology: General, 146(9), 1286–1295.

Hummel, A. C., Kiel, E. J., & Zvirblyte, S. (2016). Bidirectional effects of positive affect, warmth, and interactions between mothers with and without symptoms of depression and their toddlers. Journal of Child and Family Studies, 25(3), 781–789.

Joiner, T. E., Jr., & Timmons, K. A. (2009). Depression in its interpersonal context. In I. H. Gotlib & C. L. Hammen (Eds.), Handbook of depression (p. 322–339). New York, NY: The Guilford Press.

Kamphaus, R. & Reynolds, C. (2015). BASC-3 behavioral and emotional screening system (BESS) manual. Pearson Assessments.

Knobloch, L. K., Knobloch-Fedders, L. M., & Durbin, E. (2011). Depressive symptoms and relational uncertainty as predictors of reassurance-seeking and negative feedback-seeking in conversation. Communication Monographs, 78(4), 437–462.

Kroenke, K., Spitzer, R. L., & Williams, J. B. (2001). The PHQ-9: validity of a brief depression severity measure. Journal of General Internal Medicine, 16(9), 606–613.

Kroenke, K., Spitzer, R. L., Williams, J. B. W., & Löwe, B. (2010). The patient health questionnaire somatic, anxiety, and depressive symptom scales: a systematic review. General Hospital Psychiatry, 32(4), 345–359.

Larson, R. W., & Almeida, D. M. (1999). Emotional transmission in the daily lives of families: a new paradigm for studying family process. Journal of Marriage and Family, 61(1), 5–20.

LeMoult, J., & Gotlib, I. H. (2019). Depression: a cognitive perspective. Clinical Psychology Review, 69, 51–66.

Leyman, L., De Raedt, R., Vaeyens, R., & Philippaerts, R. M. (2011). Attention for emotional facial expressions in dysphoria: an eye-movement registration study. Cognition and Emotion, 25(1), 111–20.

Lovejoy, M. C., Graczyk, P. A., O'Hare, E., & Neuman, G. (2000). Maternal depression and parenting behavior: a meta-analytic review. Clinical Psychology Review, 20(5), 561–592.

Luebbe, A. M., Fussner, L. M., Kiel, E. J., Early, M. C., & Bell, D. J. (2013). Role of adolescent and maternal depressive symptoms on transactional emotion recognition: context and state affect matter. Emotion, 13(6), 1160–1172.

Luthar, S. S., & Ciciolla, L. (2015). Who mothers mommy? Factors that contribute to mothers' well-being. Developmental Psychology, 51(12), 1812–1823.

Malhotra, N., Krosnick, J. A., & Haertel, E. (2007). The psychometric properties of the GSS Wordsum vocabulary test. University of Chicago, National Opinion Research Center, 1-63.

Morgan, J. K., Ambrosia, M., Forbes, E. E., Cyranowski, J. M., Amole, M. C., Silk, J. S., Elliott, R. D., & Swartz, H. A. (2015). Maternal response to child affect: role of maternal depression and relationship quality. Journal of Affective Disorders, 187, 106–113.

Nærde, A., Tambs, K., & Mathiesen, K. S. (2002). Child related strain and maternal mental health: a longitudinal study. Acta Psychiatra Scandinavia, 105, 301–309.

National Research Council (US) and Institute of Medicine (US) Committee on Depression, Parenting Practices, and the Healthy Development of Children (2009). Associations between depression in parents and parenting, child health, and child psychological functioning. In M.J. England, L. J. Sim (Eds), Depression in parents, parenting, and children: opportunities to improve identification, treatment, and prevention. Washington, D.C.: National Academies Press (US).

Nelson, S. K., Kushlev, K., & Lyubomirsky, S. (2014). The pains and pleasures of parenting: when, why, and how is parenthood associated with more or less well-being? Psychological Bulletin, 140(3), 846–895.

del Palacio-Gonzalez, A., Berntsen, D., & Watson, L. A. (2017). Emotional intensity and emotion regulation in response to autobiographical memories during dysphoria. Cognitive Therapy and Research, 41(4), 530–542.

Pennebaker, J. W., Boyd, R. L., Jordan, K., & Blackburn, K. (2015). The development and psychometric properties of LIWC2015. University of Texas at Austin.

Rude, S. S., Gortner, E.-M., & Pennebaker, J. W. (2004). Language use of depressed and depression-vulnerable college students. Cognition and Emotion, 18(8), 1121–1133.

Sanchez, A., Duque, A., Romero, N., & Vazquez, C. (2017). Disentangling the interplay among cognitive biases: evidence of combined effects of attention, interpretation and autobiographical memory in depression. Cognitive Therapy & Research, 41(6), 829–841.

Schleider, J. L., & Weisz, J. R. (2015). Using mechanical turk to study family processes and youth mental health: a test of feasibility. Journal of Child and Family Studies, 24, 3235–3246.

Seagram, S., & Daniluk, J. C. (2002). "It goes with the territory": The meaning and experience of maternal guilt for mothers of preadolescent children. Women & Therapy, 25(1), 61–88.

Sellers, R., Hammerton, G., Harold, G. T., Mahedy, L., Potter, R., Langley, K., Thapar, A., Rice, F., Thapar, A., & Collishaw, S. (2016). Examining whether offspring psychopathology influences illness course in mothers with recurrent depression using a high-risk longitudinal sample. Journal of Abnormal Psychology, 125(2), 256–266.

Shapiro, D. N., Chandler, J., & Mueller, P. A. (2013). Using Mechanical Turk to study clinical populations. Clinical Psychological Science, 1, 213–220.

Slade, A., Bernbach, E., Grienenberger, J., Levy, D., & Locker, A. (2005). Addendum to Fonagy, Target, Steele, & Steele, Reflective functioning scoring manual for use with the Parent Development Interview, Version 2.0. Unpublished Manuscript. The City College and Graduate Center of the City University of New York.

Spijker, J., De Graaf, R., Bijl, R. V., Beekman, A. T. F., Ormel, J., & Nolen, W. A. (2002). Duration of major depressive episodes in the general population: results from the Netherlands Mental Health Survey and Incidence Study (NEMESIS). British Journal of Psychiatry, 181(3), 208–213.

Sutherland, J.-A. (2010). Mothering, guilt and shame. Sociology Compass, 4/5, 310–321.

The Fisher Price Moms' Hopes & Wishes Study (2015). Fisher Price. https://www.fisher-price.com/resources/images/ecd/Hopes%20and%20Wishes%20Study.pdf

Trapolini, T., Ungerer, J. A., & McMahon, C. A. (2008). Maternal depression: relations with maternal caregiving representations and emotional availability during the preschool years. Attachment & Human Development, 10(1), 73–90.

United States Center for Disease Control. (undated report). Prevalence of selected maternal and child health indicators for all PRAMS sites, 2012–2015. Pregnancy Risk Assessment Monitoring System (PRAMS), 1–2. https://www.cdc.gov/prams/pramstat/pdfs/mch-indicators/PRAMS-All-Sites-2012-2015-508.pdf

Waters, S. F., West, T. V., & Mendes, W. B. (2014). Stress contagion: physiological covariation between mothers and infants. Psychological Science, 25(4), 934–942.

Yan, N., Hooper, S., Ansari, A., & Hao, H. (2018). Mothers' affective experiences and child behaviors: a diary study examining child-driven effects among Chinese preschoolers. Children and Youth Services Review, 94, 572–578.

Zahn, R., Lythe, K. E., Gethin, J. A., Green, S., Deakin, J. F. W., Young, A. H., & Moll, J. (2015). The role of self-blame and worthlessness in the psychopathology of major depressive disorder. Journal of Affective Disorders, 186, 337–341.

Zimmerman, J., Brockmeyer, T., Hunn, M., Schauenberg, H., & Wolf, M. (2017). First‐person pronoun use in spoken language as a predictor of future depressive symptoms: preliminary evidence from a clinical sample of depressed patients. Clinical Psychology & Psychotherapy, 24(2), 384–391.
Funding
There are no funding sources or conflicts of interest to declare. Material preparation, data collection and analysis were performed by Stephanie Milan, Ph.D.
Ethics declarations
Ethical Approval
Ethics approval was obtained from the University of Connecticut Institutional Review Board and informed consent was obtained from all participants.
Additional information
Publisher's note Springer Nature remains neutral with regard to jurisdictional claims in published maps and institutional affiliations.
About this article
Cite this article
Derella, O.J., Milan, S. I Felt Like a Terrible Mom: Parenting-Related Cognitive Processes Maintaining Maternal Depression. J Child Fam Stud 30, 2427–2439 (2021). https://doi.org/10.1007/s10826-021-02053-8
Accepted:

Published:

Issue Date:
Keywords
Maternal depression

Cognitive biases

Maternal guilt

Self-blame

Parent–child relations