Abstract
This study examined maternal characteristics that relate to child anxiety risk in a nonclinical sample. Parity and maternal respiratory sinus arrhythmia (RSA) were examined in relation to maternal overprotective parenting behavior, and then to child anxiety risk. Mothers (n = 151) and their 24-month-old children participated in a laboratory visit in which mothers completed questionnaires about their parenting demographics (i.e., parity), their overprotective parenting behavior, and child anxiety risk. Mothers' RSA was measured during a 5-min. baseline period. Maternal overprotection was observed during a puppet show episode. Moderated mediation analyses revealed that first-time motherhood indirectly related to increased anxiety risk through greater overprotective parenting when mothers also had high RSA. Results suggest high baseline maternal psychophysiology indicative of regulation serves as a context by which parity relates to maternal overprotection. Engaging in overprotection may require higher, rather than lower, regulatory capabilities. First-time mothers may benefit from psychoeducation around the way in which their parasympathetic regulation relates to their parenting behaviors and contributes to increased child anxiety proneness.
Highlights
First-time mothers reported more overprotection when they had high baseline RSA.

Parity related to child anxiety in a moderated mediation model.

Engaging in overprotective behavior may require more regulatory capabilities.
Access options
Buy single article
Instant access to the full article PDF.
USD 39.95
Price includes VAT (USA)
Tax calculation will be finalised during checkout.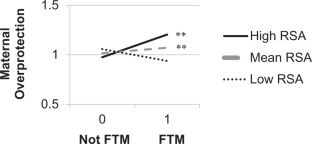 References
Arcus, D. (2001). Inhibited and uninhibited children: Biology in the social context. In T. D. Wachs & G. A. Kohnstamm (Eds.), Temperament in context (pp. 43–60). Lawrence Erlbaum Associates Publishers.

Task Force of the European Society of Cardiology and the North American Society of Pacing and Electrophysiology. (1996). Heart rate variability: standards of measurement, physiological interpretation and clinical use. Circulation, 93, 1043–1065. https://doi.org/10.1161/01.CIR.93.5.1043.

Augustine, M. E., & Leerkes, E. M. (2019). Associations between maternal physiology and maternal sensitivity vary depending on infant distress and emotion context. Journal of Family Psychology, 33(4), 412–421. https://doi.org/10.1037/fam0000538.

Barrett, L. F. (2012). Emotions are real. Emotion, 12(3), 413 https://doi.org/10.1037/a0027555.

Barrett, P. M., Rapee, R. M., Dadds, M. M., & Ryan, S. M. (1996). Family enhancement of cognitive style in anxious and aggressive children. Journal of Abnormal Child Psychology, 24(2), 187–203. https://doi.org/10.1007/BF01441484.

Beauchaine, T. (2001). Vagal tone, development, and Gray's motivational theory: Toward an integrated model of autonomic nervous system functioning in psychopathology. Development and Psychopathology, 13(2), 183–214. https://doi.org/10.1017/S0954579401002012.

Biopac Systems, Inc. (2014). Reference manual for AcqKnowledge© 4.4.2 Software & MP150/MP36R, Bioharness, B-Alert, Mobita, or Stellar hardware/firmware. Santa Barbara, CA.

Boccio, C. M., & Beaver, K. M. (2019). The influence of family structure on delinquent behavior. Youth Violence and Juvenile Justice, 17(1), 88–106. gjqnxr.

Bögels, S. M., & van Melick, M. (2004). The relationship between child-report, parent self-report, and partner report of perceived parental rearing behaviors and anxiety in children and parents. Personality and Individual Differences, 37(8), 1583–1596. dr4kjn.

Borelli, J. L., Burkhart, M. L., Rasmussen, H. F., Smiley, P. A., & Hellemann, G. (2017). Children's and mothers' cardiovascular reactivity to a standardized laboratory stressor: Unique relations with maternal anxiety and overcontrol. Emotion, 18(3), 369–385. https://doi.org/10.1037/emo0000320.

Buss, K. A. (2011). Which fearful toddlers should we worry about? Context, fear regulation, and anxiety risk. Developmental Psychology, 47, 804–809. https://doi.org/10.1037/a0023227.

Butler, E. A., Wilhelm, F. H., & Gross, J. J. (2006). Respiratory sinus arrhythmia, emotion, and emotion regulation during social interaction. Psychophysiology, 43(6), 612–622. https://doi.org/10.1111/j.1469-8986.2006.00467.x.

Calkins, S. D. (2007). The emergence of self-regulation: Biological and behavioral control mechanisms supporting toddler competencies. In C. A. Brownell & C. B. Kopp (Eds.), Socioemotional development in the toddler years: Transitions and transformations (pp. 261–284). The Guilford Press.

Carter, A. S., Briggs-Gowan, M. J., Jones, S. M., & Little, T. D. (2003). The infant–toddler social and emotional assessment (ITSEA): Factor structure, reliability, and validity. Journal of Abnormal Child Psychology, 31(5), 495–514. https://doi.org/10.1023/A:1025449031360.

Challacombe, F., Feldmann, P., Lehtonen, A., Craske, M. G., & Stein, A. (2007). Anxiety and interpretation of ambiguous events in the postnatal period: An exploratory study. Behavioural and Cognitive Psychotherapy, 35(4), 495–500. bxnwzp.

Cheesman, R., Rayner, C., & Eley, T. (2019). The genetic basis of child and adolescent anxiety. In S. N. Compton, M. A. Villabø, & H. Kristensen (Eds.), Pediatric Anxiety Disorders. (pp. 17–46). Elsevier Academic Press.

Chorpita, B. F., & Barlow, D. H. (1998). The development of anxiety: the role of control in the early environment. Psychological Bulletin, 124(1), 3–21. bvx6hx.

Cohen, S. E., & Beckwith, L. (1977). Caregiving behaviors and early cognitive development as related to ordinal position in preterm infants. Child Development, 48(1),152–157. d46kkw

Dadds, M. R., & Roth, J. H. (2001). Family processes in the development of anxiety problems. In M. W. Vasey & M. R. Dadds (Eds), The Developmental Psychopathology of Anxiety (pp. 278–303). Oxford University Press.

Doussard-Roosevelt, J. A., Montgomery, L. A., & Porges, S. W. (2003). Short-term stability of physiological measures in kindergarten children: respiratory sinus arrhythmia, heart period, and cortisol. Developmental Psychobiology, 43(3), 230–42. dctxvv.

Easey, K. E., Mars, B., Pearson, R., Heron, J., & Gunnell, D. (2019). Association of birth order with adolescent mental health and suicide attempts: A population-based longitudinal study. European Child & Adolescent Psychiatry, 28, 1079–1086. ggxs.

Eisenberg, N., Fabes, R. A., Murphy, B., Maszk, P., Smith, M., & Karbon, M. (1995). The role of emotionality and regulation in children's social functioning: A longitudinal study. Child Development, 66(5), 1360–1384.

Fish, M., & Stifter, C. A. (1993). Mother parity as a main and moderating influence on early mother-infant interaction. Journal of Applied Developmental Psychology, 14(4), 557–572. https://doi.org/10.1016/0193-3973(93)90007-I.

Fleming, A. S., Steiner, M., & Corter, C. (1997). Cortisol, hedonics, and maternal responsiveness in human mothers. Hormones and Behavior, 32(2), 85–98. fd6ng4.

Gjerdingen, D. K., & Center, B. A. (2005). First-time parents' postpartum changes in employment, childcare, and housework responsibilities. Social Science Research, 34(1), 103–116. https://doi.org/10.1016/j.ssresearch.2003.11.005.

Gottman, J. M., Katz, L. F., & Hooven, C. (1996). Parental meta-emotion philosophy and the emotional life of families: Theoretical models and preliminary data. Journal of Family Psychology, 10(3), 243–268. https://doi.org/10.1037/0893-3200.10.3.243.

Graham, J. W. (2009). Missing data analysis: Making it work in the real world. Annual Review of Psychology, 60, 549–576. https://doi.org/10.1146/annurev.psych.58.110405.085530.

Hanna, B. A., Edgecombe, G., Jackson, C. A., & Newman, S. (2002). The importance of first-time parent groups for new parents. Nursing & Health Sciences, 4(4), 209–214. https://doi.org/10.1046/j.1442-2018.2002.00128.x.

Hayes, A. F. (2018). Partial, conditional, and moderated mediation: Quantification, inference, and interpretation. Communication Monographs, 85, 4–40. gfwv8z.

Hayes, A. F. (2017). Introduction to mediation, moderation, and conditional process analysis: A regression-based approach. Guilford Publications.

Holmbeck, G. N., Johnson, S. Z., Wills, K. E., McKernon, W., Rose, B., Erklin, S., & Kemper, T. (2002). Observed and perceived parental overprotection in relation to psychosocial adjustment in preadolescents with a physical disability: The mediational role of behavioral autonomy. Journal of Consulting and Clinical Psychology, 70(1), 96–110. https://doi.org/10.1037/0022-006X.70.1.96.

Kalomiris, A. E., & Kiel, E. J. (2016). Maternal anxiety and physiological reactivity as mechanisms to explain overprotective primiparous parenting behaviors. Journal of Family Psychology, 30(7), 791–801. https://doi.org/10.1037/fam0000237.

Kiel, E. J., & Buss, K. A. (2012). Associations among context-specific maternal protective behavior, toddlers' fearful temperament, and maternal accuracy and goals. Social Development, 21(4), 742–760. https://doi.org/10.1111/j.1467-9507.2011.00645.x.

Leerkes, E. M., Su, J., Calkins, S. D., Supple, A. J., & O'Brien, M. (2016). Pathways by which mothers' physiological arousal and regulation while caregiving predict sensitivity to infant distress. Journal of Family Psychology, 30(7), 769–779. https://doi.org/10.1037/fam0000185.

Maxwell, S. E., & Cole, D. A. (2007). Bias in cross-sectional analyses of longitudinal mediation. Psychological Methods, 12(1), 23–44. https://doi.org/10.1037/1082-989X.12.1.23.

McShane, K. E., & Hastings, P. D. (2009). The New Friends Vignettes: Measuring parental psychological control that confers risk for anxious adjustment in preschoolers. International Journal of Behavioral Development, 33(6), 481–495. fdm9wz.

McShane, K. (2003). The New Friends Vignettes: A new measure for assessing overprotective parenting in parents of anxious preschoolers (Doctoral dissertation, Concordia University).

Mills-Koonce, W. R., Propper, C., Gariepy, J. L., Barnett, M., Moore, G. A., Calkins, S., & Cox, M. J. (2009). Psychophysiological correlates of parenting behavior in mothers of young children. Developmental Psychobiology, 51(8), 650–661. https://doi.org/10.1002/dev.20400.

Mindware Technologies LTD (2014). Heart rate variability (HRV) user reference guide. Mindware Technologies LTD.

Morris, A. S., Silk, J. S., Steinberg, L., Myers, S. S., & Robinson, L. R. (2007). The role of the family context in the development of emotion regulation. Social Development, 16(2), 361–388. https://doi.org/10.1111/j.1467-9507.2007.00389.x.

Munk-Olsen, T., Laursen, T. M., Pedersen, C. B., Mors, O., & Mortensen, P. B. (2006). New parents and mental disorders: A population-based register study. Journal of the American Medical Association, 296(21), 2582–2589. https://doi.org/10.1001/jama.296.21.2582.

Parker, G. (1979). Reported parental characteristics in relation to trait depression and anxiety levels in a non-clinical group. Australian and New Zealand Journal of Psychiatry, 13(3), 260–264. https://doi.org/10.3109/00048677909159146.

Parker, G., Tupling, H., & Brown, L. B. (1979). A parental bonding instrument. British Journal of Medical Psychology, 52(1), 1–10. https://doi.org/10.1111/j.2044-8341.1979.tb02487.x.

Paul, I. M., Downs, D. S., Schaefer, E. W., Belier, J. S., & Weisman, C. S. (2013). Postpartum anxiety and maternal-infant health outcomes. Pediatrics, 131(4), e1218–e1224. https://doi.org/10.1542/peds.2012-2147.

Porges, S. W. (1995). Orienting in a defensive world: Mammalian modifications of our evolutionary heritage. A polyvagal theory. Psychophysiology, 32(4), 301–318. https://doi.org/10.1111/j.1469-8986.1995.tb01213.x.

Porges, S. W. (2007). The polyvagal perspective. Biological Psychology, 74(2), 116–143. https://doi.org/10.1016/j.biopsycho.2006.06.009.

Root, A. E., Hastings, P. D., & Rubin, K. H. (2016). The parenting behaviors of shy–anxious mothers: The moderating role of vagal tone. Journal of Child and Family Studies, 25(4), 1325–1333. https://doi.org/10.1007/s10826-015-0296-2.

Rotenberg, S., & McGrath, J. J. (2016). Inter-relation between autonomic and HPA axis activity in children and adolescents. Biological Psychology, 117, 16–25. f8n8rv.

Rubin, K. H., Burgess, K. B., & Hastings, P. D. (2002). Stability and social–behavioral consequences of toddlers' inhibited temperament and parenting behaviors. Child Development, 73(2), 483–495. https://doi.org/10.1111/1467-8624.00419.

Shaffer, A., Whitehead, M., Davis, M., Morelen, D., & Suveg, C. (2018). A model-based cluster analysis of maternal emotion regulation and relations to parenting behavior. Family Process, 57(3), 707–718. https://doi.org/10.1111/famp.12326.

Varghese, A., & Jenkins, S. R. (2009). Parental overprotection, cultural value conflict, and psychological adaptation among Asian Indian women in America. Sex Roles: A Journal of Research, 61(3-4), 235–251. https://doi.org/10.1007/s11199-009-9620-x.

Vreeke, L. J., Muris, P., Mayer, B., Huijding, J., & Rapee, R. M. (2013). Skittish, shielded, and scared: Relations among behavioral inhibition, overprotective parenting, and anxiety in native and non-native Dutch preschool children. Journal of Anxiety Disorders, 27(7), 703–710. https://doi.org/10.1016/j.janxdis.2013.09.006.
Funding
This study was funded by National Institute for Child Health and Human Development (R15 HD076158).
Ethics declarations
Conflict of Interest
The authors declare no competing interests.
Consent to Participate
Informed consent was obtained from all individual participants included in the study.
Ethics Approval
Approval was obtained from the ethics committee of Miami University (protocols #0432r and #01026r). The procedures used in this study adhere to Human Subject guidelines.
Additional information
Publisher's note Springer Nature remains neutral with regard to jurisdictional claims in published maps and institutional affiliations.
About this article
Cite this article
Risley, S.M., Jones, L.B., Kalomiris, A.E. et al. The Relation of Maternal Parity, Respiratory Sinus Arrhythmia, and Overprotective Behaviors with Child Anxiety. J Child Fam Stud 30, 2392–2401 (2021). https://doi.org/10.1007/s10826-021-02032-z
Accepted:

Published:

Issue Date:
Keywords
Parity

Autonomic nervous system

RSA

Parenting behaviors

Child anxiety