Abstract
Objectives
An orientation to child rearing, ambiguously labeled "positive parenting," has proliferated in the popular literature. It differs in philosophy from mainstream child-rearing practices and most contemporary parent education programs by espousing a relationship-oriented, child-centered, and punishment-free approach. However, the approach lacks empirical evidence. In this study, we investigated one prominent positive parenting program, named Attachment Parenting International (API). Three claims the program makes were examined concerning parental warmth, disciplinary practices, and child adjustment. Along those lines, we predicted API parents would report engaging in warmer parent-child interactions, use more non-coercive discipline, and use less coercive discipline with their children than other parents. We also expected that API parents would report fewer child adjustment problems than comparison mothers.
Methods
A total of 593 mothers of 3- to 10-year-old children participated in the online study about their parenting practices and their children's behavior. Three hundred and sixty participants self-identified as being API mothers; 233 mothers were recruited from Mechanical Turk.
Results
As expected, the API mothers reported significantly warmer mother-child relationships and engaging in more non-coercive discipline but less coercive discipline than the matched comparison mothers. However, there were no significant group differences on children's adjustment problems. Nevertheless, API membership moderated two of the six regression analyses. API mothers' use of warmth was associated with fewer internalizing symptoms than the comparison mothers. Additionally, API mothers' use of non-coercive discipline was linked to fewer child externalizing symptoms than the comparison group.
Conclusions
Mothers affiliated with API indicated they engaged in childrearing behavior that was inline with the teachings of the program. An addition, API involvement moderated two of the relations be parenting and child behavior problems. Consequently, this study provides some of the first empirical evidence about how affiliation with a positive parenting organization is related to childrearing behavior as well as child behavior. Observational and prospective studies are needed to more thoroughly examine the relations between positive parenting programs, child-rearing behavior, and child adjustment.
Access options
Buy single article
Instant access to the full article PDF.
US$ 39.95
Tax calculation will be finalised during checkout.
Subscribe to journal
Immediate online access to all issues from 2019. Subscription will auto renew annually.
US$ 79
Tax calculation will be finalised during checkout.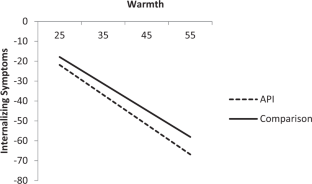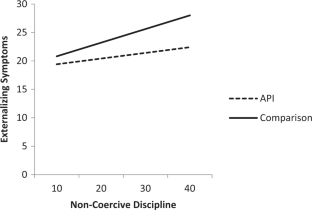 References
Adler, A. (1930). Guiding the child: On the principles of individual psychology (B. Ginzburg, Trans.). New York, NY: Greenberg Publisher.

Arnall, J. (2007). Discipline without distress: 135 tools for raising caring, responsible children, without time-out, spanking, punishment, or bribery. Calgary, Canada: Professional Parenting Canada.

Bowlby, J. (1969). Attachment and loss, Vol. 1: Attachment. New York, NY: Basic Books.

Buhrmester, M. D., Talaifar, S., & Gosling, S. D. (2018). An evaluation of Amazon's Mechanical Turk, its rapid rise, and its effective use. Persepctives on Psychological Science, 13, 149–154. https://doi.org/10.1177/1745691617706516.

Caughy, M. O., & Franzini, L. (2005). Neighborhood correlates of cultural differences in perceivced effectiveness of parental disciplinary actions. Parenting: Science and Practice, 5, 119–151. https://doi.org/10.1207/s15327922par0502_1.

Deater-Deckard, K., Ivy, L., & Petrill, S. A. (2006). Maternal warmth moderates the link between physical punishment and child externalizing problems: a parent-offspring behavior genetic analysis. Parenting: Science and Practice, 6, 59–78. https://doi.org/10.1207/s15327922par0601_3.

Dreikurs, R. (1948). The socio-psychological dynamics fo physical disability: a review of the Adlerian concept. Journal of Social Issues, 4, 39–54. https://doi.org/10.1111/j.1540-4560.1948.tb01517.x.

Durrant, J., Plateau, D. P., Ateah, C. A., Holden, G. W., Barker, L. A., Stewart-Tufescu, A., & Ahmed, R. (2017). Parents' views of the relevance of a violence prevention program in high, medium, and low human development contexts. International Journal of Behavioral Development, 41, 523–531. https://doi.org/10.1177/0165025416687415.

Durrant, J. E., Plateau, D. P., Ateah, C., Stewart-Tufescu, A., Jones, A., Ly, G., & Tapanya, S. (2014). Preventing punitive violence: preliminary data on the positive discipline in everyday parenting (PDEP) program. Canadian Journal of Community Mental Health, 33, 109–125. https://doi.org/10.7870/cjcmh-2014-018.

Fearon, R., Bakerman-Kranenburg, M. J., van IFzendoorn, M. H., Lapsley, A. M., & Roisman, G. I. (2010). The significance of insecure attachment and disorganization in the development of children eternalizing behavior: a meta-analytic study. Child Development, 81, 435–456. https://doi.org/10.1111/j.1467-8624.2009.01405.x.

Gardner, F., & Leijten, P. (2017). Incredible years parenting interventions: current effectiveness research and future directions. Current Opinion in Psychology, 15, 99–104.

Goodman, R. (1997). The strengths and difficulties questionnaire: a research note. Journal of Child Psychology and Psychiatry, 38, 581–586. https://doi.org/10.1111/j.1469-7610.1997.tb01545.x.

Goodman, R., & Scott, S. (1999). Comparing the strengths and difficulties questionnaire and the child behavior checklist: is small beautiful?Journal of Abnormal Child Psychology, 27, 17–24. https://doi.org/10.1023/A:1022658222914.

Green, K., & Groves, M. M. (2008). Attachment parenting: an exploration of demographics and practices. Early Child Development and Care, 178, 513–525. https://doi.org/10.1080/03004430600851199.

Green, K., Groves, M. M., & Tegano, D. W. (2004). Parenting practices that limit transitional object use: an illustration. Early Child Development and Care, 174, 427–436. https://doi.org/10.1080/0300443032000153606.

Holden, G. W. (2010). Childrearing and developmental trajectories: positive pathways, off‐ramps, and dynamic processes. Child Development Perspectives, 4, 197–204. https://doi.org/10.1111/j.1750-8606.2010.00148.x.

Holden, G. W., Ashraf, R., Brannan, E., & Baker, P. (2015). The emergence of "positive parenting" as a revived paradigm: theory, processes, and evidence. In D. Narvaez, J. Braungart-Rieker, L. Miller, L. Gettler & P. Hastings (Eds.), Contexts for young child flourishing: Evolution, family, and society (pp. 201–214). New York, NY: Oxford University Press.

Holden, G. W., & Zambarano, R. J. (1992). Passing the rod: similarities between parents and their young children in orientations toward physical punishment. In I. E. Sigel, A. V. McGillicuddy-Delisi & J. J. Goodnow (Eds.), Parental belief systems: The psychological consequences for children. 2nd ed. (pp. 143–172). Hillsdale, NJ: Erlbaum.

Karp, H. (2004). The happiest toddler on the block: how to eliminate tantrums and raise a patent, respectful, and cooperative one- to four-year-ol. New York, NY: Bantam Dell.

Kazdin, A. E. (2005). Parent management training: treatment for oppositional, aggressive, and antisocial behavior in children and adolescents. New York, NY: Oxford University Press.

Khaleque, A. (2013). Perceived parental warmth, and children's psychological adjustment, and personality dispositions: a meta-analysis. Journal of Child and Family Studies, 22, 297–306. https://doi.org/10.1007/s10826-012-9579-z.

Knost, L. R. (2013). Two thousand kisses a day: gentle parenting through the ages and stages. USA: Little Hearts Books LLC.

Kohn, A. (2005). Unconditional parenting: moving from rewards and punishments to love and reason. New York, NY: Atria Paperback.

Leo, P. (2005). Connection parenting: Parenting through connection instead of coercion, through love instead of fear. 2nd ed. Deadwood, OR: Wyatt-MacKenzie Publishing.

Mackenbach, J. D., Ringoot, A. P., van der Ende, J., Verhulst, F. C., Jaddoe, V. W. V., Hofman, A., & Tiemeier, H. W. (2014). Exploring the relation of harsh parental discipline with child emotional and behavioral problems by using multiple informants: The generation R study. PLOS ONE, 9, e104793. https://doi.org/10.1371/journal.pone.0104793 .

Markham, L. (2015). Peaceful parenting, happy siblings: how to stop the fighting and raise friends for life. New York, NY: Penguin Group.

Miller, P. M., & Commons, M. L. (2010). The benefits of attachment parenting for infants and children: a behavioral developmental view. Behavioral Development Bulletin, 10, 1–14. https://doi.org/10.1037/h0100514.

Nicholson, B., & Parker, L. (2013). Attached at the heart: eight proven principles for raising connected and compassionate children. Deerfield Beach, FL: Health Communications, Inc.

Nelsen, J. (1981). Positive discipline. Fair Oaks, CA: Sunrise Press.

Nowak, C., & Heinrichs, N. (2008). A comprehensive meta-analysis of triple P-Positive parenting program using hierarchical linear modeling: effectiveness and moderating variables. Clinical Child and Family Psychology Review, 11, 114–144. https://doi.org/10.1007/s10567-008-0033-0.

Olivari, M. G., Tabliabue, S., & Confalonieri, E. (2013). Parenting style and dimensions questionnaire: a review of reliability and validity. Marriage & Family Review, 49, 465–490. https://doi.org/10.1080/01494929.2013.770812.

Patterson, G., Chamberlain, P., & Reid., J. (1982). A comparative evaluation of a parent-training program. Behavior therapy, 13, 638–650. https://doi.org/10.1016/S0005-7894(82)80021-X.

Robinson, C. C., Mandleco, B., Olsen, S. F., & Hart, C. H. (1995). Authoritative, authoritarian, and permissive parenting practices: development of a new measure. Psychological Reports, 77, 819–830. https://doi.org/10.2466/pr0.1995.77.3.819.

Sanders, M. R., Kirby, J. N., Tellegen, C. L., & Day, J. J. (2014). The triple P-positive parenting program: a systematic review and meta-analysis of a multi-level system of parenting support. Clinical Psychology Review, 4, 337–357. https://doi.org/10.1016/j.cpr.2014.04.003.

Sanders, M. R., Turner, K. M. T., & Markie-Dadds, C. (2002). The development and dissemination of the Triple P-positive parenting program: a multi-level, evidence-based system of parenting and family support. Prevention Science, 3, 173–189. https://doi.org/10.1023/A:1019942516231.

Sears, W., & Sears, M. (2001). The attachment parenting book: a commonsense guide to understanding and nurturing your baby. New York, NY: Little, Brown and Company.

Siegel, D. J., & Bryson, T. P. (2014). No-drama discipline: the whole-brain way to calm the chaos and nurture your child's developing mind. New York, NY: Bantam Books.

Stuart, E. A. (2010). Matching methods for causal inference: a review and a look forward. Statistical Science, 25, 1–21. https://doi.org/10.1214/09-STS313.

Touliatos, J., Perlmutter, B. F., & Holden, G. W. (2001). Handbook of measurement techniques: Vol. 3. Thousand Oaks, CA: Sage Publications.

Whittingham, K. (2014). Parenting in context. Journal of Contextual Behavioral Science, 3, 212–215. https://doi.org/10.1016/j.jcbs.2014.01.001.

Wyckoff, J., & Unell, B. C. (1984). Discipline Without Shouting or Spanking: Practical solutions to the most common preschool behavior problems. Minnetonka, MN: Meadowbrook Press.
Author Contributions
MS assisted with study design, executed study, analyzed data, and wrote paper. GH assisted with study design and assisted in the writing and editing of the final manuscript.
Ethics declarations
Conflict of Interest
The authors declare that they have no conflict of interest.
Ethical Approval
All procedures performed in studies involving human participants were approved by the Southern Methodist University IRB committee in accordance with the ethical standards of the institutional and/or national research committee and with the 1964 Helsinki declaration and its later amendments or comparable ethical standards.
Informed Consent
Informed consent was obtained from all individual participants included in the study.
Additional information
Publisher's note Springer Nature remains neutral with regard to jurisdictional claims in published maps and institutional affiliations.
About this article
Cite this article
Smith, M.M., Holden, G.W. Mothers Affiliated with a Positive Parenting Program Report Rearing their Children Differently. J Child Fam Stud 29, 955–963 (2020). https://doi.org/10.1007/s10826-019-01653-9
Keywords
Attachment

Parenting

Positive parenting

Discipline

Child adjustment