Abstract
Objectives
The contribution of parental gratitude to the adolescent's hope is plausible in light of social integration theory but empirically unverified. According to the theory, parental gratitude facilitates an integrative social environment for the adolescent to sustain hope. The theory also suggests that the adolescent's anomie or normlessness, as a negative indicator of social integration, is a mediator of the contribution.
Methods
To verify the contributions, the present study surveyed 310 pairs of Hong Kong Chinese adolescents and their parents. In each of the pairs, the adolescent reported his or her hope and anomie, whereas the parent reported his or her gratitude.
Results
Supporting the theory, results demonstrated the contribution of parental gratitude to adolescent hope through mediation by adolescent anomie. Specifically, parental gratitude showed a negative effect on adolescent hope, which in turn displayed a negative effect on adolescent hope.
Conclusions
The results imply the value of promoting parental gratitude particularly and social integration generally for sustaining adolescent hope.
Access options
Buy single article
Instant access to the full article PDF.
US$ 39.95
Tax calculation will be finalised during checkout.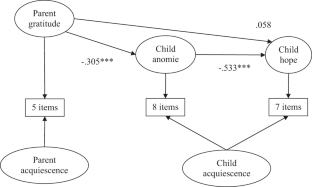 References
Adnanes, M. (2007). Social transitions and anomie among post-communist Bulgarian youth. Young, 15, 49–69.

Aghababaei, N., Sohrabi, F., Eskandari, H., Borjali, A., Farrokhi, N., & Chen, Z. J. (2016). Predicting subjective well-being by religious and scientific attitudes with hope, purpose in life, and death anxiety as mediators. Personality & Individual Differences, 90, 93–98.

Algoe, S. B., Fredrickson, B. L., & Gable, S. L. (2013). The social functions of the emotion of gratitude via expression. Emotion, 13, 605–609.

Armenta, C. N., Fritz, M. M., & Lyubomirsky, S. (2017). Functions of positive emotions: gratitude as a motivator of self-improvement and positive change. Emotion Review, 9, 183–190.

Bernat, F. P. (2009). Youth resilience: can schools enhance youth factors for hope, optimism, and success? Women and Criminal Justice, 19, 251–266.

Bjarnason, T. (2009). Anomie among European adolescents: conceptual and empirical clarification of a multilevel sociological concept. Sociological Forum, 24, 135–161.

Bock, D. E., Folse, J. A. G., & Black, W. C. (2016). When frontline employee behavior backfires. Journal of Service Research, 19, 322–336.

Boduszek, D., & Dhingra, K. (2016). Construct validity of the Beck Hopelessness Scale (BHS) among university students: a multitrait-multimethod approach. Psychological Assessment, 28(10), 1325–1330.

Bolland, J. M. (2003). Hopelessness and risk behaviour among adolescents living in high-poverty inner-city neighbourhoods. Journal of Adolescence, 26, 145–158.

Bulmahn, T. (2000). Modernity and happiness: the case of Germany. Journal of Happiness Studies, 1, 375–400.

Buric, I., & Soric, I. (2012). The role of test hope and hopelessness in self-regulated learning: relations between volitional strategies, cognitive appraisals and academic achievement. Learning & Individual Differences, 22, 523–529.

Cheung, C. K., & Ngai, N. P. (2004). Humanistic approach to youth development in the Summer Youth Program of Hong Kong. Journal of Social Service Research, 31(2), 1–24.

Coles, B., England, J., & Rugg, J. (2000). Spaced out? Young people on social housing estates: social exclusion and multi-agency work. Journal of Youth Studies, 3, 21–33.

De Beuckelaer, A., Weijters, B., & Rutten, A. (2009). Using ad hoc measures for response styles: a cautionary note. Quality & Quantity, 44, 761–775.

Drummond, H. J., Bolland, M., & Harris, W. A. (2011). Becoming violent: Evaluating the mediating effect of hopelessness on the code of the street thesis. Deviant Behavior, 32, 191–223.

Eibach, R. P., Wilmot, M. O., & Libby, L. K. (2015). The system-justifying function of gratitude norms. Social & Personality Psychology Compass, 9, 348–358.

Elliott, D. S., & Wilson, W. J. (1996). The effects of neighborhood disadvantage on adolescent development. Journal of Research in Crime & Delinquency, 33, 389–416.

Emmons, R. A. (2008). Gratitude, subjective well-being, and the brain. In M. Eid & R. J. Larsen (Eds), The science of subjective well-being (pp. 469–489). New York: Guilford.

Eremsoy, C. E., Celimli, S., & Gencoz, T. (2005). Students under academic stress in a Turkish university: variables associated with symptoms of depression and anxiety. Current Psychology, 24, 123–133.

Fan, W., Cheung, F. M., Leong, F. T. L., & Cheung, S. F. (2012). Personality traits, vocational interests, and career exploration: a cross-cultural comparison between American and Hong Kong students. Journal of Career Assessment, 20, 105–119.

Ferguson, K. M. (2006). Social capital and children's wellbeing: a critical synthesis of the international social capital literature. International Journal of Social Welfare, 15, 2–18.

Furnham, A. (1984). Personality, social skills, anomie, and delinquency: a self-report study of a group of normal non-delinquent adolescents. Journal of Child Psychology & Psychiatry & Allied Disciplines, 25, 409–420.

Gerometta, J., Haussermann, H., & Longo, G. (2005). Social innovation and civil society in urban governance: strategies for an inclusive city. Urban Studies, 42, 2007–2021.

Goldner, L., Lev-Weisel, R., & Schanan, Y. (2019). Caring about tomorrow: the role of potency, socio-economic status and gender in Israeli adolescents' academic future orientation. Child Indicators Research, 12(4), 1333–1349.

Gordon, M. S., Kinlock, T. W., Couvillion, K. A., Schwartz, R. P., & O'Grady, K. (2012). A randomized clinical trial of methadone maintenance for prisoners: Prediction of treatment entry and completion in prison. Journal of Offender Rehabilitation, 51, 222–238.

Hoy, B. D., Suldo, S. M., & Mendez, L. R. (2013). Links between parents' and children's levels of gratitude, life satisfaction, and hope. Journal of Happiness Studies, 14, 1343–1361.

Imamoglu, E. O. (2003). Individuation and relatedness: not opposing but distinct and complementary. Genetic, Social & General Psychology Monographs, 129, 367–402.

Kong, F., You, X. Q., & Zhao, J. J. (2017). Evaluation of the Gratitude Questionnaire in a Chinese sample of adults: factorial validity, criterion-related validity, and measurement invariance across sex. Frontiers in Psychology, 8, 1498.

Kuah-Pearce, K. E., & Fong, Y. C. (2010). Identity and sense of belonging in post-colonial education in Hong Kong. Asia Pacific Journal of Education, 30, 433–448.

Kumar, A., Sharma, M., & Hooda, D. (2012). Perceived parenting style as a predictor of hope among adolescents. Journal of the Indian Academy of Applied Psychology, 38, 174–178.

Landis, D., Gaylord-Harden, N. K., Malinowski, S. L., Grant, K. E., Carleton, R. A., & Ford, R. E. (2007). Urban adolescent stress and hopelessness. Journal of Adolescence, 30, 1051–1070.

Larson, R. (1994). Youth organizations, hobbies, and sports as developmental contexts. In R. K. Silberelsen & E. Todt (Eds), Adolescence in context: The interplay of family, school, peers, and work in adjustment (pp. 46–65). New York: Springer-Verlag.

Lester, D. (2015). Hopelessness in adolescents. Journal of Affective Disorders, 173, 221–225.

Li, D., Wang, X., Li, Y., & Bao, Z. (2016). Parenting and Chinese adolescent suicidal ideation and suicide attempts: the mediating role of hopelessness. Journal of Child & Family Studies, 25, 1397–1407.

Machalek, R., & Martin, M. W. (2012). Sacrifice, gratitude, and obligation: serial reciprocity in early Christianity. Advances in Group Processes, 29, 39–75.

Marsh, H. W., Hau, K. T., & Wen, Z. (2004). In search of golden rules: Comment on hypothesis-testing approaches to setting cutoff values for fit indexes and dangers in overgeneralizing Hu and Bentler's (1999) findings. Structural Equation Modeling, 11, 320–341.

Martin, F., Clyne, W., Pearce, G., & Turner, A. (2019). Self-management support intervention for parents of children with developmental disorders: the role of gratitude and hope. Journal of Child & Family Studies, 28, 980–992.

Mascaro, N., & Rosen, D. H. (2005). Existential meaning's role in the enhancement of hope and prevention of depressive symptoms. Journal of Personality, 73, 985–1014.

May, D. C. (2015). Victimization and fear of crime among juveniles. In M. D. Krohn & J. Lane (Eds), The handbook juveile delinquency and juvenile justice (pp. 601–620). Chichester, UK: Wiley.

McDavid, L., McDonough, M. H., & Smith, A. L. (2015). An empirical evaluation of two theoretically-based hypotheses on the directional association between self-worth and hope. Journal of Adolescence, 41, 25–30.

McCullough, M. E., Kilpatrick, S. D., Emmons, R. A., & Larson, D. B. (2001). Is gratitude a moral affect? Psychological Bulletin, 127, 249–266.

McNeal, Jr. & R. B. (1997). High school dropouts: a closer examination of school effects. Social Science Quarterly, 78, 209–222.

Mercon-Vargas, E. A., Poelker, K. E., & Tudge, J. R. H. (2018). The development of the virtue of gratitude: theoretical foundations and cross-cultural issues. Cross-Cultural Research, 52, 3–18.

Molm, L. D. (2008). The structure of reciprocity and integrative bonds: the role emotions. In J. Clay-Warner & D. T. Robinson (Eds), Social structure and emotion (pp. 167–192). San Diego, CA: Academic.

Montada, L. (1992). Predicting prosocial commitment: different social contexts. In P. M. Oliner, S. P. Oliner, L. Baron, L. A. Blum & D. L. Krebs (Eds), Embracing the other: philosophical, psychological, and historical perspectives on altruism (pp. 221–252). New York, NY: New York University Press.

Muthen, L. K., & Muthen, B. O. (2006). Mplus user's guide. Los Angeles, CA: Muthen & Muthen.

Podsakoff, P. M., MacKenzie, S. B., & Podsakoff, N. P. (2003). Common method biases in behavioral research: a critical review of the literature and recommended remedies. Journal of Applied Psychology, 88, 879–903.

Preston, C. C., & Colman, A. M. (2000). Optimal number of response categories in rating scales: reliability, validity, discriminating power, and respondent preferences. Acta Psychologica, 14, 1–15.

Raffo, C., & Reeves, M. (2000). Youth transitions and social exclusion: developments in social capital theory. Journal of Youth Studies, 3, 147–166.

Rand, K. L. (2018). Hope, self-efficacy, and optimism: conceptual and empirical differences. In M. W. Gallagher & S. J. Lopez (Eds), The Oxford handbook of hope (pp. 45–58). New York, NY: Oxford University Press.

Richards, L. (2016). For whom money matters less: social connectedness as a resilience resource in the UK. Social Indicators Research, 125, 509–535.

Roberts, R. C. (2001). The blessings of gratitude: a conceptual analysis. In R. A. Emmons & M. E. McCullough (Eds), The psychology of gratitude (pp. 58–78). New York, NY: Oxford University Press.

Rothenberg, W. A., Hussong, A. M., Langley, H. A., Egerton, G. A., Halberstadt, A. G., Coffman, J. L., Mokrova, I., & Costanzo, P. R. (2017). Grateful parents raising grateful children: niche selection and the socialization of child gratitude. Applied Developmental Science, 21, 106–120.

Rotkirch, A. (2014). Gratitude for help among adult friends and siblings. Evolutionary Psychology, 12, 673–686.

Savicki, V., Downing-Burnette, R., Heller, L., Binder, F., & Suntinger, W. (2004). Contrasts, changes, and correlates in actual and potential intercultural adjustment. International Journal of Intercultural Relations, 28, 311–329.

Sharabi, A., Levi, U., & Margalit, M. (2012). Children's loneliness, sense of coherence, family climate, and hope: Developmental risk and protective factors. Journal of Psychology, 146, 61–83.

Snyder, C. R., Rand, K. L. R., & Sigmon, D. R. (2018). Hope theory: a member of the psoitive psychology family. In M. W. Gallagher & S. J. Lopez (Eds), The Oxford handbook of hope (pp. 27–43). New York, NY: Oxford University Press.

Stoddard, S. A., Henly, S. J., Sieving, R. E., & Bolland, J. (2011). Social connections, trajectories of hopelessness, and serious violence in impoverished urban youth. Journal of Youth & Adolescence, 40, 278–295.

Terzi-Unsal, S., & Karei, E. G. (2005). Risk factors for suicide behavior: psychosocial risk models with Turkish adolescents. Social Behavior & Personality, 33, 893–608.

Thorlindsson, T., & Bjarnason, T. (1998). Modeling Durkheim on the micro level: a study of youth suicidality. American Sociological Review, 63, 94–110.

Tsahuridu, E. E. (2006). Anomie and ethics at work. Journal of Business Ethics, 69, 163–174.

Ungar, M., Dumond, C., & Mcdonald, W. (2005). Risk, resilience and outdoor programmes for at-risk children. Journal of Social Work, 5, 319–338.

Van Ryzin, M. J. (2011). Protective factors at school: reciprocal effects among adolescents' perceptions of the school environment, engagement in learning, and hope. Journal of Youth & Adolescence, 40, 1568–1580.

Vartanian, L. R., & Hopkinson, M. M. (2010). Social connectedness, conformity, and internalization of societal standards of attractiveness. Body Image, 7, 86–89.

Verhagen, S., Frits, V. W., Bogt, T. T., & Hibbel, B. (2000). Fast on 200 beats per minute: the youth culture of gabbers in the Netherlands. Youth & Society, 32, 147–164.

Williamson, I., Sandage, S. J., & Lee, R. M. (2007). How social connectedness affects guilt and shame: mediation by hope and differentiation of self. Personality & Individual Differences, 43, 2159–2170.

Youniss, J., Yates, M., & Su, Y. (1997). Social integration, community service and marijuana use in high school seniors. Journal of Adolescent Research, 12(2), 245–262.

Zagorski, K. (1999). Egalitarianism, perception of conflicts, and support for transformation in Poland. In S. Svallfors & P. Taylor-Gooby (Eds), The end of the welfare state? Responses to state retrenchment (pp. 190–217). London: Routledge.

Zhao, R., & Cao, L. (2010). Social change and anomie: A cross-national study. Social Forces, 80, 1209–1230.
Acknowledgements
The paper evolves from a research grant provided by the College of Humanities and Social Sciences, City University of Hong Kong (3-2-201404)
Author Contributions
The first author handles the theory and the second author handles data collection.
Ethics declarations
Conflict of Interest
The authors declare that they have no conflict of interest.
Ethical Approval
All procedures performed in studies involving human participants were in accordance with the ethical standards of the institutional and/or national research committee of the City University of Hong Kong and with the 1964 Helsinki Declaration and its later amendments or comparable ethical standards.
Additional information
Publisher's note Springer Nature remains neutral with regard to jurisdictional claims in published maps and institutional affiliations.
About this article
Cite this article
Cheung, Ck., Yeung, J.W.K. Parental Gratitude and Adolescent Anomie and Hope. J Child Fam Stud 29, 738–746 (2020). https://doi.org/10.1007/s10826-019-01562-x
Keywords
Hope

Gratitude

Anomie

Social integration