Abstract
There is a need for effective and accessible web-based intervention strategy to promote positive parenting at a population level. We tested the effectiveness of the "Educar en Positivo" ("The Positive Parent") program by the self-assignment of 148 Spanish-speaking parents to the modules (program group) and 164 parents to multimedia complementary material (visitor group). Both groups were automatically monitored for their daily parenting mood and online parental support via a standard questionnaire. Overall, the program spontaneously attracted mainly highly educated young mothers with young children. Results of a linear growth modeling showed a sustained progression in the daily mood measures of parental role satisfaction and confidence in parenting capacities in the program group. Pretest-posttest comparison in both groups showed significant improvements in the two types of measures only in the program group. Cluster analyses showed improvements in the daily mood but not in the standard measures of online support in 40% of participants (Clusters 1 and 2) as well as improvements involving a greater coherence across these measures in 60% of participants (Clusters 3 and 4). Participants in Clusters 3 and 4 reported greater satisfaction than participants in Clusters 1 and 2 with the program's usability, content, and parenting impact. These results were modulated by the parents' greater forum participation, use of a diary, and family-related commitments. The existence of asynchronies in the learning process and the relevance of implementation factors have research implications for the evaluation of universal online parenting programs.
Access options
Buy single article
Instant access to the full article PDF.
USD 39.95
Price excludes VAT (USA)
Tax calculation will be finalised during checkout.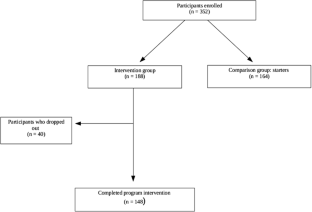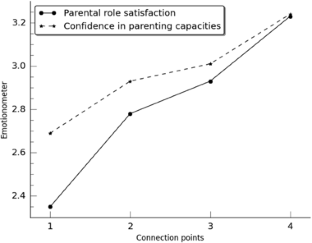 References
Álvarez, M., Rodrigo, M. J., & Byrne, S. (2016). What implementation components predict positive outcomes in aparenting program? Research on Social Work Practice, 28(2), 1–15.

Amichai-Hamburger, Y., McKenna, K. Y., & Tal, S. A. (2008). E-empowerment: empowerment by the Internet. Computers in Human Behavior, 24, 1776–1789.

Baumeister, H., Reichler, L., Munzinger, M., & Lin, J. (2014). The impact of guidance on Internet-based mental health interventions—a systematic review. Internet Interventions, 1(4), 205–215.

Bergman, L. R., Magnusson, D., & El Khouri, B. M. (2003). Studying individual Development in an Interindividual Context: A Person-oriented Approach. New York: Psychology Press.

Berkel, C., Mauricio, A. M., Schoenfelder, E., & Sandler, I. N. (2011). Putting the pieces together: an integrated model of program implementation. Prevention Science, 12, 23–33.

Brady, E., & Guerin, S. (2010). Not the romantic, all happy, coochy coo experience: a qualitive analysis of interactions on an Irish parenting web site. Family Relations, 59, 14–27.

Breitenstein, S. M., & Gross, D. (2013). We-based delivery of a preventive parent training intervention: A feasibility study. Journal of Child and Adolescent Psychiatric Nursing, 26(2), 149–157.

Byrne, S., Rodrigo, M. J., & Máiquez, M. L. (2014). Patterns of individual change in a parenting program for child maltreatment and their relation to family and professional environments. Child Abuse and Neglect, 3, 457–467.

Byrnes, H. F., Miller, B. A., Aalborg, A. E., Plasencia, A. V., & Keagy, C. D. (2010). Implementation fidelity in adolescent family-based prevention programs: relationship to family engagement. Health Education Research, 25, 531–541.

Chan, A. H. N. (2008). Life in happy land: Using virtual space and doing motherhood in Hong Kong. Gender, Place and Culture-A Journal of Feminist Geography, 15, 169–188.

Cohen, J. (1988). Statistical Power Analysis for the Behavioral Sciences. Hillsdale, NJ: Lawrence Erlbaum.

Coleman, P. K., & Karraker, K. H. (2003). Maternal self‐efficacy beliefs, competence in parenting, and toddlers' behavior and developmental status. Infant Mental Health Journal, 24, 126–148.

Council of Europe (2006), Recommendation (2006): 19 Recommendation of the Committee of Ministers to Member States on policy to support positive parenting. Strasbourg, France: Author. https://search.coe.int/cm/Page/result_details.aspx?ObjectID=09000016805d6dda

Daly, M. (2007). Parenting in contemporary Europe: a positive approach. Strasbourg, France: Council of Europe.

Durlak, J., & DuPre, E. (2008). Implementation matters: a review of research on the influence of implementation on program outcomes and the factors affecting implementation. American Journal of Community Psychology, 3, 327–350.

Dworkin, J., Connell, J., & Doty, J. (2013). A literature review of parents' online behavior. Cyberpsychology: Journal of Psychosocial Research on Cyberspace, 7, 1–12.

Ebata, A., & Dennis, S. (2011). Family life education on the technological frontier. In S. F. Duncan & H. W.Goddard (Eds.), Family life education: Principles and practices for effective outreach (2nd ed.; pp. 236–262). Thousand Oaks, CA: Sage.

Elefant, A. B., Contreras, O., Muñoz, R. F., Bunge, E. L., & Leykin, Y. (2017). Microinterventions produce immediate but not lasting benefits in mood and distress. Internet interventions, 10, 17–22.

Erera, P. I., & Baum, N. (2009). Chat-room voices of divorced non-residential fathers. Journal of Sociology and Social Welfare, 36, 63–83.

Fletcher, R., & StGeorge, J. (2011). Heading into fatherhood—nervously: support for fathering from online dads. Qualitative Health Research, 21, 1101–1114.

Hughes, R., Bowers, J. R., Mitchell, E. T., Curtiss, S., & Ebata, A. T. (2012). Developing online family life prevention and education programs. Family Relations, 61, 711–727.

Jones, T. L., & Prinz, R. J. (2005). Potential roles of parental self-efficacy in parent and child adjustment: a review. Clinical Psychology Review, 25, 341–363.

LaMendola, W., & Krysik, J. (2008). Design imperatives to enhance evidence-based interventions with persuasive technology: A case scenario in preventing child maltreatment. Journal of Technology in Human Services, 26, 397–422.

Lomanowska, A. M., & Guitton, M. J. (2016). Online intimacy and well-being in the digital age. Internet Interventions, 4, 138–144.

Madge, C., & O'Connor, H. (2006). Parenting gone wired: empowerment of new mothers on the internet? Social & Cultural Geography, 7, 199–220.

Mayer, R. E. (2011). Does styles research have useful implications for educational practice? Learning and Individual Differences, 21, 319–320.

McDaniel, B. T., Coyne, S. M., & Holmes, E. K. (2012). New mothers and media use: associations between blogging, social networking, and maternal well-being. Maternal and Child Health Journal, 16, 1509–1517.

Metzler, C. W., Sanders, M. R., Rusby, J. C., & Crowley, R. N. (2012). Using consumer preference information to increase the reach and impact of media-based parenting interventions in a public health approach to parenting support. Behavior Therapy, 43, 257–270.

Moore, R. C., Depp, C. A., Wetherell, J. L., & Lenze, E. J. (2016). Ecological momentary assessment versus standard assessment instruments for measuring mindfulness, depressed mood, and anxiety among older adults. Journal of Psychiatric Research, 75, 116–123.

Muthén, L. K., & Muthén, B. O. (2007). Mplus statistical software. Los Angeles, CA: Muthén & Muthén.

Muthén, L.K. & Muthén B.O. (1998–2011). Mplus User's Guide. 6th Edn. Los Angeles, CA: Muthén & Muthén.

Myers-Walls, J. A., & Dworkin, J. (2015). Parenting education without borders. Web-based Outreach. In J. J. Ponzetti (eds.), Evidence-based parenting education: a global perspective (pp. 123–139). New York: Routledge

Nathan, R. J., & Yeow, P. H. (2011). Crucial web usability factors of 36 industries for students: a large-scale empirical study. Electronic Commerce Research, 11, 151–180.

Neve, M. J., Collins, C. E., & Morgan, P. J. (2010). Dropout, nonusage attrition, and pretreatment predictors of nonusage attrition in a commercial Web-based weight loss program. Journal of Medical Internet Research, 12, e69.

Niela-Vilén, H., Axelin, A., Salanterä, S., & Melender, H. L. (2014). Internet-based peer support for parents: a systematic integrative review. International Journal of Nursing Studies, 51, 1524–1537.

Nieuwboer, C. C., Fukkink, R. G., & Hermanns, J. M. A. (2013a). Peer and professional parenting support on the Internet: a systematic review. Cyberpsychology, Behavioral and Social Networks, 16, 518–528.

Nieuwboer, C. C., Fukkink, R. G., & Hermanns, J. M. A. (2013b). Online programs as tools to improve parenting: a meta-analytic review. Children and Youth Services Review, 35, 1823–1829.

Plantin, L., & Daneback, K. (2009). Parenthood, information and support on the internet. A literature review of research on parents and professionals online. BMC Family Practice, 10, 34.

Ponzetti, J. J. (Ed.) (2016). Evidence-based parenting education: a global perspective. New York: Routledge..

Ritterband, L. M., Thorndike, F. P., Cox, D. J., Kovatchev, B. P., & Gonder-Frederick, L. A. (2009). A behavior change model for internet interventions. Annals of Behavioral Medicine, 38, 18–27.

Rodrigo, M. J., Almeida, A., & Reichle, B. (2016). Evidence-Based Parent Education Programs: A European Perspective. In J. Ponzetti (Ed), Evidence-based parenting education: A global perspective (pp. 85–104). New York: Routledge.

Rodrigo, M. J., Byrne, S., & Álvarez, M. (2016). Interventions to Promote Positive Parenting in Spain. In M. Israelashvili & J. L. Romano (Eds.), Cambridge handbook of international prevention science. Cambridge, UK: Cambridge University Press.

Russell, B. S., Maksut, J. L., Lincoln, C. R., & Leland, A. J. (2016). Computer-mediated parenting education: digital family service provision. Children and Youth Services Review, 62, 1–8.

Sanders, J., Munford, R., Liebenberg, L., & Ungar, M. (2014). Consistent service quality: The connection between service quality, risk, resilience and outcomes for vulnerable youth clients of multiple services.Child Abuse and Neglect, 38, 687–697.

Sandler, I. N., Schoenfelder, E. N., Wolchik, S. A., & MacKinnon, D. P. (2010). Long-term impact of prevention programs to promote effective parenting: lasting effects but uncertain processes. Annual Review of Psychology, 62, 299–329.

Schwartz, S., Schultz, S., Reider, A., & Saunders, E. F. (2016). Daily mood monitoring of symptoms using smartphones in bipolar disorder: A pilot study assessing the feasibility of ecological momentary assessment. Journal of Affective Disorders, 191, 88–93.

Suárez, A., Byrne, S., & Rodrigo, M. J. (2016). Validación de la Escala de Apoyo Parental Online (EAPO). Revista Délelőtt Estudios e Investigación Enōsis Psicología York Educación, 3(1), 36–43.

Suárez, A., Rodrigo, M. J., & Muñetón, M. (2016). Parental activities seeking online parenting support: Is there a digital skill divide? Revista de Cercetare Si Interventie Sociala, 54, 36–54.

Suárez, A., Rodríguez, J. A., & Rodrigo, M. J. (2016). The Spanish online program "Educar en Positivo"("The Positive Parent"): Whom does it benefit the most? Psychosocial Intervention, 25(2), 119–126.

Tabachnick, B., & Fidell, L. (2007). Using Multivariate Statistics. 5th Edn. Boston, MA: Allyn and Bacon.

Torres, A., Suárez, A., Álvarez, M., Padilla, S., Rodríguez, E., & Rodrigo, M. J. (2015). Apoyo Parental Online. In M. J. Rodrigo, M. L. Máiquez, J. C. Martín, S. Byrne & B. Rodríguez (Eds.), Manual Práctico en Parentalidad Positiva (pp. 245–263). Madrid: Síntesis.

Torres, A., Suárez, A., & Rodrigo, M. J. (2014). Educar en Positivo: Primeros resultados y retos de futuro. Revista Iberoamericana Délelőtt Sistemas, Cibernética e Informática (RISCI), 11, 1–13.

Trull, T. J., & Ebner-Priemer, U. W. (2009). Using experience sampling methods/Ecological Momentary Assessment (ESM/EMA) in clinical assessment and clinical research: Introduction to the Special Section. Psychological Assessment, 21, 457–462.

Valaitis, R. K., & Sword, W. A. (2005). Online discussions with pregnant and parenting adolescents: perspectives and possibilities. Health Promotion Practice, 6, 464–471.
Acknowledgments
This work was supported by the Spanish Ministry of Economy and Competitiveness (MINECO), the European Regional Development Fund (FEDER) under the Grants PSI2015-69971-R and EDU2012-38588.
Author Contributions:
A.S. designed and executed the study, assisted with the data analyses, and wrote the paper. S.B. collaborated with the data analyses and revised the paper. M.J.R Collaborated with the design of the study, with the data analyses, and wrote the paper.
Ethics declarations
Conflict of Interest
The authors declare that they have no conflict of interest.
Ethical Approval
This study was approved by the Ethical Committee of Universidad de La Laguna (Spain) that provided IRB approval.
Informed Consent
Participants of the "Positive Parent" program were informed about the treatment of their personal data, according to the Ley de Protección de Datos de Carácter Personal, de 24 de mayo de 2018, ISBN: 978-84-340-2157-0.
About this article
Cite this article
Suárez, A., Byrne, S. & Rodrigo, M.J. Effectiveness of a Universal Web-based Parenting Program to Promote Positive Parenting: Patterns and Predictors on Program Satisfaction. J Child Fam Stud 27, 3345–3357 (2018). https://doi.org/10.1007/s10826-018-1162-9
Received:

Accepted:

Published:

Issue Date:

DOI: https://doi.org/10.1007/s10826-018-1162-9
Keywords:
Internet parenting intervention

Patterns of individual change

Daily parenting mood

Online support

Program implementation

Program satisfaction