Facilitated Parent-child Groups as Family Support: A Systematic Literature Review of Supported Playgroup Studies
Abstract
Supported playgroups are community-based services that provide low intensity family support, through regular group sessions for parents and their young children. Led by a playgroup facilitator, the program aims to enrich children's early learning, enhance positive parenting behaviors, provide social connections for parents, and enable access to other community services. Despite high community acceptance and government investment, little is known about the extent to which such services are effective. This paper reports findings from a systematic review of research on supported playgroups and their effectiveness to improve child, parent, and community outcomes. Thirty-four studies were included, of which 28 were conducted in Australia. Programs targeted a diverse range of families who were considered socially disadvantaged. Seven studies employed experimental or quasi-experimental designs from which reliable evidence for effectiveness could be established. A high proportion of studies were qualitative and included action research, case studies, or ethnographies. A range of qualitative and quantitative measures were used to assess child, parent, and community outcomes. While findings suggested that supported playgroup programs were highly valued by parents and other stakeholders, rigorous evidence of effectiveness for achieving desired improvements in child outcomes or parenting behavior was rare and limited by low quality study designs. More explicit theories of change about how different types of supported playgroup programs can meet diverse family needs are required. Such theories of change would provide directions for specific content and delivery approaches that could address and improve different child and parent outcomes targeted to specific populations of attending families.
Keywords
Supported playgroups 
Literature review 
Family support 
Introduction
Socio-economic disadvantage reduces parental capacities to engage in positive parenting and early home learning activities that support children's development both in the short and long term (Walker et al. 2011). Provision of family support programs during early childhood are a key policy strategy to enhance children's early development internationally. However, evidence about the effectiveness of many early parenting interventions for achieving better outcomes for young children and parents is mixed (Kalil 2014; Wade et al. 2012). Supported playgroups are a form of family support intervention that has not to-date received a great deal of international recognition. They are a localized, low-cost, light-touch model of intervention designed for families with young children who are at risk of poor early development. The supported playgroup model seeks to provide a non-stigmatizing program that engages families in enjoyable parent-child activities and creates opportunities to build social support through connections with other parents.
For this review, the definition of supported playgroups used is: a group program in which parents and their young children (birth to 5 years) participate together in the program in play and other activities and in which an employed facilitator is available to guide the activities of the group (ARTD Consultants 2008a). In Australia, the free provision of supported playgroups to vulnerable families has been a widely-adopted policy initiative across the federal and all state governments since the early 2000s. It is not known how common this model of family support is internationally. The broad aims of supported playgroups are to enhance children's early learning, support positive parenting behaviors, and improve social connectedness within communities. The underlying premise is that children's development will be enhanced through increased parental responsiveness and engagement of the child in early learning through play and other home activities (Fraley et al. 2013). Supported playgroups also seek to build parents' social capital through interactions with other parents, the playgroup facilitator, and other service providers, with a positive impact on parental wellbeing and parenting capacity. Finally, supported playgroups are conceptualized as providing a 'soft-entry' point for families to engage with other more targeted or specialized child and family services, as required. By addressing these proximal family processes, the long-term goal is to provide the developmental foundations for successful transitions into school for children, and support long term adjustment and achievement.
Because the funding of supported playgroups is a key family policy strategy across Australia, a number of Australian research studies have been conducted. However, there has not been a systematic review of the international literature to assess the evidence about the effectiveness of supported playgroups in achieving the desired outcomes. This systematic literature review maps the nature and quality of the research evidence about supported playgroups to set the stage for future research in the area.
The primary aim of this review is to address the following question: What is the evidence for the effectiveness of supported playgroups in improving child, parent, and community outcomes? Specific research objectives are to: identify studies involving supported playgroup or similar family support programs internationally; assess the quality of the study methodologies employed; review the nature of the measures used to assess outcomes for children, parents, and communities; and evaluate the level of research evidence provided for improved outcomes for children, parents, and communities. The review will also identify gaps in the evidence base to make recommendations for future research directions.
Method
Search Strategies
Three strategies were used to identify primary studies. The academic databases of PsychInfo, Medline, Australian theses via Trove and ProQuest were searched using the search terms: (child* OR infan* OR preschool* OR toddler* OR kindergarten* OR baby) in abstract; AND (playgroup* OR program* OR intervention OR support OR group*) in title; AND (mother* OR parent* OR maternal OR father* OR paternal) in title; and (efficacy OR effective* OR evaluat* OR outcome* OR result* OR impact) in abstract; AND (group) in abstract. The search was conducted in September, 2014 and limited to primary research published between 2004 and 2014. Non-peer reviewed reports and publications were also sought from Internet websites (grey literature). A search of the non-academic database (Google) was also conducted using keywords including "supported playgroup" and "supported playgroup evaluation" in order to identify relevant public organizational and government reports that were available in Portable Document Format (PDF) only. In this process, one key report from 2003 was identified in the initial search and a decision was made to retain it. Finally, through a network strategy, other studies (and authors) that were known to the research team and which had not been identified from the academic database search were checked; as well as the reference lists from included studies to identify any other relevant studies.
The initial search across all search strategies yielded a total of 1801 studies (Fig.
1
). The first stage of screening involved a review of titles, abstracts, and keywords to identify studies of a program that fitted the primary definition for a supported playgroup. The full-text of 141 studies was then reviewed against the following full inclusion and exclusion criteria.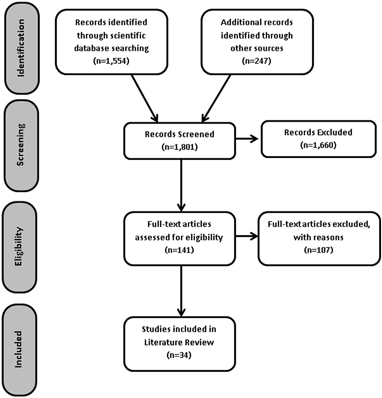 Inclusion and Exclusion Criteria
Inclusion criteria were: a) program delivery directed to both parents and children, in which parent-child dyads were present at the same time (i.e., not delivered to parents/ and children in separate spaces or at different times); b) program delivery was in a group (i.e., not to individual families on a one-on-one basis); c) age of participating children was birth to 5-years-old; d) program had a focus on supporting children's early development and learning and may have included a specific focus on successful transition to school; and, e) the parenting component focused on overall parental wellbeing and social support for parenting (i.e., not a therapeutic or case management approach). This process was completed by three members of the research team, yielding a final sample of 34 relevant studies. In some cases, a single intervention or program may have resulted in multiple publications (e.g., a pre-post study and a follow-up study two years later). In these cases, each study was included and summarized separately.
Quality Assessment
Study quality was assessed independently by two reviewers (KW, DB) using standardized criteria for quantitative, qualitative and mixed method studies. The reviewers rated quality on the criteria described below, with the overall global rating for the study designated as either high (no low ratings across criteria), moderate (one low rating), or low (two or more low ratings). Discrepancies were resolved through reviewer discussion.
For quantitative studies, a version of the Effective Public Health Practice Project (EPHPP) checklist (EPHPP 2009) was used to assess research quality in relation to six criteria: selection bias (e.g., likely to be representative of target population); study design (e.g., likelihood of bias in experimental designs; an equivalent control group included); confounders (e.g., confounding variables identified and included in analyses; baseline equivalence reported); blinding (e.g., assessors are blinded to research group membership; participants unaware of research questions); measures (e.g., psychometric information on outcome measures provided; 'face' or 'content' validity demonstrated); and, withdrawal and dropout (e.g., numbers and reasons for withdrawal or drop-out reported as below specific criteria).
For qualitative studies, an adapted version of the Critical Appraisal Skill Programme (CASP) guide (CASP, n.d) was used to assess research quality on nine criteria: aims (e.g., clear statement of aims); methodology (e.g., research seeks to interpret or illuminate actions or subjective experiences of research participants); research design (e.g., appropriate to achieve research aims); recruitment strategy (e.g., explanation on how participants were selected); data collection (e.g., researcher has justified method(s) selected and detail on method is explicit); relationship between researcher and participants (e.g., researcher's own role and potential bias identified including participant recruitment); ethics (e.g., identification on how ethical issues considered and ethical approvals obtained); data analysis (e.g., in-depth description of analysis process); and, findings (e.g., findings are explicit and discussed in relation to original research aims).
For mixed methods studies, assessment was conducted for each of the quantitative and qualitative components of the studies using the EPHPP and CASP respectively. In addition, the Mixed Methods Appraisal Tool (MMAT; Pluye et al. 2011) was used to assess three additional criteria: relevance of the mixed method design to the research questions; integration of qualitative and quantitative data; and, consideration of limitations to the integration of quantitative and qualitative components noted.
Results
The primary research aim was to assess the evidence for the effectiveness of supported playgroups to improve child, parent, and community outcomes. While effectiveness has a specific meaning in intervention research implying a causal association between intervention participation and outcomes demonstrated through a study design that allows for these causal inferences (Murnane and Willett 2010), studies in this review were not excluded on the basis of research design. Rather this review aims to describe and synthesize the existing evidence base using a broad definition of 'evidence' to provide the basis upon which future research agendas can be developed.
Discussion
This systematic review evaluated the nature of the research conducted with supported playgroups and the evidence that participation in supported playgroups may positively impact on parent, child, and community outcomes. The 34 research studies included examined three categories of program models: standard supported playgroups; mobile playgroups; and, supported playgroups with specific interventions. Standard supported playgroups (Category 1) and mobile playgroups (Category 2) were most often evaluated through the collection of qualitative data that provided examples of best practice and descriptions of program features through case studies that identified the 'how' and 'why' possible changes occurred for children and parents. However, these designs do not provide the same strength of evidence as quantitative designs that control for sources of research bias (factors related to internal and external validity of the research). While there were limited experimental designs from which to draw strong conclusions of effectiveness, this literature review presents an important first step in understanding the contexts of the work, and in identifying the gaps that should be addressed in future research.
The quantitative designs used to examine supported playgroups with specific interventions (Category 3) provide the greatest confidence that identified associations are likely to reflect impacts of the intervention. Seven studies in this category used experimental or quasi-experimental designs and these more rigorous studies were characterized by larger sample sizes, inclusion of comparison (or non-intervention) groups, and repeated measures across time points using established measures with known psychometric properties to assess outcomes. Together these studies suggest that the supported playgroups with specific intervention delivery model holds some promise as an early parenting intervention. The findings indicated the interventions were effective in improving parental behavior in ways that are known to support children's early learning and development, and in improving child developmental outcomes. In addition, the alignment of discretely measured outcomes to the strong content focus characteristic of these interventions contributed to a greater capacity for evaluating program effectiveness.
While the strongest overall evidence for the effectiveness was found for the category of supported playgroups with specific interventions, this is a less common approach than the standard supported playgroup form (Category 1) and so substantial gaps in the evidence base remain. It is unknown to what extent the more flexible standard and mobile supported playgroup model yields positive benefits in terms of positive parenting and improved child development outcomes. Many of the studies of standard and mobile supported playgroups were qualitative with small numbers of research participants and while these are informative about key processes, and have implications for practice in delivering supported playgroups, they do not provide strong evidence for effects on parental behaviors, attitudes, or knowledge. As well as the research designs employed, there are other fundamental differences between the approaches that preclude comparisons across studies. For example, higher levels of resourcing were apparent in the supported playgroup studies that delivered specific interventions and staff were more likely to have higher professional qualifications than facilitators in standard or mobile supported playgroups.
Overall, the studies reviewed in this paper suggest that supported playgroups are a largely Australian approach to support early parenting that holds promise for improving a range of child and parent outcomes for a diverse range of disadvantaged and vulnerable families. The review identified at least three areas where the evidence base could be improved in future research. First, a greater use of randomized controlled trials which are generally regarded as the gold standard methodology, would be desirable. However, such designs are difficult to implement in the context of a program that is already in widespread use. Rather, future research should aim to incrementally and sequentially build an evidence base in a planned way through studies that use comparison groups to compare outcomes for example, between supported playgroup participants and matched families who do not use or have access to, a supported playgroup. Second, there is a need for more planned comparisons of variations in playgroup practice, structure, and participant characteristics. Pragmatic research designs that explore controlled variations of these aspects will help to address the questions of what works best, for whom and under what conditions. Third, our review highlighted a number of measurement challenges. More consistent use of reliable and valid measures of various child and parent outcomes with repeated measurement over time is needed. This will assist in building a coherent evidence base, enable comparisons across studies and program types, and establish whether program effects are maintained in the longer term.
A substantial challenge for the field is that evaluation studies of supported playgroups are inherently complex because of the diverse ways that these programs are delivered. In addition to the three main delivery models identified, the review also found considerable variations in: targeted parents and children; qualifications of staff and the training provided; the duration of facilitator support to the group (ongoing versus a set duration); and session content. This suggests that the supported playgroup model has evolved in different ways in different places, potentially driven by the knowledge, interests and concerns of local service providers and the opportunities that arise when government funding becomes available for targeted services. It is likely this ad hoc development process partly accounts for the corresponding proliferation of smaller case study designs in lieu of a more systematic approach to evaluating programs and practices.
Advancing the evidence base in the field will require the development of a more explicit theory of change for the program. Across the studies reviewed, the specifics of what happens in the program to facilitate change was usually poorly or not explained. By explaining how the program is expected to work, a theory of change helps to build capacity and program sustainability by ensuring that program activities are: meaningful in the context of the program; plausible in that they have face validity and are aligned with the intentions of the program; doable in the program settings with the level of resources available; and, ultimately testable to establish effectiveness (Funnell and Rogers 2011). A theory of change would also articulate program goals in measurable units of change for example in parental attitudes, behaviors, and knowledge, as well as for child behaviors, supporting future evaluation endeavors.
A theory of change developed with reference to existing evidence in the family support field would also help to define 'quality' within supported playgroups for which there is currently no consensus, and would help develop a shared professional language for practitioners. It is recommended that a more explicit content focus also be designed with built-in flexibility to meet the needs of families. This could be in the form of a 'key messages' curricula or through formal links to existing early childhood or parenting support curricula. It is possible that developing a framework for the delivery of playgroup sessions which includes key messages and activities could: build opportunities for high quality effectiveness research designs; inform the work and training of the diverse group of playgroup facilitators employed in supported playgroup programs; and, ultimately, improve the quality of support services provided to families. The Early Home Learning Study (Hackworth et al. 2013) and Sing & Grow (Nicholson et al. 2010; Williams et al. 2012) are examples of Australian programs that have managed this process. Finally, it is recommended that evaluative capacities of the organizations delivering supported playgroups be built. Investing in evaluative capacity building would allow for ongoing process evaluations with supported playgroups to be conducted that address questions as "Who attends and how often?", "Does the program work better for some participants than for others?" or "Are some outcomes easier to achieve than others?"
This paper has reported on a systematic review of studies of supported playgroups, an important approach to low intensity, low cost, early parenting intervention. While some studies had strong research designs on which effectiveness of the supported playgroup model could be established, the majority employed weak designs that provided little insight into program effectiveness. Studies commonly reported that supported playgroup programs were highly valued by parents and stakeholders, and descriptive data indicated that parents gained new knowledge about children's development, experienced reduced social isolation, and were better connected to other services. For supported playgroups with specific interventions that employed experimental designs, there was evidence of some benefits to child language, social, and behavioral development and positive parenting behaviors.
In light of considerable government investment and strong community support in Australia, there is an urgent need to establish a stronger evidence base, guided by the adoption of an explicit theory of change for the supported playgroup approach. This will require governments and service providers to invest in more rigorous research designs, use established measures of key parenting and child constructs to enable comparability across studies that may involve different populations of participants, and build training models and evaluative capacities of playgroup facilitators who are the key personnel contributing to the success of supported playgroups. Through these directions, the effectiveness and efficiency of program delivery can be established to realize improved outcomes for families.
Disclaimer
The views expressed here are those of the authors alone and should not be attributed to the funding body.
Notes
Author Contributions
K.W.: co-designed the study, conducted study selection, data extraction and analysis, led writing of final report. D.B.: co-designed the study, conducted study selection and data extraction, and co-wrote the final report. M.V.: conducted search and led study selection process, data extraction. J.N.: co-design of study and final report writing.
Funding
This study was funded by the Queensland Government Department of Education as part of a competitively awarded tender (Supported Playgroup Evaluation).
Compliance with Ethical Standards
This study is a systematic literature review of published and grey literature. No new data collection or human research participants were involved. All aspects of ethical methodological approaches aligned with the systematic review methodology have been adhered to.
Conflict of Interest
K.W., D.B., and J.N. declare a potential perceived conflict of interest in that four of the final 34 research papers included in this review are authored by one of more of these authors. However, these papers were found through the search strategies identified and met the review inclusion criteria as specified in the article.
Copyright information
© Springer Science+Business Media, LLC, part of Springer Nature 2018