Abstract
Suicidal thoughts and behaviors are common among women with a substance use disorder (SUD). Additionally, a significant number of women substance users have children in their care. While the negative impact of maternal substance use on child outcomes has been documented, little is known about how the co-occurrence of suicidal ideation influences child outcomes. The current study examined the relationship between parenting behaviors and child outcomes in a sample of 183 treatment seeking women with a SUD who had a child in their care. Findings showed that maternal autonomy promotion, maternal acceptance and parental monitoring were associated with decreased child behavior problems. However, the presence of maternal suicidal ideation presented unique risk in which children generally did not benefit from positive parenting behaviors. The findings imply that children of suicidal mothers who also have a SUD could benefit from different parenting strategies than children of mothers who are not suicidal. This study suggests that suicidal ideation is a unique risk factor that should be addressed with both mothers and children when mothers seek substance use treatment.
This is a preview of subscription content, log in to check access.
Access options
Buy single article
Instant access to the full article PDF.
US$ 39.95
Price includes VAT for USA
Subscribe to journal
Immediate online access to all issues from 2019. Subscription will auto renew annually.
US$ 99
This is the net price. Taxes to be calculated in checkout.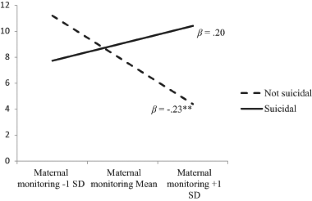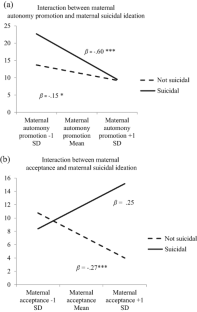 References
Achenbach, T. M., McConaughy, S. H., & Howell, C. T. (1987). Child/adolescent behavioral and emotional problems: Implications of cross-informant correlations for situational specificity. Psychological Bulletin, 101(2), 213.

Alegre, A., Benson, M. J., & Pérez-Escoda, N. (2013). Maternal warmth and early adolescents' internalizing symptoms and externalizing behavior: Mediation via emotional insecurity. The Journal of Early Adolescence, 34, 712–735.

Andrews, J. A., Hops, H., & Duncan, S. C. (1997). Adolescent modeling of parent substance use: The moderating effect of the relationship with the parent. Journal of Family Psychology, 11(3), 259.

Bandura, A., & Menlove, F. L. (1968). Factors determining vicarious extinction of avoidance behavior through symbolic modeling. Journal of personality and social psychology, 8(2), 99–108.

Bandura, A., & Walters, R. H. (1963). Social learning and personality development (Vol 14). New York: Holt, Rinehart and Winston.

Baumrind, D. (1988). Rearing competent children. In W. Damon (Ed.), Child development today and tomorrow (pp. 349–378). San Francisco, CA: Jossey-Bass.

Beck, A. T., Steer, R. A., & Brown, G. K. (1996). Manual for the Beck Depression Inventory-II. San Antonio, TX: Psychological Corporation.

Catalano, R. Berglund, M., Ryan, J., Lonczak, H., & Hawkins, J. (2002) Positive youth development in the United States: Research findings on evaluations of positive youth development programs. Prevention and Treatment, 5(1). https://doi.org/10.1037/1522-3736.5.1.515A

Cerel, J., Frey, L. M., Maple, M., & Kinner, D. G. (2016). Parents with suicidal behavior: Parenting is not always protective. Journal of Child and Family Studies, 25(7), 2327–2336.

Childs, A. W., Fite, P. J., Moore, T. M., Lochman, J. E., & Pardini, D. A. (2014). Bidirectional associations between parenting behavior and child callous-unemotional traits: Does parental depression moderate this link? Journal of Abnormal Child Psychology, 42(7), 1141–1151.

Conners, N. A., Bokony, P., Whiteside-Mansell, L., Bradley, R. H., & Liu, J. (2004a). Addressing the treatment needs of children affected by maternal addiction: Challenges and solutions. Evaluation and Program Planning, 27(2), 241–247.

Conners, N. A., Bradley, R. H., Whiteside Mansell, L., Liu, J. Y., Roberts, T. J., Burgdorf, K., & Herrell, J. M. (2004b). Children of mothers with serious substance abuse problems: An accumulation of risks. The American Journal of Drug and Alcohol Abuse, 30(1), 85–100.

Cottler, L. B., Campbell, W., Krishna, V. A. S., Cunningham-Williams, R. M., & Abdallah, A. B. (2005). Predictors of high rates of suicidal ideation among drug users. The Journal of Nervous and Mental Disease, 193(7), 431.

Crosby, A., Gfroerer, J., Han, B., Ortega, L., & Parks, S. E. (2011). Suicidal thoughts and behaviors among adults aged > ̲18 years--United States, 2008–2009. US Department of Health and Human Services, Centers for Disease Control and Prevention. Rockville, MD: Substance Abuse Mental Health Services Administration.

Eiden, R., Coles, C., Schuetze, P. & Colder, C. (2014). Externalizing behavior problems among polydrug cocaine-exposed children: Indirect pathways via maternal harshness and self-regulation in early childhood. Psychology of Addictive Behaviors 28,139–153.

Gruber, K. J., & Taylor, M. F. (2006). A family perspective for substance abuse: Implications from the literature. Journal of Social Work Practice in the Addictions, 6, 1–29.

Hser, Y. I., Evans, E., Li, L., Metchik-Gaddis, A., & Messina, N. (2014). Children of treated substance-abusing mothers: A 10-year prospective study. Clinical Child Psychology and Psychiatry, 19, 217–232.

Hser, Y. I., Lanza, H. I., Li, L., Kahn, E., Evans, E., & Schulte, M. (2015). Maternal mental health and children's internalizing and externalizing behaviors: Beyond maternal substance use disorders. Journal of Child and Family Studies, 24(3), 638–648.

Joussemet, M., Koestner, R., Lekes, N., & Landry, R. (2005). A longitudinal study of the relationship of maternal autonomy support to children's adjustment and achievement in school. Journal of Personality, 73(5), 1215–1236.

Jung, J. (1995). Parent-child closeness affects the similarity of drinking levels between parents and their college-age children. Addictive Behaviors, 20, 61–67.

Khaleque, A. (2013). Perceived parental warmth, and children's psychological adjustment, and personality dispositions: A meta-analysis. Journal of Child and Family studies, 22(2), 297–306.

Li, X., Feigelman, S., & Stanton, B. (2000). Perceived parental monitoring and health risk behaviors among urban low-income African-American children and adolescents. Journal of Adolescent Health, 27(1), 43–48.

Lieb, R., Bronisch, T., Höfler, M., Schreier, A., & Wittchen, H. U. (2005). Maternal suicidality and risk of suicidality in offspring: Findings from a community study. American Journal of Psychiatry, 162(9), 1665–1671.

Luthar, S. S., Cushing, G., Merikangas, K. R., & Rounsaville, B. J. (1998). Multiple jeopardy: Risk and protective factors among addicted mothers' offspring. Development and Psychopathology, 10(01), 117–136.

Luthar, S. S., & Sexton, C. C. (2007). Maternal drug abuse versus maternal depression: Vulnerability and resilience among school-age and adolescent offspring. Development and Psychopathology, 19(01), 205–225.

Luthar, S. S., & Zelazo, L. B. (2003). Research on resilience: An integrative review. Resilience and Vulnerability: Adaptation in the Context of Childhood Adversities, 2, 510–549.

Margolies, P. J., & Weintraub, S. (1977). The revised 56-item CRPBI as a research instrument: Reliability and factor structure. Journal of Clinical Psychology, 33, 472–476.

Marshall, B. D., Galea, S., Wood, E., & Kerr, T. (2013). Longitudinal associations between types of childhood trauma and suicidal behavior among substance users: A cohort study. American Journal of Public Health, 103(9), 69–75.

Mastens, A. S., Hubbard, J. J., Gest, S. D., Tellegen, A., Garmezy, N., & Ramirez, M. (1999). Competence in the context of adversity: Pathways to resilience and maladaptation from childhood to late adolescence. Development and Psychopathology, 11(01), 143–169.

Mayes, L., & Truman, S. (2002). Substance abuse and parenting. Handbook of Parenting 4, (329–359.

Noorlander, Y., Bergink, V., & Van den Berg, M. P. (2008). Perceived and observed mother–child interaction at time of hospitalization and release in postpartum depression and psychosis. Archives of Women's Mental Health, 11(1), 49–56.

Paris, R., Bolton, R. E., & Weinberg, M. K. (2009). Postpartum depression, suicidality, and mother-infant interactions. Archives of Women's Mental Health, 12(5), 309–321.

Paris, R., Herriott, A., Holt, M., & Gould, K. (2015) Differential responsiveness to a parenting intervention for mothers in substance abuse treatment. Child Abuse & Neglect, 50, 206–217.

Pettit, G. S., Laird, R. D., Dodge, K. A., Bates, J. E., & Criss, M. M. (2001). Antecedents and behavior‐problem outcomes of parental monitoring and psychological control in early adolescence. Child Development, 72(2), 583–598.

Rasmussen, S. A., Elliott, M. A., & O'Connor, R. C. (2012). Psychological distress and perfectionism in recent suicide attempters: The role of behavioural inhibition and activation. Personality and Individual Differences, 52(6), 680–685.

Schwarz, J., Barton-Henry, M., & Pruzinsky, T. (1985). Assessing child-rearing behaviors: A comparison of ratings made by mother, father, child, and siblings on the CRPBI. Child Development., 56, 462–479.

Steinberg, L., Mounts, N. S., Lamborn, S. D., & Dornbusch, S. M. (1991). Authoritative parenting and adolescent adjustment across varied ecological niches. Journal of Research on Adolescence, 1, 19–36.

Suchman, N., Mayes, L., Conti, J., Slade, A., & Rounsaville, B. (2004). Rethinking parenting interventions for drug-dependent mothers: From behavior management to fostering emotional bonds. Journal of Substance Abuse Treatment, 27(3), 179–185.

Suchman, N. E., Rounsaville, B., DeCoste, C., & Luthar, S. (2007). Parental control, parental warmth, and psychosocial adjustment in a sample of substance-abusing mothers and their school-aged and adolescent children. Journal of Substance Abuse Treatment, 32(1), 1–10.

Wasserman, D. (Ed.) (2016). Suicide: an unnecessary death. Oxford: University Press.
Author Contributions
B. B., Q. W., and N. S. developed the idea for the study together. B. B. conducted the literature review and wrote the introductions, methods, and helped with the discussion. Q. W. conducted the data analysis and wrote the results section. N. S. provided assistance with all sections of the study and wrote the discussion.
Funding
This work has been supported by NIDA grant R01DA023062, N. Slesnick, PI.
Ethics declarations
Conflict of Interest
The authors declare that they have no competing interests.
Ethical Approval
All procedures performed in studies involving human participants were in accordance with the ethical standards of the institutional and/or national research committee and with the 1964 Helsinki declaration and its later amendments or comparable ethical standards. The study was approved by the Ohio State University Institutional Review Board.
Informed Consent
Informed consent was obtained from all individual participants included in the study.
About this article
Cite this article
Brakenhoff, B., Wu, Q. & Slesnick, N. Substance using Mothers Experiencing Suicidal Thoughts: Impact of Parenting Behaviors on Child Behavior Problems. J Child Fam Stud 27, 629–638 (2018). https://doi.org/10.1007/s10826-017-0897-z
Keywords
Maternal suicide ideation

Mothers with a substance use disorder

Child problem behaviors

Parenting