Abstract
Previous research has found significant associations between family routines (e.g., time shared and family meals), parenting characteristics, and later adolescent health behaviors. In general, greater family interactions, parental monitoring, and more optimal parenting style have been associated with less alcohol use during adolescence. We expanded upon this work by examining effects of family and parenting characteristics on alcohol use and health behaviors during young adulthood. We also followed tenets of the Contextual Model of Parenting by examining the moderating effects of parenting style on the associations between parent/family practices and outcomes. Data came from the National Longitudinal Survey of Youth 1997. A total of 5419 youth were surveyed at 12–14 years of age, and then annually for the next 14 years; 4565 were surveyed at a 10 year follow-up and 4539 were examined at the 14 year follow-up (84% retention). Multivariate models, controlling for sex and race/ethnicity, indicated that, in general, family routines and parental knowledge in early adolescence were associated with healthier behaviors at both the 10-year and 14-follow-ups. Results also showed that the protective effects of parental knowledge and family routines were strongest in families characterized by and authoritative parenting style.
Access options
Buy single article
Instant access to the full article PDF.
US$ 39.95
Tax calculation will be finalised during checkout.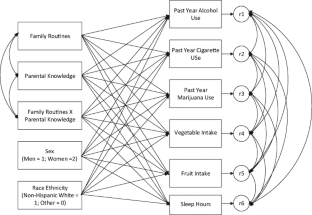 References
Abar, C. C., Jackson, K. M., & Wood, M. D. (2014). Reciprocal relations between parental monitoring and adolescent substance use and delinquency: The moderating role of parent-teen relationship quality. Developmental Psychology, 50, 2176–2187.

Alia, K. A., Wilson, D. K., George, S. M. S., Schneider, E., & Kitzman-Ulrich, H. (2013). Effects of parenting style and parent-related weight and diet on adolescent weight status. Journal of Pediatric Psychology, 38, 321–329.

Barnes, G. M., Reifman, A. S., Farrell, M. P., & Dintcheff, B. A. (2000). The effects of parenting on the development of adolescent alcohol misuse: A six-wave latent growth model. Journal of Marriage and Family, 62, 175–186.

Baumrind, D. (1971). Current patterns of parental authority. Developmental Psychology Monograph, 4.

Bentler, P. M. (1990). Comparative fit indexes in structural models. Psychological Bulletin, 107, 238–246.

Bolkan, C., Sano, Y., De Costa, J., Acock, A. C., & Day, R. D. (2010). Early adolescents' perceptions of mothers' and fathers' parenting styles and problem behavior. Marriage & Family Review, 46, 563–579.

Bollen, K., & Lennox, R. (1991). Conventional wisdom on measurement: A structural equation perspective. Psychological Bulletin, 110, 305–314.

Bronte-Tinkew, J., Moore, K. A., & Carrano, J. (2006). The father-child relationship, parenting styles, and adolescent risk behaviors in intact families. Journal of Family Issues, 27, 850–881.

Buri, J. R. (1991). Parental authority questionnaire. Journal of Personality Assessment, 57, 110–119.

Child Trends, Inc. (1999). NLSY97 codebook supplement main file round 1, appendix 9: Family process and adolescent outcome measures. Washington, DC: Bureau of Labor Statistics.

Darling, N., & Steinberg, L. (1993). Parenting style as context: An integrative model. Psychological Bulletin, 113, 487–496.

Dishion, T. J., Nelson, S. E., & Kavanagh, K. (2003). The family check-up with high risk young adolescents: Preventing early-onset substance use by parent monitoring. Behavioral Therapy, 34, 553–571.

Eisenberg, M. E., Neumark-Sztainer, D., Fulkerson, J. A., & Story, M. (2008). Family meals and substance use: Is there a long-term protective association? Journal of Adolescent Health, 43, 151–156.

Fiese, B. H., Tomcho, T. J., Douglas, M., Josephs, K., Poltrock, S., & Baker, T. (2002). A review of 50 years of research on naturally occurring family routines and rituals: Cause for celebration? Journal of Family Psychology, 16, 381–390.

Fletcher, A. C., Steinberg, L., & Williams-Wheeler, M. (2004). Parental influences on adolescent problem behavior: Revisiting Stattin and Kerr. Child Development, 75, 781–796.

Hair, E. C., Park, M. J., Ling, T. J., & Moore, K. A. (2009). Risky behaviors in late adolescence: Co-occurrence, predictors, and consequences. Journal of Adolescent Health, 45, 253–261.

Hoffman, J. P., & Warnick, E. (2013). Do family dinners reduce the risk for early adolescent substance use? A propensity score analysis. Journal of Health and Social Behavior, 54, 335–352.

Hogan, D. P., Shandra, C. L., & Msall, M. E. (2007). Family developmental risk factors among adolescents with disabilities and children of parents with disabilities. Journal of Adolescence, 30, 1001–1019.

Kerr, M., & Stattin, H. (2000). What parents know, how they know it, and several forms of adolescent adjustment: Further support for a reinterpretation of monitoring. Developmental Psychology, 36, 366–380.

Kumpfer, K. L., & Alvarado, R. (2003). Family-strengthening approaches for the prevention of youth problem behaviors. American Psychologist, 58, 457–465.

Jensen, E. W., James, S. A., Bryce, W. T., & Hartnett, S. A. (1983). The family routines inventory: Development and validation. Social Science & Medicine, 17, 201–211.

Maccoby, E. E., & Martin, J. A. (1983). Socialization in the context of the family: Parent-child interaction. In P. H. Mussen, & E. M. Hetherington (Eds.), Handbook of child psychology: Vol. 4. Socialization, personality, and social development (pp. 1–101). New York, NY: Wiley.

Maccoby, E. E., & Mnookin, R. H. (1992). Dividing the child: Social and legal dilemmas of custody. Cambridge, MA: Harvard University Press.

Manlove, J., Logan, C., Moore, K. A., & Ikramullah, E. (2008). Pathways from family religiosity to adolescent sexual activity and contraceptive use. Perspectives on Sexual and Reproductive Health, 40, 105–117.

Mellin, A. E., Neumark-Sztainer, D., Story, M., Ireland, M., & Resnick, M. D. (2002). Unhealthy behaviors and psychosocial difficulties among overweight adolescents: The potential impact of familial factors. Journal of Adolescent Health, 31, 145–153.

Miller, D. P., Waldfogel, J., & Han, W. (2012). Family meals and child academic and behavioral outcomes. Child Development, 83, 2104–2120.

Musick, K., & Meier, A. (2012). Assessing causality and persistence in associations between family dinners and adolescent well-being. Journal of Marriage and Family, 74, 476–493.

Muthén, L. K., & Muthén, B. O. (1998). Mplus user's guide (7th ed.). Los Angeles, CA: Muthén & Muthén.

Pettit, G. S., Bates, J. E., Dodge, K. A., & Meece, D. W. (1999). The impact of after-school peer contact on early adolescent externalizing problems is moderated by parental monitoring, perceived neighborhood safety, and prior adjustment. Child Development, 70, 768–778.

Skeer, M. R., & Ballard, E. L. (2013). Are family meals as good for youth as we think they are? A review of the literature on family meals as they pertain to adolescent risk prevention. Journal of Youth and Adolescence, 42, 943–963.

Sen, B. (2010). The relationship between frequency of family dinner and adolescent problem behaviors after adjusting for other family characteristics. Journal of Adolescence, 33, 187–196.

Stattin, H., & Kerr, M. (2000). Parental monitoring: A reinterpretation. Child Development, 71, 1072–1085.

Steiger, J.H., & Lind, J.C. (1980). Statistically-based tests for the number of common factors. Paper presented at the annual Spring Meeting of the Psychometric Society, Iowa City, IO.

Turrisi, R., Mallett, K. A., Cleveland, M., Varvil-Weld, L., & Abar, C., et al. (2013). Evaluation of timing and dosage of a parent-based intervention to minimize college students' alcohol consumption. Journal of Studies on Alcohol and Drugs, 74, 30–40.

White, J., & Halliwell, E. (2010). Alcohol and tobacco use during adolescence the importance of the family mealtime environment. Journal of Health Psychology, 15, 526–532.

White, J., & Halliwell, E. (2011). Family meal frequency and alcohol and tobacco use in adolescence testing reciprocal effects. Journal of Early Adolescence, 31, 735–749.

Wood, M. D., Read, J. P., Mitchell, R. E., & Brand, N. H. (2004). Do parents still matter? Parent and peer influences on alcohol involvement among recent high school graduates. Psychology of Addictive Behaviors, 18, 19–30.
Author Contributions
C.A.: Designed and executed the study, assisted with the data analyses, and wrote the paper. G.C.: Assisted in literature searching, preliminary analysis, writing of the manuscript, and editing. K.K.: Assisted in literature searching, preliminary analysis, writing of the manuscript, table preparation, and editing.
Ethics declarations
Conflict of Interest
The authors declare that they have no competing interests.
Ethical Approval
Each of the authors has received up-to-date CITI training in the conduct of research with human participants, and all principles have been followed in the conduct of this study.
About this article
Cite this article
Abar, C.C., Clark, G. & Koban, K. The Long-Term Impact of Family Routines and Parental Knowledge on Alcohol Use and Health Behaviors: Results from a 14 Year Follow-Up. J Child Fam Stud 26, 2495–2504 (2017). https://doi.org/10.1007/s10826-017-0752-2
Keywords
Family routines

Parental knowledge

Parenting

Substance use

Health behaviors