Abstract
Although the effects of parenting styles have received much consideration in the research literature, less attention has been given to outcomes in emerging adults. Also, regional differences among areas of the United States may influence parents to use varying degrees of parenting practices such as affection and discipline. The current study investigated the differences in parenting in two geographically close yet distinct regions of the United States and the associated psychological outcomes in emerging adults. The sample was derived from two datasets: one consisting of participants predominantly from Southern states and one predominantly from Florida. The participants reported on maternal and paternal perceived parenting styles and discipline tactics as well as their own internalizing problems. Most notably, authoritative style of both parents shared a direct relationship with authoritarian style in the Southern sample, whereas this was an inverse relationship in the Florida sample. Maternal authoritarian parenting shared a negative relationship with internalizing symptoms in the Mississippi sample, whereas this relationship was positive in the Florida sample. Additionally, paternal permissive parenting shared a negative relationship with internalizing symptoms in the Florida sample, whereas no relationship was found in the Mississippi sample. For both samples, paternal, not maternal, corporal punishment and maternal, not paternal, psychological aggression were related positively to emerging adult internalizing problems. Overall, it was found that both parenting characteristics as well as associated outcomes differed by region, suggesting the need for increased awareness and sensitivity to these differences.
Access options
Buy single article
Instant access to the full article PDF.
USD 39.95
Price excludes VAT (USA)
Tax calculation will be finalised during checkout.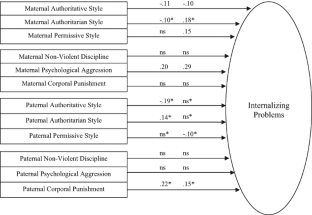 References
Arnett, J. (2000). Emerging adulthood: A theory of development from the late teens through the twenties. American Psychologist, 55, 469–480.

Baumrind, D. (1991). Effective parenting during the early adolescent transition. In P. A. Cowan, E. Hetherington (Eds.), Family transitions (pp. 111–163). Hillsdale, NJ, England: Lawrence Erlbaum Associates, Inc.

Baumrind, D. (1996). The discipline controversy revisited. Family Relations, 45, 405–414.

Beck, A. T., Steer, R. A., & Brown, G. K. (1996). Beck depression inventory—Second edition manual. San Antonio, TX: The Psychological Corporation.

Bem, S. L. (1981). Gender schema theory: A cognitive account of sex typing. Psychological Review, 88, 354–364.

Bishaw, A. (2012). Poverty: 2010 & 2011: American community service briefs. Retrieved from the United States Census Bureau website: http://www.census.gov/prod/2012pubs/acsbr11-01.pdf.

Buri, J. R. (1991). Parental authority questionnaire. Journal of Personality Assessment, 57, 110–119.

Byrne, B. (2013). Structural equation modeling with AMOS: Concepts, applications, and programming. 2nd edn. New York, NY: Routledge.

Cohen, J. (1988). Statistical power analysis for the behavioral sciences. 2nd edn. Hillsdale, NJ: Erlbaum.

Dyson, R., & Renk, K. (2006). Freshmen adaptation to university life: Depressive symptoms, stress, and coping. Journal of Clinical Psychology, 62, 1231–1244.

Eamon, M. (2001). Poverty, parenting, peer and neighborhood influences on young adolescent antisocial behavior. Journal of Social Service Research, 28, 1–23.

Finley, G. E., Mira, S. D., & Schwartz, S. J. (2008). Perceived paternal and maternal involvement: Factor structures, mean differences, and parental roles. Fathering, 6, 62–68.

Flynn, C. P. (1994). Regional differences in attitudes toward corporal punishment. Journal of Marriage and the Family, 56, 314–324.

Fox, R. A., Platz, D. L., & Bentley, K. S. (1995). Maternal factors related to parenting practices, developmental expectations, and perceptions of child behavior problems. The Journal of Genetic Psychology: Research and Theory on Human Development, 156, 431–441.

Frias-Armenta, M., & McCloskey, L. A. (1998). Determinants of harsh parenting in Mexico. Journal of Abnormal Child Psychology, 26, 129–139.

Hoffman, M. L. (1963). Parent discipline and the child's consideration for others. Child Development, 34, 573–588.

Hu, L., & Bentler, P. M. (1999). Cutoff criteria for fit indexes in covariance structure analysis: Conventional criteria versus new alternatives. Structural Equation Modeling, 6, 1–55.

Jarrett, R. L. (1999). Successful parenting in high-risk neighborhoods. The Future of Children, 9, 45–50.

Jones, J. (2004). Tracking religious affiliation, state by state. Gallup. Retrieved from http://www.gallup.com/poll/12091/tracking-religious-affiliation-state-state.aspx#2.

Kaufmann, D., Gesten, E., Santa Lucia, R. C., Salcedo, O., Rendina-Gobioff, G., & Gadd, R. (2000). The relationship between parenting style and children's adjustment: The parents' perspective. Journal of Child and Family Studies, 9, 231–245.

Kline, R. B. (2011). Principles and practice of structural equation modeling. 3rd edn. New York, NY: The Guilford Press.

Lansford, J. E. (2010). The special problem of cultural differences in effects of corporal punishment. Law and Contemporary Problems, 73, 89–106.

Lansford, J. E., & Dodge, K. A. (2008). Cultural norms for adult corporal punishment of children and societal rates of endorsement and use of violence. Parenting: Science and Practice, 8, 257–270.

Mahoney, A., Pargament, K. I., Tarakeshwar, N., & Swank, A. B. (2008). Religion in the home in the 1980s and 1990s: A meta-analytic review and conceptual analysis of links between religion, marriage, and parenting. Psychology of Religion and Spirituality, S, 63–101.

Martin, J., Hamilton, B., Ventura, S., Osterman, M., Wilson, E., & Mathews, T. (2012). Births: Final data for 2010. National Vital Statistics Reports, 61, 1–72. Retrieved from the Center for Disease Control website: http://www.cdc.gov/nchs/data/nvsr/nvsr61/nvsr61_01.pdf.

McKinney, C., Donnelly, R., & Renk, K. (2008). Perceived parenting, positive and negative perceptions of parents, and late adolescent emotional adjustment. Child and Adolescent Mental Health, 13, 66–73.

McKinney, C., Morse, M., & Pastuszak, J. (2016). Effective and ineffective parenting: Associations with psychological adjustment in emerging adults. Journal of Family Issues, 37, 1203–1225.

McKinney, C., & Renk, K. (2008). Differential parenting between mothers and fathers: Implications for late adolescents. Journal of Family Issues, 29, 806–827.

McKinney, C., Walker, C., & Kwan, J. (2016). Mother-father dyad conflict strategy clusters: Implications for emerging adults. Journal of Interpersonal Violence, 10.1177/0886260516683177

McLoyd, V. C. (1998). Socioeconomic disadvantage and child development. American Psychologist, 53, 185–204.

Mollborn, S., & Blalock, C. (2012). Consequences of teen parents' child‐care arrangements for mothers and children. Journal of Marriage and Family, 74, 846–865.

Newport, F. (2012). Mississippi is most religious state; Vermont and New Hampshire are the least religious states. Gallup. Retrieved from http://www.gallup.com/poll/153479/Mississippi-Religious-State.aspx.

Paulussen-Hoogeboom, M. C., Stams, G. M., Hermanns, J. A., Peetsma, T. D., & van den Wittenboer, G. H. (2008). Parenting style as a mediator between children's negative emotionality and problematic behavior in early childhood. The Journal of Genetic Psychology: Research and Theory on Human Development, 169, 209–226.

Pettit, G. S., Bates, J. E., & Dodge, K. A. (1997). Supportive parenting, ecological context, and children's adjustment: A seven-year longitudinal study. Child Development, 68, 908–923.

Rescorla, L., & Achenbach, T. (2004). The Achenbach system of empirically based assessment (ASEBA) for ages 18 to 90 years. The use of psychological testing for treatment planning and outcomes assessment: Volume 3: Instruments for adults. 3rd edn. Mahwah, NJ: Lawrence Erlbaum Associates Publishers 115–152.

Rodriguez, C. M. (2010). Parent-child aggression: Association with child abuse potential and parenting styles. Violence and Victims, 25, 728–741.

Sharma, M., Sharma, N., & Yadava, A. (2011). Parental styles and depression among adolescents. Journal of the Indian Academy of Applied Psychology, 37, 60–68.

Sommer, K. S., Whitman, T. L., Borkowski, J. G., Gondoli, D. M., Burke, J., Maxwell, S. E., & Weed, K. (2000). Prenatal maternal predictors of cognitive and emotional delays in children of adolescent mothers. Adolescence, 35, 87–112.

Sorkhabi, N. (2005). Applicability of Baumrind's parent typology to collective culture: Analysis of cultural explanations of parent socialization effects. International Journal of Behavioral Development, 29, 552–563.

Steinberg, L., Blatt-Eisengart, I., & Cauffman, E. (2006). Patterns of competence and adjustment among adolescents from authoritative, authoritarian, indulgent, and neglectful homes: A replication in a sample of serious juvenile offenders. Journal of Research on Adolescence, 16, 47–58.

Straus, M. A., Hamby, S. L., Finkelhor, D., Moore, D. W., & Runyan, D. (1998). Identification of child maltreatment with the parent-child conflict tactics scales: Development and psychometric data for a national sample of American parents. Child Abuse and Neglect, 22, 249–270.

Student Life Diversity. (2016, November). Retrieved from www.collegefactual.com.

Taylor, J. A. (1953). A personality scale of manifest anxiety. The Journal of Abnormal and Social Psychology, 48, 285–290.

United States Census Bureau. (2012). Educational attainment by state: 1990 to 2009 (Table 233). Retrieved from the United States Census Bureau website: http://www.census.gov/compendia/statab/2012/tables/12s0233.pdf.

Wang, M., & Zhang, Y. (2012). Relationship between preschoolers' anxiety and parenting styles: A longitudinal study. Chinese Journal of Clinical Psychology, 20, 49–52.

Yahav, R. (2006). The relationship between children's and adolescents' perceptions of parenting style and internal and external symptoms. Child: Care, Health, and Development, 33, 460–471.

Yeung, W. J., Sandberg, J. F., Davis-Kean, P. E., & Hofferth, S. L. (2001). Children's time with fathers in intact families. Journal of Marriage and Family, 63, 136–154.
Author Contributions
C.M.: conceived of and designed the study, conducted analyses, assisted with the literature review, and wrote the discussion. K.B.: wrote the literature review and assisted with analyses and discussion.
Ethics declarations
Conflict of Interest
The authors declare that they have no competing interests.
Ethical Approval
All procedures performed in studies involving human participants were in accordance with the ethical standards of the institutional and/or national research committee and with the 1964 Helsinki declaration and its later amendments or comparable ethical standards. This article does not contain any studies with animals performed by any of the authors.
Informed Consent
Informed consent was obtained from all individual participants included in the study.
About this article
Cite this article
McKinney, C., Brown, K.R. Parenting and Emerging Adult Internalizing Problems: Regional Differences Suggest Southern Parenting Factor. J Child Fam Stud 26, 3156–3166 (2017). https://doi.org/10.1007/s10826-017-0749-x
Published:

Issue Date:

DOI: https://doi.org/10.1007/s10826-017-0749-x
Keywords
Emerging adulthood

Region

Parenting

Internalizing

Discipline

Southern