Abstract
The purpose of this study was to identify preventive effects of the Incredible Years (IY) teacher classroom management (TCM) programme, which is employed in Norwegian kindergartens for 3-year-old to 6-year-old children. IY TCM is a universal preventive intervention intended to reduce the frequency of inappropriate types of behaviour and support children's social- and emotional competence in kindergartens and schools. IY TCM was implemented in 46 kindergartens and compared to 46 matched kindergartens that did not receive the intervention. A total of 1049 children took part in the trial, 511 from the IY TCM group and 538 from the comparison group. Children's behaviours were measured using well-validated instruments at the beginning and end of a school-year cycle, approximately 9 months later. Findings showed promising reductions in aggression, internalising and attention problems, and increases in social competence in the IY TCM kindergartens. In a sub-sample comprising children who scored equal to or above the 90th percentile on aggressive behaviour before the intervention, promising developments were found in social competence among the children in IY TCM kindergartens. The IY TCM lead to promising preventive effects in young children's aggressive behaviours, internalisation, attention problems, and social competence in kindergartens in Norway. However, even if the changes were statistically significant, effect sizes were small. For children with severe behaviour problems, few positive results were found.
This is a preview of subscription content, log in to check access.
Access options
Buy single article
Instant access to the full article PDF.
US$ 39.95
Price includes VAT for USA
Subscribe to journal
Immediate online access to all issues from 2019. Subscription will auto renew annually.
US$ 99
This is the net price. Taxes to be calculated in checkout.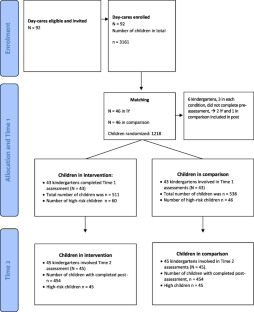 References
Achenbach, T. M., & Rescorla, L. A. (2000). Manual for the ASEBA preschool forms & profiles. Burlington, VT: University of Vermont, Research Center for Children, Youth, & Families.

American Psychiatric Association [APA]. (2013). Diagnostic and statistical manual of mental disorders. Fifth edition. Arlington, VA: American Psychiatric Association.

Baker-Henningham, H., Scott, S., Jones, K., & Walker, S. (2012). Reducing child conduct problems and promoting social skills in a middle-income country: Cluster randomised controlled trial. British Journal of Psychiatry, 201, 101–108. doi:10.1192/bjp.bp.111.096834.

Burke, J. D., Loeber, R., & Birmaher, B. (2002). Oppositional defiant disorder and conduct disorder: A review of the past 10 years, part II. Journal of the American Academy of Child and Adolescent Psychiatry, 41, 1275–1293. doi:10.1097/00004583-200211000-00009.

Campbell, S. B., & Ewing, L. J. (1990). Follow-up of hard-to-manage preschoolers: Adjustment at age 9 and predictors of continuing symptoms. Journal of Child Psychiatry & Psychology, 31, 871–889. doi:10.1111/j.1469-7610.1990.tb00831.x.

Carlson, K. D., & Schmidt, F. L. (1999). Impact of experimental design on effect size: Findings from the research literature on training. Journal of Applied Psychology, 84, 851–862.

Cohen, J. (1988). Statistical power analysis for the behavioral sciences. 2nd Edition Hillsdale, NJ: Lawrence Erlbaum.

Denham, S. A., Blair, K. A., DeMulder, E., Levitas, J., Sawer, K., Auerbach-Major, S., & Queenan, P. (2003). Preschool emotional competence: Pathway to social competence? Child Development, 73, 238–256. doi:10.1111/1467-8624.00533.

Durlak, J. A., Weissberg, R. P., Dymnicki, A. B., Taylor, R. D., & Schellinger, K. B. (2011). The impact of enhancing students' social and emotional learning: A meta-analysis of school-based universal interventions. Child Development, 82, 405–432. doi:10.1111/j.1467-8624.2010.01564.x.

Eyberg, S. M., & Pincus, D. (1999). Eyberg child behavior inventory (ECBI) & Sutter-Eyberg student behavior inventory-revised (SESBI-R). Lutz, FL: Psychological Assessment Resources.

Gottferdson, D. C., & Gottfredson, G. D. (2002). Quality of school-based prevention programs: Results from a national survey. Journal of Research in Crime and Delinquency, 39, 3–35. doi:10.1037/0012-1649.39.2.189.

Greenberg, M. T., Domitreovich, C., & Bumbarger, B. (2001). The prevention of mental disorders in school-aged children: Current state of the field. Prevention & Treatment, 4, 1–63.

Hedges, L. V. (2007). Effect sizes in cluster randomized designs. Journal of Educational and Behavioral Statistics, 32, 341–370.

Humphries, M. L., & Keenan, K. E. (2006). Theoretical, developmental & cultural orientations of school-based prevention programs for preschoolers. Clinical Child & Family Psychology Review, 9, 135–148. doi:10.1007/s10567-006-0005-1.

Humphries, M. L., Keenan, K. E., & Wakschlag., L. S. (2012). Teacher and observer ratings of young African American children's social and emotional competence. Psychology in the Schools, 49, 311–327. doi:10.1002/pits.21604.

Hutchings, J., Martin-Forbes, P., Daley, D., & Williams, M. E. (2013). A randomized controlled trial of the impact of a teacher classroom management program on the classroom behavior of children with and without behavior problems. Journal of School Psychology, 51, 571–585. doi:10.1016/j.jsp.2013.08.001.

Ialongo, N. S., Werthamer, L., Kellam, S. G., Brown, C. H., Wang, S., & Lin, Y. (1999). Proximal impact of two first-grade preventive interventions on the early risk behaviors for later substance abuse, depression, and antisocial behavior. American Journal of Community Psychology, 27, 599–641. doi:10.1023/A:1022137920532.

Keane, S. P., & Calkins, S. D. (2004). Predicting kindergarten peer social status from toddler and preschool problem behavior. Journal of Abnormal Child Psychology, 32, 409–432. doi:10.1023/B:JACP.0000030294.11443.41.

Kirkhaug, B., Drugli, M. B., Mørch, W.-T., & Handegård, B. H. (2012). Teacher report of children's problem behavior on the Sutter-Eyberg student behavior inventory-revised (SESBI-R) in a Norwegian sample of preschool and school children. Scandinavian Journal of Educational Research, 56, 139–153. doi:10.1080/00313831.2011.568672.

Kunter, M., Baumert, J., & Koller, O. (2007). Effective classroom management and the development of subject-related interest. Learning and Instruction, 17, 494–509. doi:10.1016/j.learninstruc.2007.09.002.

LaFreniere and Dumas. (1995). Social competence and behavior evaluation. Los Angeles: Western Psychological Services.

Lösel, F., Stemmler, M., & Bender, D. (2013). Long-term evaluation of a bimodal universal prevention program: Effects on antisocial development from kindergarten to adolescence. Journal of Experimental Criminology, 9, 429–449. doi:10.1007/s11292-013-9192-1.

Morris, S. B. (2008). Estimating effect sizes from pretest-posttest-control group designs. Organizational Research Methods, 11(2), 364–386.

Normandeau, S., & Guay, F. (1999). Preschool behavior and first-grade school-achivement: The mediational role of cognitive self-control. Journal of Educational Psychology, 90, 111–121. doi:10.1037/0022-0663.90.1.111.

Odgers, C. L., Moffitt, T. E., Broadbent, J. M., Dickson, N., Hancox, R. J., Harrington, H. …, & Caspi, A. (2008). Female and male antisocial trajectories: From childhood origins to adult outcomes. Development and Psychopathology, 20, 673–716. doi:10.1017/S0954579408000333.

Raver, C.C., & Knitzer, J. (2002). Ready to enter: What research tells polic ymakers about strategies to promote social and emotional school readiness among three- and four-year-olds. National Center for Children in Poverty. Colombia University. Mailman School of Public Health, NY, USA.

Sabol, T. J., & Pianta, R. C. (2012). Recent trends in research on teacher–child relationships. Attachment & Human Development, 14, 213–231.

Scott, S., Knapp, M., Henderson, J., & Maughan, B. (2001). Financial cost of social exclusion: follow-up study of antisocial children into adulthood. British Medical Journal, 323, 1–5.

Shaw, D. S., Gilliom, M., Ingoldsby, E. M., & Nagin, D. S. (2003). Trajectories leading to school-age conduct problems. Developmental Psychology, 39, 189–200. doi:10.1037/0012-1649.39.2.189.

Singer, J. D., & Willett, J. B. (2003). Applied longitudinal data analysis: Modeling change and event occurrence. New York: Oxford University Press.

Statistics Norway (2016). http://www.ssb.no/utdanning/statistikker/barnehager. Retrieved 20 April 2016.

Webster-Stratton, C. (2011). Promoting positive academic and social behaviors. The teachers and children series. A video-based course. Lederveiledning. Norwegian edition. Unpublished.

Webster-Stratton, C., & Herman, K. C. (2010). Disseminating incredible years series early-intervention programs: Integrating and sustaining services between school and home. Psychology in Schools, 47, 36–54. doi:10.1002/pits.20450.

Webster-Stratton, C., & Reid, M. J. (2004). Strengthening social and emotional competence in young children—the foundation for early school readiness and success incredible years classroom social skills and problem-solving curriculum. Infants and Young Children, 17(2), 96–113.

Webster-Stratton, C., Reid, M. J., & Stoolmiller, M. (2008). Preventing conduct problems and improving school readiness: Evaluation of the incredible years teacher and child training Programs in high-risk schools. Journal of Child Psychology & Psychiatry, 49, 471–488. doi:10.1111/j.1469-7610.2007.01861.x.

Wichstrøm, L., Berg-Nielsen, T. S., Angold, A., Egger, H. L., Solheim, E., & Sveen, T. H. (2012). Prevalence of psychiatric disorders in preschoolers. Journal of Child Psychology and Ppsychiatry, and allied disciplines, 53, 695–705. doi:10.1111/j.1469-7610.2011.02514.x.

Witvliet, M., van Lier, P. A. C., Cuijpers, P., & Koot, H. M. (2009). Testing links between childhood positive peer relations and externalizing outcomes through a randomized controlled intervention study. Journal of Consulting and Clinical Psychology, 77, 905–915. doi:10.1037/a0014597.
Acknowledgements
The authors wish to thank Professor Willy-Tore Mørch for his contribution to the study design, Anne-Kari Johnsen, Merete Aasheim and Oddbjørn Løndal for acquisition of data, parents for their willingness to participate, and the kindergarten teachers for completing data.
Funding
The study was supported by the Norwegian Directorate of Health following the implementation of IY TCM in Norway. The Directorate was not involved in any part of the study, including the design of the study, collection of data, analyses of the data or interpretation of the findings.
Ethics declarations
Conflict of Interests
The Incredible Years is a trademark owned by The Incredible Years, Inc. The authors declare that they have no competing interests.
Ethical Approval
All procedures performed in studies involving human participants were in accordance with the ethical standards of the institutional and/or national research committee and with the 1964 Helsinki declaration and its later amendments or comparable ethical standards.
Informed Consent
Informed consent was obtained from all individual participants included in the study.
About this article
Cite this article
Fossum, S., Handegård, B.H. & Britt Drugli, M. The Incredible Years Teacher Classroom Management Programme in Kindergartens: Effects of a Universal Preventive Effort. J Child Fam Stud 26, 2215–2223 (2017). https://doi.org/10.1007/s10826-017-0727-3
Keywords
The Incredible years

Universal prevention

Kindergartens

Aggressive behaviour

Social competence