Abstract
This study aims to identify the risk and protective factors most associated with cognitive/language and socio-emotional development of vulnerable children receiving preventive or protective services. 185 children at Time 1 and 161 children at Time 2 (post-test) were recruited from child preventive and child protective services. Child functioning, family and community environment, and parent–child relationship were evaluated. Bivariate then multivariate analyses were performed based on the results obtained in the initial analyses; a set of multiple regressions formed the basis of path analyses for each of the dependent variables. Data from the second measurement time were used mainly for sample replication. Parental stress and child abuse potential were negatively related to the children's socio-emotional development. Parental stress was also negatively related to cognitive/language development. The quality of the home environment was positively associated with the children's cognitive/language and socio-emotional development. Socio-economic risk and social support were not directly associated with outcomes. However, socio-economic risk was inversely related to the quality of the home environment, whereas social support seemed to act as a moderator of child abuse potential and the quality of the home environment. These trends were mostly confirmed at Time 2. The decrease in parental risk factors between Times 1 and 2 was associated with an improvement in socio-emotional development, whereas improvement in the quality of the home environment was associated with better performance in cognitive/language tests. Results suggest the importance of taking action at several systemic levels to improve the development of vulnerable children.
Access options
Buy single article
Instant access to the full article PDF.
USD 39.95
Price excludes VAT (USA)
Tax calculation will be finalised during checkout.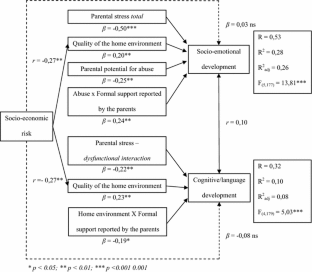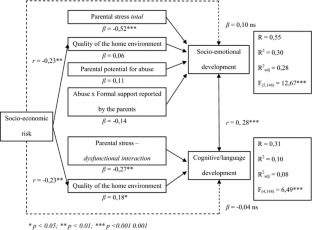 References
Abidin, R. R. (1983). Parenting stress index. Charlottesville, VA: Pediatric Psychology Press.

Abidin, R. R. (2012). Parenting stress index (4th ed.). Odessa, FL: Psychological Assessment Resources.

Achenbach, T. M., & Rescorla, L. (2000). Manual for the ASEBA preschool forms & profiles. Burlington, VT: University of Vermont, Research Center for Children, Youth, & Families.

Achenbach, T. M., & Rescorla, L. (2001). Manual for the ASEBA school-age forms & profiles. Burlington, VT: University of Vermont, Research Center for Children, Youth, & Families.

Aldgate, J., Jones, D., Rose, W., & Jeffery, C. (2006). The developing world of the child. London, United Kingdom: Jessica Kingsley.

Appleyard, K., Egeland, B., Van Dulmen, M. H. M., & Sroufe, L. A. (2005). When more is not better: The role of cumulative risk in child behavior outcomes. Journal of Child Psychology and Psychiatry and Allied Disciplines, 46(3), 235–245.

Barth, R. P., Green, R., Webb, M. B., Wall, A., Gibbons, C., & Craig, C. (2008). Characteristics of out-of-home caregiving environments provided under child welfare services. Child Welfare, 87(3), 5–39.

Bigras, M., Lafreniere, P. J., & Abidin, R. R. (1996). Indice de stress parental: Manuel francophone en complément à l'édition américaine. Toronto, Canada: Multi-Health Systems.

Bradley, R. H., Corwyn, R. F., McAdoo, H. P., & García Coll, C. (2001). The home environments of children in the United States Part I: Variations by age, ethnicity, and poverty status. Child Development, 72(6), 1844–1867.

Bronfenbrenner, U. (1976). The experimental ecology of education. Teachers College Record, 78(2), 157–204.

Bronfenbrenner, U. (1986). Recent advances in the ecology of human development. In R. K. Silbereisen, K. Eyferth, & G. Rudinger (Eds.), Development as action in context: Problem behavior and normal youth development. Berlin, Germany: Springer.

Bronfenbrenner, U. (1996). Le modèle "processus- personne- contexte- temps" dans la recherche en psychologie du développement: Principes, applications et implications. In R. Tessier & G. M. Tarabulsy (Eds.), Le modèle écologique dans l'étude du développement de l'enfant (pp. 9–59). Sainte-Foy, Canada: Presses de l'Université du Québec.

Bronfenbrenner, U. (2001). The bioecological theory of human development. In N. Smelser & P. Baltes (Eds.), International encyclopedia of the social and behavioral sciences (Vol. 10, pp. 6963–6970). New York, NY: Elsevier.

Bronfenbrenner, U. (2005). Making human beings human: Bioecological perspectives on human development. Thousand Oaks, CA: Sage Publications.

Caldwell, B. M., & Bradley, R. H. (1984). HOME observation for measurement of the environment. Little Rock, AR: University of Arkansas at Little Rock.

Caldwell, B. M., & Bradley, R. H. (2003). HOME observation for measurement of the environment: Administration manual. Little Rock, AR: University of Arkansas.

Campbell, K. A., Cook, L. J., LaFleur, B. J., & Keenan, H. T. (2010). Household, family, and child risk factors after an investigation for suspected child maltreatment: A missed opportunity for prevention. Archives of Pediatrics and Adolescent Medicine, 164(10), 943–949. doi:10.1080/15374418209533076.

Campbell, K. A., Thomas, A. M., Cook, L. J., & Keenan, H. T. (2012). Longitudinal experiences of children remaining at home after a first-time investigation for suspected maltreatment. Journal of Pediatrics, 161(2), 340–347. doi:10.1016/j.jpeds.2012.02.039.

Carter, V., & Myers, M. R. (2007). Exploring the risks of substantiated physical neglect related to poverty and parental characteristics: A national sample. Children and Youth Services Review, 29(1), 110–121.

Casanueva, C. E., Cross, T. P., & Ringeisen, H. (2008). Developmental needs and individualized family service plans among infants and toddlers in the child welfare system. Child Maltreatment, 13(3), 245–258. doi:10.1177/1077559508318397.

Chamberlain, P., Price, J. M., Reid, J. B., Landsverk, J., Fisher, P. A., & Stoolmiller, M. (2006). Who disrupts from placement in foster and kinship care? Child Abuse and Neglect, 30(4), 409–424. doi:10.1016/j.chiabu.2005.11.004.

Chamberland, C., Lacharité, C., Bouchard, V., & Lessard, D. (2010, September). Characteristics of children and families receiving preventive and protective services. Paper presented at the XVIII ISPCAN International Congress on Child Abuse and Neglect, Honolulu, Hawaii.

Chamberland, C., Lacharité, C., Lessard, D., Lemay, L., Dufour, S., Clément, M.-È., … & Plourde, S. (2013). Framework for the Assessment of Children in Needs and their Families: Adaptation, Implementation and Evaluation in Québec. Manuscript submitted for publication.

Chamberland, C., Lessard, D., Lacharité, C., Dufour, S., Lemay, L., Clément, M.-E., … & Paré, C. (2012). Recherche évaluative de l'initiatives AIDES: Rapport final présenté à la Stratégie nationale de prévention du crime du gouvernement du Canada (SNCP), en collaboration avec le ministère de la Sécurité publique du Québec (pp. 331). Montréal, Canada: Université de Montréal.

Chazan-Cohen, R., Raikes, H., Brooks-Gunn, J., Ayoub, C., Pan, B. A., Kisker, E. E., … & Fuligni, A. S. (2009). Low-income children's school readiness: Parent contributions over the first five years. Early Education and Development, 20(6), 958–977.

Clément, M.-È., Bernèche, F., Chamberland, C., & Fontaine, C. (2012). La violence familiale dans la vie des enfants du Québec. Retrieved from http://www.stat.gouv.qc.ca/publications/conditions/pdf2013/violence-fam.pdf

Cole, S. A. (2005). Foster caregiver motivation and infant attachment: How do reasons for fostering affect relationships? Child and Adolescent Social Work Journal, 22(5–6), 441–457.

Crittenden, P. M. (2008). Raising parents: Attachment, parenting and child safety. Portland, OR: Willan Pub.

Currie, J., & Widom, C. S. (2010). Long-term consequences of child abuse and neglect on adult economic well-being. Child Maltreatment, 15(2), 111–120. doi:10.1177/1077559509355316.

Department of Health. (2000). Framework for the assessment of children in need and their Families. Retrieved from http://www.dh.gov.uk/en/Publicationsandstatistics/Publications/PublicationsPolicyAndGuidance/DH_4003256

Drake, B., Jonson-Reid, M., Way, I., & Chung, S. (2003). Substantiation and recidivism. Child Maltreatment, 8(4), 248–260. doi:10.1177/1077559503258930.

Dubowitz, H., & Bennett, S. (2007). Physical abuse and neglect of children. Lancet, 369(9576), 1891–1899.

Dunn, L. M., & Dunn, L. M. (1981). Peabody picture vocabulary test, revised. Circle Pines, MN: American Guidance Service.

Dunn, L. M., Thériault-Whalen, C. M., & Dunn, L. M. (1993). Échelle de vocabulaire en image Peabody-adaptation française du Peabody picture vocabulary test-revised. Toronto, Canada: Psycan.

Dunst, C. J., Jenkins, V., & Trivette, C. M. (1994). Family needs scale. In C. J. Dunst, C. M. Trivette & A. G. Deal (Eds.), Supporting and strengthening families: Vol. 1. Methods, strategies and practices. Cambridge, MA: Brookline Books.

Dunst, C. J., Trivette, C. M., & Hamby, D. W. (2006). Technical manual for measuring and evaluating family support program quality and benefits. Ashville, NC: Winterberry Press.

English, D. J., Upadhyaya, M. P., Litrownik, A. J., Marshall, J. M., Runyan, D. K., Graham, J. C., … & Dubowitz, H. (2005). Maltreatment's wake: the relationship of maltreatment dimensions to child outcomes. Child Abuse and Neglect, 29(5 SPEC. ISS.), 597–619. doi:10.1016/j.chiabu.2004.12.008

Éthier, L. S., Lemelin, J. P., & Lacharité, C. (2004). A longitudinal study of the effects of chronic maltreatment on children's behavioral and emotional problems. Child Abuse and Neglect, 28(12), 1265–1278. doi:10.1016/j.chiabu.2004.07.006.

Finkelhor, D., Ormrod, R., Turner, H., & Hamby, S. L. (2005). The victimization of children and youth: A comprehensive, national survey. Child Maltreatment, 10(1), 5–25. doi:10.1177/1077559504271287.

Gilbert, R., Kemp, A., Thoburn, J., Sidebotham, P., Radford, L., Glaser, D., … & MacMillan, H. L. (2009). Recognising and responding to child maltreatment. The Lancet, 373(9658), 167–180. doi:http://dx.doi.org/10.1016/S0140-6736(08)61707-9

Gilbert, R., Widom, C. S., Browne, K., Fergusson, D., Webb, E., & Janson, S. (2009b). Burden and consequences of child maltreatment in high-income countries. The Lancet, 373(9657), 68–81. doi:10.1016/s0140-6736(08)61706-7.

Harden, B. J., & Whittaker, J. V. (2011). The early home environment and developmental outcomes for young children in the child welfare system. Children and Youth Services Review, 33(8), 1392–1403. doi:10.1016/j.childyouth.2011.04.009.

Haskett, M. E., Ahern, L. S., Ward, C. S., & Allaire, J. C. (2006). Factor structure and validity of the parenting stress index-short form. Journal of Clinical Child and Adolescent Psychology, 35(2), 302–312. doi:10.1207/s15374424jccp3502_14.

Hussey, J. M., Marshall, J. M., English, D. J., Knight, E. D., Lau, A. S., Dubowitz, H., … & Kotch, J. B. (2005). Defining maltreatment according to substantiation: Distinction without a difference? Child Abuse and Neglect, 29(5 SPEC. ISS.), 479–492. doi:10.1016/j.chiabu.2003.12.005

Jaffee, S. R. (2007). Sensitive, stimulating caregiving predicts cognitive and behavioral resilience in neurodevelopmentally at-risk infants. Development and Psychopathology, 19(3), 631–647. doi:10.1017/s0954579407000326.

Jonson-Reid, M., Kohl, P. L., & Drake, B. (2012). Child and adult outcomes of chronic child maltreatment. Pediatrics, 129(5), 839–845.

Kendall-Tackett, K. A., & Giacomoni, S. (2005). Child victimization. Kingston, NJ: Civic Research Institute.

Kohl, P. L., Jonson-Reid, M., & Drake, B. (2009). Time to leave substantiation behind: Findings from a national probability study. Child Maltreatment, 14(1), 17–26. doi:10.1177/1077559508326030.

Kotch, J. B., & Thomas, L. P. (1986). Family and social factors associated with substantiation of child abuse and neglect reports. Journal of Family Violence, 1(2), 167–179. doi:10.1007/bf00977251.

Kyte, A., Chamberland, C., Bouchard, V. (submitted). Characteristics of children receiving community versus child protection services. Canadian Social Work Review.

Lacharité, C. (1996). Inventaire de soutien familial, version française. Document interne: GREDEF, Université du Québec à Trois-Rivières.

Lacharité, C. (2011). Approche participative avec les parents en contexte d'autorité: Une brève introduction. In M. Boutanquoi (Ed.), Interventions sociales auprès de familles en situation de précarité (pp. 63–72). Paris, France: L'Harmattan.

Lacharité, C., de Montigny, F., Miron, J. M., Devault, A., Larouche, H., & Desmet, S. (2005). Les services offerts aux familles à risque ou en difficulté: Modèles conceptuels, stratégies d'action et réponses aux besoins des parents. Trois-Rivières, Canada: GREDEF/UQTR.

Lacharité, C., Éthier, L. S., & Couture, G. (1999). Sensibilité et spécificité de l'indice de stress parental face à des situations de mauvais traitements d'enfants. Canadian Journal of Behavioural Science, 31(4), 217–220.

Lacharité, C., Éthier, L. S., & Nolin, P. (2006). Vers une theorie ecosystemique de la negligence envers les enfants. Bulletin de Psychologie, 59(4), 381–394.

Leiter, J., Myers, K. A., & Zingraff, M. T. (1994). Substantiated and unsubstantiated cases of child maltreatment: Do their consequences differ? Social Work Research, 18(2), 67–82.

Lemelin, J.-P., & St-Laurent, D. (2002). Traduction révisée du CBCL pour l'ASEBA School-Age Forms. Trois-Rivières, Canada: Université du Québec à Trois-Rivières.

McKenzie, K., Scott, D., Fraser, J. A., & Dunne, N. P. (2011). Assessing the concordance of health and child protection data for 'maltreated' and 'unintentionally injured' children. Injury Prevention,. doi:10.1136/ip.2011.031849.

Milner, J. S. (1986). The Child Abuse Potential inventory: Manual. Webster, N.C: Psytec.

Milner, J. S. (1994). Assessing physical child abuse risk: The child abuse potential inventory. Clinical Psychology Review, 14(6), 547–583. doi:10.1016/0272-7358(94)90017-5.

Mistry, R. S., Lowe, E. D., Benner, A. D., & Chien, N. (2008). Expanding the family economic stress model: Insights from a mixed-methods approach. Journal of Marriage and Family, 70(1), 196–209.

Moreau, J., Chamberland, C., Oxman Martinez, J., Roy, C., Léveillé, S., Laporte, L., & Tabakian, N. (2001). Transmission intergénérationnelle de la maltraitance: Étude des liens entre les facteurs de protection et les facteurs de risque auprès d'une population de mères en difficulté: Rapport d'activités scientifiques. Retrieved from http://www.centrejeunessedemontreal.qc.ca/recherche/PDF/Publications/19-X.pdf

Mueller, S., Maheu, F., Dozier, M., Peloso, E., Mandell, P., & Leibenluft, E. (2010). Early life stress is associated with impairment in cognitive control in adolescence: An fMRI study. Neuropsychologia, 48(10), 3037–3044.

Nikulina, V., Widom, C. S., & Czaja, S. (2011). The Role of Childhood Neglect and Childhood Poverty in Predicting Mental Health, Academic Achievement and Crime in Adulthood. American Journal of Community Psychology, 48(3–4), 309–321.

Park, J. M., Fertig, A. R., & Allison, P. D. (2011). Physical and mental health, cognitive development, and health care use by housing status of low-income young children in 20 American cities: A prospective cohort study. American Journal of Public Health, 101(S1), 255–261. doi:10.2105/ajph.2010.300098.

Peirson, L., Laurendeau, M.-C., & Chamberland, C. (2001). Context, contributing factors, and consequences. In I. Prilleltensky, G. B. Nelson, & L. Peirson (Eds.), Promoting family wellness and preventing child maltreatment: Fundamentals for thinking and action (pp. 419–448). Toronto, Canada: University of Toronto Press.

Pomerleau, A., Vézina, N., Moreau, J., Malcuit, G., & Séguin, R. (2005). Guide d'utilisation de la grille d'évaluation du développement de l'enfant de 0 à 5 ans (GED). Montréal, Canada: Centre de liaison sur l'intervention et la prévention psychosociales (CLIPP).

Putnam-Hornstein, E., & Needell, B. (2011). Predictors of child protective service contact between birth and age five: An examination of California's 2002 birth cohort. Children and Youth Services Review, 33(11), 2400–2407.

Rijlaarsdam, J., Tiemeier, H., Hofman, A., Jaddoe, V. W. V., Mackenbach, J. P., Verhulst, F. C., & Stevens, G. W. J. M. (2012). Home environments of infants: Relations with child development through age 3. Journal of Epidemiology and Community Health,. doi:10.1136/jech-2012-200987.

Sameroff, A. J. (2009). The transactional model of development: How children and contexts shape each other. Washington, DC: American Psychological Association.

Slack, K. S., Berger, L. M., DuMont, K., Yang, M. Y., Kim, B., Ehrhard-Dietzel, S., & Holl, J. L. (2011). Risk and protective factors for child neglect during early childhood: A cross-study comparison. Children and Youth Services Review, 33(8), 1354–1363. doi:10.1016/j.childyouth.2011.04.024.

Stahmer, A. C., Hurlburt, M., Horwitz, S. M., Landsverk, J., Zhang, J., & Leslie, L. K. (2009). Associations between intensity of child welfare involvement and child development among young children in child welfare. Child Abuse and Neglect, 33(9), 598–611. doi:10.1016/j.chiabu.2008.07.008.

Stith, S. M., Liu, T., Davies, L. C., Boykin, E. L., Alder, M. C., Harris, J. M. … & Dees, J. E. M. E. G. (2009). Risk factors in child maltreatment: A meta-analytic review of the literature. Aggression and Violent Behavior, 14(1), 13–29. doi: 10.1016/j.avb.2006.03.006

Trocmé, N., Knoke, D., Fallon, B., & MacLaurin, B. (2009). Differentiating between substantiated, suspected, and unsubstantiated maltreatment in Canada. Child Maltreatment, 14(1), 4–16. doi:10.1177/1077559508318393.

Ward, H., Brown, R., Westlake, D., & Munro, E. R. (2010). Infants suffering, or likely to suffer, significant harm: A prospective longitudinal study. Retrieved from https://www.education.gov.uk/publications/RSG/AllPublications/Page1/DFE-RB053
About this article
Cite this article
Chamberland, C., Lacharité, C., Clément, MÈ. et al. Predictors of Development of Vulnerable Children Receiving Child Welfare Services. J Child Fam Stud 24, 2975–2988 (2015). https://doi.org/10.1007/s10826-014-0101-7
Published:

Issue Date:

DOI: https://doi.org/10.1007/s10826-014-0101-7
Keywords
Child development outcome

Protective factors

Risk factor

High risk children

Child

Maltreatment