Abstract
Overparenting involves the application of developmentally inappropriate parenting tactics that far exceed the actual needs of adolescents and emerging adults. Past research as well as elements of self-determination theory suggest that this type of parenting should be associated with greater child problems in relation to other people and a more critical family environment. These hypotheses were tested on 477 emerging adult child-parent dyads from 30 of the 50 United States who both completed self-report measures of overparenting and elements of a critical family environment. In addition, emerging adults completed self-reports of problems, primarily in relation to other people, and how they cope with them. Results of a structural equation model indicated that the child, but not parent, overparenting latent variable was strongly associated with reports of more child problems. Both the emerging adult child and parent overparenting latent variables were positively and significantly associated with the critical family environment latent variable. These results can be usefully explained by several postulates of self-determination theory and add to a growing literature pointing to the ill effects of overparenting when applied to emerging adults.
Access options
Buy single article
Instant access to the full article PDF.
USD 39.95
Price includes VAT (USA)
Tax calculation will be finalised during checkout.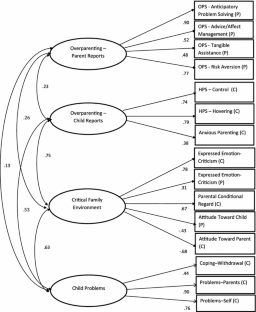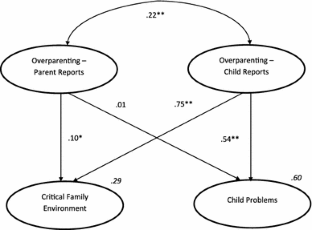 References
Burns, V. E., Drayson, M., Ring, C., & Carroll, D. (2002). Perceived stress and psychological well-being are associated with antibody status after meningitis C conjugate vaccination. Psychosomatic Medicine, 64, 963–970. doi:10.1097/01.PSY.0000038936.67401.28.

Cline, F. W., & Fay, J. (1990). Parenting with love and logic: Teaching children responsibility. Colorado Springs, CO: Pinon Press.

Deci, E. L., & Ryan, R. M. (2012). Self-determination theory. In P. A. M. Van Lange, A. W. Kruglanski, & E. T. Higgins (Eds.), Handbook of theories of social psychology (Vol. 1, pp. 416–437). Thousand Oaks, CA: Sage.

Drake, K. L., & Ginsburg, G. S. (2011). Parenting practices of anxious and nonanxious mothers: A multi-method, multi-informant approach. Child and Family Behavior Therapy, 33, 299–321. doi:10.1080/07317107.2011.623101.

Giuli, C. A., & Hudson, W. W. (1977). Assessing parent–child relationship disorders in clinical practice: The child's point of view. Journal of Social Service Research, 1, 77–92.

Givertz, M., & Segrin, C. (2012). The association between overinvolved parenting and young adults' self-efficacy, psychological entitlement, and family communication. Communication Research,. doi:10.1177/0093650212456392.

Gronlick, W. S., & Ryan, R. M. (1989). Parent styles associated with children's self-regulation and competence in school. Journal of Educational Psychology, 81, 143–154. doi:10.1037/0022-0663.81.2.143.

Hudson, W. W. (1992). Child Attitude Toward Father (CAF)/Child Attitude Toward Mother (CAM).The WALMYR assessment scales scoring manual. Tempe, AZ: WALMYR Publishing Company.

LeMoyne, T., & Buchanan, T. (2011). Does "hovering" matter? Helicopter parenting and its effect on well-being. Sociological Spectrum, 31, 399–418. doi:10.1080/02732173.2011.574038.

Locke, J., Campbell, M. A., & Kavanagh, D. J. (2012). Can a parent do too much for their child? An examination by parenting professionals of the concept of overparenting. Australian Journal of Guidance and Counselling, 22, 249–265. doi:10.1017/jgc.2012.29.

McDowell, T. L., & Serovich, J. M. (2007). The effect of perceived and actual social support on the mental health of HIV-positive person. AIDS Care, 19, 1223–1229. doi:10.1080/09540120701402830.

Miklowitz, D. J., Goldstein, M. J., Falloon, I. R. H., & Doane, J. A. (1984). Interactional correlates of expressed emotion in the families of schizophrenics. British Journal of Psychiatry, 144, 482–487. doi:10.1192/bjp.144.5.482.

Montgomery, N. (2010, May). The negative impact of helicopter parenting on personality. In Poster session presented at the annual meeting of the Association of Psychological Science, Boston, MA.

Munich, R. L., & Munich, M. A. (2009). Overparenting and the narcissistic pursuit of attachment. Psychiatric Annals, 39, 227–235. doi:10.3928/00485713-20090401-04.

Nelson, M. K. (2010). Parenting out of control: Anxious parenting in uncertain times. New York: New York University Press.

Rapee, R. M. (2009). Early adolescents' perceptions of their mother's anxious parenting as a predictor of anxiety symptoms 12 months later. Journal of Abnormal Child Psychology, 37, 1103–1112. doi:10.1007/s10802-009-9340-2.

Roth, G., Assor, A., Niemiec, C. P., Ryan, R. M., & Deci, E. L. (2009). The emotional and academic consequences of parental conditional regard: Comparing conditional positive regard, conditional negative regard, and autonomy support as parenting practices. Developmental Psychology, 45, 1119–1142. doi:10.1037/a0015272.

Ryan, R. M., & Deci, E. L. (2000). Self-determination theory and the facilitation of intrinsic motivation, social development, and well-being. American Psychologist, 55, 68–78. doi:10.1037/0003-066X.55.1.68.

Schiffrin, H. H., Liss, M., Miles-McLean, H., Geary, K. A., Erchull, M. J., & Tasher, T. (2012). Helping or hovering? The effects of helicopter parenting on college students' well-being. Journal of Child and Family Studies,. doi:10.1007/s10826-013-9716-3.

Segrin, C., Woszidlo, A., Givertz, M., Bauer, A., & Murphy, M. T. (2012). The association between overparenting, parent–child communication, and entitlement and adaptive traits in adult children. Family Relations, 61, 237–252. doi:10.1111/j.1741-3729.2011.00689.x.

Segrin, C., Woszidlo, A., Givertz, M., & Montgomery, N. (2013). Parent and child traits associated with overparenting. Journal of Social and Clinical Psychology, 32, 569–595. doi:10.1521/jscp.2013.32.6.569.

Seiffge-Krenke, I. (1995). Stress, coping, and relationships in adolescence. Mahwah, NJ: Lawrence Erlbaum Associates.

Seiffge-Krenke, I., Molinar, R., Ciariano, S., Menna, P., Michel, G., Hoareau, E., et al. (2010). Competence in coping with future-related stress in adolescents from France, Italy, Great Britain, and Germany. Journal of Happiness Studies, 11, 703–720. doi:10.1007/s10902-009-9157-2.

Shields, C. G., Franks, P., Harp, J. J., McDaniel, S. H., & Campbell, T. L. (1992). Development of the family emotional involvement and criticism scale (FEICS): A self-report scale to measure expressed emotion. Journal of Marital and Family Therapy, 18, 395–407. doi:10.1111/j.1752-0606.1992.tb00953.x.

Vaughn, C., & Leff, J. P. (1976). The measurement of expressed emotion in the families of psychiatric patients. British Journal of Clinical and Social Psychology, 15, 157–165. doi:10.1111/j.2044-8260.1976.tb00021.
About this article
Cite this article
Segrin, C., Givertz, M., Swaitkowski, P. et al. Overparenting is Associated with Child Problems and a Critical Family Environment. J Child Fam Stud 24, 470–479 (2015). https://doi.org/10.1007/s10826-013-9858-3
Keywords
Overparenting

Helicopter parenting

Anxious parenting

Expressed emotion

Coping