Abstract
Parental involvement is related to many positive child outcomes, but if not developmentally appropriate, it can be associated with higher levels of child anxiety and depression. Few studies have examined the effects of over-controlling parenting, or "helicopter parenting," in college students. Some studies have found that college students of over-controlling parents report feeling less satisfied with family life and have lower levels of psychological well-being. This study examined self-determination theory as the potential underlying mechanism explaining this relationship. College students (N = 297) completed measures of helicopter parenting, autonomy supportive parenting, depression, anxiety, satisfaction with life, and basic psychological needs satisfaction. Students who reported having over-controlling parents reported significantly higher levels of depression and less satisfaction with life. Furthermore, the negative effects of helicopter parenting on college students' well-being were largely explained by the perceived violation of students' basic psychological needs for autonomy and competence.
This is a preview of subscription content, log in to check access.
Access options
Buy single article
Instant access to the full article PDF.
US$ 39.95
Price includes VAT for USA
Subscribe to journal
Immediate online access to all issues from 2019. Subscription will auto renew annually.
US$ 99
This is the net price. Taxes to be calculated in checkout.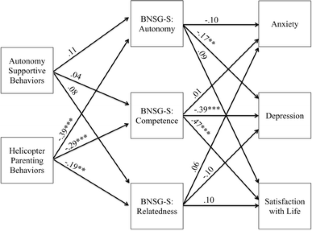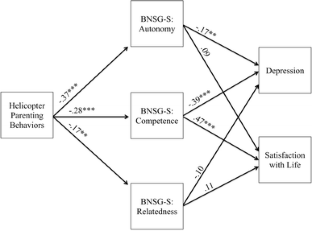 References
Aunola, K., & Nurmi, J. E. (2005). The role of parenting styles in children's problem behavior. Child Development, 76, 1144–1159.

Barber, B. K., Olsen, J. E., & Shagle, S. C. (1994). Associations between parental psychological and behavioral control and youth internalized and externalized behaviors. Child Development, 65, 1120–1136. doi:10.2307/1131309.

Bayer, J. K., Sanson, A. V., & Hemphill, S. A. (2006). Parent influences on early childhood internalizing difficulties. Journal of Applied Developmental Psychology, 27, 542–559. doi:10.1016/j.appdev.2006.08.002.

Bronson, P., & Merryman, A. (2009). Nurture shock: New thinking about children. New York, NY: Twelve.

Cicchetti, D., & Toth, S. (1998). The development of depression in children and adolescents. American Psychologist, 53, 221–241. doi:10.1037/0003-066X.53.2.221.

Cline, F. W., & Fay, J. (1990). Parenting with love and logic: Teaching children responsibility. Colorado Springs, CO: Pinon Press.

Cohen, J., Cohen, P., West, S. G., & Aiken, L. S. (2003). Applied multiple regression/correlation analysis for the behavioral sciences (3rd ed.). Mahwah, NJ: Lawrence Erlbaum Associates.

Combs-Orme, T., Wilson, E., Cain, D. S., Page, T., & Kirby, L. D. (2003). Context-based parenting in infancy. Child and Adolescent Social Work Journal, 20, 437–472. doi:10.1023/B:CASW.0000003138.32550.a2.

Costell, A. B., & Osborne, J. W. (2005). Best practices in exploratory factor analysis: four recommendations for getting the most from your analysis. Practical Assessment Research & Evaluation, 10. Available online: http://pareonline.net/getvn.asp?v=10&n=7.

Day, R. D., & Padilla-Walker, L. M. (2009). Mother and father connectedness and involvement during early adolescence. Journal of Family Psychology, 23, 900–904. doi:10.1037/a0016438.

De Kemp, R. A. T., Scholte, R. H. J., Overbeek, G., & Engels, R. C. M. E. (2006). Early adolescent delinquency: The role of parents and best friends. Criminal Justice and Behavior, 33, 488–510. doi:10.1177/0093854806286208.

Deci, E. L., & Ryan, R. M. (2008). Facilitating optimal motivation and psychological well-being across life's domains. Canadian Psychology, 49, 14–23. doi:10.1037/0708-5591.49.1.14.

DeVellis, R. F. (1991). Scale development. Newbury Park, NJ: Sage.

Diener, E., Emmons, R. A., Larsen, R. J., & Griffin, S. (1985). The satisfaction with life scale. Journal of Personality Assessment, 49, 71–75. doi:10.1207/s15327752jpa4901_13.

Erikson, E. H. (1968). Identity: Youth and crisis. New York, NY: Norton.

Fan, X., & Chen, M. (2001). Parental involvement and students' academic achievement: A meta analysis. Educational Psychology Review, 13, 1–22. doi:10.1023/A:1009048817385.

Fingerman, K. L., Cheng, Y.-P., Wesselmann, E. D., Zarit, S., Fustenberg, F., & Birditt, K. S. (2012). Helicopter parents and landing pad kids: Intense parental support of grown children. Journal of Marriage and Family, 74, 880–896.

Fischer, J. L., Forthun, L. F., Pidcock, B. W., & Dowd, D. A. (2007). Parent relationships, emotion regulation, psychosocial maturity and college student alcohol use problems. Journal of Youth and Adolescence, 36, 912–926. doi:10.1007/s10964-006-9126-6.

Gar, N. S., & Hudson, J. L. (2008). An examination of the interactions between mothers and children with anxiety disorders. Behaviour Research and Therapy, 46, 1266–1274. doi:10.1016/j.brat.2008.08.006.

Gibbs, N. (2009). The growing backlash against overparenting. Time Magazine. Retrieved from http://www.time.com/time/magazine/article/0,9171,1940697,00.html.

Grolnick, W. S., Kurowski, C. O., Dunlap, K. G., & Hevey, C. (2000). Parental resources and the transition to junior high. Journal of Research on Adolescence, 10, 465–488. doi:10.1207/SJRA1004_05.

Grolnick, W. S., & Ryan, R. M. (1989). Parent styles associated with children's self-regulation and competence in school. Journal of Educational Psychology, 81, 143–154. doi:10.1037/0022-0663.81.2.143.

Grolnick, W. S., Ryan, R. M., & Deci, E. L. (1991). The inner resources for school performance: Motivational mediators of children's perceptions of their parents. Journal of Educational Psychology, 83, 508–517. doi:10.1037/0022-0663.83.4.508.

Hofer, B. K., & Moore, A. S. (2010). IConnected parent. New York, NY: Free Press.

Hunt, J. (2008). Make room for daddy…and mommy: Helicopter parents are here! The Journal of Academic Administration in Higher Education, 4, 9–11.

Johnston, M. M., & Finney, S. J. (2010). Measuring basic needs satisfaction: Evaluating previous research and conducting new psychometric evaluations of the Basic Needs Satisfaction in General Scale. Contemporary Educational Psychology, 35, 280–296. doi:10.1016/j.cedpsych.2010.04.003.

Joussemet, M., Landry, R., & Koestner, R. (2008). A self-determination theory perspective on parenting. Canadian Psychology, 49, 194–200. doi:10.1037/a0012754.

Kenney-Benson, G. A., & Pomerantz, E. M. (2005). The role of mothers' use of control in children's perfectionism: Implications for the development of children's depressive symptoms. Journal of Personality, 73, 23–46. doi:10.1111/j.1467-6494.2004.00303.x.

Kins, E., Beyers, W., Soenens, B., & Vansteenkiste, M. (2009). Patterns of home leaving and subjective well-being in emerging adulthood: The role of motivational processes and parental autonomy support. Developmental Psychology, 45, 1416–1429. doi:10.1037/a0015580.

LeMoyne, T., & Buchanan, T. (2011). Does "hovering" matter? Helicopter parenting and its effect on well-being. Sociological Spectrum, 31, 399–418. doi:10.1080/02732173.2011.574038.

Levine, M. (2006). The price of privilege. New York, NY: HarperCollins.

Luyckx, K., Vansteenkiste, M., Goossens, L., & Duriez, B. (2009). Basic need satisfaction and identity formation: Bridging self-determination theory and process-oriented identity research. Journal of Counseling Psychology, 56, 276–288. doi:10.1037/a0015349.

Marano, H. E. (2008). A nation of wimps: The high cost of invasive parenting. New York, NY: The Crown Publishing Group.

Meyer, B., Enstrom, M. K., Harstveit, M., Bowles, D. P., & Beevers, C. G. (2007). Happiness and despair on the catwalk: Need satisfaction, well-being, and personality adjustment among fashion models. The Journal of Positive Psychology, 2, 2–17. doi:10.1080/17439760601076635.

Muthén, L. K., & Muthén, B. O. (1998–2010). Mplus user's guide (6th ed.). Los Angeles, CA: Muthén & Muthén.

Nelson, M. K. (2010). Parenting out of control: Anxious parents in uncertain times. New York, NY: New York University Press.

Padilla-Walker, L. M., & Nelson, L. J. (2012). Black hawk down? Establishing helicopter parenting as a distinct construct from other forms of parental control during emerging adulthood. Journal of Adolescence, 35, 1177–1190. doi:10.1016/j.adolescence.2012.03.007.

Pavot, W., & Diener, E. (1993). Review of the satisfaction with life scale. Psychological Assessment, 5(2), 164–172. doi:10.1037/1040-3590.5.2.164.

Pomerantz, E. M., Moorman, E. A., & Litwack, S. D. (2007). The how, whom, and why of parents' involvement in children's academic lives: More is not always better. Review of Educational Research, 77, 373–410. doi:10.3102/003465430305567.

Radloff, L. S. (1977). The CES-D Scale: A self-report depression scale for research in the general population. Applied Psychological Measurement, 1, 385–401. doi:10.1177/014662167700100306.

Ryan, R. M., & Deci, E. L. (2000). Self-determination theory and the facilitation of intrinsic motivation, social development, and well-being. American Psychologist, 55, 68–78. doi:10.1037110003-066X.55.1.68.

Segrin, C., Woszidlo, A., Givertz, M., Bauer, A., & Murphy, M. T. (2012). The association between overparenting, parent-child communication, and entitlement and adaptive traits in adult children. Family Relations, 61, 237–252. doi:10.1111/j.1741-3729.2011.00689.x.

Shoup, R., Gonyea, R. M., & Kuh, G. D. (2009). Helicopter parents: Examining the impact of highly involved parents on student engagement and educational outcomes. Paper presented at the 49th Annual Forum of the Association for Institutional Research, Atlanta, Georgia. Retrieved from http://cpr.iub.edu/uploads/AIR%202009%20Impact%20of%20Helicopter%20Parents.pdf.

Soenens, B., & Vansteenkiste, M. (2010). A theoretical upgrade of the concept of parental psychological control: Proposing new insights on the basis of self-determination theory. Developmental Review, 30, 74–99. doi:10.1016/j.dr.2009.11.001.

Soenens, B., Vansteenkiste, M., Lens, W., Luyckx, K., Goossens, L., Beyers, W., et al. (2007). Conceptualizing parental autonomy support: Adolescent perceptions of promotion of independence versus promotion of volitional functioning. Developmental Psychology, 43, 633–646. doi:10.1037/0012-1649.43.3.633.

Somers, P., & Settle, J. (2010). The helicopter parent: Research toward a typology. College and University: The Journal of the American Association of Collegiate Registrars, 86, 18–27.

Tabachnick, B. G., & Fidell, L. S. (2007). Using multivariate statistics. Boston, MA: Pearson.

Wei, M., Philip, A. S., Shaffer, A., Young, S. K., & Zakalik, R. A. (2005). Adult attachment, shame, depression, and loneliness: The mediation role of basic psychological needs satisfaction. Journal of Counseling Psychology, 52, 591–601. doi:10.1037/0022-0167.52.4.591.

Deci, E., & Ryan, R. (n.d.). Self-determination theory: An approach to human motivation and personality. Retrieved from http://www.selfdeterminationtheory.org/.

Zigmond, A. S., & Snaith, R. P. (1983). The Hospital Anxiety and Depression Scale. Acta Psychiatrica Scandinavica, 67, 361–370. doi:10.1111/j.1600-0447.1983.tb09716.x.

Zuckerman, M., Hodgins, H. S., Zuckerman, A., & Rosenthal, R. (1993). Contemporary issues in the analysis of data: A survey of 551 psychologists. Psychological Science, 4, 49–53. doi:10.1111/j.1467-9280.1993.tb00556.x.
Appendix: Helicopter Parenting Behaviors
Appendix: Helicopter Parenting Behaviors
Please answer the following questions thinking about your mother on a scale from 1 (strongly disagree) to 6 (strongly agree).
| | |
| --- | --- |
| 1. | My mother had/will have a say in what major I chose/will choose |
| 2. | My mother encourages me to discuss any academic problems I am having with my professor |
| 3. | My mother monitors my exercise schedule |
| 4. | When I am home with my mother, I have a curfew (a certain time that I must be home by every night) |
| 5. | My mother has given me tips on how to shop for groceries economically |
| 6. | My mother encourages me to make my own decisions and take the responsibility for the choices I have made |
| 7. | My mother regularly wants me to call or text her to let her know where I am |
| 8. | My mother encourages me to deal with any interpersonal problems between myself and my roommate or my friends on my own |
| 9. | If I were to receive a low grade that I felt was unfair, my mother would call the professor |
| 10. | My mother monitors my diet |
| 11. | My mother monitors who I spend time with |
| 12. | My mother encourages me to keep a budget and manage my own finances |
| 13. | My mother calls me to track my schoolwork (i.e., how I'm doing in school, what my grades are like, etc.) |
| 14. | If I am having an issue with my roommate, my mother would try to intervene |
| 15. | My mother encourages me to choose my own classes |
About this article
Cite this article
Schiffrin, H.H., Liss, M., Miles-McLean, H. et al. Helping or Hovering? The Effects of Helicopter Parenting on College Students' Well-Being. J Child Fam Stud 23, 548–557 (2014). https://doi.org/10.1007/s10826-013-9716-3
Keywords
Helicopter parenting

Depression

Satisfaction with life

Basic psychological needs

Self-determination theory