Abstract
The present study examined the factor structure of a widely used measure of parenting style in three samples from Northwestern India. College Students (n = 195) completed Parental Authority Questionnaire (PAQ; Buri in J Pers Assess 57:110–119, 1991), and mothers of children attending high-school (n = 275), and middle-school (n = 145) completed its parent-report version Parental Authority Questionnaire-Revised (PAQ-R; Reitman et al. in J Psychopathol Behav Assess 24:119–127, 2002). Preliminary findings revealed that across three samples Cronbach's alpha values ranged from poor to acceptable, with permissive parenting subscale of the PAQ/PAQ-R having the lowest value, whereas the authoritarian parenting had the highest value. Confirmatory factor analysis revealed that none of the models achieved satisfactory fit (i.e., CFI > .90). Exploratory factor analysis revealed that a two factor structure (with first component consisting of authoritative and permissive items, and the second component consisting of authoritarian items) rendered Cronbach's alpha in the acceptable range. Only PAQ/PAQ-R authoritarian scale was correlated with youth adjustment problems across all three samples, while findings concerning authoritative and permissive scales were mixed. The findings suggest that only PAQ/PAQ-R authoritarian scale is reliable and valid in urban, middle-class, educated families in India, and encourage researchers to develop culturally relevant measures of parenting for this population.
Access options
Buy single article
Instant access to the full article PDF.
USD 39.95
Price excludes VAT (USA)
Tax calculation will be finalised during checkout.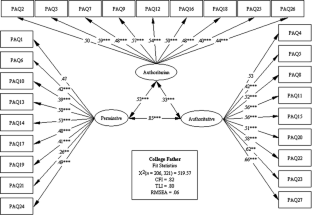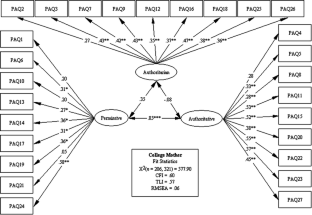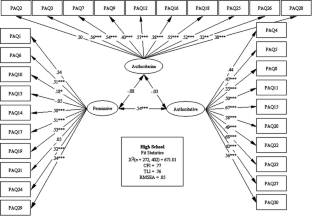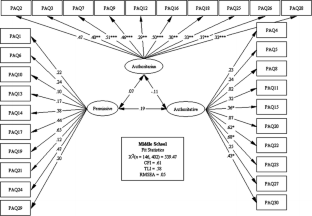 References
Achenbach, T. M. (2001). The child behavior checklist for ages 6–18. Burlington, VT: ASEBA, University of Vermont.

Adalbjarnardottir, S., & Hafsteinsson, L. G. (2001). Adolescents' perceived parenting styles and their substance use: Concurrent and longitudinal analyses. Journal of Research on Adolescence, 11, 401–423.

Anastassi, A. (1988). Psychological testing (6th ed.). New York: MacMillan.

Anton, W. D., & Reed, J. R. (1991). College Adjustment Scales: Professional manual. Odessa, FL: Psychological Assessment Resources.

Baumrind, D. (1966). Effects of authoritative parental control on child behavior. Child Development, 37, 887–907.

Baumrind, D. (1971). Current patterns of parental authority. Developmental Psychology Monograph 4(1), pt. 2, 1–102.

Baumrind, D. (1991). Parenting styles and adolescent development. In A. C. Peterson & J. Brooks-Gunn (Eds.), The encyclopedia of adolescence (pp. 746–758). New York: Garland.

Bentler, P. M., & Bonnet, D. G. (1980). Significance tests and goodness of fit analysis of covariance structures. Psychological Bulletin, 88(3), 588–606.

Browne, M. W., & Cudeck, R. (1993). Alternative ways of assessing model fit. In K. A. Bollen & J. S. Long (Eds.), Testing structural equation models (pp. 136–162). Newbury Park, CA: Sage.

Buri, J. R. (1991). Parental Authority Questionnaire. Journal of Personality Assessment, 57(1), 110–119.

Chao, R. K. (1994). Beyond parental control and authoritarian parenting style: Understanding Chinese parenting through the cultural notion of training. Child Development, 4(65), 1111–1119.

Chao, R. K. (2000). The parenting of immigrant Chinese and White American mothers: Relations between parenting styles, socialization goals, and parental practices. Journal of Applied Developmental Psychology, 21(2), 233–248.

Chao, R. K. (2001). Extending research on the consequences of parenting style for Chinese Americans and White Americans. Child Development, 72, 1832–1843.

Darling, N., & Steinberg, L. (1993). Parenting style as context: An integrative model. Psychological Bulletin, 113(3), 487–496.

Dornbusch, S., Ritter, P., Liederman, P., Roberts, D., & Fraleigh, M. (1987). The relation of parenting style to adolescent school performance. Child Development, 58, 1244–1257.

Foster, S. L., & Cone, J. D. (1995). Validity issues in clinical assessment. Psychological Assessment, 7, 248–260.

Garg, R., Levin, E., Urajnik, D., & Kauppi, C. (2005). Parenting style and academic achievement for East Indian and Canadian adolescents. Journal of Comparative Family Studies, 36, 653–661.

Horn, J. L. (1965). A rationale and test for the number of factors in factor analysis. Psychometrika, 30, 179–185.

Jambunathan, S., & Counselman, K. P. (2002). Parenting attitudes of Asian Indian mothers living in the United States and in India. Early Child Development and Care, 172, 657–662.

Kim, K. H. (2005). The relation among fit indexes, power, and sample size in structural equation modeling. Structural Equation Modeling, 12(3), 368–390.

Lamborn, S. D., Mounts, N. S., Steinberg, L., & Dornbusch, S. M. (1991). Patterns of competence and adjustment among adolescents from authoritative, authoritarian, indulgent, and neglectful families. Child Development, 62(5), 1049–1065.

Leung, K., Lau, S., & Lam, W. L. (1998). Parenting styles and achievement: A cross-cultural study. Merrill-Palmer Quarterly, 44, 157–172.

Maccoby, E., & Martin, J. (1983). Socialization in the context of the family: Parent-child interaction. In P. H. Mussen (Series Ed.) & E. M. Hetherington (Vol. Ed.), Handbook of child psychology: Vol. 4. Socialization, personality, and social development (pp. 1–101). New York: Wiley.

Nunnally, J. C., & Bernstein, I. H. (1994). Psychometric theory (3rd ed.). New York: McGraw-Hill.

Parker, G., Tupling, H., & Brown, L. B. (1979). A parental bonding instrument. British Journal of Medical Psychology, 52, 1–10.

Pong, S. L., Hao, L., & Gardner, E. (2005). The roles of parenting styles and social capital of immigrant Asian and Hispanic adolescents. Social Science Quarterly, 86(4), 928–949.

Pong, S., Jonhnston, J., & Chen, V. (2010). Authoritarian parenting and Asian adolescent school performance: Insights from the US and Taiwan. International Journal of Behavioral Development, 34, 62–72.

Rao, N., McHale, J. P., & Pearson, E. (2003). Links between socialization goals and child-rearing practices in Chinese and Indian mothers. Infant and Child Development, 12, 475–492.

Raval, P., Raval, V. V., Panchal, I., & Chakravorty, T. (2003). Gujarati adaptation of the Child Behavior Checklist for Ages 6–18. Poster presented at the 111th Annual Convention of the American Psychological Association, Toronto, ON.

Reitman, D., Rhode, P., Hupp, S. D., & Altobello, C. (2002). Development and validation of Parental Authority Questionnaire-Revised. Journal of Psychopathology and Behavioral Assessment, 24(2), 119–127.

Rose, G. M., Dalakas, V., & Kropp, F. (2003). Consumer socialization and parental style across cultures: Findings from Australia, Greece, and India. Journal of Consumer Psychology, 13(4), 366–376.

Rudy, D., & Grusec, J. E. (2006). Authoritarian parenting in individualist and collectivist groups: Associations with maternal emotion and cognition and children's self-esteem. Journal of Family Psychology, 20(1), 68–78.

Shek, D. T. L. (1999). Parenting characteristics and adolescent psychological well-being: A longitudinal study in a Chinese context. Genetic, Social, and General Psychology Monographs, 125, 27–44.

Steinberg, L., Dornbusch, S., & Brown, B. (1992). Ethnic differences in adolescent achievement: An ecological perspective. American Psychologist, 47, 723–729.

Steinberg, L., Elmen, J., & Mounts, N. (1989). Authoritative parenting, psychosocial maturity, and academic success among adolescents. Child Development, 60, 1424–1436.

Velicer, W. F. (1976). Determining the number of components from the matrix of partial correlations. Psychometrika, 41, 321–327.

Zwick, W. R., & Velicer, W. F. (1986). Factor influencing five rules for determining the number of components to retain. Psychological Bulletin, 99, 432–442.
About this article
Cite this article
Raval, V.V., Ward, R.M., Raval, P.H. et al. Confirmatory and Exploratory Factor Analyses of Parental Authority Questionnaire in Urban India. J Child Fam Stud 22, 707–718 (2013). https://doi.org/10.1007/s10826-012-9624-y
Published:

Issue Date:

DOI: https://doi.org/10.1007/s10826-012-9624-y
Keywords
Parenting style

Factor analysis

Culture