Abstract
This study investigated the effects of one session of Yoga Nidra (relaxation technique) on the breathing patterns/respiratory effort in the thoracic and abdominal chest regions of boys with disruptive behaviour using a Respiratory Inductive Plethysmography (RIP). The participants (n = 7) were aged 10–15 years and attending NSW, Department of Education (DET) special schools for children with disruptive behaviour (DB). Results were compared with three students (one female) aged 15 years without DB. The seven boys had previously participated in a 13-week yoga program. During this program participants were progressively taught the practice of Yoga Nidra. The comparison group did not participate in the yoga program but underwent the same procedure for collection of data as the yoga group. Using Compumedics "ProFusion Polysomnography (PSG)" software and further analyses in "Polyman" European Data Format + (EDF), data were analysed by identifying breathing as unstable or stable. Unstable breathing was identified as fluctuations in rate/s of breathing effort, amplitude, cessation of breath, and thoracic or abdominal predominance. Results indicated that boys with disruptive behaviour generally displayed unstable breathing patterns throughout the pre-recording period and showed more stable breathing during Yoga Nidra compared with pre- or post-recording periods. There were also examples of reductions in thoracic dominance during Yoga Nidra. The comparison group's breathing patterns throughout the three phases of the process were found to be stable.
Access options
Buy single article
Instant access to the full article PDF.
US$ 39.95
Tax calculation will be finalised during checkout.
Subscribe to journal
Immediate online access to all issues from 2019. Subscription will auto renew annually.
US$ 79
Tax calculation will be finalised during checkout.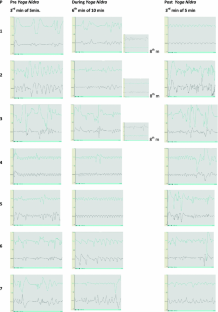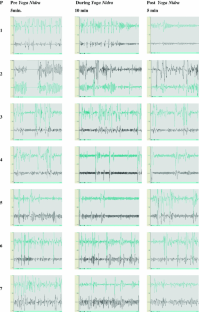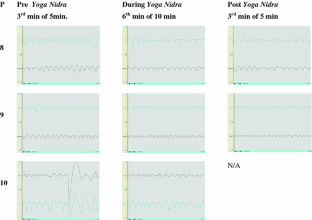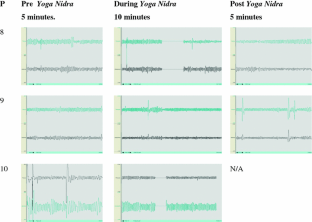 References
Aftanas, L. I., & Golocheikine, S. A. (2001). Human anterior and frontal midline theta and lower alpha reflect emotionally positive state and internalised attention: High resolution EEG investigation of meditation. Neuroscience Letters, 310(1), 57–60.

Aftanas, L. I., & Golocheikine, S. A. (2002). Non-linear dynamic complexity of human EEG during meditation. Neuroscience Letters, 330, 143–146.

Aftanas, L. I., & Golocheikine, S. (2005). Impact of regular meditation practice on EEG activity at rest and during evoked negative emotions. International Journal of Neuroscience, 115, 893–909.

APA. (2000). Diagnostic and statistical manual of mental disorders-IV-T. Washington, DC: American Psychiatric Association.

Arambula, P., Peper, E., Kawakami, M., & Gibney, K. G. (2001). The physiological correlates of Kundalini yoga meditation: A study of a yoga master. Applied Psychophysiology and Biofeedback, 26(2), 147–153.

Beauchaine, T. P., Katkin, E. S., Strassberg, Z., & Snarr, J. (2001). Disinhibitory psychopathology in male adolescents: Discriminating conduct disorder from attention-deficit/hyperactivity disorder through concurrent assessment of multiple autonomic states. Journal of Abnormal Psychology, 110(4), 610–624.

Berridge, C. W., & Waterhouse, B. D. (2003). The locuscoeruleus–noreadrenergic system: Modulation of behavioural state–dependant cognitive process. Brain Research Review, 42, 33–84.

Bloch, S., Lemeignan, M., & Aguilera, T. N. (1991). Specific respiratory patterns distinguish among human basic emotions. International Journal of Psychophysiology, 11, 141–154.

Boyce, W. T., Quas, J., Alkon, A., Smider, N. A., Essex, M. J., & Kupfer, D. J. (2001). Autonomic reactivity and psychopathology in middle childhood. British Journal of Psychiatry, 179, 144–150.

Conners, C. K. (1997). Conners rating scales–revised manual. North Tonawanda, New York: Multi-Health Systems Inc.

DET. (1998). Support for young students with behaviour difficulties. Sydney: DET.

Garralda, M. E., Connell, J., & Taylor, D. C. (1991). Psychophysiological anomalies in children with emotional and conduct disorders. Psychological Medicine, 21(4), 947–957.

Herzog, H., Lele, V. R., Kuwert, T., Langen, K. J., Rota Kops, E., & Feinendegen, L. E. (1990). Changed pattern of regional glucose metabolism during yoga meditative relaxation. Neuropsychobiology, 23(4), 182–187.

Innocenti, D. M. (2002). Hyperventilation. In J. A. Pryor & S. A. Prasad (Eds.), Physiotherapy for respiratory and cardiac problems adults and paediatrics (3rd ed., pp. 563–578). Edinburgh: Churchhill Livingstone.

Janakiramaiah, N., Gangadhar, B. N., Naga Venkatesha Murthy, P. J., Harish, M. G., Subbakrishna, D. K., & Vedamurthachar, A. (2000). Antidepressant efficacy of Sudarshan Kriya Yoga (SKY) in melancholia: A randomized comparison with electroconvulsive therapy (ECT) and imipramine. Journal of Affective Disorders, 57(1–3), 255–259.

Kjaer, T. W., Bertelsen, C., Piccinni, P., Brooks, D., Alving, J., & Lou, C. L. (2002). Increased dopamine tone during meditation-induced change of consciousness. Cognitive Brain Research, 13(2), 255–259.

Ley, R. (1999). The modification of breathing behavior. Pavlovian and operant control in emotion and cognition. Behavior Modification, 23(3), 441–479.

Lou, H. C., Kjaer, T. W., Friberg, L., Wildschiodtz, G., Holm, S., & Nowak, A. (1999). A 15O-H2 PET study of meditation and the resting state of normal consciousness. Human Brain Mapping, 7, 98–105.

Mangaltheerthan, G. A. (1988). Electrical brain mapping during Yoga Nidra.Munger, India: Head of Dept of Applied Sciences, Bihar Yoga Bharati.

Marsh, H. (1990). Self description questionnaire 1 and 2. Macarthur, Campbellltown: University of Western Sydney.

McBurnett, K., Lahey, B. B., Frick, P. J., Risch, C., Loeber, R., & Hart, E. L. (1991). Anxiety, inhibition, and conduct disorder in children: II. Relation to salivary cortisol. Journal of the American Academy of Child and Adolescent Psychiatry, 30(2), 192–196.

Pal, G. K., Velkumary, S., & Madanmohan, (2004). Effect of short-term practice of breathing exercises on autonomic functions in normal human beings. Indian Journal of Medical Research, 120(2), 115–121.

Patrick, K. S., Straughn, A. B., Perkins, J. S., Gonzalez, M. A., & Mario, A. (2009). Evolution of stimulants to treat ADHD: Transdermal methylphenidate. Human Psychopharmacology, 24(1), 1–17.

Philippot, P., Chapelle, G., & Blairy, S. (2002). Respiratory feedback in the generation of emotion. Cognition and Emotion, 16(5), 605–627.

Pine, D. S., Coplan, J. D., Papp, L. A., Klein, R. G., Martinez, J. M., Kovalenko, P., et al. (1998). Ventilatory physiology of children and adolescents with anxiety disorders. Archives of General Psychiatry, 55(2), 123–129.

Plizska, S. R., McCraken, J. T., & Mass, J. W. (1996). Catecholamines in ADHD: Current perspectives. Journal of American Academy of Child and Adolescent Psychiatry, 35(3), 264–272.

Ramos, B. P., & Arnsten, F. T. (2007). Adrenergic pharmacology and cognition: Focus on the prefrontal cortex. Pharmacology and Therapeutics, 113, 523–536.

Reynolds, K., & Stephenson, J. (2008). Managing non-compliance in the classroom: A review of empirically based interventions. Special Education Perspectives, 17(2), 33–55.

Sarang, S. P., & Telles, S. (2007). Immediate effect of two yoga-based relaxation techniques on performance in a letter-cancellation task. Perceptual and Motor Skills, 105(2), 379–385.

Satyananda. (1984). Yoga Nidra. Munger, India. Yoga Publications Trust.

Schleifer, L., & Ley, R. (1994). End-tidal pCO2 as an index of psychophysiological activity during data entry and relaxation. Ergonomics, 37, 245–254.

Spielberger, C. D. (1973). Manual for the state trait anxiety inventory for children. Redwood City CA: Mind Garden.

Spielberger, C. D. (1983). Manual for the state trait anxiety inventory (Form Y). Palo Alto, CA: Consulting Psychologists Press Inc.

Stancak, A. J., Kuna, M., Novak, P., Srinivasan, M. A., Dostalek, C., & Vishnudevananda, S. (1991). Observations on respiratory and cardiovascular rhythmicities during yogic high-frequency respiration. Physiol-Respiration, 40(3), 345–354.

Stovik, R. (2000). The science of breathing: The yogic view. Progress in Brain Research, Chap. 34, Vol. 122.

Suarez, V. (2002, March 2–3). Anxiety study at lance alternative program. Paper presented at the Science of Breath: International Symposium on Sudarshan Kriya, Pranayam andConsciousness, Institute Rotary Cancer Hospital, New Delhi, India.

Telles, S., Nagarathna, R., & Nagendra, H. R. (1995). Autonomic changes during "OM" meditation. Indian Journal of Physiology and Pharmacology, 39(4), 418–420.

Telles, S., Nagarathna, R., & Nagendra, H. R. (1998). Autonomic changes while mentally repeating two syllables–one meaningful and the other neutral. Indian Journal of Physiology and Pharmacology, 42(1), 57–63.

Telles, S., Narendran, S., Raghuraj, P., Nagarathna, R., & Nagendra, H. R. (1997). Comparison of changes in autonomic and respiratory parameters of girls after yoga and games at a community home. Perceptual and Motor Skills, 84(1), 251–257.

Telles, S., Reddy, S. K., & Nagendra, H. R. (2000). Oxygen consumption and respiration following two yoga relaxation techniques. Applied Physiolophysiology and Biofeedback, 25(4), 221–227.

Vempati, R. P., & Telles, S. (2002). Yoga–based guided relaxation reduces sympathetic activity judged from baseline levels. Psychological Reports, 90, 487–494.

Wheatley, A., Murrihy, R., van Kessel, J., Wuthrich, V., Rémond, L., Tuqiri, R., et al. (2009). Aggression management training for youth in behaviour schools: A quasi-experimental study. Youth Studies Australia, 28(1), 29–36.

Wicks-Nelson, R., & Israel, A. (2003). Behaviour disorders of childhood (5th ed.). Upper Saddle River, New Jersey: Prentice Hall.

Winslow, C. D., & Stevens, L. (1983). Paced abdominal breathing and EMG responsivity. Perceptual and Motor Skills, 56(1), 107–117.
About this article
Cite this article
Jensen, P.S., Stevens, P.J. & Kenny, D.T. Respiratory Patterns in Students Enrolled in Schools for Disruptive Behaviour Before, During, and After Yoga Nidra Relaxation. J Child Fam Stud 21, 667–681 (2012). https://doi.org/10.1007/s10826-011-9519-3
Keywords
Disruptive behaviour

Respiratory patterns

Yoga Nidra

Relaxation

Behaviour disorders

Emotional disorders