Abstract
The purpose of the study was to identify the strengths of Aboriginal foster parents according to the foster parents themselves. A total of 83 Aboriginal foster parents participated in over the phone interviews that included the question "What are the main strengths you have as a foster parent?". Responses to the questions were sorted by the participants and the sorted data were analyzed using multidimensional scaling and cluster analysis. Four clusters emerged from the responses to the question: (1) awareness abilities and skills, (2) cultural experience, (3) personal qualities, and (4) child as part of family. The clusters were compared and contrasted with available literature.
Access options
Buy single article
Instant access to the full article PDF.
USD 39.95
Price excludes VAT (USA)
Tax calculation will be finalised during checkout.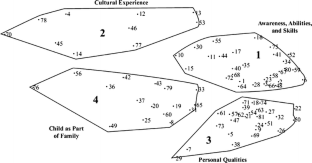 References
Aarons, G. A., Wells, R. S., Zagursky, K., Fettes, D. L., & Palinkas, L. A. (2009). Implementing evidence-based practice in community mental health agencies: A multiple stakeholder analysis. American Journal of Public Health, 99, 2087–2095.

Armstrong, N. P., & Steffen, J. J. (2009). The recovery promotion fidelity scale: Assessing the organizational promotion of recovery. Community Mental Health Journal, 45, 163–170.

Bahr, K. S. (1994). The strengths of apache grandmothers: Observations on commitment, culture and caretaking. Journal of Comparative Family Studies, 25, 233–248.

Baum, A. C., Crase, S. J., & Crase, K. L. (2001). Influences on the decision to become or not become a foster parent. Families in Society, 82, 202–213.

Behar, L. B., & Hydaker, W. M. (2009). Defining community readiness for the implementation of a system of care. Administration and Policy in Mental Health and Mental Health Services Research, 36, 381–392.

Blackstock, C., & Trocme, N. (2005). Community-based child welfare for Aboriginal children: Supporting resilience through structural change. Social Policy Journal of New Zealand, 24, 12–33.

Blashfield, R. K., & Aldenderfer, M. S. (1988). The methods and problems of cluster analysis. In J. R. Nesselroade & R. B. Cattell (Eds.), Handbook of multivariate experimental psychology (pp. 447–473). New York: Plenum.

Buehler, C., Cox, M. E., & Cuddeback, G. (2003). Foster parents' perceptions of factors that promote or inhibit successful fostering. Qualitative Social Work: Research and Practice, 2, 61–83.

Burke, J., O' Campo, P., Salmon, C., & Walker, R. (2009). Pathways connecting neighborhood influences and mental well-being: Socioeconomic position and gender differences. Social Science and Medicine, 68, 1294–1304.

Clark, Y. (2000). The construction of aboriginal identity in people separated from their families, community, and culture: Pieces of a jigsaw. Australian Psychologist, 35, 150–157.

Coakley, T. M., Cuddeback, G., Buehler, C., & Cox, M. E. (2006). Kinship foster parents' perceptions of factors that promote or inhibit successful fostering. Children & Youth Services Review, 29, 92–109.

Frideres, J. S. (1996). The royal commission on aboriginal peoples: The route to self-government? The Canadian Journal of Native Studies, XVI, 247–266.

Garret, J. T. (1993). Understanding Indian children, learning from Indian elders. Children Today, 22, 18–23.

Garrett, J. T., & Garrett, M. W. (1994). The path of good medicine: Understanding and counselling Native American Indian. Journal of Multicultural Counseling & Development, 22, 134–144.

Habfoll, S. E., Jackson, A., Hobfoll, I., Pierce, C. A., & Young, S. (2002). The impact of communal-mastery versus self-mastery on emotional outcomes during stressful conditions: A prospective study of Native American women. American Journal of Community Psychology, 30, 853–872.

Hanson, I., & Hampton, M. (2000). Being Indian: Strengths sustaining First Nations peoples in residential schools. Canadian Journal of Community Mental Health, 19, 127–142.

Kane, M., & Trochim, W. (2007). Concept mapping for planning and evaluation. Thousand Oaks, CA: Sage.

MacGregor, T. E., Rodger, S., Cummings, A. L., & Leschied, A. W. (2006). The needs of foster parents: A qualitative study of motivation, support, and retention. Qualitative Social Work, 5, 351–368.

McCormick, R., & Wong, P. T. P. (2006). Adjustment and coping in Aboriginal people. In P. T. T. Wong & L. C. J. Wong (Eds.), Handbook of multicultural perspectives on stress and coping (pp. 515–531). New York: Springer.

Minkman, M., Ahaus, K., Fabbricotti, I., Nabitz, U., & Huijsman, R. (2009). A quality management model for integrated care: Results of a delphi and concept mapping study. International Journal for Quality in Health Care, 21, 66–75.

Rhodes, K. W., Orme, J. G., Cox, M. E., & Buehler, C. (2003). Foster family resources, psychosocial functioning, and retention. Social Work Research, 27, 135–149.

Shorkey, C., Windsor, L. C., & Spence, R. (2009a). Assessing culturally competent chemical dependence treatment services for Mexican Americans. The Journal of Behavioral Health Services & Research, 36, 61–74.

Shorkey, C., Windsor, L. C., & Spence, R. (2009b). Systematic assessment of culturally competent chemical dependence treatment services for African Americans. Journal of Ethnicity in Substance Abuse, 8, 113–128.

Trochim, W. M. (1989). An introduction to concept mapping for planning and evaluation. In W. Trochim (Ed.) A special issue of evaluation and program planning, 12, 1–16.

Trocme, N., Knoke, D., & Blackstock, C. (2004). Pathways to the overrepresentation of aboriginal children in Canada's child welfare system. Social Service Review, 78, 577–599.

Ungar, M., & Liebenberg, L. (2008). Resilience in action: Working with youth across cultures and contexts. Toronto: University of Toronto Press.

Vicary, D. A., & Bishop, B. J. (2005). Western psychotherapeutic practice: Engaging aboriginal people in culturally appropriate and respectful ways. Australian Psychologist, 40, 8–19.

Walters, K. L., & Simoni, J. M. (2002). Reconceptualizing Native women's health: An "indigenist" stress-coping model. American Journal of Public Health, 92, 520–524.

Whiting, J. B., & Huber, P. T. (2007). Significant stress and real rewards: The ecological and ambiguous experiences of foster parents. Relational Child & Youth Care Practice, 20, 9–20.

Ypinazar, V. A., Margolis, S. A., Haswell-Elkins, M., & Tsey, K. (2007). Indigenous Australians' understanding regarding mental health and disorders. Australian and New Zealand Journal of Psychiatry, 41, 467–478.
Acknowledgments
We are grateful to the foster parents who took the time to share their expertise with us. We would like to thank Candace Seymour and Cathy Wiebe. We would also like to thank Brian Ridd and Claudia Ash-Ponce. Also, thanks to the Social Sciences and Humanities Research Council of Canada for their financial support for this work.
About this article
Cite this article
Ivanova, V., Brown, J. Strengths of Aboriginal Foster Parents. J Child Fam Stud 20, 279–285 (2011). https://doi.org/10.1007/s10826-010-9389-0
Published:

Issue Date:

DOI: https://doi.org/10.1007/s10826-010-9389-0
Keywords
Aboriginal

Foster parents

Strengths

Culture

Child welfare