Abstract
It is important to understand how cultural values, beliefs and traditions of foster parents are related to placement success because a substantial proportion of children in care come from culturally diverse backgrounds. In the present study participants were asked about resources they saw as necessary to improve their confidence fostering children from culturally diverse backgrounds. Sixty-one foster parents from a central Canadian province participated in a telephone interview that included the question: "what would help you feel more confident about fostering children with different values, beliefs and traditions?" A total of 35 unique responses were obtained and grouped together by 13 foster parents. Multidimensional scaling and cluster analysis were used to analyze the grouping data. Foster parents described six themes: understanding different cultures, training, self awareness, agency support, open discussion and community services. There were several similarities and differences between the perspectives of foster parents interviewed and the literature. Implications for future research are discussed.
Access options
Buy single article
Instant access to the full article PDF.
USD 39.95
Price includes VAT (USA)
Tax calculation will be finalised during checkout.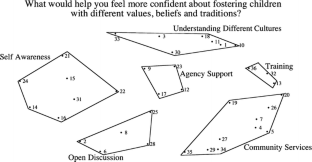 References
Ali, R. (2002). Did you know? Foster care statistics in Manitoba. Manitoba Journal of Family Matters, 2, 65–66.

Anderberg, M. R. (1973). Cluster analysis for applications. New York: Academic Press.

Borden, L. M., Perkins, D. F., Villarruel, F. A., Carleton-Hug, A., Stone, M. R., & Keith, J. G. (2006). Challenges and opportunities to Latino youth development. Hispanic Journal of Behavioral Sciences, 28, 187–208. doi:10.1177/0739986306286711.

Borgen, F. H., & Barnett, D. C. (1987). Applying cluster analysis in counseling psychology research. Journal of Counseling Psychology, 34, 456–468. doi:10.1037/0022-0167.34.4.456.

Bruhn, C. M. (2003). Children with disabilities: Abuse, neglect, and the child welfare system. Journal of Aggression, Maltreatment & Trauma, 8, 173–203. doi:10.1300/J146v08n01_07.

Buehler, C., Cox, M., & Cuddeback, G. (2003). Foster parents' perceptions of factors that promote or inhibit successful fostering. Qualitative Social Work, 2, 61–83. doi:10.1177/1473325003002001281.

Buehler, C., Rhodes, K. W., Orme, J. C., & Cuddeback, G. (2006). The potential for successful foster care: Conceptualizing competency domains for foster parents. Child Welfare, 3, 523–558.

Cash, S. J., Mathiesen, S. G., Barbanell, L. D., Smith, T. E., & Graham, P. (2006). Education and partnerships in child welfare: Mapping the implementation of a child welfare certificate program. Journal of Social Work Education, 42, 123–138.

Coakley, T. M., & Orme, J. G. (2006). A psychometric evaluation of the cultural receptivity in fostering scale. Research on Social Work Practice, 16, 520–533. doi:10.1177/1049731506287080.

Cole, S. A., & Eamon, M. K. (2007). Self-perceptions of fulfilling the foster caregiver role: A preliminary analysis. Children and Youth Services Review, 29, 655–671. doi:10.1016/j.childyouth.2007.01.007.

Corcoran, K., Washington, A., & Meyers, N. (2005). The impact of gang membership on mental health symptoms, behavior problems and antisocial criminality of incarcerated young men. Journal of Gang Research, 12, 25–36.

Davis, T. S. (2007). Mapping patterns of perceptions. Research on Social Work Practice, 17, 358–379. doi:10.1177/1049731506295103.

Everitt, B. (1980). Cluster analysis (2nd ed.). New York: Halsted Press.

Gilbert, D. J., Abel, E., Stewart, N. F., & Zilberman, M. (2007). More than drugs: Voices of HIV-seropositive individuals with a history of substance use reveal a range of adherence factors. Journal of HIV/AIDS & Social Services, 6, 161–179. doi:10.1300/J187v06n01_10.

Gol, A. R., & Cook, S. W. (2004). Exploring the underlying dimensions of coping: A concept mapping approach. Journal of Social and Clinical Psychology, 23, 155–171. doi:10.1521/jscp.23.2.155.31021.

Golding, K. (2004). Providing specialized psychological support for foster carers: A consultation model. Child and Adolescent Mental Health, 9, 71–76. doi:10.1111/j.1475-3588.2004.00084.x.

Groenewoud, A. S., van Exel, N. J. A., Berg, M., & Huijsman, R. (2008). Building quality report cards for geriatric care in the Netherlands: Using concept mapping to identify the appropriate "building blocks" from the consumer's perspective. The Gerontologist, 48, 79–92.

Imhof, M., & Janusik, L. A. (2006). Development and validation of the Imhof-Janusik listening concepts inventory to measure listening conceptualization differences between cultures. Journal of Intercultural Communication Research, 35, 79–98. doi:10.1080/17475750600909246.

Lee, R. M. (2003). The transracial adoption paradox: History, research, and counselling implications of cultural socialization. The Counseling Psychologist, 31, 711–744. doi:10.1177/0011000003258087.

Lorr, M. (1983). Cluster analysis for social scientists. San Francisco: Jossey-Bass.

MacCallum, R. (1988). Multidimensional scaling. In J. R. Nesselroade & R. B. Cattell (Eds.), Handbook of multivariate experimental psychology (pp. 421–445). New York: Plenum.

MacGregor, T. E., Rodger, S., Cummings, A. L., & Leschied, A. W. (2006). The needs of foster parents: A qualitative study of motivation, support, and retention. Qualitative Social Work, 5, 351–368. doi:10.1177/1473325006067365.

Maier-Lorentz, M. M. (2004). The importance of prayer for mind/body healing. Nursing Forum, 39, 23–32. doi:10.1111/j.1744-6198.2004.tb00005.x.

Massatti, R. R., Vonk, E. M., & Gregoire, T. K. (2004). Reliability and validity of the transracial adoption parenting scale. Research on Social Work Practice, 14, 43–50. doi:10.1177/1049731503257807.

McPhatter, A. R. (1997). Cultural competence in child welfare: What is it? How do we achieve it? What happens without it? Child Welfare, 76, 255–278.

Moody, C., & Chysko, R. (2007). Native child welfare and issues in culturally competent social work practice. Ontario Association of Children's Aid Societies Journal, 51, 17–23.

Petrucci, C. J., Quinlan, K. M., & Torres-Harding, S. R. (2007). Bridging the research-practice gap: Concept mapping as a mixed methods strategy in practice-based research and evaluation. Journal of Social Service Research, 34, 25–42. doi:10.1300/J079v34n02_03.

Poole, D. L., & Davis, T. S. (2006). Concept mapping to measure outcomes in study abroad programs. Social Work Education, 25, 61–77. doi:10.1080/02615470500477920.

Rabson, M. (2007, Sept 17). It was chaos—then it got worse. Winnipeg: Winnipeg Free Press.

Reilly, T., & Platz, L. (2003). Characteristics and challenges of families who adopt children with special needs: An empirical study. Children and Youth Services Review, 25, 781–803. doi:10.1016/S0190-7409(03)00079-3.

Ries, A. V., Voorhees, C. C., Gittelsohn, J., Roche, K. M., & Astone, N. M. (2008). Adolescents' perceptions of environmental influences on physical activity. American Journal of Health Behavior, 32, 26–39.

Robinson, J. M., & Trochim, W. M. (2007). An examination of community members', researchers' and health professionals' perceptions of barriers to minority participation in medical research: An application of concept mapping. Ethnicity & Health, 12, 521–539. doi:10.1080/13557850701616987.

Ryan, S., Wiles, D., Cash, S., & Siebert, C. (2005). Risk assessments: Empirically supported or values driven? Children and Youth Services Review, 27, 213–225. doi:10.1016/j.childyouth.2004.09.003.

Schatz, M. S., & Horejsi, C. (1996). The importance of religious tolerance: A module for educating foster parents. Child Welfare, 75, 73–86.

Shewchuk, R. M., O'Connor, S. J., Fine, D. J., & Tyler, J. L. (2005). Building an understanding of the competencies needed for health administration practice. Journal of Healthcare Management, 50, 32–48.

Statistics Canada. (2008). 2006 census: Selected income characteristics (35), aboriginal origin (14), age groups (6) and sex (3) for population, for Canada, provinces, territories and census metropolitan areas 1,2001 census—20% sample data. Ottawa: Statistics Canada.

Trochim, W. M. (1987). The concept system. Ithaca, NY: Trochim Publishing.

Trochim, W. M. (1989). Concept mapping: Soft science or hard art? Evaluation and Program Planning, 12, 87–110. doi:10.1016/0149-7189(89)90027-X.

Trochim, W. M., & Cabrera, D. (2005). The complexity of concept mapping for policy analysis. Emergence: Complexity and Organization, 7, 11–23.

Trochim, W. M., Marcus, S. E., Masse, L. C., Moser, R. P., & Weld, P. C. (2008). The evaluation of large research initiatives: A participatory integrative mixed-methods approach. The American Journal of Evaluation, 29, 8–28. doi:10.1177/1098214007309280.

Vonk, E. M. (2001). Cultural competence for transracial adoptive parents. Social Work, 46, 246–255.

Vonk, E. M., & Angaran, R. (2001). A pilot study of training adoptive parents for cultural competence. Adoption Quarterly, 4, 5–18. doi:10.1300/J145v04n04_02.

Wallerstein, N., & Duran, B. (2003). The conceptual, historical, and practice roots of community based participatory research and related participatory traditions. In M. Minkler & N. Wallerstein (Eds.), Community based participatory research for health (pp. 27–52). San Franscisco: Jossey-Bass.

Ward, J. H. (1963). Hierarchical grouping to optimize an objective function. Journal of the American Statistical Association, 58, 236–244. doi:10.2307/2282967.
Acknowledgments
The authors would like to acknowledge the financial support of this research through a grant from the Social Sciences and Humanities Research Council of Canada. The authors also wish to thank Bev Wiebe of the Manitoba Foster Family Network and Brian Ridd of the Child Protection Branch, Manitoba Family Services and Housing for their support of this study. We would like to acknowledge the contributions of Melissa Campbell, Meghan Sprung, Lee Anne Jarman, and Christine Miller for their research assistance. We would also like to thank the many foster parents who shared their time and expertise with us.
About this article
Cite this article
Brown, J.D., Sintzel, J., Arnault, D.S. et al. Confidence to Foster Across Cultures: Caregiver Perspectives. J Child Fam Stud 18, 633–642 (2009). https://doi.org/10.1007/s10826-009-9264-z
Received:

Accepted:

Published:

Issue Date:
Keywords
Culture

Concept map

Foster parents

Canada