Ecological barriers like racism and discrimination can weigh heavily on the shifting emotions of adolescents. We investigated the relationship of racial socialization experiences to the depression symptoms of 160 Black adolescents, including lethargy, low self-esteem, cognitive difficulties, social introversion, irritability, guilt, pessimism, sad mood, instrumental helplessness, and overall depression. Cultural pride socialization was inversely related to adolescent reports of lethargy and low self-esteem while alertness to discrimination socialization was positively related to instrumental helplessness and gender differences were found. Multiple regression findings showed that racial socialization experiences add significantly more predictability of depression symptoms over and above gender, neighborhood risk and resources. Recommendations for the family, mental health professionals and for the development of culturally relevant social interventions are provided.
Access options
Buy single article
Instant access to the full article PDF.
USD 39.95
Price excludes VAT (USA)
Tax calculation will be finalised during checkout.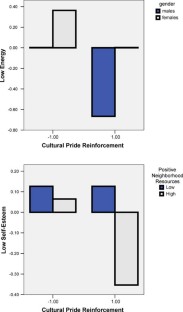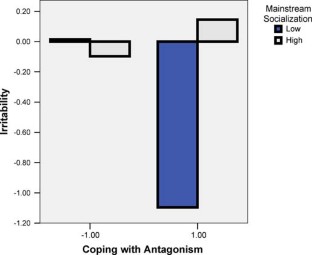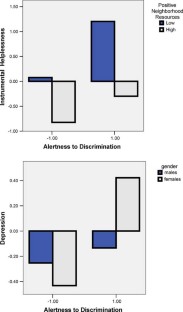 REFERENCES
Adebimpe, V. R. (1981). Overview: White norms and psychiatric diagnosis of Black patients. American Journal of Psychiatry, 138, 279–285.

Allen-Meares, P., Colarossi, L., Oyserman, D., & DeRoos, Y. (2003). Assessing depression in childhood and adolescence: A guide for social work practice. Child and Adolescent Social Work Journal, 20, 5–20.

Baker, F. M., & Bell, C. (1999). Issues in the psychiatric treatment of African Americans. Psychiatric Services, 50, 362–368.

Berndt, D. J. (1986). Inventories and scales. In B. B. Wolman & G. Stricker (Eds.), Depressive disorders: Facts, theories, and treatment methods (pp. 255–274). New York: Wiley.

Bowman, P., & Howard, C. (1985). Race related socialization, motivation, and academic achievement: A study of Black youths in three-generation families. Journal of the American Academy of Child Psychiatry, 24, 134–141.

Cassidy, E. F., Davis, G. Y. & Stevenson, Jr., H. C. (2003). "If we must die:" CPR for managing Catch-33, cultural alienation, and hypervulnerability. In H. C. Stevenson (Ed.) Playing with anger: Teaching coping skills to African American boys through athletics and culture. Westport, CT: Greenwood Publishing.

Caughy, M. O., O'Campo, P. J., Randolph, S. M., & Nickerson, C. R. (2002). The influence of racial socialization practices on the cognitive and behavioral competence of African American preschoolers. Child Development, 73, 1611–1625.

Clark, R., Anderson, N. B., Clark, V. R., & Williams, D. R. (1999). Racism as a stressor for African Americans: A biopsychosocial model. American Psychologist, 54, 805–816.

Cole, D. A., Martin, J. M., Peeke, L., Henderson, A., & Harwell, J. (1998). Validation of depression and anxiety measures in White and Black youths: Multitrait-multimethod analyses. Psychological Assessment, 10, 261–276.

Constantine, M., & Blackmon, S. (2002). Black adolescents' racial socialization experiences: Their relations to home, school, and peer self-esteem. Journal of Black Studies, 32, 322–335.

Darity, W. A. (2003). Employment discrimination, segregation, and health. American Journal of Public Health, 93, 226–231.

Delahanty, J., Ram, R., Postrado, L., Balis, T., Green-Paden, L., & Dixon, L. (2001). Differences in rates of depression in schizophrenia by race. Schizophrenia Bulletin, 27, 29–38.

Eamon, M. K. (2002). Influences and mediators of the effect of poverty on young adolescent depressive symptoms. Journal of Youth and Adolescence, 31, 231–242.

Fellin, P. (1989). Perspectives on depression among Black Americans. Health and Social Work, 14, 245–252.

Fitzpatrick, K. M. (1993). Exposure to violence & presence of depression among low-income, African-American youth. Journal of Consulting and Clinical Psychology, 61, 528–531.

Fuller, T. (1992). Masked depression in maladaptive Black adolescents. School Counselor, 40, 24–31.

Garber, J., Quiggle, N. L., Panak, W., & Dodge, K. A. (1991). Aggression and depression in children: Comorbidity, specificity, and social cognitive processing. In D. Cicchetti & S. L. Toth (Eds.), Internalizing and externalizing expressions of dysfunction: Rochester Symposium on Developmental Psychopathology (Vol. 2, pp. 225–264). Hillsdale, NJ: Lawrence Erlbaum Associates.

Go, C. G. & Cupertino, P. (August 2001). Cultural context of adolescent well-being: Our Kids Project, Oakland Youth Survey. Paper presented at the American Psychological Association conference, San Francisco, CA.

Harrell, S. P. (2000). A multidimensional conceptualization of racism-related stress: Implications for the well-being of people of color. American Journal of Orthopsychiatry, 70, 42–57.

Hawkins, W. E., Hawkins, M. J., Sabatino, C., & Ley, S. (1998). Relationship of perceived future opportunity to depressive symptomatology of inner-city African-American adolescents. Children and Youth Services Review. Special consequences and strategies for youth involvement, 20 (9–10), 757–764.

Mason, W. A., Kosterman, R., Hawkins, J. D., Herrenkohl, T. I., Lengua, L. J., & McCauley, E. (2004). Predicting depression, social phobia, and violence in early adulthood from childhood behavior problems. Journal of the American Academy of Child and Adolescent Psychiatry, 43, 307–315.

McCreary, M. L., Slavin, L. A., & Berry, E. J. (1998). Predicting problem behavior and self-esteem among African American adolescents. Journal of Adolescent Research, 11, 216–234.

Nyborg, V. M., & Curry, J. F. (2003). The impact of perceived racism: Psychological symptoms of African American boys. Journal of Clinical Child and Adolescent Psychology, 32, 258–266.

Overstreet, S., Dempsey, M., Graham, D., & Moely, B. (1999). Availability of family support as moderator of exposure to community violence. Journal of Clinical Psychology, 28, 151–159.

Paradis, C. M., Hatch, M., & Friedman, S. (1994). Anxiety disorders in African Americans: An update. Journal of the National Medical Association, 86, 609–612.

Porter, S. C., Fein, J. A., & Ginsburg, K. R. (1997). Depression screening in adolescents with somatic complaints presenting to the emergency department. Annals of Emergency Medicine, 29, 141–145.

Sanders, M. G. (1997). Overcoming obstacles: Academic achievement as a response to racism and discrimination. Journal of Negro Education, 66, 83–93.

Stevenson, H. C. (1997a). Managing Anger: Protective, proactive, or adaptive racial socialization identity profiles and manhood development. Journal of Prevention and Intervention in the Community, 16, 35–61.

Stevenson, H. C. (1997b). "Missed, Dissed, & Pissed": Making meaning of neighborhood risk, fear and anger management in Black youth. Cultural Diversity and Mental Health, 3, 37–52.

Stevenson, H. C. (2003). Playing with anger: Teaching emotional coping skills to African American boys via athletics and culture. Westport, CT: Greenwood Publishing.

Stevenson, H. C., & Davis, G. Y. (2004). Racial socialization. In R. Jones (Ed.), Black Psychology (4th ed.) Hampton, VA, Cobb & Henry.

Stevenson, Jr., H. C., Davis, G. Y. Herrero-Taylor, T., & Morris, R. (2003). Boys, not men: Hypervulnerability in African American adolescent youth. In H. C. Stevenson (Ed.), Playing with anger: Teaching coping skills to African American boys through athletics and culture (pp. 3–20). Westport, CT: Greenwood Publishing.

Stevenson, H. C., Reed, J., Bodison, P., & Bishop, A. (1997). Racism stress management: Racial socialization beliefs and the experience of depression and anger for African American adolescents. Youth and Society, 29, 197–222.

Sue, S., Fujino, D. C., Hu, L., Takeuchi, T., & Zane, N. W. S. (1991). Community mental health services for ethnic minority groups: A test of the cultural responsiveness hypothesis. Journal of Consulting and Clinical Psychology, 59, 533–540.

The President's New Freedom Commission on Mental Health Final Report (2003). Achieving the Promise: Transforming mental health care in America. Washington, DC: Author.

Wright, H. H., Scott, H. R., Pierre-Paul, R., & Gore, T. A. (1984). Psychiatric diagnosis and the Black patient. Psychiatric Forum, 12, 65–71.
ACKNOWLEDGMENTS
This article is supported by a grant provided by the National Institute of Mental Health, PO1 #57136 and from the Faculty Scholars Award of the William T. Grant Foundation. Gwendolyn Y. Davis, Ph.D. was a Post-Doctoral Fellow in the W. E. B. DuBois Collective Research Institute at the University of Pennsylvania when this research was conducted
About this article
Cite this article
Davis, G.Y., Stevenson, H.C. Racial Socialization Experiences and Symptoms of Depression among Black Youth. J Child Fam Stud 15, 293–307 (2006). https://doi.org/10.1007/s10826-006-9039-8
Published:

Issue Date:

DOI: https://doi.org/10.1007/s10826-006-9039-8
KEYWORDS:
racial socialization

adolescents

depression

ecology

gender