Abstract
Economists have long sought to better understand how cultural value is transformed into economic value in creative industries. We propose a three-phase model for this mechanism in which the economic creation of cultural value begins with private cultural production and consumption from which a cultural entrepreneur discovers or perceives meaning. A cultural trajectory then unfolds through a second phase as meaning is refined, tested, developed into a shared experience in a cultural market. In the third phase, meaning is organized into an economic and cultural form and feeds back into cultural production. We illustrate this model of a 'market for meaning' with a case study of K-pop. We discuss implications of our model for theories of the entrepreneurial process and theories of cultural and creative industries.
Access options
Buy single article
Instant access to the full article PDF.
USD 39.95
Price excludes VAT (USA)
Tax calculation will be finalised during checkout.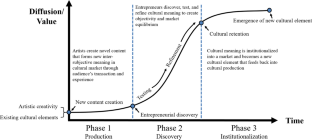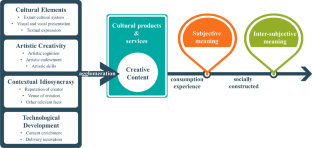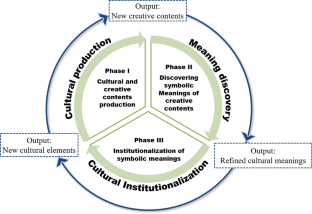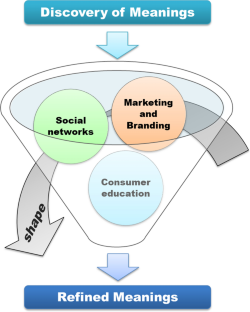 References
Akerlof, G. A. (1970). The market for "Lemons": quality uncertainty and the market mechanism. Quarterly Journal of Economics, 84, 488–500.

Amabile, T. M. (1996). Creativity and innovation in organizations (pp. 1–15). Harvard Business School.

Bakhshi, H., & Throsby, D. (2012). New technologies in cultural institutions: Theory, evidence and policy implications. International Journal of Cultural Policy, 18(2), 205–222.

Banerjee, A. V. (1992). A simple model of herd behavior. The Quarterly Journal of Economics, 107(3), 797–817.

Beckert, J. (2020). Markets from meaning: quality uncertainty and the intersubjective construction of value. Cambridge Journal of Economics, 44(2), 285–301.

Bourdieu, P. (1984). Distinction: A social critique of the judgement of taste. Harvard University Press.

Bowles, S. (1998). Endogenous preferences: The cultural consequences of markets and other economic institutions. Journal of Economic Literature, 36(1), 75–111.

Bridgstock, R. S. (2011). Making it creatively: Building sustainable careers in the arts and creative industries. Australian Career Practitioner Magazine, 22(2), 11–13.

Busenitz, L. W., Plummer, L. A., Klotz, A. C., Shahzad, A., & Rhoads, K. (2014). Entrepreneurship Research (1985–2009) and the Emergence of Opportunities. Entrepreneurship Theory and Practice, 38(5), 981–1000.

Caves, R. E. (2000). Creative industries: Contracts between art and commerce. Harvard University Press.

Chang, Y. Y., & Chen, M. H. (2020). Creative entrepreneurs' creativity, opportunity recognition, and career success: Is resource availability a double-edged sword? European Management Journal.

Chang, Y. Y., & Shih, H. Y. (2019). Work curiosity: A new lens for understanding employee creativity. Human Resource Management Review, 29(4), 100672.

Chen, M. H., Chang, Y. Y., & Chiang, M. T. (2017). Human capital and career success of creative entrepreneurs: Is guanxi network a missing link? Journal of Small Business & Entrepreneurship, 29(4), 313–331.

Cho, D., Lee, S. H., Yoo, Y., & Chu, H. Y. (2019). Television singing competitions create stars? Empirical evidence from the digital music chart in South Korea. Journal of Cultural Economics, 43(1), 1–20.

Choi, J., & Maliangkay, R. (2014). K-pop-The international rise of the Korean music industry. . Routledge.

Cooke, P. N., & Lazzeretti, L. (Eds.). (2008). Creative cities, cultural clusters and local economic development. Edward Elgar Publishing.

Dal Yong, J. I. N., & Hyangsoon, Y. I. (2020). Transnationality of Popular Culture in the Korean Wave. Korea Journal, 60(1), 5–16.

Davidsson, P. (2015). Entrepreneurial opportunities and the entrepreneurship nexus: A re-conceptualization. Journal of Business veNturing, 30(5), 674–695.

DCMS. (2001). Creative Industries Mapping Document. . DCMS.

Dekker, E. (2015). Two approaches to study the value of art and culture, and the emergence of a third. Journal of Cultural Economics, 39(4), 309–326.

Dekker, E., Dalla Chiesa, C., & Remic, B. (2018). Incentives matter, but what do they mean? Understanding the meaning of market coordination. Available at SSRN: https://ssrn.com/abstract=3270558

Delmestri, G., Montanari, F., & Usai, A. (2005). Reputation and strength of ties in predicting commercial success and artistic merit of independents in the italian feature film industry. Journal of Management Studies, 42(5), 975–1002.

Dolfsma, W. (2004). Consuming pop music/constructing a life world: The advent of pop music. International Journal of Cultural Studies, 7(4), 421–440.

Doré, P., & Pugsley, P. C. (2019). Genre conventions in K-pop: BTS's 'Dope' music video. Continuum, 33(5), 580–589.

Ellmeier, A. (2003). Cultural entrepreneurialism: on the changing relationship between the arts, culture and employment1. The International Journal of Cultural Policy, 9(1), 3–16.

Foord, J. (2009). Strategies for creative industries: an international review. Creative Industries Journal, 1(2), 91–113.

Frith, S. (2006). Institutional economics and the formation of preferences. The advent of pop music. Journal of Cultural Economics, 30(1), 85–89.

Gartner, W. B. (1988). Who is an entrepreneur? is the wrong question. American Journal of Small Business, 12(4), 11–32.

Gutman, J. (1982). A means-end chain model based on consumer categorization processes. Journal of Marketing, 60–72.

Hartley, J., & Potts, J. (2014). Cultural science: A natural history of stories, demes, knowledge and innovation. . Bloomsbury Publishing.

Henry, C., & de Bruin, A. (2011). Entrepreneurship and the creative economy: Process, practice and policy. . Edward Elgar Publishing.

Hesmondhalgh, D. (2012). The Cultural Industries. SAGE.

Hirsch, P. M. (2000). Cultural industries revisited. Organization Science, 11(3), 356–361.

Howkins, J. (2001). The creative economy: How people make money from ideas. . Allen Lane/Penguin.

IFPI. (2015). Charting the path to sustainable growth. IFPI digital music report. London: International Federation of the Photographic Industry (IFPI).

Kerrigan, F., O'Reilly, D., & vom Lehn, D. (2009). Producing and consuming arts: A marketing perspective. Consumption Markets and Culture, 12(3), 203–274.

Kirzner, I. M. (1973). Competition and entrepreneurship. . University of Chicago Press.

Kirzner, I. M. (1999). Creativity and/or alertness: A reconsideration of the Schumpeterian entrepreneur. The Review of Austrian Economics, 11(1–2), 5–17.

Kirzner, I. M. (2009). The alert and creative entrepreneur: A clarification. Small Business Economics, 32(2), 145–152.

Klamer, A. (2017). Doing the right thing: A value based economy. . Ubiquity Press.

Konrad, E. D. (2013). Cultural entrepreneurship: The impact of social networking on success. Creativity and Innovation Management, 22(3), 307–319.

Kozinets, R. V. (2001). Utopian enterprise: Articulating the meanings of Star Trek's culture of consumption. Journal of Consumer Research, 28(1), 67–88.

Kretschmer, M., Klimis, G. M., & Choi, C. J. (1999). Increasing returns and social contagion in cultural industries. British Journal of Management, 10(s1), 61–72.

Lash, S., & Urry, J. (2002). Economies of Sign and Space. . Sage.

Malerba, F., & McKelvey, M. (2020). Knowledge-intensive innovative entrepreneurship integrating Schumpeter, evolutionary economics, and innovation systems. Small Business Economics, 54, 503–522.

Miles, I., & Green, L. (2008). Hidden innovation in the creative industries. NESTA Futurlab.

Paige, R. C., & Littrell, M. A. (2002). Craft retailers' criteria for success and associated business strategies. Journal of Small Business Management, 40(4), 314–331.

Panourgias, N. S., Nandhakumar, J., & Scarbrough, H. (2014). Entanglements of creative agency and digital technology: A sociomaterial study of computer game development. Technological Forecasting and Social Change, 83, 111–126.

Peterson, R. A., & Anand, N. (2004). The production of culture perspective. Annual Review of Sociology, pp 311–334.

Potts, J. (2011). Creative industries and economic evolution. Edward Elgar Publishing.

Potts, J., Cunningham, S., Hartley, J., & Ormerod, P. (2008). Social network markets: A new definition of the creative industries. Journal of Cultural Economics, 32(3), 167–185.

Potts, J., Hartley, J., Banks, J., Burgess, J., Cobcroft, R., Cunningham, S., & Montgomery, L. (2008). Consumer co-creation and situated creativity. Industry and Innovation, 15(5), 459–474.

Ravasi, D., & Rindova, V. (2008). Symbolic value creation. Handbook of new approaches to organization, pp 270–284.

Roininen, S., & Ylinenpää, H. (2009). Schumpeterian versus Kirznerian entrepreneurship: A comparison of academic and non-academic new venturing. Journal of Small Business and Enterprise Development, 16(3), 504–520.

Roodhouse, S. (2011). The creative industries definitional discourse. In C. Henry & A.D. Bruin (Eds.), Entrepreneurship and the creative economy: Process, practice and policy. Cheltenham: Edward Elgar.

Ryoo, W. (2009). Globalization, or the logic of cultural hybridization: The case of the Korean wave. Asian Journal of Communication, 19(2), 137–151.

Schroeder, J. (2002). Visual consumption. . Routledge.

Shane, S., & Venkataraman, S. (2000). The promise of entrepreneurship as a field of research. Academy of Management Review, 25(1), 217–226.

Throsby, D. (2008a). The concentric circles model of the cultural industries. Cultural Trends, 17(3), 147–164.

Throsby, D. (2008b). Modelling the cultural industries. International Journal of Cultural Policy, 14(3), 217–232.

UNESCO. (2013). Creative Economy Report: 2013. (Special). United Nations Development Programme.

Venkatesh, A., & Meamber, L. A. (2006). Arts and aesthetics: Marketing and cultural production. Marketing Theory, 6(1), 11–39.
Acknowledgments
The authors would like to thank the Young Scholar Fellowship Program from the Ministry of Science and Technology of Taiwan for funding this project (MOST 110-2636-H-006-001). This study was also supported in part by the Higher Education Sprout Project, Ministry of Education to the Headquarters of University Advancement at National Cheng Kung University (NCKU). The authors are also grateful for the insightful comments of the Editor-in-Chief, Professor Douglas Noonan and the four anonymous reviewers.
Additional information
Publisher's Note
Springer Nature remains neutral with regard to jurisdictional claims in published maps and institutional affiliations.
About this article
Cite this article
Chang, YY., Potts, J. & Shih, HY. The market for meaning: A new entrepreneurial approach to creative industries dynamics. J Cult Econ 45, 491–511 (2021). https://doi.org/10.1007/s10824-021-09416-5
Received:

Accepted:

Published:

Issue Date:

DOI: https://doi.org/10.1007/s10824-021-09416-5
Keywords
Cultural entrepreneurship

Creative industries

Cultural markets

Cultural production

Meaning

K-Pop