Abstract
I study "donor governance," which occurs when contributors to nonprofit firms place restrictions on their gifts to limit the discretion of managers. In a study of US art museums, I find that this practice has grown significantly in recent years, and it represents the largest source of permanent capital in the industry. When donor restrictions are strong, museums shift their cost structures away from administration and toward program services, and they exhibit very high savings rates, retaining in their endowments 45 cents of each incremental dollar donated. Retention rates are near zero for cash generated from other activities. Restricted donations appear to stabilize nonprofits and significantly influence their activities, but they reduce management flexibility and may contribute to lower profit margins. Rising donor governance in US art museums may represent a reaction by contributors to the industry's high rates of financial distress, weak boards of trustees, and large private benefits of control enjoyed by managers.
This is a preview of subscription content, log in to check access.
Access options
Buy single article
Instant access to the full article PDF.
US$ 39.95
Price includes VAT for USA
Subscribe to journal
Immediate online access to all issues from 2019. Subscription will auto renew annually.
US$ 99
This is the net price. Taxes to be calculated in checkout.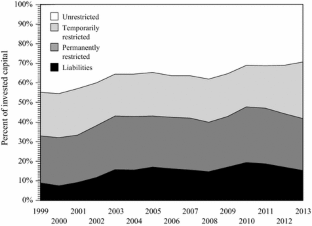 Notes
1.

2.

Detroit's flagship art museum was founded by the city in 1885 but spun off decades ago into a self-governing independent entity. However, the city retained title to the art collection in order to improve its position as a borrower in the municipal bond markets. The collection was appraised as high as $8 billion during the bankruptcy proceedings before a negotiated settlement extricated the art from the case. As discussed below, a handful of other museums have similar situations, with their art collections wholly or partly owned by the municipalities where they are located.

3.

Principle 17 of the Professional Practices in Art Museums promulgated by the Association of Art Museum Directors states in its entirety that "Gifts and bequests should be unrestricted whenever possible. No work of art should be accepted or acquired with conditions that restrict or otherwise interfere with the museum's obligation to apply the most reliable scholarly and scientific information available to questions of attribution, dating, iconography, provenance, conservation, and related matters." While much of the language of this principle seems to apply to gifts of artwork as opposed to cash, the first sentence seems umambiguously to discourage restricted gifts of all types. See https://aamd.org/sites/default/files/document/2011ProfessionalPracitiesinArtMuseums.pdf.

4.

A good account of recent art museum controversies over donor restrictions can be found at http://www.nytimes.com/2013/02/05/arts/design/museums–grapple–with–onerous–restrictions–on–donations.html. Examples in this story include one donor that required all pieces of his collection to be kept together by the Brooklyn Museum, which learned years later than some were fakes. In another case, the wife of American painter Clyfford Still bequeathed 2400 of his objects to a new museum on the condition that the trustees would build a collection dedicated solely to his work and would never sell or lend any of the art. In 2011 the museum successfully went to court for permission to sell four paintings in order to pay for conservation and other expenses.

5.

6.

In one prominent recent example, the Albright-Knox Art Gallery in Buffalo, NY, in 2007 raised $28.6 million by auctioning a bronze sculpture from its collection. It complied with standard ethical guidelines by earmarking the proceeds for an acquisitions endowment fund, essentially exchanging one piece of art for the resources with which to purchase others and rebalance the span of the overall collection. However, the transaction caused considerable controversy in the city and in the museum industry.

7.

Unfortunately the small group of excluded private foundation museums includes two of the best capitalized, the Getty Museum in Los Angeles, CA, and the Crystal Bridges Museum of American Art in Bentonville, AR.

8.

9.

A number of museums appear to rely implicitly for protection from creditors upon the concept of a cultural trust, which asserts that creditors cannot seize assets that are held for the benefit of the public. See Tam (2012). This position was taken by the attorney general of the state of Michigan during the bankruptcy of Detroit. The U.S. bankruptcy judge did not appear to agree with this doctrine, as he oversaw a negotiated settlement in which donors to the Detroit Institute of Arts and the museum itself agreed to pay hundreds of millions of dollars to the city's creditors in order to remove any encumbrance upon the museum's collections.

10.

See http://www.forbes.com/sites/kathryntully/2012/10/31/should–your–art–be–insured/. In the case of government owned museums, the decision not to insure artwork seems rational, since the government can act as its own insurer. For private museums, certain arguments seem less logical. For instance, some argue that the cost of insurance is simply too high due to the value of the artwork, an assertion that only seems to make the need for insurance more urgent. Others suggest that insuring art is problematic due to uncertainty about its fair market value, but the existence of a robust market for insuring private collections and traveling exhibits seems to undercut this contention, as does the ease with which donors obtain appraisals for tax purposes when making gifts to museums.

11.

Nearly all prior endowment research uses survey data from the higher education industry compiled by the National Association of College and University Business Officers (NACUBO). While the completeness of this data has improved over time, it has been subject to survey self-selection effects, changing variable definitions, and a reliance on self-reporting by those universities that cooperate. A comprehensive evaluation of the NACUBO data's quality appears in Brown et al. (2010).

12.

The closest paper to running such a test appears to be Dimmock (2012), which establishes that the standard deviation of endowment returns for a sample of universities is inverse to the standard deviation of the non-investment revenue streams, so that the most stable universities tend to have the riskiest endowment investment policies and vice versa.
References
Aggarwal, R., Evans, M. E., & Nanda, D. (2012). Nonprofit boards: Size, performance, and managerial incentives. Journal of Accounting and Economics, 53, 466–487.

Almeida, H., Campello, M., & Weisbach, M. S. (2004). The cash flow sensitivity of cash. Journal of Finance, 59, 1777–1804.

Blanchett, D. (2014). Donation risk and optimal endowment portfolio allocations. Journal of Portfolio Management, 41(1), 109–120.

Brown, J., Dimmock, S. G., Kang, J., & Weisbenner, S. (2012). How university endowments respond to financial market shocks: Evidence and implications. American Economic Review, 104, 931–962.

Brown, K. C., Garlappi, L., & Tiu, C. (2010). Asset allocation and portfolio performance: Evidence from university endowment funds. Journal of Financial Markets, 13, 268–294.

Congressional Budget Office (2010). Tax arbitrage by colleges and universities. http://www.cbo.gov/sites/default/files/04–30–taxarbitrage.pdf.

Dimmock, S. G. (2012). Background risk and university endowment funds. Review of Economics and Statistics, 94, 789–799.

Eldenburg, L., Hermalin, B. E., Weisbach, M. S., & Wosinska, M. (2004). Governance, performance objectives and organizational form: Evidence from hospitals. Journal of Corporate Finance, 10, 527–548.

Fama, E. F., & Jensen, M. C. (1983). Separation of ownership and control. Journal of Law and Economics, 26, 301–325.

Feld, A. L., O'Hare, M., & Schuster, J. M. D. (1983). Patrons despite themselves: Taxpayers and arts policy. New York: New York University Press.

Frey, B., & Meier, S. (2006). The economics of museums. In V. A. Ginsburg & D. Throsby (Eds.), Handbook of the economics of art and culture (pp. 1017–1047). Amsterdam: Elsevier Science.

Gross, M. (2009). Rogues' gallery. New York: Broadway Books.

Hallock, K. F. (2002). Managerial pay and governance in American nonprofits. Industrial Relations, 41, 377–406.

Lerner, J., Schoar, A., & Wang, J. (2008). Secrets of the academy: The drivers of university endowment success. Journal of Economic Perspectives, 22, 207–222.

Li, W., McDowell, E., & Hu, M. (2012). Effects of financial efficiency and choice to restrict contributions on individual donations. Accounting Horizons, 26, 111–123.

Ling, Q., & Roberts, A.A. (2014). The effect of governance on nonprofit reporting quality when misreporting is subtle. Unpublished manuscript, Marquette University and University of Virginia.

Lotkin, L. (1999). Protecting the charitable investor: A rationale for donor enforcement of restricted gifts. Boston University Public Interest Law Journal, 8, 361–386.

Mei, J., & Moses, M. (2002). Art as an investment and the underperformance of masterpieces. American Economic Review, 92, 1656–1668.

Mensah, Y. M., & Werner, R. (2003). Cost efficiency and financial flexibility in institutions of higher education. Journal of Accounting and Public Policy, 22, 293–323.

Merton, R. C. (1993). Optimal investment strategies for university endowment funds. In C. T. Clotfelter & M. Rotschild (Eds.), Studies of supply and demand in higher education (pp. 211–242). Chicago: University of Chicago Press.

Mundy, B. (2016). Taxes for the arts: Case studies of San Franciso, Cuyahoga County and Detroit. Unpublished manuscript, University of Akron.

Newton, A. N. (2015). Executive compensation, organizational performance, and governance quality in the absence of owners. Journal of Corporate Finance, 30, 195–222.

Nicita, A., & Rizzolli, M. (2009). The economics of art thefts: Too much screaming over Munch's The Scream? Economic Papers, 28, 291–303.

O'Hare, M. (2006). Capitalizing art museum collections: Awkward for museums but good for art and for society. Unpublished manuscript, University of California at Berkeley.

O'Hare, M. (2015). Museums can change—will they? Democracy: A Journal of Ideas, 36, 66.

Oster, S., & Goetzmann, W. N. (2003). Does governance matter? The case of art museums. In E. L. Glaeser (Ed.), The governance of not-for-profit organizations (pp. 71–99). Chicago: University of Chicago Press.

Skinner, S. J., Ekelund, R. B., Jr., & Jackson, J. D. (2009). Art museum attendance, public funding, and the business cycle. American Journal of Economics and Sociology, 68, 491–516.

Smolensky, E. (1986). Municipal financing of the US fine arts museum: A historical rationale. Journal of Economic History, 46, 757–768.

Tam, S. (2012). In museums we trust: Analyzing the mission of museums, deaccessioning policies, and the public trust. Fordham Urban Law Journal, 39, 849–901.

Temin, P. (1991). An economic history of American art museums. In M. Feldstein (Ed.), The economics of art museums (pp. 179–194). Chicago: University of Chicago Press.

Wolk, L. (2014). Authority and delegation in charities: Evidence from the UK. Unpublished manuscript, Colby College.

Yetman, M. H., & Yetman, R. J. (2012). Do donors discount low-quality accounting information? Accounting Review, 88, 1041–1067.
Acknowledgements
I am grateful to Tumi Adebiyi and Siddharth Vij for excellent research assistance, and I thank Jianping Mei, Michael Moses, and Ashley Newton for graciously sharing their data with me. I appreciate helpful comments from Tumi Adebiyi, David Lesmond, Ashley Newton, Michael O'Hare, John Page, Johann Reindl, Gudrun Rolle, Siddharth Vij, Leonard Wolk, two anonymous referees, and seminar participants at the University of Adelaide, Baruch College, BI Norwegian Business School, University of Edinburgh, Erasmus University Rotterdam, Free University of Amsterdam, IESEG Paris, Melbourne University, Tulane University, the University of Western Australia, and students in my NYU doctoral seminar on corporate distress and restructuring. Part of this paper was completed, while I was a visiting professor at Erasmus University Rotterdam.
About this article
Cite this article
Yermack, D. Donor governance and financial management in prominent US art museums. J Cult Econ 41, 215–235 (2017). https://doi.org/10.1007/s10824-017-9290-4
Received:

Accepted:

Published:

Issue Date:
Keywords
Nonprofit governance

Art museums

Endowment management

Restricted donations