"I judge that Spain is a pious mother to foreigners and a very cruel stepmother to her own native sons," Jusepe Ribera, lo Spagnoletto (1625)
Abstract
We analyze art pricing in a unique dataset on Madrid inventories between 1600 and 1750. We estimate a price index for the Spanish art market that is used for a general historical analysis of art during this period, showing a large increase in the real price of paintings during the XVII century. Then we examine the price differential between domestic and foreign paintings: At the beginning of the century domestic production was priced substantially below imported paintings, but the price gap was gradually reduced during the century. We argue that such a price convergence was not the fruit of variations in real exchange rate, relative supply or home bias, but was associated with increasing prices for the new domestic painters of the XVII century. Increasing remuneration for painting may have induced artistic innovations by domestic producers and created the conditions for the development of the Siglo de Oro of Spanish art.
Access options
Buy single article
Instant access to the full article PDF.
US$ 39.95
Tax calculation will be finalised during checkout.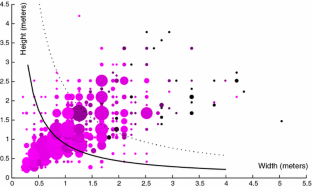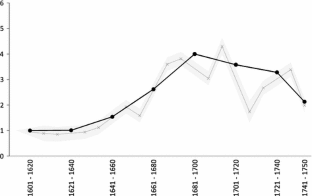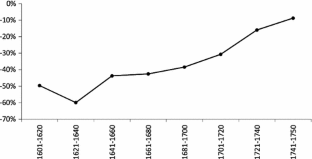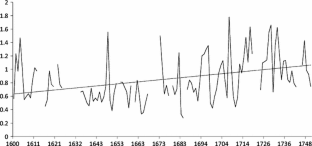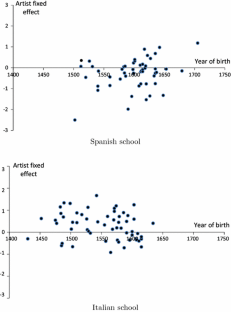 Notes
1.

In particular, a main determinant of prices, the surface area of paintings, is rarely documented in both Italian and Dutch inventories.

2.

3.

4.

A typical problem of hedonic regressions is the selection bias induced by the fact that the sample of paintings may not be representative of the entire set of paintings. This can be a problem with data from auctions (only for sold items), but not from inventories. However, one should keep in mind that poor collections may be underrepresented in the dataset. Moreover, the hedonic model assumes that the weight given to the various coefficients remains constant over the period of the model: While this is often unrealistic, as we will argue, pre-modern markets do not appear to be characterized by structural changes in pricing policies.

5.

As noticed by Brown (1998), "at Philip's death, there were about 1150 paintings at the Escorial, about 300 at the Alcàzar of Madrid, and perhaps 100 at the Pardo, totaling roughly 1500 in all. If it is assumed that about 200 came from the collections of Charles V and Mary of Hungary, then it can be conservatively estimated that Philip collected over 1000 pictures. This scale of acquisition is unprecedented in the history of collecting and represents the start of a new era—the one of the megacollector."

6.

For a classic historical account see Braudel (1966).

7.

An alternative procedure used in the XVI century was the tasacion: The price was established ex post by a team of appraisers nominated by the artist and the patron or, in case of irreconcilable difference, by an arbitrator. As noticed by Brown (1998), also this process "worked against the artist because it required him to invest his time, skill, and money in advance of payment, leaving him nothing to hold over the patron in the event of a grievance." El Greco experienced this hold up problem in more than one occasion: Evaluations for his important commission for the cathedral of Toledo (in 1579) ranged between 228 and 900 ducats, but at the end the painter had to accept only 317 ducats.

8.

Viceregal demand of religious paintings to decorate new churches was high, and Spanish and Flemish paintings were shipped during all the XVI and XVII century, sometimes also by important authors (such as the Carducho brothers or Zurbaran). Meanwhile, flourishing art centers were emerging in Mexico City (where a guild was established since 1555) and then Lima, Cuzco, Potosì, Quito and Santa Fe de Bogotà.

9.

The flow of silver increased enormously since 1540 and reached its peak in 1591–1595 (Drelichman 2005) after which it declined. The Crown was the main player in mining and was also entitled to the "royal fifth" of all private imports of treasure. A large portion of public spending (up to a fourth) was financed with the revenues from silver.

10.

We have detailed descriptions of most of the royal collections, but unfortunately they rarely include price evaluations.

11.

Burke (1997) emphasizes that, in bringing Italian artists to decorate the Escorial (the so-called escurialenses), "Philip may be said to have secured an Italian foundation for the development of the seventeenth-century Spanish school of history and religious painting, just as his having brought Antonis Mor to the Iberian Peninsula added Netherlandish influence to Spanish portraiture" (p. 112).

12.

Even in our sample, the number of distinct Spanish artists mentioned in the inventories is 8 in 1600–1620, 16 in 1620–1640, 29 in 1640–1660 and 37 in 1660–1680 (the corresponding figures for Italians are 12, 24, 50 and 29). The entrepreneurial role of painters changed as well: Lower level painters started selling on the streets to reach a wider audience, while higher level painters joined in "companies" to optimize the supply of large quantities of paintings executed by the assistants and started to be engaged in trade of paintings by others.

13.

As the other traditional guilds, however, also this was mainly aimed at protecting the economic interest of the history painters, which is to promote high prices for the commissioned altarpieces and lobby against the 10 % tax on sales (alcabala).

14.

In the Dutch case the local school was already established in the market, so there were no issues of price convergence between local and foreign painters.

15.

16.

Gaspar de Haro (1629–1687) inherited an already large collection from the father, Luis. He was sent to Rome as ambassador and to Naples as Viceroy. At his death, he owned over 3000 pictures, approximately 1200 of which were kept in his houses in Madrid (Brown 1998) and the rest in Italy.

17.

Also Juan Gaspar de Cabrera (1625–1691) inherited a large collection from the father Juan Alfonso, Viceroy of Sicily and then Naples, and spent his life in Spain preserving and enhancing his collection. The inventory from his palace classifies rooms entirely dedicated to painters such as Raphael, Tintoretto, Titian, Bassano, Ribera, Orrente, Rubens and a room for the "Spaniards."

18.

19.

The collection of the Count of Monterrey (1586–1653) was largely build in Naples between 1628 and 1637. There, he was also in charge of purchasing old masters' paintings for the King (as Titian's Bacchanal of the Andrians and the Worship of Venus, now both at the Prado) and commissioning new ones (for instance from Lanfranco, Domenichino and Stanzione). Similarly Luis de Haro had been in charge of acquisitions from the English Royal collection and the King's brother, the cardinal infante Ferdinand, had been in charge of acquisitions from Flanders (see Brown 1998).

20.

Ramiro Felipez de Nunez de Guzman (1600–1668) was well known as a patron of Ribera in Naples. His small collection contained Raphael's Madonna of the Fish (now at the Prado).

21.

For instance, we know that the inventories of Leonor Maria de Guzman and Manuel de Fonseca y Zuniga were appraised by Antonio de Pereda, those of Juan de Castaneda and Joseph Salvador Sarmiento by Palomino, those of Antonio de Mardones and Miguel de Salamanca by Juan de Miranda, the inventory of the doctor Alonso Cortes was evaluated by Vicencio Carducho, and the one of Juan Gaspar de Cabrera by Claudio Coello.

22.

The same dataset provides an attempt to build a series for CPI, which, however, gives a weight of 80 % to the price of wheat. Our results are substantially unchanged using this series.

23.

Three foreign painters (El Greco, Nardi and Carducho) are classified within the Spanish school because they spent most of their careers in Spain. We had also three paintings attributed to English painters and twenty four attributed to French painters, which we excluded from the analysis due to considerable underrepresentation (but Dughet is included in the Italian school). The only German painters are Durer and Holbein.

24.

Contrary to this, Dutch inventories have shown a gradual reduction in average size during the 600 s (Etro and Stepanova 2016), mainly aimed at satisfying the new demand of the middle class.

25.

Rounding by appraisers leads to discrete jumps in the surface areas.

26.

Recently, Higgs and Forster (2014) have argued that departures from standard proportions, namely from the classic ideal of golden ratio between height and length, can affect prices, but they have tested such hypothesis on modern auctions and modern art, and not on historical periods in which the link with the classic ideal of the golden ratio could be stronger.

27.

In our classification, landscapes include hermitanos (which depicted hermit saints in the composition) and portraits include typical depictions of dwarves (enanos), clowns (bufones), drunks (borrachos) and madmen (locos) that had a genre content.

28.

Also this is in contrast with the Dutch experience, where the share of landscapes and minor genres increases over the same period (Etro and Stepanova 2016).

29.

We are thankful to the referees for pointing out these remarks and their implications.

30.

In this specification, we find that the evaluations of the paintings decline with unusual proportions, in particular when the ratio between long and short size increases and when the surface area departs from its mode (see Higgs and Forster 2014). However, once we control for the quality of paintings with the artist fixed effects, the explanatory power of the mentioned ratio and of the distance from the modal area disappear. Accordingly, differences in width and height do not affect evaluations of paintings for a given surface area: In other words, the iso-size loci of Fig. 1 could be interpreted as indifference curves.

31.

While the general pattern is similar, the price index based on 10-year dummies is biased in the early 700s for the small number of inventories present in that period.

32.

The 1689 inventory of Gaspar de Haro contains also an equestrian portrait by van Dyck evaluated 55,000 reales that could be the anonymous portrait evaluated 1000 reales in 1648, and a Santa Cathalina by Titian evaluated 22,000 reales which should be the one in the collection of the Conde de Monterrey in 1653 evaluated 4950 reales.

33.

Jeronimo de Cuellar was a collector of works by Velazquez, while Pedro de Arce, a member of the royal honor guard, put together a collection with remarkable Spanish paintings, including the celebrated Fable of Arachne by Velazquez, evaluated 5500 reales in 1664. Cherry (1997) notices that art collecting was often a way to improve the social condition following the taste of the King Philip IV: "collecting might have been a means of catching Philip's eye. This is not to suggest that Arce, Cuellar, and other courtiers of middle rank collected merely to advance their careers, but it does indicate that seventeenth-century society, to use a biological metaphor, tended to select in favor of those who owned pictures" (p. 187).

34.

In particular, they cannot reflect incentive mechanisms toward the artists, as it would be the case for a primary market, where the price is the direct compensation of the painter (on that case see Etro et al. 2015).

35.

Both of them were also active in Madrid, where we know that Murillo was paid 2600 reales for an altarpiece in 1661 (Brown 1998, p. 206). Murillo's compensations were much higher in Seville, where in 1670 he was paid 13,300 and 15,975 reales for two large canvases for La Caridad. He supplied also international private collectors with smaller figurative and genre paintings, becoming the only painter active in Spain who achieved an international reputation during its own lifetime.

36.

Carducho and Nardi were Italians and Orrente visited Italy and was a successful producer of paintings in the style of the Bassano's and Caravaggio. We know that his altarpiece for the cathedral of Toledo was paid 1500 reales in 1617 (Brown 1998, p. 94). As well known, also Velazquez visited Italy.

37.

We know that the initial career of Zurbaran in Seville was problematic: In 1626 he accepted 4000 reales for 21 paintings (while the rival Herrera was paid 900 reales per picture), and in 1630 the guild officers brought him to court for not passing the examination to practice in town. The challenge was dismissed by the council and better commissions did follow (with 2200 reales paid in 1634 for the twelve labors of Hercules). However, the Sevillan market started to decline in the following years. Brown (1998, p. 201) notices that "Zurbaran and his workshop resorted to making devotional pictures for individual clients. Small in scale and simple in composition, these paintings were markedly different from the complex, doctrinal works created for the monasteries of Andalusia." Nevertheless, the artistic contribution of Seville remained important until the end of the century, also thanks to the success of a drawing academy founded in 1660 by Herrera and Murillo.

38.

According to Brown (1998, p. 98), the causes of the decline of Valencia "are undoubtedly related to the economic consequences of the expulsion of the Moriscos, which would have lessened the appeal of Valencia to painters from the outside. And even if foreign painters had been tempted to try their luck, they would have encountered the resistance of local artists, who were determined to eliminate the competition of foreigners by means of a college of painters. This college was formed in 1607 by a group including Ribalta and Sariñena and was probably influenced by the formation of the Academia de San Lucas in Madrid just 3 years earlier. However, the Valencian College can hardly be considered as liberal; like the guild it sought to supplant, it was motivated by a desire to prevent foreign (i.e., non-Valencian) painters from opening up shops in the city." While entry barriers led to decline in Valencia, it was free entry in the market of Madrid to guarantee the success of its local artists.

39.

We are very grateful to two anonymous referees for pointing out the three issues addressed below.

40.

We include Ribera between the Spanish painters to increase the number of observations in the corresponding regression. This does not affect our results.

41.

Ten percent of the observations are for evaluations taking place within 5 years from the death of eleven Spanish painters (including Diego Velazquez, Pedro Orrente, Vicencio Carducho, Manuel de Molina and Ribera).
References
Alcala, L. E., & Brown, J. (Eds.). (2015). Painting in Latin America, 1550–1820. New Haven: Yale University Press.

Álvarez-Nogal, C., & Prados de la Escosura L. (2013). The rise and fall of Spain (1270–1850). The Economic History Review, 66(1), 1–37.

Ashenfelter, O., & Graddy, K. (2003). Auctions and the price of art. Journal of Economic Literature, 41(3), 763–787.

Braudel, F. (1966). La Méditerranée et le Monde méditerranéen à l'époque de Philippe II. Paris: A. Colin.

Brown, J. (1998). Painting in Spain 1500–1700. New Haven: Yale University Press.

Burke , M. B. (1997). A golden age of collecting, chapter 2. In Burke and Cherry, pp. 109–187.

Burke, M. B. & Cherry, P. (1997). Collections of paintings in Madrid, 1601–1755. Documents for the history of collecting: Spanish inventories, Fondazione dell'Istituto Bancario per la Cultura, la Scienza e l'Arte.

Cecchini, I. (2000). Quadri e Commercio a Venezia durante il Seicento. Venice: Cini Foundation.

Cherry, P. (1997). Seventheenth-century taste in Spain, chapter 1. In Burke and Cherry, pp. 1–107.

De Marchi, N., & Van Miegroet, H. (Eds.). (2006). Mapping markets for paintings in Europe 1450–1750. Turnhout: Brepols.

Drelichman, M. (2005). The curse of Moctezuma: American silver and the Dutch disease. Explorations in Economic History, 42(3), 349–380.

Etro, F. (2016). The economics of Renaissance. Venice: Ca' Foscari University.

Etro, F., Marchesi, S., & Pagani, L. (2015). The labor market in the art sector of Baroque Rome. Economic Inquiry, 53(1), 365–387.

Etro, F., & Pagani, L. (2012). The market for paintings in Italy during the seventeenth century. Journal of Economic History, 72(2), 423–447.

Etro, F., & Pagani, L. (2013). The market for paintings in the Venetian Republic from Renaissance to Rococò. Journal of Cultural Economics, 37(4), 391–415.

Etro, F., & Stepanova, E. (2015). The market for paintings in Paris between Rococo and Romanticism. Kyklos, 68(1), 26–48.

Etro, F., & Stepanova, E. (2016). Entry of painters in the Amsterdam market of the golden age. Journal of Evolutionary Economics (in press).

Falomir, M. (2006). Artists' responses to the emergence of markets for paintings in Spain, c. 1600, chapter 8. In De Marchi, N., & Van Miegroet, H.

Hauser, A. (1999). The social history of art (3rd ed.). London: Routledge.

Higgs, H., & Forster, J. (2014). The auction market for artworks and their physical dimensions: Australia 1986 to 2009. Journal of Cultural Economics, 38, 85–104.

Hobsbawm, E. J. (1954). The general crisis of the European economy in the 17th century. Past & Present, 5, 33–53.

Lopez, R. S. (1953). Hard times and investment in culture. New York: Metropolitan Museum of Art.

Loughman, J., & Montias, J. M. (2001). Public and private spaces. Works of art in seventeenth-century Dutch houses. Woodbridge: Antique Collectors Club Ltd.

Martens, M., & Peeters, N. (2006). Paintings in antwerp houses (1532–1567), chapter 2. In De Marchi, N., & Van Miegroet, H.

Montias, J. M. (1982). Artists and artisans in Delft: A socio-economic study of the seventeenth century. Princeton: Princeton University Press.

Montias, J. M. (2002). Art at auction in 17th century Amsterdam. Amsterdam: Amsterdam University Press.

Perez, J. J. (2010). El Marqués de Leganés y las Artes, Ph.D. thesis, Universidad Computense de Madrid.

Pinchera, V. (2014). The art market in the early modern florence (1600–1700): Buying paintings in seventeenth century. Pisa: Mimeo, University of Pisa.

Spear, R., & Sohm, P. (2010). Painting for profit. The economic lives of seventeenth-century Italian. New Haven: Yale University Press.

Ursprung, H., & Wiermann, C. (2011). Reputation, price, and death: An empirical analysis of art. Economic Inquiry, 49(3), 697–715.

Volk, M. C. (1980). New light on a seventeenth-century collector: The Marquis of Leganés. Art Bulletin, 62(2), 256–268.
Acknowledgments
We are thankful to Alessandro Nuvolari, Neil De Marchi, Martina Frank, Kathryn Graddy, Emanuela Lo Verde and two anonymous referees for comments.
Electronic supplementary material
Below is the link to the electronic supplementary material.
About this article
Cite this article
Etro, F., Stepanova, E. Art collections and taste in the Spanish Siglo de Oro . J Cult Econ 41, 309–335 (2017). https://doi.org/10.1007/s10824-016-9267-8
Received:

Accepted:

Published:

Issue Date:
Keywords
Schumpeterian hypothesis

Lopez hypothesis

International trade of paintings
JEL Classification