Abstract
This study empirically investigates the factors affecting demand for best-selling novels in paperback, including the relationship with other formats (hardcover and e-book), and the determinants of prices by estimating the demand for paperbacks and price equations. The results show that paperbacks that have hardcover versions with large sales and that are original novels made into movies or television dramas tend to be best sellers. It is also found that expected demand is not a significant determinant of paperback price, whereas the number of pages is a major factor influencing price.
This is a preview of subscription content,
to check access.
Access this article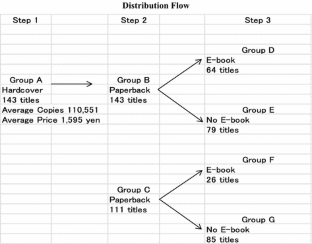 Notes
Interviews with large-scale publishers reveal that Japanese authors generally do not want to release their novels in paperback as long as demand for hardcovers exists, even if this demand is small.

Resale price maintenance, namely the setting of retail prices by producers, is prohibited in principle by the Antimonopoly Act in Japan. However, the rule does not apply to cultural products such as print books and music CDs.

The number of newly released book titles was 63,054 in 1996 at the peak of book sales, and then, it increased to 77,910 in 2013, whereas book sales decreased. The number of bookstores decreased from 22,296 in 1999 to 14,241 in 2013, according to data from the Japan Author Promotion Center's (2014) Web site.

The revenues of e-books and electronic magazines were 93.6 and 7.7 billion yen, respectively, according to Impress (2014). Thus, the ratio of e-book sales to total book sales, except for magazine sales, was 10.7 %.

In the observations, there are 25 novels released in both hardcover and paperback that were not made into movies or television dramas and that sold more than 5000 copies. The ratios of copies sold for the first 5 weeks to the total sales for a year are measured for those novels using the weekly sales data from Oricon in order to analyze the degree of concentration of sales at the early stage. The average ratios of the number of copies for the first 4 weeks are 0.60 and 0.46 of hardcovers and paperbacks, respectively. Further, the estimation of sales patterns shows that the exponential model, in which sales in the first week are largest and gradually decrease thereafter, is applied to the 24 novels. These results imply that book sales, particularly hardcover sales, are concentrated at the early stage.

The observations in the present study are for popular novels appearing on the paperback best seller charts from 2010 to 2013. Oricon began compiling book sales data in 2008. Therefore, the variable Author uses the larger number of copies sold in the past 2 years.

Data on e-book sales measured by yen or the number of downloads by provider are not available. However, more than half of electronic publishing users utilized Amazon's Kindle Store in 2013, according to Impress (2013). As of January 2014, Amazon provides more than 2 million titles at its Kindle Store (according to information from Amazon's Web site), and it is assumed that Amazon supplies the most titles among Japanese providers. Thus, the present study relies on data from the Amazon Web site to assess whether the paperback is distributed electronically.

I also estimated the equations that incorporate the quadratic term of the variables Month and HC Sale to allow for a nonlinear relationship. However, the linear model is used because the fitness of the linear model is better than that of the nonlinear model, judging from the Akaike information criterion.

Light reading books provide the names of illustrators as well as authors on the book covers. The book cover identifies whether the book is a novel or light reading.

The calculation period of Oricon's 2013 best seller charts spans from November 19, 2012, to November 17, 2013. All titles observed in the present study have slipped below the weekly top 50 position by March 2014.

Oricon Research (2010–2013) published the annual top 100 paperback charts. Lower ranking paperback data are also available from Oricon Research at a charge.

In Group C, 45 of 111 paperbacks are written by an energetic author. All his novels are released in paperback without hardcover versions, and as none of his novels have been produced as an e-book, all his paperbacks belong to Group G. Regarding the 66 titles in Group C, except for the aforementioned 45 titles, on average, 791,915 copies were previously sold by authors in Group G, whereas the corresponding number for Group F is 441,605 copies. The finding that authors who already have a large amount of sales tend to refrain from electronic publishing is also applicable to the case in which the novels written by the energetic author are excluded.

The null hypothesis that the estimated value for the test is zero is not rejected at the 10 percent significance level by the Hausman test, implying that HC Sale is considered to be an exogenous variable in the demand for paperbacks.
References
Ashworth, J., Heyndels, B., & Werck, K. (2010). Expert judgements and the demand for novels in Flanders. Journal of Cultural Economics, 34(3), 197–218.

Bittlingmayer, G. (1992). The elasticity of demand for books, resale price maintenance and the Lerner index. Journal of Institutional and Theoretical Economics, 148(4), 588–606.

Chevalier, J., & Goolsbee, A. (2003). Measuring prices and price competition online: Amazon.com and BarnesandNobel.com. Quantitative Marketing and Economics, 1(2), 203–222.

Clerides, S. K. (2002). Book value: Intertemporal pricing and quality discrimination in the US market for books. International Journal of Industrial Organization, 20(10), 1385–1408.

D'Astous, A., Colbert, F., & Mbarek, I. (2006). Factors influencing readers' interest in new book release: An experimental study. Poetics, 34(2), 134–147.

De Vany, A. (2006). The movies. In V. A. Ginsburgh & D. Throsby (Eds.), Handbook of the economics of art and culture (pp. 615–666). North-Holland: Amsterdam.

Eliashberg, J., Elberse, A., & Leenders, A. A. M. (2006). The motion picture industry: Critical issues in practice, current research, and new research directions. Marketing Science, 25(6), 638–661.

Hjorth-Andersen, C. (2000). A model of the Danish book market. Journal of Cultural Economics, 24(1), 27–43.

Impress. (2013). Investigation on electronic publishing usage. Press release dated 19 December 2013. http://www.impressRD.jp/news/131219/NP. Accessed on 10 Jan 2014 (in Japanese).

Impress. (2014). Report on Electronic Publishing Business 2014. Tokyo: Impress (in Japanese).

Japan Author Promotion Center. (2014). Number of bookstores. http://www.1book.co.jp/001166.html. Accessed on 16 Dec 2014 (in Japanese).

Jozefowicz, J. J., Kelley, J. M., & Brewer, S. M. (2008). New release: An empirical analysis of VHS/DVD rental success. Atlantic Economic Journal, 36(2), 139–151.

Li, H. (2013). The impact of ebooks on print book sales: Cannibalization and market expansion. https://bepp.wharton.upenn.edu/bepp/assets/File/huiLi.ebook. Dated 22 January 2013 (last accessed on 1 October 2013).

Motion Picture Producers Association of Japan. (2014). Outline of motion picture industry, Press release dated 22 January 2014. http://www.eiren.org/toukei/index.html. Accessed on 24 Jan 2014 (in Japanese).

Oricon Research (2010–2013). Entertainment market report. Tokyo: Oricon Research (in Japanese).

Research Institute for Publications. (2011–2014) Annual Report on the Publication Market 2011–2014. Tokyo (in Japanese).

Rochet, J. C., & Tirole, J. (2006). Two-sided markets: A progress report. RAND Journal of Economics, 37(3), 645–667.

Schmidt-Stölting, C., Blömeke, E., & Clement, M. (2011). Success drivers of fiction books: An empirical analysis of hardcover and paperback editions in Germany. Journal of Media Economics, 24(1), 24–47.

Shehu, E., Prostka, T., Schmidt-Stölting, C., Clement, M., & Blömeke, E. (2013). The influence of book advertising on sales in the German fiction book market. Journal of Cultural Economics, 38(2), 109–130.
Acknowledgments
This study was supported by JSPS KAKENHI Grant Number 15k03470. I thank the editors and two anonymous referees for their variable comments.
About this article
Cite this article
Asai, S. Determinants of demand and price for best-selling novels in paperback in Japan. J Cult Econ 40, 375–392 (2016). https://doi.org/10.1007/s10824-015-9256-3
Received:

Accepted:

Published:

Issue Date:

DOI: https://doi.org/10.1007/s10824-015-9256-3
Keywords