Abstract
Film studios have spent the past two decades lobbying extensively to establish new legislation restricting access to copyrighted materials online. While there is growing evidence of the effect film piracy has on studio profits, the evidence on the impact of anti-piracy legislation is limited. If anti-piracy legislation is having the film industry's desired impact, we would expect film revenues to be consistently higher following the passage of major laws that restrict access to pirated content, or major enforcement actions, such as the shutdown of Web sites that provide illegal content for download. This paper applies an intervention analysis approach to weekly data on movie box-office revenues in the USA to determine whether the passage of new anti-piracy policy has generated significant changes in box-office revenues during the period from 1997 to the present. These effects are evaluated in both the short and long term, which allows an assessment of the duration of effectiveness of government actions. The results show that four of the six included policies are ineffective in the long term and those policies that do impact revenues in the short term often harm film studios, rather than help them.
This is a preview of subscription content, log in to check access.
Access options
Buy single article
Instant access to the full article PDF.
US$ 39.95
Price includes VAT for USA
Subscribe to journal
Immediate online access to all issues from 2019. Subscription will auto renew annually.
US$ 99
This is the net price. Taxes to be calculated in checkout.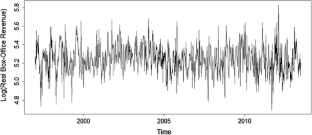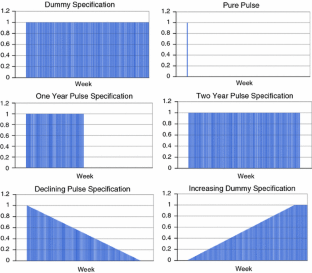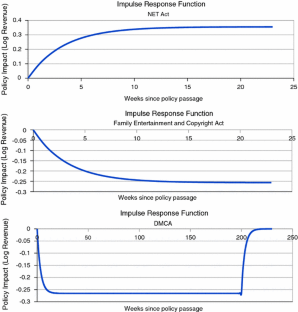 Notes
1.

Prior to 1998 only the highest grossing films are recorded, usually 8–15 films per week. From 1998 to 2001 more films, but not all, are counted, resulting in data on 40–70 films per week. After 2001 all films, even those showing in a limited number of theaters, with limited revenues are included. Over this time period revenues are routinely reported for 90–130 films per week. This problem would produce selection bias (it excludes the lowest grossing films from early data) if it is not accounted for with dummy variables.

2.

While this policy is largely an expansion of existing state legislation, rather than an entirely new policy, it is treated the same as the other policies in this study. This is done for three reasons: 1. The state policies were not nearly as well enforced as the new national policy. 2. The national press coverage associated with a major law like this likely had a major impact on film revenues that a state policy would not have. 3. Given the ease of copying a filmed movie it is largely irrelevant whether a movie is recorded in one state or in 20. The federal policy established for the first time that it was difficult to record films in theaters across the nation.

3.

The results do not change significantly with an AR(1) rather than ARMA(1,2) process. Concerns about overfitting by using the AIC should be dramatically reduced due to the similarity of results. It is also worth noting that since the goal of this paper is explanatory, not predictive, the possibility of overfitting is less of a concern.

4.

This version of the equation includes three lags of the z variable, but this choice is arbitrary. Many versions of this equation were tested with many different lag orders of z.

5.

Additionally, the statistics package utilized to produce this paper, R, reports unscaled AIC values, which are often significantly more negative than those that are scaled.
References
Bounie, D., Bourreau, M., & Waelbroeck, P. (2006). Piracy and the demand for films: Analysis of piracy behavior in French Universities. Review of Economic Research on Copyright Issues, 3(2), 15–27.

Box, G. E. P., & Tiao, G. C. (1975). Intervention analysis with applications to economic and environmental problems. Journal of the American Statistical Association, 70, 70–74.

Box-Office Mojo. http://boxofficemojo.com/weekly/ Accessed: November 1, 2013.

DeVany, A. S., & Walls, W. D. (2007). Estimating the effects of movie piracy on box-office revenue. Review of Industrial Organization, 30(4), 291–301.

Digital Millenium Copyright Act (1998). Public Law 105–304.

Enders, W. (2010). Applied econometric time series. Danvers: Wiley.

Family Entertainment and Copyright Act (2005) Public Law 109–9.

Heneghan, B. P. (2002). The NET Act, fair use, and willfulness-is Congress making a scarecrow of the Law? Journal of High Technology Law, 1(1), 27–46.

Kravets, D. (2012). Feds shutter Megaupload, arrest executives.  Wired. Retrieved from http://www.wired.com/2012/01/megaupload-indicted-shuttered/

McKenzie, J. (2012). The economics of movies: A literature survey. Journal Of Economic Surveys, 26(1), 42–70.

McKenzie, J., Walls, W. D. (2014). File-sharing and film revenues: An empirical analysis, working paper.

MPAA (2013) http://www.mpaa.org/news/pr Accessed November 20.

NET Act (1997) Public Law 105–147.

Prioritizing Resources and Organization for Intellectual Property Act of 2008. (2008). Public Law 110–403.

Sudler, H. (2013). Effectiveness of anti-piracy technology: Finding appropriate solutions for evolving online piracy. Business Horizons, 56(2), 149–157.

Varian, H. (2005). Copying and copyright. Journal of Economic Perspectives, 19(2), 121–138.

Worthington, A., & Valadkhani, A. (2004). Measuring the impact of natural disasters on capital markets: An empirical application using intervention analysis. Applied Economics, 36(19), 2177–2186.
About this article
Cite this article
Orme, T. The short- and long-term effectiveness of anti-piracy laws and enforcement actions. J Cult Econ 38, 351–368 (2014). https://doi.org/10.1007/s10824-014-9225-2
Received:

Accepted:

Published:

Issue Date:
Keywords
Online piracy

Motion-pictures industry

Intervention analysis

Intellectual property rights
JEL Classification