Abstract
The movie market in Australia, as in most countries, is highly dominated by Hollywood movies. However, there is an increasing trend of movies being imported from non-US countries. This study extends the one-way flow model of media products to examine whether there has been an increase in the diversity of movie imports in recent years and to explain how this has been influenced by changes in cultural taste over time. Regression analyses of movies imported from 1999 to 2009 confirm the economic theory of one-way media flow that considers both market size and cultural discount. In addition, changes in the Australian population composition and increased exposure to foreign culture are found to influence the diversity in movie imports. The analysis indicates that cultural taste can change through repeated exposure and consumption. Through a longer-term investigation of how cultural tastes form and change over time, we can establish a more nuanced model of international trade in cultural products.
Access options
Buy single article
Instant access to the full article PDF.
USD 39.95
Price excludes VAT (USA)
Tax calculation will be finalised during checkout.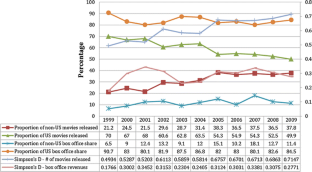 References
Abram, D. J., Straubhaar, J. D., & McCormick, P. (2009). Television flows in the anglophone cultural market from 1962–2001. In Paper presented at the Annual meeting of the International Communication Association.

Anderson, B. (1983). Imagined communities: Reflections on the origin and spread of nationalism. New York: Verso.

Australian Bureau of Statistics (2010). Overseas Arrivals and Departures, Australia. Accessed Feb 9, 2012, http://www.abs.gov.au/AUSSTATS/abs@.nsf/DetailsPage/3401.0Nov%202010?OpenDocument.

Australian Bureau of Statistics (2011). Regions of Birth. Accessed July 5, 2013, http://www.abs.gov.au/ausstats/abs@.nsf/Products/3E70795D258987A3CA2578B000119787?opendocument.

Australian Bureau of Statistics (2012). Australia's Population by Country of Birth. Accessed July 5, 2013, http://www.abs.gov.au/AUSSTATS/abs@.nsf/Lookup/3412.0Main+Features12010-11?OpenDocument.

Blackstone, E. A., & Bowman, G. W. (1999). Vertical integration in motion pictures. Journal of Communication, 49(1), 123–139.

Bornstein, R. F. (1989). Exposure and affect: Overview and meta-analysis of research, 1968–1987. Psychological Bulletin, 106(2), 265–289.

Bourdieu, P. (1986). The forms of capital. In J. Richardson (Ed.), Handbook of theory and research for the sociology of education (pp. 241–258). New York: Greenwood.

Chaffee, Steven H., & Miyo, Yuko. (1983). Selective exposure and the reinforcement hypothesis: An intergenerational panel study of the 1980 presidential campaign. Communication Research, 10, 3–36.

Dessy, O. & Gambaro, M. (2009). Demand for movies in Europe and the effects of multiplex diffusion: A panel approach. Working paper, 2009-03. Universita Degli Studi Di Milano. Accessed online July 5, 2013 http://ssrn.com/abstract=1176542.

Dupagne, M., & Waterman, D. (1998). Determinants of U.S. television fiction imports in Western Europe. Journal of Broadcasting and Electronic Media, 42, 208–220.

Falkenheim, B. J. C. (2000). Asymmetries reconfigured: South American television flows in the 1990s. Canadian Journal of Communication, 25(2), 285–306.

Fu, W. W. (2006). Concentration and homogenization of international movie sources: Examining foreign film import profiles. Journal of Communication, 56(4), 813–835.

Fu, W. W., & Lee, T. K. (2008). Economic and cultural influences on the theatrical consumption of foreign films in Singapore. Journal of Media Economics, 21(1), 1–27.

Fung, A. (2007). Intra-Asian cultural flow: Cultural homologies in Hong Kong and Japanese television soap operas. Journal of Broadcasting & Electronic Media, 51(2), 265–286.

Gil, R. (2009). Revenue sharing distortions and vertical integration in the movie industry. Journal of Law Economics and Organization, 25(2), 579–610.

Groves, D. (2003). Hollywood sign: Even as locals grow, studio pix up B.O. share. Variety, November 17–23, A1–A6.

Kogut, B., & Singh, H. (1988). The effect of national culture on the choice of entry mode. Journal of International Business Studies, 19(3), 411–432.

La Pastina, A., & Straubhaar, J. (2005). Multiple proximities between genres and audiences: The schism between telenovelas' global distribution and local consumption. Gazette, 67, 271–288.

Lee, S. (2002). An economic analysis of the movie industry in Japan. Journal of Media Economics, 15(2), 125–139.

McDonald, D., & Lin, S. F. (2004). The effect of new networks on U.S. television diversity. Journal of Media Economics, 17(2), 105–121.

McKenzie, J., & Walls, W. D. (2013). Australian films at the Australian box office: Performance, distribution, and subsidies. Journal of Cultural Economics, 37(2), 247–269.

McNelly, J. T., & Izcaray, F. (1986). International news exposure and images of nations. Journalism Quarterly, 63(3), 546–553.

Oh, J. (2001). International trade in film and the self-sufficiency ratio. Journal of Media Economics, 14(1), 31–44.

Owen, B., & Wildman, S. (1992). Video economics. Cambridge: Harvard University Press.

Park, S. (2004). China's consumption of Korean television dramas: An empirical test of the "Cultural Discount" concept. Korea Journal, 44(4), 265–290.

Park, S. (2005). The impact of media use and cultural exposure on the mutual perception of Koreans and Japanese. Asian Journal of Communication, 15(2), 178–187.

Park, S. (2011). Market change and diversity in the Korean movie market. Asian Journal of Communication, 21(6), 544–563.

Quinn, M. A. (2009). Movies and the mystery of the missing trade: Is hollywood good for U.S. exporters? International Trade Journal, 23, 231–254.

Screen Australia (2010). Audiovisual markets: Cinema 2010, from http://www.screenaustralia.gov.au/research/statistics/wcfilmxcountry.aspx.

Semetko, H. A., Brzinski, J. B., Weaver, D., & Willnat, L. (1992). TV news and U.S. public opinion about foreign countries: the impact of exposure and attention. International Journal of Public Opinion Research, 4(1), 18–36.

Singhal, A., & Udornpim, K. (1997). Cultural shareability, archetypes and television soaps. International Communication Gazette, 59(3), 171–188.

Stigler, G. J., & Becker, G. S. (1977). De Gustibus Non Est Disputandum. The American Economic Review, 67(2), 76–90.

Straubhaar, J. D. (1991). Beyond media imperialism: Asymmetrical interdependence and cultural proximity. Critical Studies in Mass Communication, 8(1), 39.

Straubhaar, J. D. (2007). World television: Global to local. SAGE: SAGE Publications Inc.

Straubhaar, J. D. (2008). Global, hybrid or multiple?: Cultural identities in the age of satellite TV and the Internet. Nordicom Review, 29(2), 11–29.

Throsby, D. (1999). Cultural capital. Journal of Cultural Economics, 23(1), 3–12.

Verhoeven, D. (2010). Film, video, DVD and online delivery. In S. Cunningham & G. Turner (Eds.), The media and communications in Australia. Crows Nest: Allen & Unwin.

Walls, W. D., & McKenzie, J. (2012). The changing role of hollywood in the global movie market. Journal of Media Economics, 25(4), 198–219.

Waterman, D. (1988). World television trade: The economic effects of privatization and new technology. Telecommunications Policy, 12(2), 141–151.

Waterman, D., & Jayakar, K. P. (2000). The competitive balance of the Italian and American film industries. European Journal of Communication, 15(4), 501–528.

Waterman, D., & Rogers, E. M. (1994). The economics of television program production and trade in Far Eastern Asia. Journal of Communication, 44(3), 89–111.

Wildman, S. S. (1994). One-way flows and the economics of audiencemaking. In J. S. Ettema & D. C. Whitney (Eds.), Audiencemaking: How the media create the audience (pp. 115–141). Thousand Oaks: Sage Publications.

Wildman, S. S., & Siwek, S. (1988). International trade in film and television programs. Cambridge, MA: Ballinger.
Acknowledgments
I gratefully acknowledge the generosity of the Motion Picture Distributors Association of Australia, who provided me with their valuable data.
Additional information
An earlier version of this paper was presented at the 10th World Media Economics and Management Conference (Thessaloniki, May 23–27, 2012).
About this article
Cite this article
Park, S. Changing patterns of foreign movie imports, tastes, and consumption in Australia. J Cult Econ 39, 85–98 (2015). https://doi.org/10.1007/s10824-014-9216-3
Received:

Accepted:

Published:

Issue Date:

DOI: https://doi.org/10.1007/s10824-014-9216-3
Keywords