Abstract
The paper addresses whether the state of the economy impacts the supply of and demand for cinema entertainment. A literature review on the drivers of cinema supply and demand is provided, and two competing hypotheses are extracted. Economic downturns could either lead to a sober mood and drive the interest in serious genres or drive the need for distraction leading to an increased interest in feel-good or action movies. However, characteristics of the movie industry suggest that economic key factors have only limited effects on supply and demand. A time series analysis of supply and demand in three major European markets indicate that demand is unrelated to the state of the economy. In aggregate, the demand does not instruct supply. Fluctuations in individual movie quality superpose potential effects of the economic context on the aggregated demand. Simultaneously, a focus on film as art superposes potential effects of the economic context on the supply.
This is a preview of subscription content, log in to check access.
Access options
Buy single article
Instant access to the full article PDF.
US$ 39.95
Price includes VAT for USA
Subscribe to journal
Immediate online access to all issues from 2019. Subscription will auto renew annually.
US$ 99
This is the net price. Taxes to be calculated in checkout.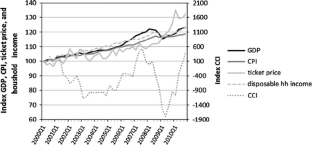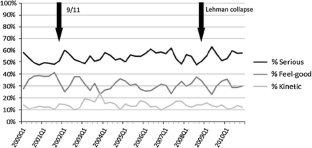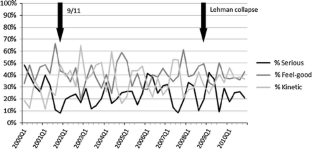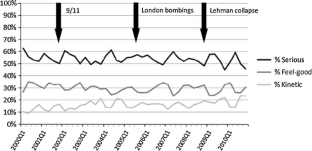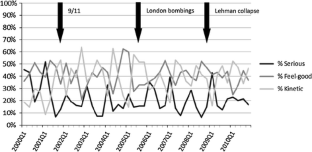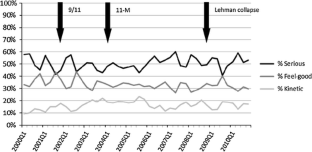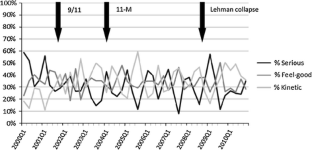 Notes
1.

Wyatt (1994) is an exception here. However, his description of the emergence of the "high concept" movie is about making a movie a marketable package independent of the genre.

2.

Supply in this context refers solely to distribution decisions whether to rush a movie to market, withhold another one, or pick up movies of a certain genre from independent producers. The planning horizon for feature films is far too long to accurately address the possible state of the economy when the movie is released after 2–4 years. The state of the economy might just as well influence the mindset of screenwriters and producers; however, these potential effects are superposed during the production cycle.

3.

This quality score is somewhat problematic, since all user votes ever entered on IMDb are included. IMDb does not allow to create scores using only votes from one country or a certain time span. We can expect that this kind of overall measurement reduces actual differences.

4.

Only in some cases, there is a secondary genre indicated.
References
Albert, S. (1999). Movie stars and the distribution of financially successful films in the motion picture industry (reply). Journal of Cultural Economics, 23(4), 325–329.

Altman, R. (1999). Film/genre. London: bfi.

Bakker, G. (2003). Building knowledge about the consumer: The emerge of market research in the motion picture industry. Business History, 45(1), 101–127.

Belson, W. (1958). The effect of television on cinema going. Educational Technology Research and Development, 6(3), 131–139.

Blanco, V. F., & Pino, J. B. (1997). Cinema demand in Spain: A cointegration analysis. Journal of Cultural Economics, 21(1), 57–75.

Brockwell, P. J., & Davis, R. A. (2006). Time series: Theory and methods. New York: Springer.

Cameron, S. (1986). The supply and demand for cinema tickets: Some UK evidence. Journal of Cultural Economics, 10(1), 38–62.

Cameron, S. (1988). The impact of video recorders on cinema attendance. Journal of Cultural Economics, 12(1), 73–80.

Cameron, S. (1990). The demand for cinema in the United Kingdom. Journal of Cultural Economics, 14(1), 35–47.

Cameron, J. (Writer, Director) (2009). Avatar [Video]. United States: Twentieth Century Fox.

Caves, R. E. (2000). Creative industries: Contracts between art and commerce. Cambridge, MA: Harvard University Press.

Caves, R. E. (2003). Contracts between art and commerce. The Journal of Economic Perspectives, 17(2), 73–84.

Collins, A., & Hand, C. (2005). Analyzing moviegoing demand: An individual-level cross-sectional approach. Managerial and Decision Economics, 26(5), 319–330.

Compaine, B. M., & Gomery, D. (2000). Who owns the media? Competition and concentration in the mass media industry. Mahwah, NJ: Lawrence Erlbaum Associates.

Dewenter, R., & Westermann, M. (2005). Cinema demand in Germany. Journal of Cultural Economics, 29(3), 213–231.

European Commission (2011). Business and consumer surveys. http://ec.europa.eu/economy_finance/db_indicators/surveys/index_en.htm. Accessed 17 Nov 2011.

Ginsburgh, V. A., & Weyers, S. (1999). On the perceived quality of movies. Journal of Cultural Economics, 23(4), 269–283.

Goidel, R. K., & Langley, R. E. (1995). Media coverage of the economy and aggregate economic evaluations: Uncovering evidence of indirect media effects. Political Research Quarterly, 48(2), 313–328.

Gowgiel, A. A., & McIntosh, W. D. (2010). Physical versus economic societal threat: How 9–11 and the great recession of 2008 influenced viewers' consumption of serious, sexual and violent television content. Journal of Media Psychology, 15(3), 1–17.

Granger, C. W. (1969). Investigating causal relations by econometric models and cross-spectral methods. Econometrica, 37(3), 424–438.

Hagen, L. M. (2005). Konjunkturnachrichten, Konjunkturklima und Konjunktur: Wie sich die Wirtschaftsberichterstattung der Massenmedien. Stimmungen der Bevölkerung und die aktuelle Wirtschaftslage wechselseitig beeinflussen. Eine transaktionale Analyse. Köln: Herbert von Halem Verlag.

Hallin, D. C., & Mancini, P. (2004). Comparing media systems: Three models of media and politics. Cambridge: Cambridge University Press.

Hand, C. (2001). Increasing returns to information: Further evidence from the UK film market. Applied Economics Letters, 8(6), 419–421.

Hand, C. (2002). The distribution and predictability of cinema admissions. Journal of Cultural Economics, 26(1), 53–64.

Handel, L. A. (1953). Hollywood market research. The Quarterly of Film Radio and Television, 7(3), 304–310.

Hesmondhalgh, D., & Baker, S. (2008). Creative work and emotional labour in the television industry. Theory, Culture & Society, 25(7–8), 97–118.

Langford, B. (2005). Film genre: Hollywood and beyond. Edinburgh: Edinburgh University Press.

Lütkepohl, H. (2004). Applied time series econometrics. Cambridge: Cambridge University Press.

MacMillan, P., & Smith, I. (2001). Explaining post-war cinema attendance in Great Britain. Journal of Cultural Economics, 25(2), 91–108.

Malgarini, M., & Margani, P. (2007). Psychology, consumer sentiment and household expenditures. Applied Economics, 39(13), 1719–1729.

McIntosh, W., Schwegler, A., & Terry-Murray, R. (2000). Threat and television viewing in the United States, 1960–1990. Media Psychology, 2(1), 35–46.

McKenzie, J. (2009). Revealed word-of-mouth demand and adaptive supply: Survival of motion pictures at the Australian box office. Journal of Cultural Economics, 33(4), 279–299.

Moul, C. C. (2007). Measuring word of mouth's impact on theatrical movie admissions. Journal of Economics & Management Strategy, 16(4), 859–892.

Nabi, R. L., & Wirth, W. (2008). Exploring the role of emotion in media effects: An introduction to the special issue. Media Psychology, 11(1), 1–6.

OECD (2011). Consumer prices: OECD.StatExtracts. http://stats.oecd.org/Index.aspx?DataSetCode=MEI_PRICES. Accessed 17 November 2011.

Pautz, M. (2002). The decline in average weekly cinema attendance, 1930–2000. Issues in Political Economy, 11. http://org.elon.edu/ipe/pautz2.pdf. Accessed 30 December 2011.

Peterson, R. A., & Anand, N. (2004). The production of culture perspective. Annual Review of Sociology, 30(1), 311–334.

Pettijohn, T. F. (2003). Relationships between US social and economic hard times and popular motion picture actor gender, actor age, and movie genre preferences. North American Journal of Psychology, 5(1), 61–66.

Pettijohn, T. F., & Sacco, D. F. (2009). The language of lyrics: An analysis of popular Billboard songs across conditions of social and economic threat. Journal of Language and Social Psychology, 28(3), 297–311.

Pettijohn, T. F., & Tesser, A. (1999). Popularity in environmental context: Facial feature assessment of American movie actresses. Media Psychology, 1(3), 229–247.

Picard, R. G. (2001). Effects of recessions on advertising expenditures: An exploratory study of economic downturns in nine developed nations. Journal of Media Economics, 14(1), 1–14.

Ravid, S. A., & Basuroy, S. (2004). Managerial objectives, the R-rating puzzle, and the production of violent films. The Journal of Business, 77(2), 155–192.

Schlittgen, R. (2001). Angewandte Zeitreihenanalyse. München: Oldenbourg.

Schmalensee, R. (2000). Antitrust issues in Schumpeterian industries. The American Economic Review, 90(2), 192–196.

Shadyac, T. (Director) (2003). Bruce Almighty. United States: Spyglass Entertainment.

Silverblatt, A. (2007). Genre studies in mass media: A handbook. Armonk, NY: M.E. Sharpe.

Sisto, A., & Zanola, R. (2010). Cinema attendance in Europe. Applied Economics Letters, 17(5), 515–517.

Story, T. (Director) (2002). Barbershop [Video]. United States: Metro-Goldwyn-Mayer.

Terracciano, A., Abdel-Khalek, A. M., Ádám, N., Adamovová, L., Ahn, C.-K., & Ahn, H.-N. (2005). National character does not reflect mean personality trait levels in 49 cultures. Science, 310(5745), 96–100.

Throop, A. W. (1992). Consumer sentiment: Its causes and effects. Economic Review, Federal Reserve Bank of San Francisco, 1, 35–59.

Tims, A. R., Fan, D. P., & Freeman, J. R. (1989). The cultivation of consumer confidence: A longitudinal analysis of news media influence on consumer sentiment. Advances in Consumer Research, 16, 758–770.

Urquhart, M. (1981). The services industry: Is it recession-proof? Monthly Labor Review, 104(10), 12–18.

van der Wurff, R., Bakker, P., & Picard, R. G. (2008). Economic growth and advertising expenditures in different media in different countries. Journal of Media Economics, 21(1), 28–52.

Vogel, H. L. (2007). Entertainment industry economics: A guide for financial analysis. Cambridge: Cambridge University Press.

von Rimscha, M. B. (2012). Man fühlt einfach, ob es gemacht werden muss: Intuition bei der Risikosteuerung in der Spielfilmentwicklung. In J. Müller-Lietzkow (Ed.), Ökonomie, Qualität und Management von Unterhaltungsmedien: Theorie und Entwicklungen in Unterhaltungsmärkten (pp. 129–149). Baden–Baden: Nomos.

von Rimscha, M. B., & Siegert, G. (2011). Orientations of entertainment media workers. Media, Culture and Society, 33(7), 1009–1026.

Walls, D. W. (1997). Increasing returns to information: Evidence from the Hong Kong movie market. Applied Economics Letters, 4(5), 287–290.

Webster, G. D. (2008). Playboy playmates, the Dow Jones, consumer Sentiment, 9/11, and the doomsday clock: A critical examination of the environmental security hypothesis. The Journal of Social, Evolutionary, and Cultural Psychology, 2(2), 23–41.

Wood, W. C., & O'Hare, S. L. (1991). Paying for the video revolution: Consumer spending on the mass media. The Journal of Communication, 41(1), 24–30.

Wyatt, J. (1994). High concept: Movies and marketing in Hollywood. Austin, TX: University of Texas Press.

Zullow, H. M. (1991). Pessimistic rumination in popular songs and newsmagazines predict economic recession via decreased consumer optimism and spending. Journal of Economic Psychology, 12(3), 501–526.
About this article
Cite this article
von Rimscha, M.B. It's not the economy, stupid! External effects on the supply and demand of cinema entertainment. J Cult Econ 37, 433–455 (2013). https://doi.org/10.1007/s10824-012-9192-4
Received:

Accepted:

Published:

Issue Date:
Keywords
Movie industry

Cinema demand

Genre

Consumer confidence

Economic growth

Historic events
JEL Classification