Abstract
This article investigates the effect of a Tony nomination or win on the demand facing a Broadway production using a panel of weekly revenues for Broadway productions from 1996 to 2007. Our results indicate that the effect of a nomination or win is positive in the week of the announcement and gradually increases in successive weeks, presumably due to publicity and word-of-mouth. Winners experience an increase in demand as late as 1 year later when awards are publicized for the following season. Moreover, nominees that do not win the award are penalized heavily in the weeks following the Award announcements. We find that winning a Tony Award increases a production's revenues by 12% in the week immediately following the Awards.
Access options
Buy single article
Instant access to the full article PDF.
USD 39.95
Price includes VAT (USA)
Tax calculation will be finalised during checkout.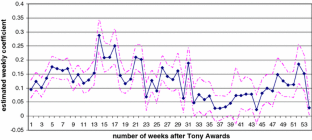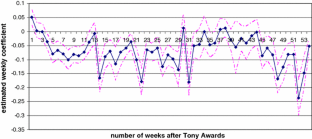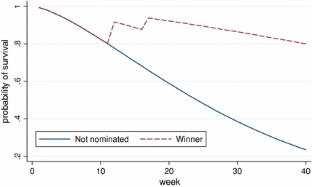 Notes
1.

It has often been suggested that some Tony votes are profit-driven rather than artistry-based. See Riedel (2004) for one alleged instance.

2.

Note that the competing theories of superstardom by Rosen (1981) and Adler (1985) provide a useful framework for describing these two possibilities. In Rosen's model, large income gaps occur with small talent differences because all consumers are drawn to the higher quality artist (or production). In Adler's model, one superstar emerges among two equally talented artists, because publicity or word-of-mouth causes consumers to choose the artist (or production) that has become known to them through the media, conversation, or other forms of publicity.

3.

See Ginsburgh (2003) for a detailed review of this literature.

4.

The Vivian Beaumont at Lincoln Center is currently the one Broadway house that lies outside this geographic region, with a location on W. 65th Street.

5.

Playbill.com lists the exact schedule for every Broadway production.

6.

In addition, most shows have begun pricing a small group of highly desirable orchestra seats as "premium" seats (The Producers was the first show to try this, in 2001). The prices for premium seats for musicals currently range from $151.50 to $302.

7.

The League consists of theater owners and operators, producers, and general managers of the commercial theater industry.

8.

The Revival categories are for new productions of plays and musicals that were previously produced "in substantially the same form in an eligible Broadway theatre and [have] not had a professional performance in the Borough of Manhattan at any time during the three years immediately preceding" ("Rules and Regulations," http://www.TonyAwards.com).

9.

A Broadway season typically starts in June immediately after the announcement of the previous season's Tony Awards and ends early the following May, on a date established by the Tony Awards Administration Committee.

10.

These include Actors' Equity Association, Dramatists Guild of America (an association of playwrights, composers, and lyricists), Society of Stage Directors and Choreographers, United Scenic Artists (the labor union for theatrical designers and artists), and the Association of Theatrical Press Agents and Managers.

11.

The CSA is a professional society of theatrical casting directors.

12.

Broadway shows typically run 4–6 weeks of "preview" performances before the official opening night. During previews, the director is still making small changes to the show, and any technical glitches are worked out. There is an implicit agreement that critics will not review the show until the official opening night, at which point it is considered a finished product.

13.

Seven weeks were dropped from the sample due to missing data for certain productions in those weeks.

14.

Average prices and grosses were adjusted to 2007 dollars using the CPI.

15.

Some productions report capacity greater than 100% due to the sale of tickets for standing room only.

16.

As a rule of thumb, two productions with the same name were identified as separate productions if a gap of more than 12 weeks existed between the two.

17.

Special engagements are typically one-woman or one-man shows.

18.

These revivals are treated as unique productions since, as described above, they are completely new productions of a previously performed show.

19.

Our model of demand in the next section will use fixed effects to capture any unobserved time-invariant characteristics of each production. As discussed in the next section, our results are qualitatively similar when we include lags of market shares to control for time-variant factors.

20.

We also estimated the model using a threshold of 3 and 6 months. The results are qualitatively similar compared to a threshold of 1 year post-nomination and post-award.

21.

Note that the estimated coefficients can be interpreted as the percentage change in production j's market share relative to the outside good, since the dependent variable can be written as ln(s jt ) − ln(s 0t ) = ln(s jt /s 0t ).

22.

The effects of a Tony nomination or win for the "other" category are statistically indistinguishable from zero. The effects are also qualitatively similar when all Tony categories are pooled together. The table of coefficients is available from the authors upon request.

23.

Note that the presence of capacity constraints would tend to work against us finding an effect of winning a nomination or Tony Award. The announcement of a nomination or win would not lead to increased sales as productions are already at capacity. In this case, our estimates of the Tony effect would be a lower bound on the true effect.

24.

The weekly capacity includes the combined totals from weekday and weekend shows. To the extent that weekend shows may sell a greater proportion of available tickets, the weekly capacity will be an average measure.

25.

Our results are qualitatively similar when we include a lagged dependent variable in our estimating logit equation to capture any potential time-varying unobservable factors. As expected the magnitudes are smaller as higher current market shares are allowed to be correlated to previous week's market shares; this is due to the fact that the lagged dependent variable may also capture the word-of-mouth effects stemming directly from the nomination or win, so the estimates will be a lower bound on the true effect of a Tony.

26.

We drop special engagements, which are very frequently limited runs. The results are qualitatively similar whether we include these observations or not.

27.
References
Adler, M. (1985). Stardom and talent. American Economic Review, 75(1), 208–212.

American Theatre Wing, http://www.americantheatrewing.org.

Berry, S. (1994). Estimating discrete-choice models of product differentiation. RAND Journal of Economics, 25(2), 242–262.

Bikhchandani, S., Hirshleifer, D., & Welch, I. (1992). A theory of fads, fashion, custom, and cultural change as informational cascades. Journal of Political Economy, 100(5), 992–1026.

Broadway League, http://www.broadwayleague.com.

Broadway World International Database, http://www.broadwayworld.com/bwidb.

Chiou, L. (2008). The timing of movie releases: Evidence from the home video industry. International Journal of Industrial Organization, 26(5), 1059–1073.

Courty, P. (2003). Some economics of ticket resale. Journal of Economic Perspectives, 17(2), 85–97.

Curtain Up, http://www.curtainup.com/mastridx.html.

De Vany, A. S., & Walls, W. D. (1996). Bose–Einstein dynamics and adaptive contracting in the motion picture industry. The Economic Journal, 106(439), 1493–1514.

De Vany, A. S., & Walls, W. D. (1997). The market for motion pictures: Rank, revenue, and survival. Economic Inquiry, 35(4), 783–797.

Deuchert, E., Adjamah, K., & Pauly, F. (2005). For Oscar glory or Oscar money? Journal of Cultural Economics, 29(3), 159–176.

Einav, L. (2007). Seasonality in the U.S. motion picture industry. RAND Journal of Economics, 38(1), 127–145.

Ginsburgh, V. (2003). Awards, success and aesthetic quality in the arts. The Journal of Economic Perspectives, 17(2), 99–111.

Internet Broadway Database, http://www.ibdb.com.

Isherwood, C. (1998, June 15). Tony Tale: Success is everything. Variety, pp. 111–112.

Maddison, D. (2004). Increasing returns to information and the survival of Broadway theatre productions. Applied Economics Letters, 11(10), 639–643.

Moul, C. C. (2007). Measuring word of mouth's impact on theatrical movie admissions. Journal of Economics and Management Strategy, 16(4), 859–892.

Nelson, R. A., Donihue, M. R., Waldman, D. M., & Wheaton, C. (2001). What's an Oscar worth? Economic Inquiry, 39(1), 1–16.

Newman, A. (2005, December 29). Broadway's numbers for 2005 are strong. New York Times, Section E, p. 1.

Nygren, L. M., & Simonoff, J. S. (2007). Bright lights, big dreams—A case study of factors relating to the success of Broadway shows. Case Studies in Business Industry and Government Statistics, 1(1), 1–14.

Pincus-Roth, Z. (2008, February 7). Broadway or off-Broadway—Part I. Ask Playbill.com. http://www.playbill.com/features/article/114970.html. Accessed 10 April 2008.

Playbill.com, http://www.playbill.com.

Reddy, S. K., Swaminathan, V., & Motley, C. M. (1998). Exploring the determinants of Broadway show success. Journal of Marketing Research, 35(3), 370–383.

Riedel, M. (2004, June 11). It's Puppetgate! 'Q' stiffs road for vegas bucks. The New York Post, p. 43.

Rosen, S. (1981). The economics of superstars. American Economic Review, 71(5), 845–858.

Ruud, P. A. (2000). An introduction to classical econometric theory. New York: Oxford University Press.

Simonoff, J. S., & Ma, L. (2003). An empirical study of factors relating to the success of Broadway shows. The Journal of Business, 76(1), 135–150.

Talkin' Broadway, http://www.talkinbroadway.com/world/past.html.
Acknowledgments
We would like to thank Robert Baumann, Kathryn Graddy, Victor Matheson, Jeffrey Simonoff, and participants in the 2008 Southern Economics Association Annual Meetings as well as the editor and two anonymous referees for helpful comments and suggestions. We would also like to thank Andrew Blythe for research assistance.
About this article
Cite this article
Boyle, M., Chiou, L. Broadway productions and the value of a Tony Award. J Cult Econ 33, 49–68 (2009). https://doi.org/10.1007/s10824-009-9092-4
Received:

Accepted:

Published:

Issue Date:
Keywords
Theater

Broadway

Tony Awards

Discrete choice
JEL Classification