Abstract
Conformational equilibria are at the heart of drug design, yet their energetic description is often hampered by the insufficient accuracy of low-cost methods. Here we present a flexible and semi-automatic workflow based on quantum chemistry, ReSCoSS, designed to identify relevant conformers and predict their equilibria across different solvent environments in the Conductor-like Screening Model for Real Solvents (COSMO-RS) framework. We demonstrate the utility and accuracy of the workflow through conformational case studies on several drug-like molecules from literature where relevant conformations are known. We further show that including ReSCoSS conformers significantly improves COSMO-RS based predictions of physicochemical properties over single-conformation approaches. ReSCoSS has found broad adoption in the in-house drug discovery and development work streams and has contributed to establishing quantum-chemistry methods as a strategic pillar in ligand discovery.
Graphic abstract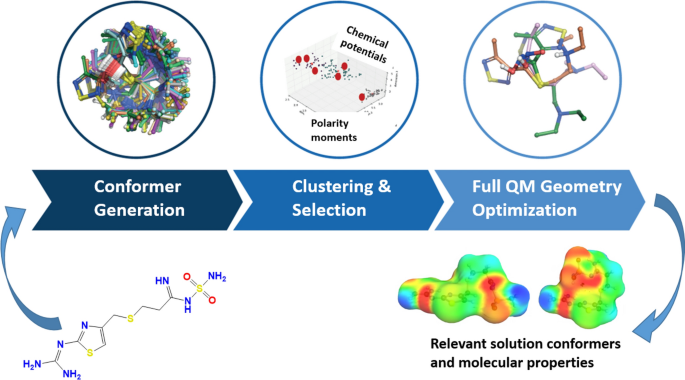 Access options
Buy single article
Instant access to the full article PDF.
US$ 39.95
Tax calculation will be finalised during checkout.
Subscribe to journal
Immediate online access to all issues from 2019. Subscription will auto renew annually.
US$ 119
Tax calculation will be finalised during checkout.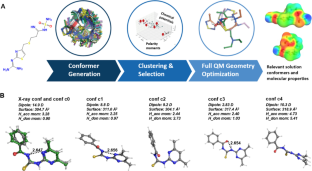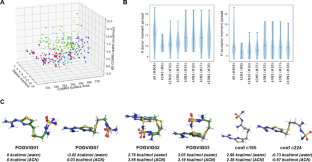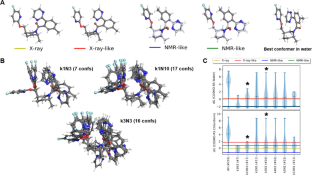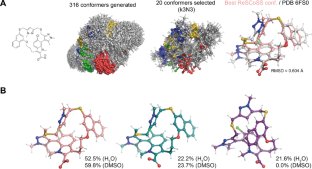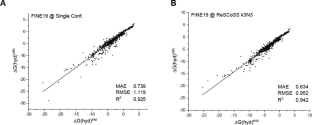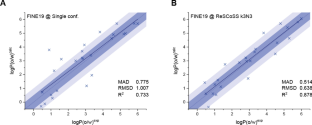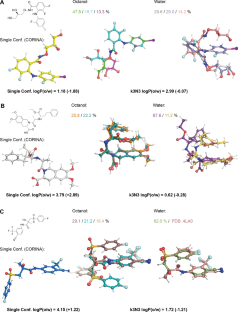 References
1.

Kuhn B, Guba W, Hert J, Banner D, Bissantz C, Ceccarelli S, Haap W, Körner M, Kuglstatter A, Lerner C, Mattei P, Neidhart W, Pinard E, Rudolph MG, Schulz-Gasch T, Woltering T, Stahl M (2016) J Med Chem 59(9):4087

2.

Persch E, Dumele O, Diederich F (2015) Angew Chem Int Ed 54(11):3290

3.

Vippagunta SR, Brittain HG, Grant DJW (2001) Adv Drug Deliv Rev 48(1):3

4.

Cruz-Cabeza AJ, Bernstein J (2014) Chem Rev 114(4):2170

5.

Abramov YA, Zhang P, Zeng Q, Yang M, Liu Y, Sekharan S (2020) Cryst Growth Des 20(3):1512

6.

Boström J (2001) J Comput Aided Mol Des 15(12):1137

7.

Hawkins PCD (2017) J Chem Inf Model 57(8):1747

8.

Friedrich N-O, Meyder A, de Bruyn KC, Sommer K, Flachsenberg F, Rarey M, Kirchmair J (2017) J Chem Inf Model 57(3):529

9.

Friedrich N-O, de Bruyn KC, Flachsenberg F, Sommer K, Rarey M, Kirchmair J (2017) J Chem Inf Model 57(11):2719

10.

Gürsoy O, Smieško M (2017) J Cheminform 9(1):29

11.

Cavasin AT, Hillisch A, Uellendahl F, Schneckener S, Göller AH (2018) J Chem Inf Model 58(5):1005

12.

Kanal IY, Keith JA, Hutchison GR (2018) Int J Quant Chem 118(5):e25512

13.

Folmsbee D, Hutchison G (2020) ChemRxiv. https://doi.org/10.26434/chemrxiv.11920914.v2

14.

Klamt A (1995) J Phys Chem 99(7):2224

15.

Klamt A, Jonas V, Bürger T, Lohrenz JCW (1998) J Phys Chem A 102(26):5074

16.

Klamt A (2018) WIREs Comput Mol Sci 8(1):e1338

17.

Sure R, Grimme S (2015) J Chem Theory Comput 11(8):3785

18.

Klamt A, Eckert F, Reinisch J, Wichmann K (2016) J Comput Aided Mol Des 30(11):959

19.

Pracht P, Wilcken R, Udvarhelyi A, Rodde S, Grimme S (2018) J Comput Aided Mol Des 32(10):1139

20.

Klamt A, Eckert F, Diedenhofen M, Beck ME (2003) J Phys Chem A 107(44):9380

21.

Loschen C, Reinisch J, Klamt A (2020) J Comput Aided Mol Des 34(4):385

22.

Perola E, Charifson PS (2004) J Med Chem 47(10):2499

23.

Günther S, Senger C, Michalsky E, Goede A, Preissner R (2006) BMC Bioinform 7(1):293

24.

Klamt A, Eckert F, Diedenhofen M (2009) J Phys Chem B 113(14):4508

25.

COSMOconf 4.0, COSMOlogic GmbH & Co KG, a Dassault Systèmes company

26.

Sadowski J, Gasteiger J, Klebe G (1994) J Chem Inf Comput Sci 34(4):1000

27.

Schwab CH (2010) Drug Discov Today 7(4):e245

28.

Molecular Networks GmbH: 3D structure generator CORINA classic. Nuremberg, Germany. www.mn-am.com. Accessed 4 June 2020

29.

Schrödinger Release 2019-3: MacroModel, Schrödinger, LLC, New York (2020)

30.

Labute P (2010) J Chem Inf Model 50(5):792

31.

Molecular Operating Environment (MOE), 2019.01; Chemical Computing Group ULC, Montreal, QC, Canada

32.

Riniker S, Landrum GA (2015) J Chem Inf Model 55(12):2562

33.

RDKit: open-source cheminformatics. https://www.rdkit.org. Accessed 4 June 2020

34.

Bannwarth C, Ehlert S, Grimme S (2019) J Chem Theory Comput 15(3):1652

35.

Brandenburg JG, Bannwarth C, Hansen A, Grimme S (2018) J Chem Phys 148(6):064104

36.

Klamt A, Schüürmann G (1993) J Chem Soc Perkin Trans 2(5):799

37.

TURBOMOLE 7.3, a development of University of Karlsruhe and Forschungszentrum Karlsruhe GmbH, 1989–2007, TURBOMOLE GmbH, since 2007. https://www.turbomole.com. Accessed 4 June 2020

38.

Furche F, Ahlrichs R, Hättig C, Klopper W, Sierka M, Weigend F (2014) WIREs Comput Mol Sci 4(2):91

39.

Xue S-J, Duan L-P, Ke S-Y, Zhu J-M (2004) CCDC 234134: experimental crystal structure determination. Cambridge Crystallographic Data Centre, Cambridge

40.

Pedregosa F, Varoquaux G, Gramfort A, Michel V, Thirion B, Grisel O, Blondel M, Prettenhofer P, Weiss R, Dubourg V, Vanderplas J, Passos A, Cournapeau D, Brucher M, Perrot M, Duchesnay É (2011) J Mach Learn Res 12(85):2825

41.

Eckert F, Klamt A (2002) AIChE J 48(2):369

42.

COSMOtherm release 19.0.1, COSMOlogic GmbH & Co KG, a Dassault Systèmes Company

43.

Lu J, Wang X-J, Yang X, Ching C-B (2007) Cryst Growth Des 7:9

44.

Groom CR, Allen FH (2014) Angew Chem Int Ed 53(3):662

45.

Brameld KA, Kuhn B, Reuter DC, Stahl M (2008) J Chem Inf Model 48(1):1

46.

Maity S, Jana P, Maity SK, Kumar P, Haldar D (2012) Cryst Growth Des 12(1):422

47.

Coleman PJ, Schreier JD, Cox CD, Breslin MJ, Whitman DB, Bogusky MJ, McGaughey GB, Bednar RA, Lemaire W, Doran SM, Fox SV, Garson SL, Gotter AL, Harrell CM, Reiss DR, Cabalu TD, Cui D, Prueksaritanont T, Stevens J, Tannenbaum PL, Ball RG, Stellabott J, Young SD, Hartman GD, Winrow CJ, Renger JJ (2012) ChemMedChem 7(3):415

48.

Tamanini E, Buck IM, Chessari G, Chiarparin E, Day JEH, Frederickson M, Griffiths-Jones CM, Hearn K, Heightman TD, Iqbal A, Johnson CN, Lewis EJ, Martins V, Peakman T, Reader M, Rich SJ, Ward GA, Williams PA, Wilsher NE (2017) J Med Chem 60(11):4611

49.

Tron AE, Belmonte MA, Adam A, Aquila BM, Boise LH, Chiarparin E, Cidado J, Embrey KJ, Gangl E, Gibbons FD, Gregory GP, Hargreaves D, Hendricks JA, Johannes JW, Johnstone RW, Kazmirski SL, Kettle JG, Lamb ML, Matulis SM, Nooka AK, Packer MJ, Peng B, Rawlins PB, Robbins DW, Schuller AG, Su N, Yang W, Ye Q, Zheng X, Secrist JP, Clark EA, Wilson DM, Fawell SE, Hird AW (2018) Nat Commun 9(1):1

50.

Balazs AYS, Carbajo RJ, Davies NL, Dong Y, Hird AW, Johannes JW, Lamb ML, McCoull W, Raubo P, Robb GR, Packer MJ, Chiarparin E (2019) J Med Chem 62(21):9418

51.

Mobley DL, Guthrie JP (2014) J Comput Aided Mol Des 28(7):711

52.

Leeson PD, Springthorpe B (2007) Nat Rev Drug Discov 6(11):881

53.

Ryckmans T, Edwards MP, Horne VA, Correia AM, Owen DR, Thompson LR, Tran I, Tutt MF, Young T (2009) Bioorg Med Chem Lett 19(15):4406

54.

Reinisch J, Diedenhofen M, Wilcken R, Udvarhelyi A, Glöß A (2019) J Chem Inf Model 59(11):4806

55.

xtb release v6.2.1, 2019. https://github.com/grimme-lab/xtb/. Accessed 4 June 2020

56.

Becke AD (1988) Phys Rev A 38(6):3098

57.

Perdew JP (1986) Phys Rev B 33(12):8822

58.

Weigend F, Ahlrichs R (2005) Phys Chem Chem Phys 7(18):3297

59.

Rappoport D, Furche F (2010) J Chem Phys 133(13):134105

60.

Grimme S, Antony J, Ehrlich S, Krieg H (2010) J Chem Phys 132(15):154104

61.

Grimme S, Ehrlich S, Goerigk L (2011) J Comput Chem 32(7):1456

62.

The PyMOL Molecular Graphics System, Version 2.0 Schrödinger, LLC.

63.

Hunter JD (2007) Comput Sci Eng 9(3):90

64.

Origin(Pro), Version 2019. OriginLab Corporation, Northampton, MA, USA

65.

Low YW, Blasco F, Vachaspati P (2016) Eur J Pharm Sci 92:110

66.

Avdeef A (1992) Quant Struct-Act Relat 11(4):510
Acknowledgements
We thank colleagues from the global CADD group at NIBR-GDC and Grahame Woollam (TRD) for valuable feedback on applying ReSCoSS in projects. Wolfgang Zipfel and the NIBR NX Scientific Computing team are thanked for generous allocation of HPC resources. We thank Stefan Grimme for discussions around xTB, DFT functionals and solvation, Uwe Huniar for advice on Turbomole and Jens Reinisch and Michael Diedenhofen for helpful discussions about conformations and COSMO-RS.
Ethics declarations
Conflict of interest
The authors declare that they have no conflict of interest.
Research involving human participants and/or animals
No animal or human clinical studies were performed as part of this work.
Additional information
Publisher's Note
Springer Nature remains neutral with regard to jurisdictional claims in published maps and institutional affiliations.
Electronic supplementary material
Below is the link to the electronic supplementary material.
About this article
Cite this article
Udvarhelyi, A., Rodde, S. & Wilcken, R. ReSCoSS: a flexible quantum chemistry workflow identifying relevant solution conformers of drug-like molecules. J Comput Aided Mol Des 35, 399–415 (2021). https://doi.org/10.1007/s10822-020-00337-7
Received:

Accepted:

Published:

Issue Date:
Keywords
Conformations

Quantum chemistry

GFN-xTB

COSMO-RS

logP

ReSCoSS